World's Best Texas Sheet Cake
This Texas Sheet Cake recipe has been around for at least 30+ years, I see almost the exact same recipe in old cookbooks, new cookbooks and on Pinterest. Well, who doesn't love chocolate, right? The cake is made totally from scratch and is moist and tastes even better the next day. This makes it a perfect recipe for Sunday dinner dessert or for family reunions.
One thing I wanted to do a few years ago was to test making the cake in a regular 9-inch by 13-inch pan as in your favorite lasagna or cake pan. Yes, you can still make it on a cookie sheet that is a jelly roll size that's approximately 11-inches by 17-inches. But, a cookie sheet/jelly roll pan is hard to transport in the car. You cover it with plastic wrap or foil and the frosting never looks the same by the time you get to your party.
So, a few years ago I started baking my Texas sheet cake it in a 9-inch by 13-inch lasagna pan that has a metal lid. It was just like the one my mom had when we would take a casserole to a church party years ago. My favorite pan.
Texas Sheet Cake
Who doesn't love chocolate, right? It's so moist and yummy, family and friends will ask you for the recipe if they don't already have it. Just giving you heads up here. If you have a family reunion coming up, your family will love this recipe! I have a printable recipe for you below.
Texas Sheet Cake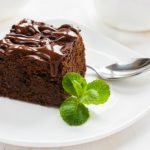 Texas Sheet Cake
Ingredients
2

cups

flour

2

cups

sugar

1

cup

(butter the original recipe calls for margarine)

1/4

cup

unsweetened cocoa

1

cup

water

1/2

cup

buttermilk

1

teaspoon

baking soda

2

eggs
Frosting
1

teaspoon

vanilla

1/2

cup

butter

5

tablespoons

buttermilk or regular milk

1/4

cup

unsweetened cocoa

3

cups

powdered sugar

1

teaspoon

vanilla

1

cup

chopped nuts optional
Instructions
Preheat the oven to 350 degrees. Grease the pan of choice below. Combine the flour and sugar in a bowl. Bring the butter, cocoa, and water to a boil. Turn the stove off. Add the buttermilk, soda, eggs, and vanilla to the pan with the boiling mixture. Use a hand mixer to combine the flour and sugar in the pan, blend until smooth. Pour into a greased pan.

Baking time: jelly roll/cookie sheet, 15-20 minutes

Baking time: 9-inch by 13-inch pan, 30-35 minutes
Frosting
Grab a medium saucepan and melt the butter, add the cocoa and the milk. Bring to a boil stirring constantly, add the powdered sugar, vanilla, and nuts. I make this frosting while the cake is baking and then spread it on the semi-cooled cake.
Cake Recipes by Food Storage Moms
I hope you enjoy this Texas sheet cake recipe as much as my family does. Enjoy!