Double Chocolate Cupcakes
Do you need a recipe for the best double chocolate cupcakes recipe ever? These are really moist chocolate ones made from a cake mix, but you add pudding, sour cream, and a few other ingredients to make them even moister. The thing I love about this recipe is the fact that I have always got the ingredients in my pantry.
I love chocolate so this recipe is a natural one for me!
Double Chocolate Cupcakes
At Christmas time I add a little DoTerra peppermint essential oil to my favorite Cream Cheese Frosting. These are always a hit at any party or group gathering because people love chocolate. I think looking at a platter full of cute little cakes are always inviting. Here is another Mini Cupcake Recipe you might enjoy.
Have you ever tasted cupcakes from Sprinkles Cupcakes in Corona Del Mar/Newport Beach, California? Oh my gosh, they are the best ones I have ever tasted. I know this is crazy, but when I go visit family in California, they know I will order three dozen of those Sprinkles treats and we will enjoy every last morsel of them. I am not a big spender but these are a little pricey and each mouthful is worth every cent.
There is something about family reunions that takes me right to that Sprinkles store. They only sell certain flavors certain days, so I have to strategically plan the days when I preorder the cupcakes to pick up. If you don't call ahead you will stand in line for 30 minutes.
My favorite ones are banana and chocolate marshmallow. Delicious!! It looks like the location in New York has an ATM available where you can pick up the cupcakes on demand. I love it!
Double Chocolate Cupcakes
Ingredients
Ingredients:

1

chocolate cake mix

1

package instant dry chocolate pudding 5.9-ounce box

1

cup

sour cream

4

eggs

1/2

cup

water

1/2

cup

oil

3/4

cup

chocolate chips (I prefer the mini ones)
Instructions
Instructions:

Preheat oven to 350 degrees.

Mix all of the ingredients (except the chocolate chips) in your electric mixer for about two minutes. Fold in the chocolate chips. Scoop about 1/4 cup into each greased muffin tin. Bake for about 26-28 minutes. Frost with cream cheese frosting or your favorite frosting. I add a little peppermint flavoring and a tiny bit of red food coloring in the frosting for the holidays. It looks pink and white swirled in if you don't completely mix in the food coloring. You can add 1/8 cup unsweetened cocoa if you want chocolate frosting and skip the food coloring.
Cream Cheese Frosting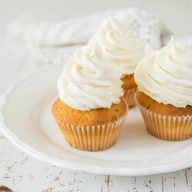 Cream Cheese Frosting
Servings
:
36
cupcakes/or 24 Cinnamon Rolls
Ingredients
1/2

cup

butter, softened

1-

8-

ounce package softened cream cheese

3-3-1/2

cups

powdered sugar

1

teaspoon

vanilla
Instructions
Cream the butter with the cream cheese. Slowly add the powdered sugar to the thickness you desire. Add the vanilla and mix until everything is incorporated.
Recipe Notes
You can make this recipe and freeze it in smaller containers to use at a different time.
Final Word
I hope you try my double chocolate cupcakes recipe very soon! Let me know what you think. This is my favorite one ever! It's also a great recipe to make for the neighborhood after a disaster in a Sun Oven or Camp Chef oven/stove combination. Or use your imagination, we preppers can bake anything, anywhere. Stay safe and keep prepping. May God bless this world, Linda