Creamy Sausage Potato Soup Recipe
This is a creamy sausage potato soup recipe I love to make when we have a crowd coming over for dinner. I typically always have the ingredients, except for maybe the fresh Kale, in the refrigerator. Here's the deal, you could leave the kale out and it's still a really good soup!
It's an inexpensive soup you can make from scratch and add more or less of any of the ingredients. In other words, it's pretty much a no-fail soup.
Mark and I were up in Salt Lake City, Utah for the Christmas holidays and we had a lot of people to feed. This is one of our go to soups that our family really enjoys. Plus, the fact that we don't eat out very often to help save money and because we love to cook together as a family, soups have become a staple for us!
Heidi, our daughter had a lot of red potatoes she wanted to use up, so we started chopping the potatoes, the onions, mushrooms, and bacon. Costco sells their cream fairly cheap for a 1/2 gallon and we had a few cartons in the refrigerator.
Nate, our son-in-law, picked up the sausage to fry for the soup. Oh, how I wish you could smell how yummy this soup is! Do you love to cook meals with family as much as I do?
When we go up north, my granddaughter, Elle, always wants to make cream chipped beef on toast with me! It makes my heart melt, just saying. I love teaching her to cook from scratch like her mama.
Here are the ingredients:
Potatoes
Onions
Sausage
Garlic
Bacon bits
Mushrooms
Chicken Broth
Cream or half & half
Salt and pepper
Kale
Sausage Potato Soup
The first step is chopping all the vegetables with a really good knife.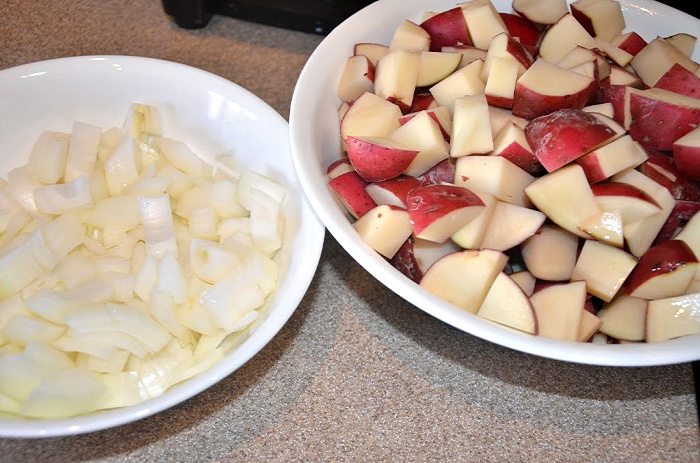 Then you brown the sausage, and add the onions and potatoes to simmer in the chicken broth. I used a fork to test when the potatoes were finished cooking.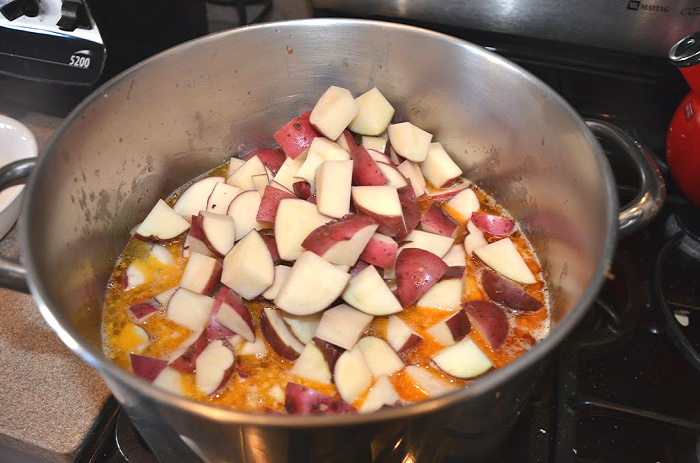 The next thing was adding the sliced mushrooms and bacon bits to the soup pot. That oil you see is the sausage grease that gives it the yummy flavor.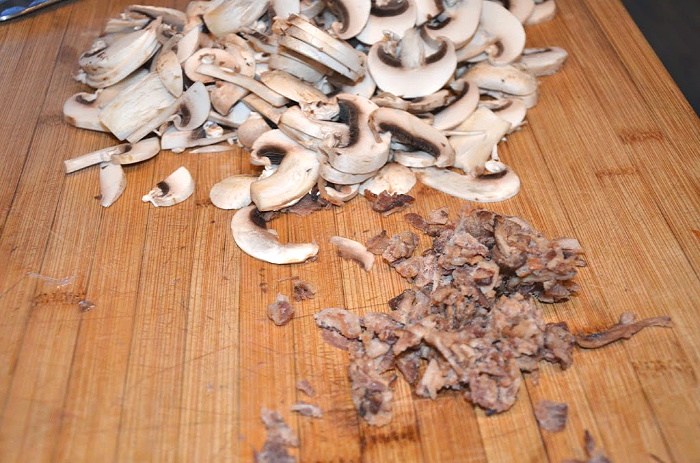 Then we added the kale and the cream. Oh my gosh, the room smelled fabulous! Who loves the smell of soup cooking? I know I do!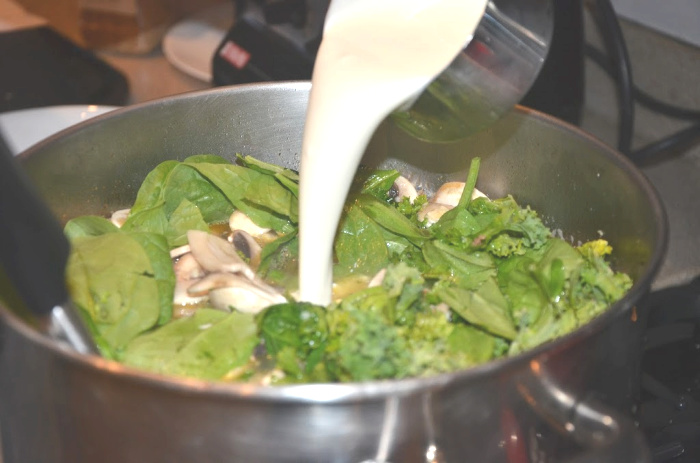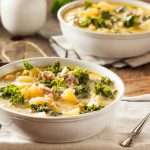 Creamy Sausage Potato Soup by Food Storage Moms
Ingredients
1-2

pounds

sausage (I prefer mild)

2-3

potatoes (cut into bite-size pieces)

1

large onion, chopped

1/2

cup

bacon bits

2-3

cloves

garlic

2

cartons

8-ounces chicken broth

1

quart

water

1-1/2

cups

cream

2

cups

fresh Kale, chopped

2

cups

sliced fresh mushrooms

Salt and Pepper
Instructions
Chop all of the vegetables and set aside. Grab a large soup pot and brown the sausage in the pot. Drain the grease after cooking it. Add the chicken broth, the water, and the onions, potatoes, and garlic. Cook on medium heat until the potatoes are finished cooking. Add the bacon. Salt and pepper to taste. Simmer another 10 minutes. Add Kale and Cream. Heat through and serve.
No-Fail French Bread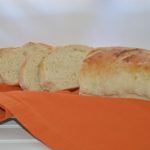 How To Make French Bread In One Hour
Ingredients
2-1/2

cups

hot water

2

tablespoons

SAF instant yeast

2

tablespoons

sugar

2

teaspoons

Real Salt

5-1/2

cups

white BREAD flour or freshly ground hard white wheat

egg whites (lather loaves with a brush after first bread rise/cut 4-5 shallow cuts on top of loaves)

sesame seeds or poppy seeds (optional, sprinkle on egg whites before the 2nd bread rise time)
Instructions
Mix everything in the order shown except the egg whites and optional seeds. Knead for about five minutes in a bread mixer. Let rest for 15 minutes covered. Shape the dough into 2 loaves and place on a greased cookie sheet. Lather the tops of the loaves with the egg whites, cut four to five shallow cuts on top of the loaves. Next, sprinkle seeds if desired. Let rise one more time about 15 minutes. Preheat the oven to 450 degrees and bake for 15 minutes.
Final Word
This sausage potato soup recipe is easy to make from scratch and enjoy with your family or friends. You can make my no-fail French bread to go with the soup and dinner is ready in no time.
Copyright Images: AdobeStock_101938057by Brent Hofacker