20 Ways To Enjoy More Broccoli
If you've been looking for a new way to infuse excitement into your broccoli preparation, look no further! I've assembled 20 creative ways to enjoy more broccoli that goes beyond steaming or sautéing it. From stir-fry to salads, from slaw to soup, and from quiche to pasta, you'll find delicious recipes for this healthy green vegetable that will delight your taste buds.
Broccoli is an excellent source of potassium, calcium, iron, and B-vitamins, so it makes sense to incorporate it into your food rotation. When you pair broccoli with so many ingredients, even if you're not a fan of this green veggie, these recipes may make you think twice about how to enjoy it and get all of its nutritional benefits. Bon Appétit!
20 Ways To Enjoy More Broccoli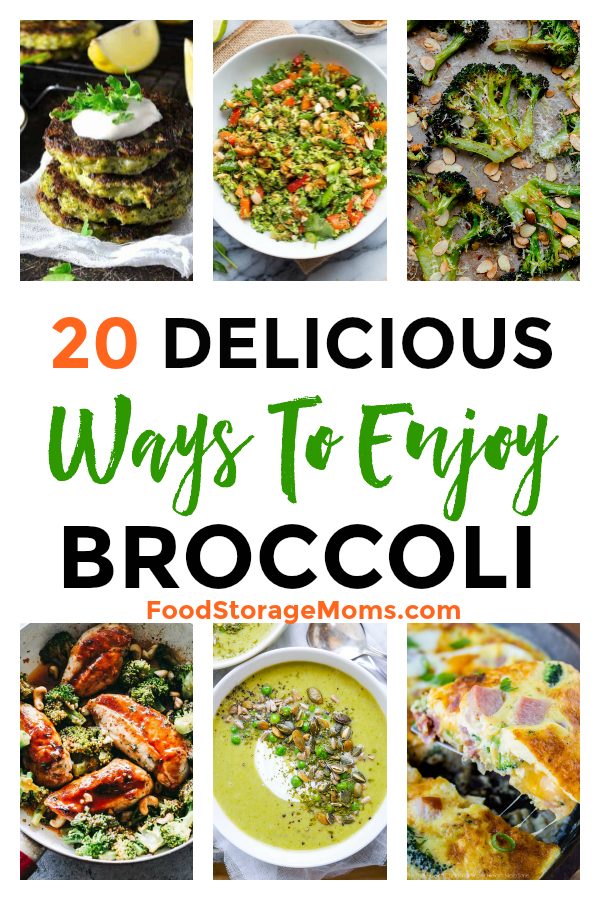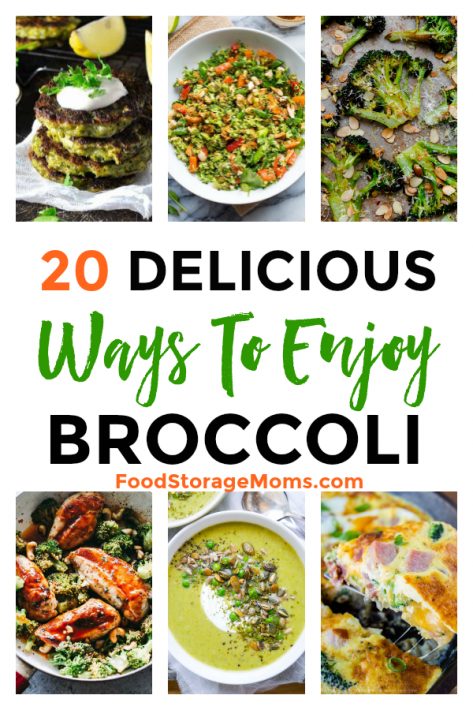 1. Broccoli Salad With Bacon
Who loves bacon as much as I do? Everything tastes better with bacon, right?
Broccoli Salad With Bacon by That Low Carb Life
2. Roasted Broccoli-Almonds/Cheese
Do you love almonds in a recipe? You will love this one.
Roasted Broccoli With Toasted Almonds and Cheese by A Beautiful Plate
3. Chopped Thai Broccoli Salad
Mark and I love a restaurant here in St. George, Utah that serves Thai food, we love it! I really want to make Thai food at home, don't you?
Chopped Thai Broccoli Salad by A Saucy Kitchen
4. Chicken-Broccoli Alfredo
Alfredo Sauce dresses up any recipe, right? Add some garlic bread to the meal and I'm in heaven.
Chicken And Broccoli Alfredo by Zesty Olive
5. Pea & Broccoli Miso Soup
Having a bowl of soup that's healthy and light for a cold winter's night is awesome.
Pea And Broccoli Miso Soup by Nourish Every Day
6. Beef-Broccoli Ramen Stir Fry
Are you storing Ramen noodles, this recipe reminds me why I love storing them in my pantry.
Beef And Broccoli Ramen Stir Fry by Simply Recipes
7. Cheese-Ham-Broccoli Frittata
There is something about serving a Frittata to our company for breakfast, or actually any meal. It looks like we spent hours in the kitchen. Add some salsa with some sour cream and it's delicious.
Cheese, Ham, And Broccoli Frittata by I Heart Naptime
8. Instant Pot Broccoli
I wish every family could have a pressure cooker or Instant Pot to make meals so much faster.
Instant Pot Broccoli by Recipes From A Pantry
9. Sheet Pan-Shrimp & Broccoli
Mark loves this recipe, and so do I, because it's so easy to make, and it has a little kick to it!
Sheet Pan Shrimp And Broccoli by Well Plated
10. Broccoli Fritters
When my girls were growing up, we had some friends that made these and they were so good!
Broccoli Fritters by Recipe Tin Eats
11. Caesar-Style Spiralized
I'm all about making a recipe that is easy and the whole family will love, this one is a keeper!
Caesar-Style Spiralized Broccoli with Blistered Tomatoes by The Two Bit Club
12. Broccoli Crust Pizza
Who would have guessed you could make a pizza crust using broccoli? Yummy!
Green Goddess Broccoli Crust Pizza by Wholesome Patisserie
13. Quinoa Broccoli Slaw
Quinoa is so healthy and filling, this recipe is awesome!
Quinoa Broccoli Slaw with Honey-Mustard Dressing by Cookie And Kate
14. Instant Pot Chicken Broccoli
Here again, I wish every family could have a pressure cooker to save time in the kitchen.
Instant Pot Chicken Broccoli And Quinoa by Bowl Of Delicious
15. Catalina Chicken-Broccoli
Catalina dressing with chicken and broccoli pulls this recipe all together with sweetness and tang!
Catalina Chicken And Broccoli by Diethood
16. Broccoli Cheddar Soup
Who loves soup for those cold winter days?
Easy Broccoli Cheddar Soup With Bacon by Savory Tooth
17. Broccoli Tomato Quiche
Quiche is one of my favorite meals to make any day of the week for breakfast or even dinner.
Easy Broccoli Tomato Quiche by Sizzling Eats
18. Broccoli Cheddar Tots
Oh my gosh, I grew up on Tator Tots, but these are made with better ingredients!
Broccoli Cheddar Tots by How Sweet Eats
19. Broccoli Casserole
This recipe calls for white button mushrooms and it's to die for, yummy!
Broccoli Casserole From Scratch by Brown Eyed Baker
20. Garlic Parmesan
By combining garlic, parmesan, and chicken makes this recipe super easy and healthy all wrapped up in one dish!
Garlic Parmesan Broccoli by Homemade Hooplah
Final Word
Please let me know if you tried some of these recipes. Isn't it fun to enjoy more broccoli in our meals? It feels so healthy! Is anyone growing broccoli in their garden this year? Please keep prepping and printing recipes so you can cook, even when the power goes down. May God bless this world, Linda