20 Awesome Recipes For Taco Tuesday
This collection of 20 awesome taco recipes will take your Taco Tuesday planning to a new level. Whether you're a meat lover, seafood lover, or vegetarian, there's a recipe here for everyone. If you're dairy-free, you'll find a range of recipes with crunchy and fresh veggies for delicious taco toppers.
You'll find slaws and pickled veggie toppings that add a tangy and spicy flavor to the mix. Hardshell, soft shell, or a combo of both are given modern makeovers with new ways to fuse the two for the ultimate taco eating experience. If you're looking for taco inspiration, check out these Taco Tuesday recipes for a new flavor kick!
Taco Tuesday Recipes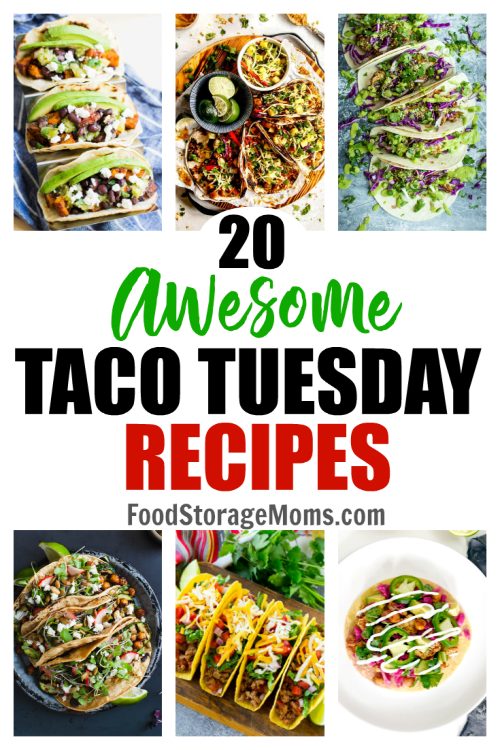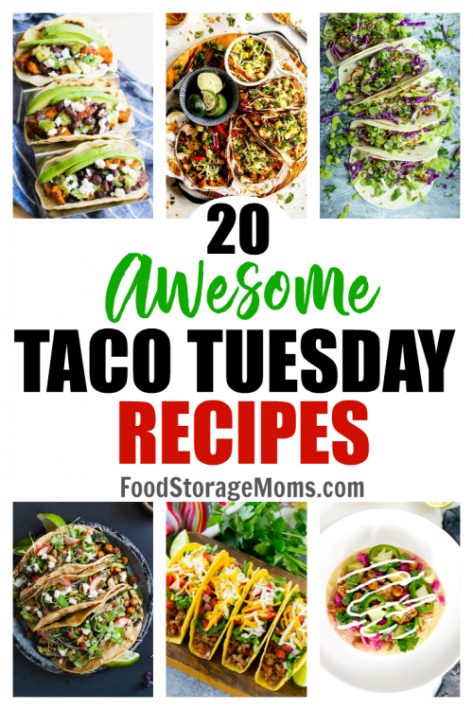 1. Queso Fundido Stuffed Tacos
Queso Fundido Stuffed Tacos by How Sweet Eats
Try these amazing tacos with Queso Fundido sandwiched between a hard shell and soft shell taco and then stuffed with a chorizo filling. Awesome!
2. Huevos Rancheros Tacos
Huevos Rancheros Tacos by Diethood
These tacos are perfect for a filling breakfast or a zesty weeknight meal. Eggs, refried beans, green chilies, tomatoes, cheese, and diced avocado make up this delicious taco feast.
3. Sauteed Tilapia Tacos
Sauteed Tilapia Tacos with Grilled Peppers and Onion by Eat Yourself Skinny
These super-simple fish tacos are just perfect for a quick meal.
4. Vegetarian Chickpea Cauliflower Tacos
Vegetarian Chickpea Cauliflower Tacos with Lime Crema by A Side Of Sweet
These vegetarian tacos are full of chickpeas and cauliflower and decorated with stunningly gorgeous pickled red cabbage. Finish with lime crema and enjoy!
5. Sweet Potato & Black Bean Tacos
Sweet Potato and Black Bean Tacos by Simply Recipes
Thirty minutes of minimal cooking will get you these tacos filled with smoky roasted sweet potatoes and black beans, plus a variety of toppings to make this a satisfying meat-free dinner.
6. Thai Chicken Tacos
Thai Chicken Tacos by Carlsbad Cravings
Fill your favorite taco shell with marinated Thai chicken, drizzled with a savory peanut butter sauce, and topped with fresh and crunchy pineapple cucumber slaw for a taco taste extravaganza!
7. Vegan BBQ Mushroom Tacos
Vegan BBQ Mushroom Tacos by Blissful Basil
The smoky mixture of spices coats the portobellos and shiitakes for an outstanding vegan taco mixture that you simply must try!
8. Vegan Teriyaki Cauliflower Tacos
Vegan Teriyaki Cauliflower Tacos by Lauren Caris Cooks
Elevate baked cauliflower with a tangy and sweet teriyaki sauce, and finish with crunchy fresh toppings. Gorgeous!
9. Mole-Spiced Chickpea/Zucchini Tacos

Mole-Spiced Chickpea & Grilled Zucchini Tacos by Snixy Kitchen
For the ultimate flavor punch try these mole-spiced chickpea and grilled zucchini tacos topped with lime greek yogurt crema, pickled radishes, pepitas, and more!
10. Chicken and Shrimp Tacos
Chicken and Shrimp Tacos by Spaceships And Laserbeams
Try these surf and chicken tacos full of deliciously spiced chicken and shrimp and topped with pineapple salsa.
11. Grilled Portobello Mushroom Tacos
Grilled Portobello Mushroom Tacos by Salt and Lavender
You won't miss the meat in these hearty vegetarian tacos. The grilled portobello mushrooms have a smoky flavor that works well with the awesome spices in this filling.
12. Lemon Butter Grouper Fish Tacos
Lemon Butter Grouper Fish Tacos by Averie Cooks
Try these 10-minute tacos for a yummy fish taco treat!
13. Steak & Egg Breakfast Tacos
Steak And Egg Breakfast Tacos by Honey and Birch
These breakfast tacos aren't just for mornings! Make them anytime and enjoy a new way to experience steak and eggs.
14. Harissa Miso Delicata Squash Tacos
Harissa Miso Delicata Squash Tacos by Healthy Nibbles and Bits
These awesome spicy and filling tacos will have you wondering why you don't make veggie tacos more often!
15. Ground Beef Tacos
Ground Beef Tacos by Dinner At The Zoo
You can't go wrong with this classic beef taco recipe that the whole family will love. Set out an assortment of toppings so everyone can personalize their own.
16. BBQ Chicken Tacos
BBQ Chicken Tacos from Lovely Little Kitchen
Give your barbecue chicken a new place to land with these easy and filling tacos.
17. Lentil and Walnut Tacos
Lentil And Walnut Tacos by Oh My Veggies
No heat required with this recipe which calls for serving these vegan tacos chilled. Perfect for warm weather meals when you need something cold.
18. Spicy Mango Black Bean Avocado Tacos
Spicy Mango Black Bean Avocado Tacos by Love and Lemons
Spice your tacos up with this sweet and tangy vegan mango and black bean taco recipe. Pile on the extra toppings for even more flavor and crunch.
19. Vietnamese Banh Mi Street Tacos
Vietnamese Banh Mi Street Tacos by A Spicy Perspective
Soft flour taco tortillas are loaded with fresh crunchy veggies that you would typically see on a Vietnamese Banh Mi sandwich, then drizzled with the spicy creamy taco sauce. Delish!
20. BBQ Pork Tacos With Broccoli Slaw
BBQ Pork Tacos With Broccoli Slaw by Like Mother Like Daughter
If you're craving pulled pork, try giving it a new setting with these tacos. Top with delicious creamy broccoli slaw, tomatoes, shredded cheese and enjoy.
What Can I Serve With Tacos?
Salsa
Taco sauce
Grated cheese
Guacamole
Sour Cream
Cilantro
Black olives
Tossed salad
Chips and salsa
Queso
Final Word
I hope you enjoyed my Taco Tuesday post today! I could eat tacos every day, yes, every day! Just bring on the salsa, guacamole, cilantro, and onions and I'm good to go. Please keep prepping, we can do this, I promise! Please learn every recipe you can by cooking from scratch! May God bless this world, Linda