How To Fry Food And Love The Cleanup
Do you love to fry food but hate the cleanup? Today it's all about how to fry food and love the cleanup. Here's the deal, I received an email from Zyliss, you know the company we all have a lettuce knife made by? Well, they asked me if I would test one of their new cooking pans. So of course, I agreed, because I love my lettuce knife, my soup ladle, pancake turner, and slotted spoon made by the company. Remember, I used to work at a kitchen store and they sold all the top-notch products, so I have all of them. They last for years. I'm sharing my opinion on the pan, but let's be real here, yes I was given this awesome fry pan with a glass lid for writing a review. I can tell you right now, I love this pan, and I'll tell you why as part of today's post. Check out the giveaway below too. I love it so much I want to give one of my readers a pan just like the one I was given. P.S. You can enter every day until it ends.
You don't have to cook with butter, oil, or vegetable spray. Yay, I'm trying to cut down on calories, so this is awesome. I decided to fry freshly chopped onions with some hamburger so we could have homemade tacos for dinner. I must admit, I haven't made tacos for a long time. The thing about frying hamburger meat with onions is they tend to stick to the pan if I don't spray the pan with some vegetable oil. I chopped the onions and placed the meat and the onions together in the pan and turned on the heat.
You can use metal tools and this pan is dishwasher safe, WHAT? That never is the case in most really good pans. I did use my Zyliss pancake turner because that's what I use all the time. It's not metal, but I used a metal spoon to scoop the taco meat out of the pan. This Zyliss fry pan has a 10-year non-stick guarantee, I love this!
CODE for 10% OFF: cook2017
Oh, and Zyliss is giving my readers a special code to purchase any of their products for a limited time at a discount. To get 10% off please use this code at checkout: cook2017
Zyliss Fry Pan Quality
3-layer non-stick coating, nothing sticks to this frying pan
Layer #1 Holding Primer
Layer #2 Ceramic Reinforced Coating
Layer #3 Sealing Layer
Rockpearl Plus Technology
This fry pan features the advanced Rockpearl Plus Swiss Technology. The base of the frying pan undergoes a blasting treatment in order to create a strong surface for long-lasting non-stick.
Ergonomic Soft Touch Handle
This pan is designed for maximum comfort when handling.
Bonus Items
Dishwasher safe.
Hand wash with hot soapy water and dry by hand if desired.
Metal tool safe.
Oven safe to up to 180 degrees C and up to 350 degrees F.
Even heat distribution.
Hard-wearing and durable.
Do not use scouring pads, scouring powder, or metal scourers, they will damage the finish. P.S. You won't need them, I promise. This Zyliss fry pan washed up with a washrag and hot soapy water.
Fry Food Without Butter, Oil, or Vegetable Spray
This is an 11-inch saute pan with a glass lid (I love that it has two handles!!)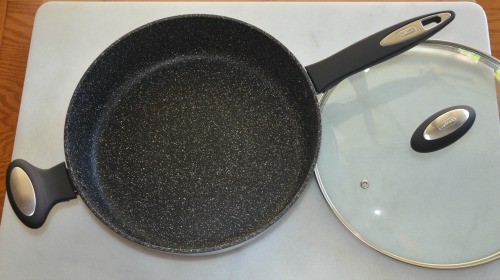 I wanted you to see how awesome the bottom is, this is one sturdy fry pan!!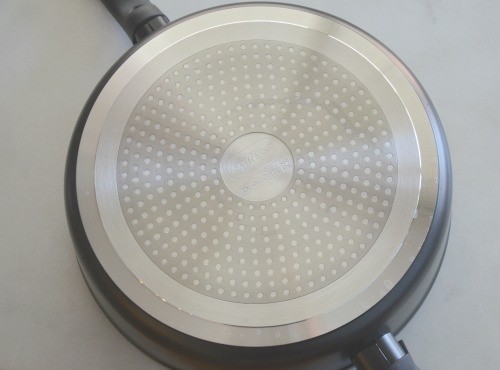 I didn't have to use any vegetable spray!!! Yay! The cleanup was easy and no scrubbing whatsoever! I love it!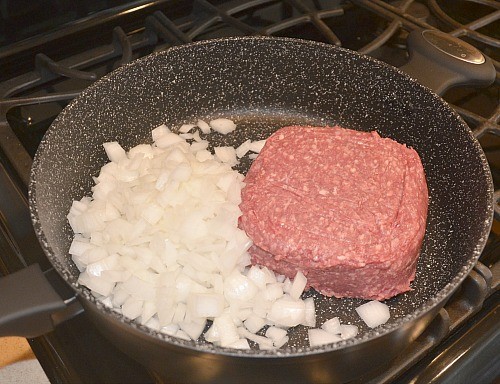 And who doesn't love a taco for Sunday dinner? I could put salsa on everything I eat, almost… Just think of all the things that we can eat with tacos: hamburger, ground turkey, shredded beef, shredded pork, lettuce, cheese, beans, rice, tomatoes, onions, cilantro, peppers, sour cream and lots of salsa.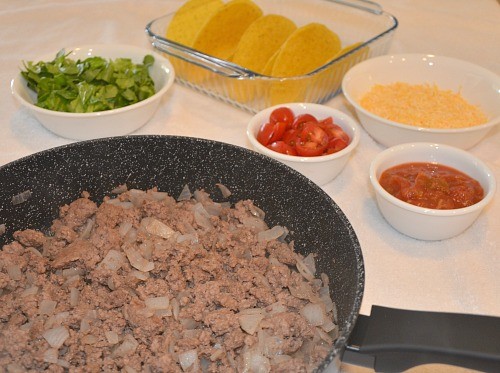 Now let's get onto the giveaway. I know one of you will love this pan as much as I do to fry food! Good luck!!!
This Zyliss 11-inch saute pan giveaway is open to any resident who is 18 years of age or older and lives in one of the 48 US Contiguous States. Zyliss and social media channels are not involved in contributing to or sponsoring this giveaway. This giveaway starts on Monday, September 4th, 2017 at 5:00 am (MDT) and ends on Saturday, September 9th, 2017 at 5:00 pm (MDT). The winner will be notified by email and will have 24 hours to respond. If we do not hear back from said winner in the designated time period of 24 hours we will choose another winner and they will have 24 hours to respond from the time the notification email is sent. Please check your SPAM email folders. Good luck to everyone! Let's be prepared for the unexpected!