20 Savory Pizza-Inspired Recipes
If the thought of pizza has you craving those savory and cheesy flavors, then keep this collection of pizza-inspired recipes handy. Here, you'll find 20 homemade pizza ideas that range from skillet meals to salads and from casseroles to snacks. You'll be amazed at the range of ideas for assembling crusts, meats, sauces, veggies, and cheeses in new and delicious settings. This list of irresistible recipes will show you a variety of ways to make pizza-inspired food that doesn't always require dough, a pizza pan, and an oven. From soup to sandwiches, and from popcorn to stuffed pastry, let these recipes inspire you to enjoy your favorite pizza-inspired flavors in a new and tasty way.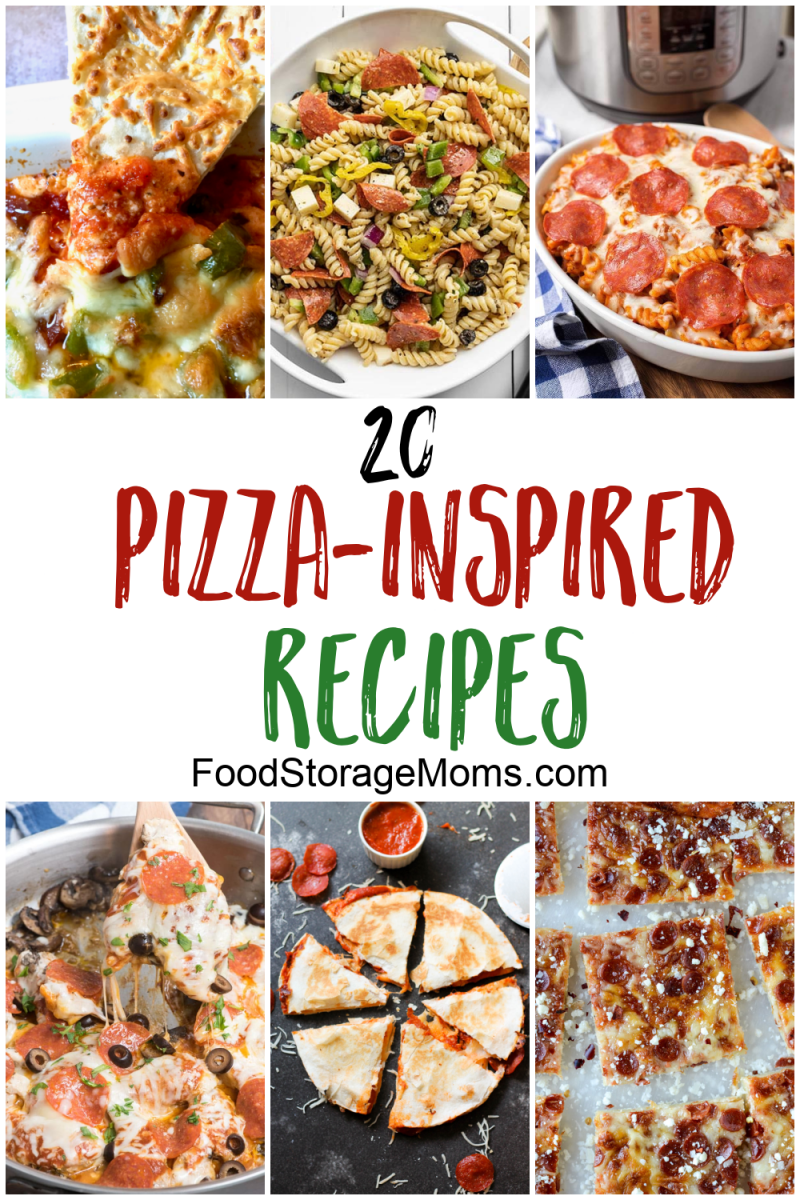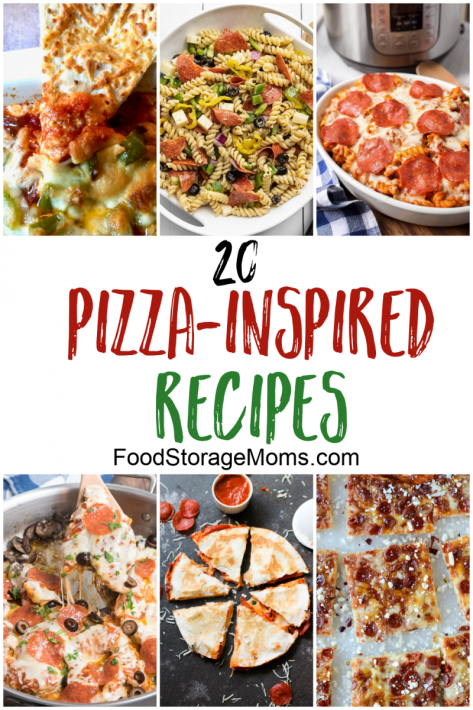 20 Savory Pizza-Inspired Recipes
Skillet Pizza Chicken by Crazy For Crust
You'll savor all the delightful flavors of pizza in this skillet chicken recipe. Pepperoni, mushrooms, black olives, pizza sauce, and cheese cook alongside the Italian seasoned chicken breasts for a stunningly tasty meal that's ready in about 30 minutes. Win-win!
One-Pot Pizza Pasta by Yellow Bliss Road
You'll love this skillet pizza made easy with the help of a creative substitution for pizza dough. In place of dough, use pasta! Sauté the veggies and meat before adding pasta, broth, water, sauce, and seasonings. Simmer until tender and then stir in cheese and garnish with even more on the top. Awesome!
Pizza Pasta Salad by Budget Bytes
Perfect for a summer meal when you want pizza but don't want to turn on the oven. Make this bright and tempting cold pasta salad that combines cooked pasta with pepperoni, diced bell pepper, pepperoncini, olives, and cheese. Drizzle on a zesty Italian dressing and chill before serving.
Supreme Pizza Lasagna by A Spicy Perspective
Super easy and ridiculously tasty, this lasagna takes on all the flavors of your favorite savory pizza pie. Use lasagna noodles to separate the layers that consist of a ricotta cheese mixture, a meaty pizza sauce, mozzarella cheese, and sautéed veggies with diced pepperoni. Repeat the layers and finish with a final topping of mozzarella and parmesan cheese. Bake to bubbly deliciousness.
Easy Pizza Quesadillas by Six Sisters Stuff
A delectable mashup between Mexican cuisine and Italian flavors is what you'll get with these quick and easy quesadillas filled with pepperoni, cheese, and marinara sauce. Keep it simple with those 3 ingredients, or add browned beef or sausage for a meat lovers theme. Have extra marinara sauce on hand for dipping. Kids love them and so do adults!
Baked Pizza Grilled Cheese Sandwiches by Flavor Mosaic
Up-level your grilled cheese sandwich to pizza status by using ooey-gooey mozzarella cheese. Slather on a homemade garlic and parmesan butter for true pizza enhancement and add pepperoni and pizza sauce along with the cheese on the inside. Grill to golden perfection. Oh, my!
Crock Pot Pizza Soup by Eating On A Dime
This pizza-flavored slow cooker soup will be a cozy treat during chilly weather when you need a "set it and forget it meal." Browned Italian sausage, pepperoni, crushed tomatoes, broth, seasonings, peppers, onions, and garlic will simmer to irresistible goodness. Stir in cheese during the last 30 minutes of cooking and serve with breadsticks, rolls, or garlic toast.
Easy Pizza Pinwheels by I Heart Naptime
Perfect for lunch or as party appetizers, these pinwheels are always a hit. Use refrigerated crescent dough and roll it out, ready for toppings. Slather on marina sauce, add pepperoni, your favorite diced veggies, mozzarella cheese, and carefully roll up. Slice into 1-inch pieces and bake for 10 minutes. Serve with extra marina sauce for dipping. So good!
Easy Pizza Stuffed Portobello Mushrooms by The Girl On Bloor
Skip the dough and use large portobello mushrooms as the base for these personal pizzas that are stuffed with pizza-themed ingredients. Browned ground beef, sautéed veggies, and pizza sauce are used to fill the mushrooms before being topped with cheese. Bake until tender and the cheese has melted. Delish!
Easy Pepperoni Pizza Stuffed Pastry by How Sweet Eats
Need a homemade pizza in a hurry? Use frozen puff pastry sheets for the dough and pile on your favorite jarred sauce and toppings and plenty of shredded cheese. It's ridiculously easy and you'll love the taste and texture of this easy pastry pizza that will win you rave reviews.
Layered Hot Pizza Dip by Zesty Olive
Perfect for game days or as a party appetizer, this dip is a layered treat of pizza-inspired flavors. Start with a 3-cheese mixture that's followed by a layer of pizza sauce, more cheese, spinach, pepperoni, and veggies. Top it with mozzarella cheese and bake until bubbly. Serve with pita bread, breadsticks, or crackers.
Cranberry BBQ Thanksgiving Leftover Turkey Pizza Pie by The Forked Spoon
Put those leftovers from the holidays to delicious use with this Thanksgiving-themed pizza idea. Use puff pastry for a quick pizza crust that you'll press into a pie dish. Load it up with cranberry sauce, Brussel sprouts, turkey, and stuffing. For zestiness, add some BBQ sauce and, of course, cheese. Bake until bubbly and enjoy those holiday flavors in a new setting.
Instant Pot Pizza Pasta Casserole by Simply Happy Foodie
Your pressure cooker will have this delectable casserole ready in under an hour. Sauté the sausage and onions, add seasonings and broth, as well as pasta. Top it with marinara sauce and cook until tender. Stir in cheese and pepperoni and let it melt. It doesn't get easier than this!
Keto Pizza Chaffles by Low Carb Inspirations
Those on the Keto diet will appreciate this easy personal pizza recipe, but if you're a cheese lover, you'll enjoy it, too! The "dough" is made with eggs and shredded mozzarella cheese and "baked" in a waffle maker. Top with pepperoni, sauce, and more cheese, then enjoy this tasty Chaffles pizza.
Pizza Popcorn by Tastes of Lizzy T
If savory popcorn is your thing, you'll flip for this homemade pizza-flavored for popcorn. All your favorite flavors are incorporated: tomato, oregano, basil, garlic, crushed pepper flakes, and of course, cheese! You'll bake this deliciousness right into the popcorn, ensuring a satisfying taste in every crunchy bite!
Supreme Detroit Style Pizza by Little Spice Jar
Homemade deep-dish pizza requires the right dough for this irresistible crust, which you can easily make at home. You'll make the pizza in a 9×13 inch pan and top with sauce and your favorite toppings. Here, it's all about the crust, so don't miss this simple 4-ingredient dough that's the difference between good and awesome!
California Pasta Salad by Culinary Hill
Cooked spaghetti is chilled and turned into a savory salad full of black olives, chopped pepperoni, chopped bell pepper, and red onions. Drizzle on a zesty Italian dressing and chill until ready to serve. It's all the tastes of a pizza in a delightfully cool salad that's perfect for BBQs and potlucks.
Blueberry, Feta And Caramelized Onion Naan Pizza by Kitchen Confidant
This awesome recipe uses Naan as the vehicle to hold the sweet and savory ingredients of this tasty pizza. Caramelized onion and feta cheese combine with blueberries and honey for a delightfully easy meal. Perfect for an appetizer, lunch, or dinner, it's ready in under 20 minutes.
Homemade Pizza Pockets by Princess Pinky Girl
Make these savory hot pizza pockets for snacks, lunch boxes, or a portable treat that tastes great cold, too! Pre-made pizza dough is cut into squares and quickly filled with sauce, cheese, and your favorite toppings. Fold over into a triangle and bake. They're ready in just 20 minutes!
Meat Lovers Crock Pot Pizza Dip by Bread B Bacon
Those who love meaty pizza will appreciate this meat lover's dip that incorporates sausage, pepperoni, and bacon into the mix. It's cooked low and slow in your crockpot for the ultimate flavor boost. Full of cheesy goodness, thanks to cream cheese, mozzarella, and Monterey Jack, the pizza sauce adds the final touch. It's irresistible!
Final Word
Please let me know which one you would like to try out of these 20 Savory Pizza-Inspired Recipes! I would have to say I want to try the meat lover's crockpot pizza dip! Please teach your kids and grandkids how to cook from scratch, it's all about memories and kitchen skills. May God Bless this world, Linda