20 Easy Sheet Pan Dinners
These 20 easy sheet pan dinners may be the greatest discovery since sliced bread! These easy-to-make and hands-off dinners are perfect for busy weeknights. The idea here is that you put all your ingredients on a sheet pan and place it in the oven to bake, pull it out, serve it up, and enjoy.
Make sure you line your sheet pans with parchment paper, foil, or a non-stick silicone baking mat for easy cleanup. In this roundup of sheet pan dinners, you'll find several meals that take as little as 10 minutes to bake!
Browse these recipes that include sheet pan fajitas, shrimp bake, roasted chicken, pork tenderloin, glazed salmon, and even protein-packed baked nachos. Your family will love these meals, and you'll love the ease of prep and clean up! These use a regular-size cookie sheet: Cookie Sheet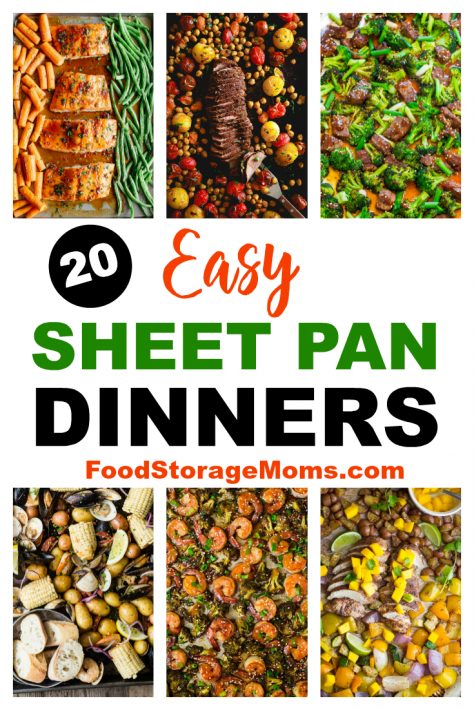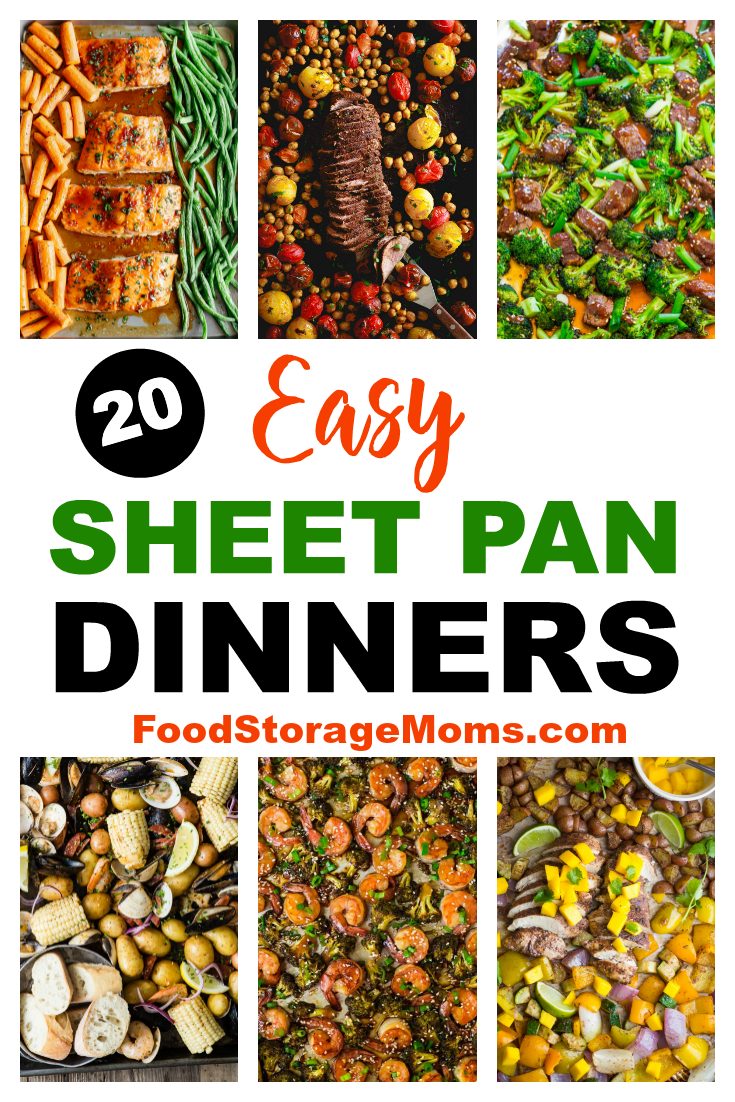 20 Easy Sheet Pan Dinners
1. Sheet Pan Chicken Fajitas
Sheet Pan Chicken Fajitas by Amanda's Cookin'
Put that skillet back and pull out your sheet pan instead! Take a more hands-off approach by baking all those yummy fajita ingredients in your oven. Super easy cleanup included!
2. Maple Walnut Crusted Halibut
Maple Walnut Crusted Sheet Pan Halibut by Flavour And Savour
This is a super healthy meal that's Paleo-inspired. The best part? It's ready in about 10 minutes! If you're not a fan of halibut, just substitute another white fish, like cod, snapper, haddock, or tilapia.
3. Lemon Parmesan Garlic Chicken
Sheet Pan Lemon Parmesan Garlic Chicken & Veggies by Cafe Delites
These breaded chicken fillets are oven-baked instead of deep-fried for a healthier option. Add a little lemon, garlic, potatoes, and green beans and you have a delicious meal all in one pan.
4. 15-Minute Sheet Pan Beef
15-Minute Sheet Pan Beef and Broccoli by Averie Cooks
This is one of the quickest and most delicious sheet pan dinners you'll ever make. Just 15 minutes and it's ready to be plated and enjoyed. It gets a little Asian flavor from soy sauce and sesame seeds. Serve with a side of rice and you're good to go.
5. Herb-Crusted Chicken w/Red Potatoes
Sheet Pan Herb-Roasted Chicken with Red Potatoes by Zesty Olive
Prep this meal in 10 minutes, give it about 35 minutes in the oven, and then prepare to dig in! Destined to become a family favorite.
6. Crispy Tofu & Peanut Sauce Stir
Sheet Pan Crispy Tofu & Peanut Sauce Stir by Joy Food Sunshine
If you're looking for a vegan-friendly sheet pan dinner, here it is! The tofu in this dinner gets extra crispy by letting it bake first and then adding all the other deliciousness to the sheet pan. Try this Asian-inspired meal for something different!
7. Old Bay Shrimp & Sausage Dinner
Old Bay Shrimp And Sausage Sheet Pan Dinner by The Modern Proper
This dinner couldn't be easier. Grab your can of Old Bay seasoning and give the shrimp, sausage, and veggies a good sprinkle of these iconic spices!
8. Sheet Pan Eggplant Parmesan
Sheet Pan Eggplant Parmesan by Bunsen Burner Bakery
There's nothing like homemade eggplant parmesan, and this recipe adds easy-to-make turkey meatballs, too. Bake all of it on two separate sheet pans. This meal is also a great make-ahead option; just warm everything up when you're ready to serve!
9. Chili Dijon Pork Tenderloin
Chili Dijon Pork Tenderloin by Carlsbad Cravings
The star of this delicious pork tenderloin dinner is the seasoning rub and brine that makes the flavors both sweet and tangy. Round out the dinner with potatoes and green beans and this sheet pan meal will be met with rave reviews!
10. Mediterranean Roasted Lamb
Sheet Pan Mediterranean Roasted Lamb by Running To The Kitchen
If you love Mediterranean flavors like cinnamon, turmeric, allspice, and smoked paprika, then you'll want to make this roasted lamb dinner. Add some little tomatoes and chickpeas, roast for about 20 minutes, and enjoy this flavorful meal!
11. Sheet Pan Clam Bake
Sheet Pan Clam Bake by Culinary Hill
You have to try this awesome clam bake dinner which is a breeze to clean up. Just load up a sheet pan with fresh shrimp, clams, corn, potatoes, and chorizo and bake!
12. Sheet Pan Fajitas
Sheet Pan Steak Fajitas by Number 2 Pencil
What do you get when you put a flank steak, peppers, onions, and spicy seasoning on a sheet pan to bake? Steak fajitas! Delicious, easy, and a keeper.
13. Oven-Baked Pork Chops w/Potatoes
Oven-Baked Pork Chops With Potatoes by Recipe Tin Eats
Try this savory and sweet sauce on your baked pork chops. Don't worry; clean-up is a breeze as long as you line your sheet pan.
14. Sheet Pan Salmon-Pesto-Veggies
Sheet Pan Salmon with Sage Pesto and Root Vegetables by Lexi's Clean Kitchen
This pistachio pesto adds a rich flavor to this fall-inspired meal of salmon and root veggies like beets, carrots, and Brussels sprouts. Beautiful and delicious!
15. Sheet Pan Shrimp & Broccoli
Sheet Pan Shrimp And Broccoli by Well Plated
Use fresh shrimp or take a shortcut and use pre-peeled frozen shrimp; either way, the sauce is the secret to this scrumptious shrimp meal on a pan!
16. Eastern Turkey Meatball Dinner
Eastern Turkey Meatball Sheet Pan Dinner by How To Eat
Try this delicious two-pan sheet pan meal. Don't worry – it's easy! The veggies need a little longer to reach perfection, so you just add those turkey meatballs to the second sheet pan to the oven about halfway through. Voila! Perfection!
17. Jamaican Chicken Dinner
Jamaican Chicken Sheet Pan Dinner by Sweet Peas And Saffron
This Jamaican spice rub for the chicken is heaven! You can make it as spicy and hot as you want, or just keep it deliciously mild and oh-so-flavorful. Destined to become one of your most requested dinners!
18. Ginger Soy Glazed Salmon
Sheet Pan Ginger Soy Glazed Salmon by Eat Yourself Skinny
Green beans, carrots, and salmon are what's on the menu, or sheet pan, for tonight. If you're short on time, make this. Takes less than 15 minutes in the oven and dinner is served!
19. Chicken And Black Bean Nachos
Sheet Pan Chicken And Black Bean Nachos by The Baker Mama
Of course, you can have nachos for dinner! Just load 'em up with all the protein and goodies that need to be there and serve. Kids and teenagers love them!
20. Sheet Pan Turkey Dinner
Sheet Pan Turkey Dinner by Life Made Sweeter
This sheet-pan dinner takes a bit more prep work, but if you're looking for a simpler Thanksgiving-style meal on a sheet pan to feed fewer people, then this is it!
Final Word
I want to write about ways to cook meals from scratch. These 20 easy sheet pan dinners should help many families do just that! Let's stop the drive-through eating.
It's not healthy and we need to eat together as a family. Thanks for being prepared for the unexpected. May God bless this world, Linda