How To Make Croissant Rolls Whenever You Want
Today it's all about how to make croissant rolls whenever you want!  You can make croissant rolls, dinner rolls, cloverleaf rolls, breadsticks, etc. with this easy recipe. I must tell you that this recipe is made with white bread flour and not freshly ground whole wheat flour. Sometimes I just want my white flour rolls, just saying.
I used to teach classes in my home, at churches and even in a store right here in St. George, Utah. In the store, there was a group of people in one of the classes where we called ourselves the "The Dixie Dumpers". I will tell you the reason it started is that I always say, "I just dump stuff in when baking or cooking because I'm a dumper."  I don't always measure exactly, I am not a chef,  just a Mom, and a Grandma.
Well, St. George, Utah has a history of Dixie, Dixie College or Dixie State University. Well, in class someone said the huge "D" on the hillside will now remind all of us of the "Dixie Dumper Chics" from our cinnamon roll class at the store! We had a lot of fun in those classes.
Please remember, you have to have fresh ingredients or you may be very frustrated with the outcome. White flour has a shelf-life of 6-12 months at the most. It depends on how long the bag was in the store. Yeast and dough enhancer must be fresh as well. So, please date your white flour and store your yeast and dough enhancer in the freezer or refrigerator, depending on how often you make bread or rolls. Okay onto the recipe.
How To Make Croissant Rolls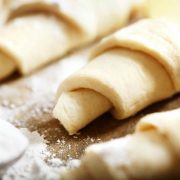 How To Make Croissant Rolls
Ingredients
1

cup

warm milk

2

tsp.

Saf instant yeast

2

tsp.

dough enhancer (optional-this makes fluffier rolls)

1

egg

1/8

cup

oil (I use olive oil)

3/4

tsp.

sea salt

1/4

cup

sugar

1/4

cup

warm water

3 to 3-1/2

cups

white bread flour
Instructions
I start with a Bosch bread mixer, although you could make these in a large bowl. I put the yeast, warm water, salt, oil, and sugar in the bowl. I then add the eggs and lightly mix it in the Bosch so the eggs do not "cook". Then I add the warm milk and flour slowly. I continue to add flour until the bread dough pulls away from the sides of the Bosch bowl. I knead for about 7-8 minutes. I place the dough in a greased bowl and cover with greased plastic wrap. I let the dough rise until double the original size. I punch down the dough and roll out or make whatever shape of rolls I feel like making, today it is croissants. Preheat oven to 350 degrees and bake for 12-15 minutes or until golden brown.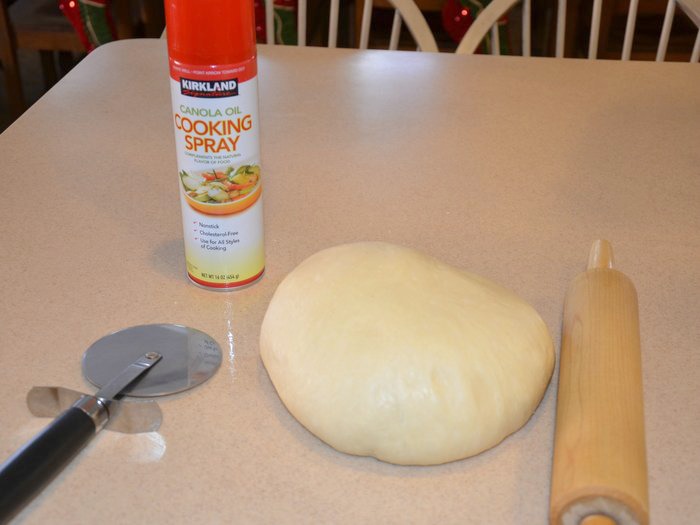 I divide the dough in half and start rolling each mound of dough into a circle (I spray the counter with vegetable spray to keep the dough from sticking to the counter). You then slather the dough with softened butter and then cut the dough with a pizza cutter into 12 "pizza shapes".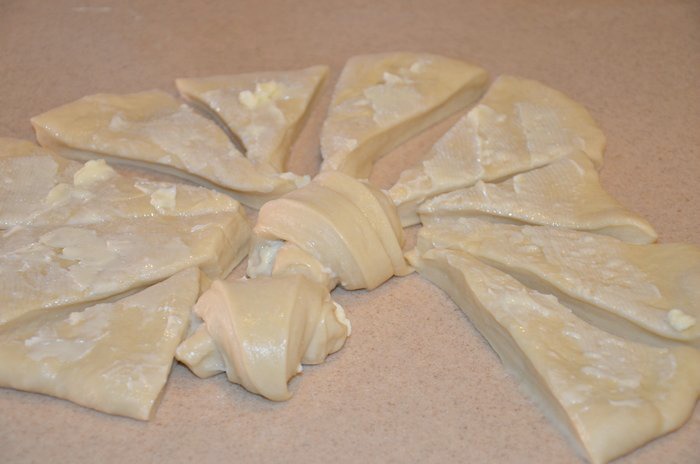 Next, you roll each "pizza slice" from the fat end into the center of the "pizza". Place the rolls with the flap tucked under on a greased cookie sheet.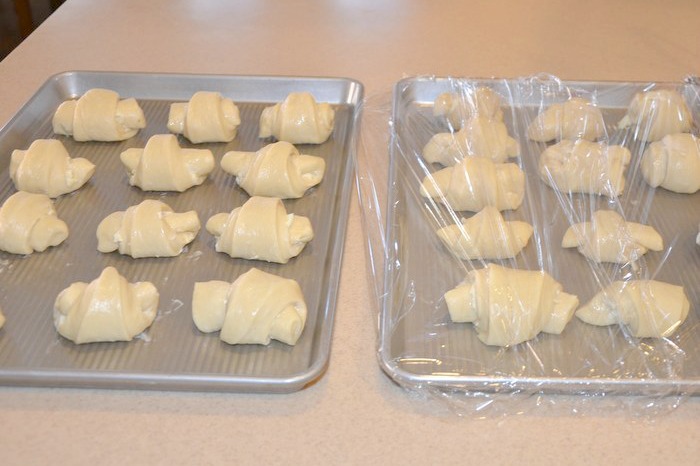 Cover with greased plastic wrap and let the dough rise one more time. This makes them fluffy. When double in size (1-2 hours maximum) remove the plastic wrap and bake at 350 degrees for 12-15 minutes or until golden brown. I lightly butter the tops of each croissant after baking.
This recipe also makes two one-pound loaves of bread: White-Bread-For-Two Recipe
My favorite things:
Fat Daddio'S 2-Piece Bread Pan Set
Nordic Ware Natural Aluminum Commercial Baker's Half Sheet
Bosch MUM6N10UC Universal Plus Stand Mixer, 800 Watt, 6.5-Quarts with Blender, Bowl Scraper, and Cookie Paddles