The Best Cheesy Potato Casserole
This is truly the best cheesy potato casserole in the world. It's at least 50 years old and going strong. In Utah, this recipe is also known as "funeral potatoes". The reason is when we have a funeral in Utah, typically we serve lunch to the family of the deceased. It's a time to remember the good times with family and friends with a meal being served to those in attendance.
I'm usually asked to make my infamous chocolate cake as a dessert for those special lunch meals. In case you missed this post, try this Best Chocolate Cake Ever. Okay, back to the cheesy potatoes. This dish has frozen hash browns, sour cream, butter, shredded cheese, and cream of chicken soup, and is topped off with your favorite version of frosted flakes.
I'd be surprised if we all didn't have our own family recipe for cheesy potatoes. Where I live (Utah), we not only serve these cheesy potatoes at funeral lunches, but also at church activities, neighborhood parties, family reunions, and regular family meals. They really are yummy and so easy to make, so I decided to show you how to make them today using some frozen hashbrowns, and also using dehydrated potatoes.
Kitchen Items You May Need
I must say my mouth is watering just thinking about these! First, let's talk about preparing your dehydrated potatoes for use in the recipe.
Ingredients
Shredded Potatoes: Potatoes are a nightshade vegetable and are grown for their starchy edible tubers.
Sour Cream: Used to add more flavor to the cheesy potatoes. It has a 20% fat content. The cream is mixed with a lactic aid that creates that sour taste we all love! It also helps to thicken the cream.
Cream of Chicken Soup: A savory and smooth creamy chicken soup made of chicken stock, seasonings, small bits of chicken, celery, and cream.
Butter: Helps to keep the potatoes from crumbling; prevents the water from evaporating, which creates moist and soft cheesy potatoes.
Grated Colby Jack Cheese: A very smooth, moist, and mild cheese. It is the perfect choice for this cheesy potato casserole due to its melting capabilities which helps to combine all of the ingredients together.
Frosted Flakes or Corn Flakes: The perfect topping! Use Frosted Flakes for a sweeter crunch and Corn Flakes for a more mild yet savory crunch. You are also welcome to use a cracker of choice or other topping.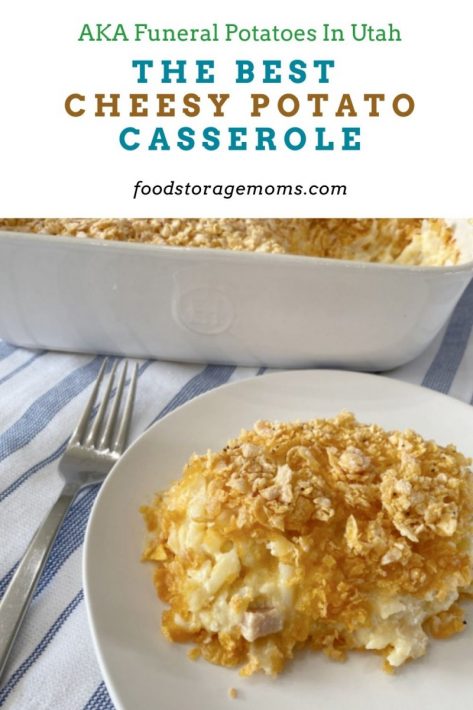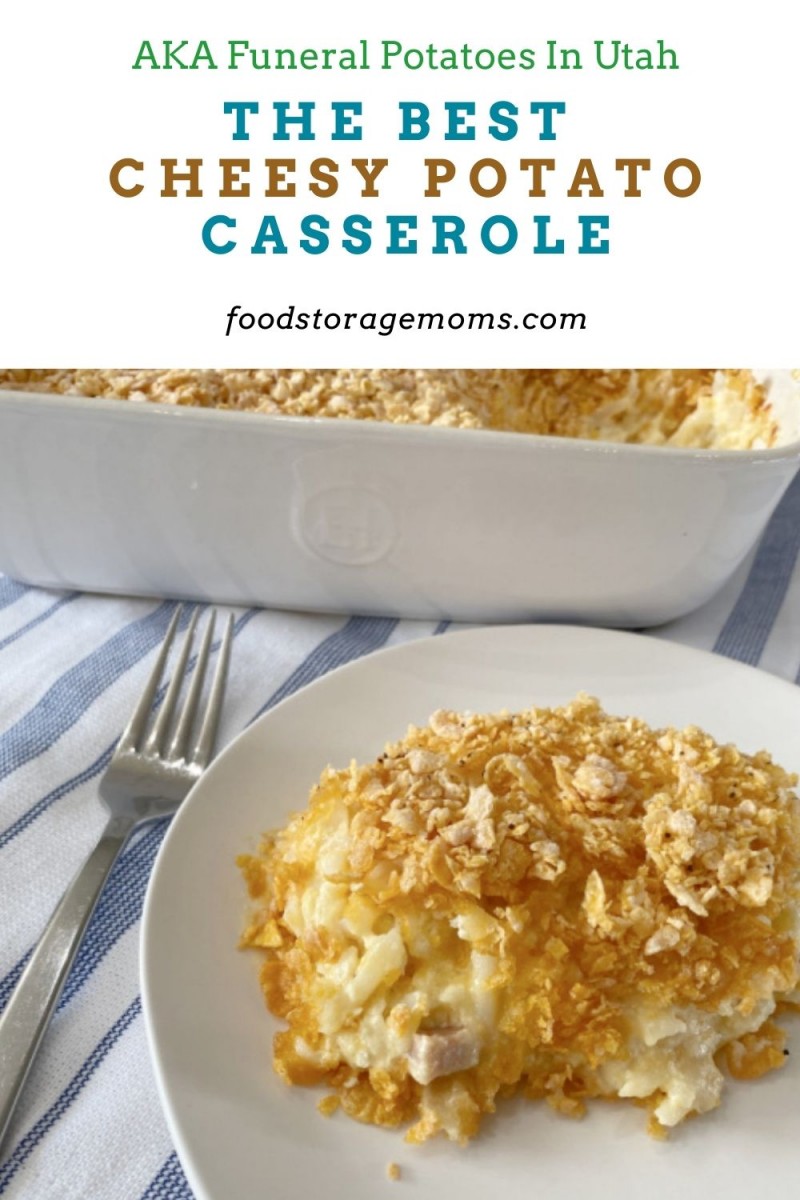 The Best Cheesy Potato Casserole Recipe
Step One: Gather the Ingredients – Preheat Oven
Preheat your oven to (350°F) = (176°C). Gather all of the ingredients so you're ready to make the recipe.
Step Two: Crush the Frosted Flakes
Crush the Frosted flakes in a bag. Note that you can use another cereal or even your favorite cracker you feel would be a good fit flavor-wise. You may be wondering why I use Frosted Flakes. I get it. One day many years ago, we were out of cornflakes and crackers. The only cereal we had was Frosted Flakes. So we crushed the yummy cereal and now we only use them. I've heard from readers that they like crushed potato chips too. I guess the topping you add could be made from dozens of crunchy things you like.
Step Three: Combine the Ingredients
Combine all of the ingredients in a large bowl, and sprinkle with salt and pepper.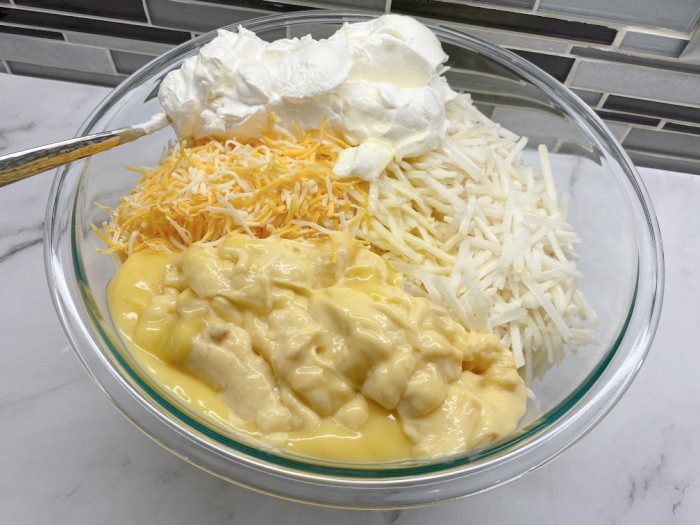 Step Four: Stir Until Smooth
Stir the ingredients until smooth.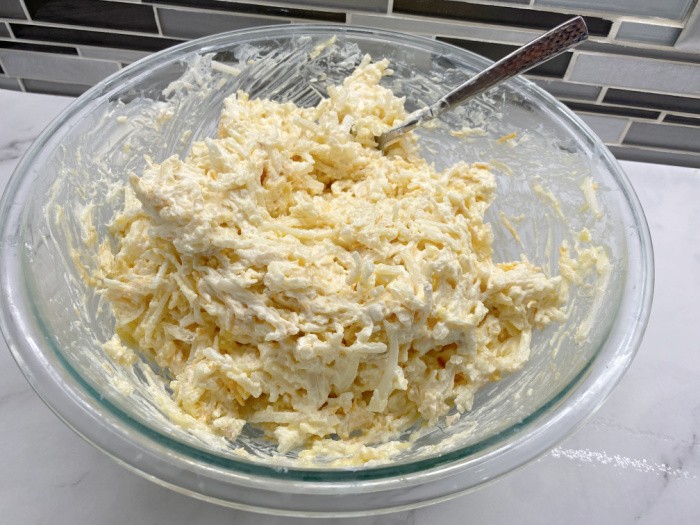 Step Five: Scoop the Mixture Into The Pan
Grease a 9 by 13-inch pan with cooking spray and scoop the mixture into the pan or baking dish.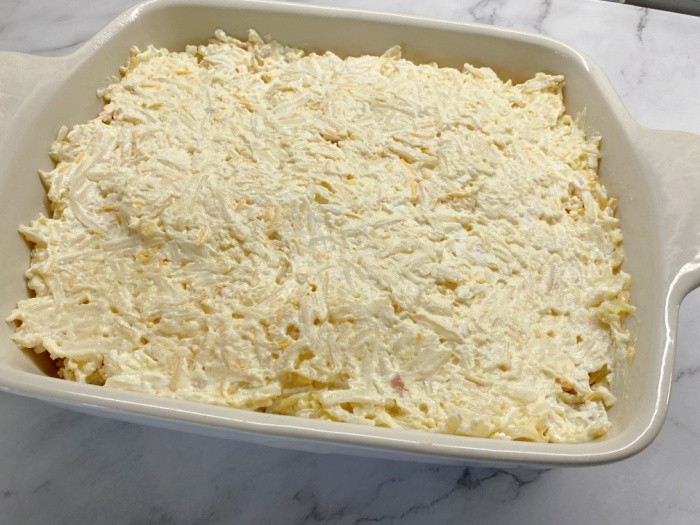 Stir Six: Bake as Directed
I crush the frosted flakes and sprinkle them over the casserole. Bake at (350°F) = (176°C) degrees covered with foil for 1 hour, or until bubbly.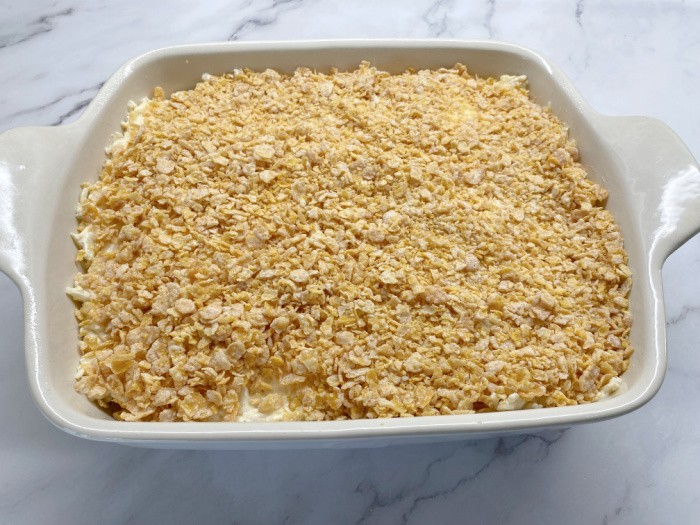 Finished Product
Whether you use frozen hash browns or dehydrated potatoes from your pantry or the store, this recipe will prove to be one you'll grow to love and serve. When our extended family visits, there are two recipes I always have to make, these cheesy potatoes and cream chipped beef on toast. I used to think they came to see their grandma, now I wonder if it isn't so they can enjoy my meals!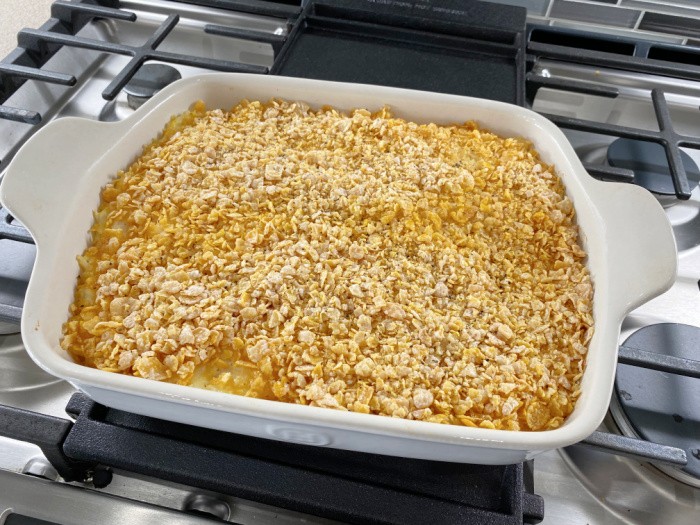 The Best Cheesy Potato Casserole Recipe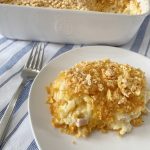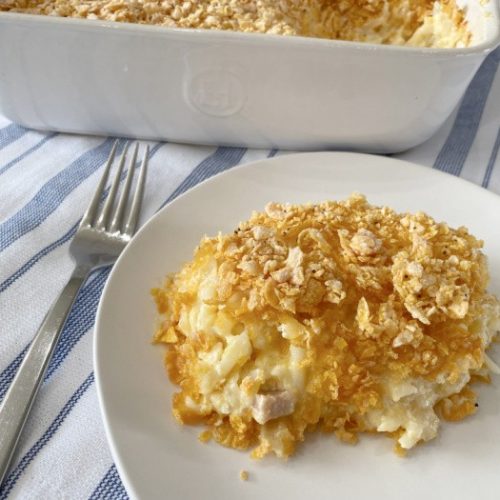 The Best Cheesy Potato Casserole Recipe
Ingredients
12

cooked and shredded potatoes or 30 or 32-ounce bag of frozen hash browns

1

pint

Sour Cream

2

cans Cream of Chicken Soup

1/4

cup

Butter, melted

2-3

cups

Cheese-shredded

1

cup

crushed Frosted Flakes type cereal
Instructions
Gather all of your ingredients. Preheat your oven to (350°F) = (176°C).

Crush the Frosted Flakes in a bag. Note: You are welcome to use another cereal or favorite cracker, if desired, in place of the Frosted Flakes. The Frosted Flakes give the casserole a sweet flavored topping that is delicious and pairs well with the other ingredients.

Combine all of the ingredients in a large bowl, and sprinkle with salt and pepper. (Except for the Frosted Flakes and butter, set them aside).

Stir the ingredients until smooth.

Grease a 9 by 13-inch pan with cooking spray and scoop the mixture into the pan or casserole dish.

Bake at (350°F) = (176°C) degrees covered with aluminum foil for 1 hour or until bubbly.
Frosted Flakes Topping
Combine the melted butter and crushed Frosted Flakes, you will sprinkle these on the casserole before baking or add them to the baked casserole, for the last 15 minutes of baking.
How do I store the leftovers after baking them?
I store them in an airtight Tupperware-type container for 2-3 days in the refrigerator.
Can I freeze the leftovers?
The nice thing about this recipe is it does make a lot. Our family usually finishes off the recipe, but if you have leftovers, place them in an airtight container for freezer storage. They will be good for 2-3 months. Thaw them in the refrigerator, and bake them covered as directed to heat them through.
Can I use a different cheese?
Yes, I have used plain cheddar cheese, Mozzarella cheese, Monterey Jack cheese, and even spicy Jack cheese once. The spicy Jack cheese I had to grate it by hand. It was delicious! I know people who use Swiss cheese in this recipe. You could also sprinkle parmesan cheese over the top for a cheesy crust.
For a bolder flavor, you could add different types of cheese, such as smoked gouda or sharp cheddar cheese. This recipe is so versatile.
Can I use a different shape of potatoes?
I have used the small 1/2-inch frozen potatoes as well. Any shape works. The shredded hashbrowns are the ones that most people in Utah use. When I was younger I boiled potatoes, now I buy them frozen and shredded.
What type of potatoes should I use for this recipe?
You can use any type of potato you prefer, but russet potatoes work best because they have a fluffy texture when cooked.
Are there any variations that could be made to this recipe?
I really love the recipe as is! But if you are interested in adding some additional ingredients or making any variations, I would recommend any of the following.
Substitute the traditional potatoes for sweet potatoes for a sweeter taste.
Top with crushed Cornflakes, Ritz crackers, or bread crumbs.
Use cream of mushroom soup or cream of celery soup instead of cream of chicken soup.
Add diced jalapenos for a spicy kick.
Add cooked bacon or ham for added flavor and protein.
Top the casserole with crispy bacon pieces for an added crunch.
Add a pinch of nutmeg, paprika, or thyme for an added depth of flavor.
You could add some minced garlic to the melted butter.
Melt some Velveta cheese to make a creamy cheese sauce in place of the shredded cheese.
The options are endless!
Is this cheesy potato casserole gluten free?
The Frosted Flakes or Cornflake topping in this recipe is most likely NOT gluten-free. If this is a concern in your family, I would recommend eliminating the cereal topping or using a cereal or cracker that is certified gluten free. As with any food allergy, I would highly recommend reviewing the ingredients on any product that you use in this recipe, or on any other packaging, if you decide to add or substitute any additional ingredients.
What can I serve with these cheesy potatoes?
Chicken
Roast Beef
Hot Dogs
BBQ Hamburgers
How To Use Dehydrated Potatoes For Cheesy Potatoes:
All you do is open a container or package of dehydrated potatoes, no slicing or peeling and let them sit in water covered for about 45 minutes. Drain and they are ready to use. Just reconstitute the dehydrated ones as directed on the container and you're ready to go.
I promise your cheesy potato casserole will be totally consumed at your next get-together! Although not listed as an ingredient, you can sprinkle a little green onion on top to add some extra flavor. With the potatoes, soup, Frosted Flakes, and other ingredients listed below, this really is a tasty recipe. Sometimes I'm tempted to serve it on its own without any meat portions, particularly when I serve it to friends who lean towards vegetarian meals.
Potatoes tend to make you feel full, and with the cheese and other items included you have a meal most all family members will be asking to be repeated pretty often. We've also made these in a series of pans and frozen some for future meals.
You can take them out of the freezer the night before you plan to serve them. Let the ingredients defrost, then place the covered pan in the oven. Be ready to pass out the recipe.
You'll note that the recipe calling for frozen hash browns is the same as the dehydrated version, just without any rehydration steps, just time to thaw the frozen potatoes.
Final Word
Let me know if you decide to make this one and only best cheesy potato casserole! recipe. It really is the perfect side dish to serve at any family gathering or special occasion. We love to serve it for Easter or Christmas dinner. It is always a hit with any crowd!
It's funny how certain foods can be attached to an ethnic group or location, even to the point they are called "signature foods." Examples might be Chicago or New York pizza, Philly and their cheesesteak sandwiches, and San Francisco's famous sourdough bread. I'm not aware of another place where people are likely to make this cheesy potatoes recipe like they are here in Utah. Utah also became famous for its green jello with carrots when the Olympics were held here in 2002.
Let's spread the word by serving this at your next company party, neighborhood dinner, or family reunion. You'll get rave reviews and have a new "family favorite" you can serve anytime. Let me know how it was received by your hungry guests. May God bless this world. Linda