I confess that the Oreo® cookie is my favorite cookie ever! So today, I'm sharing 20 amazing Oreo® recipes. Life is so good if I have a package of these gems in my house. Of course, I love making homemade cookies, but for some reason, I love the original chocolate wafer cookie with that white filling. I would pass on the double filling, but that's how I roll.
Whether you like them double-stuffed, minty, vanilla-based or chocolate, Oreo cookies are a favorite treat for kids as well as adults. But don't just stop at eating them straight out of the package! Experiment by incorporating them into jaw-dropping and awesome dessert recipes that will thrill your family and friends. And the best part?
Most of them are super easy. Some are showstoppers and perfect for special occasions. And some are no-bake, so there's no need to sweat over a hot oven to make these treats. From cakes to cookies, from milkshakes to brownies, and from doughnuts to parfaits, here are 20 amazing Oreo® recipes to try right now!
20 Amazing Oreo® Recipes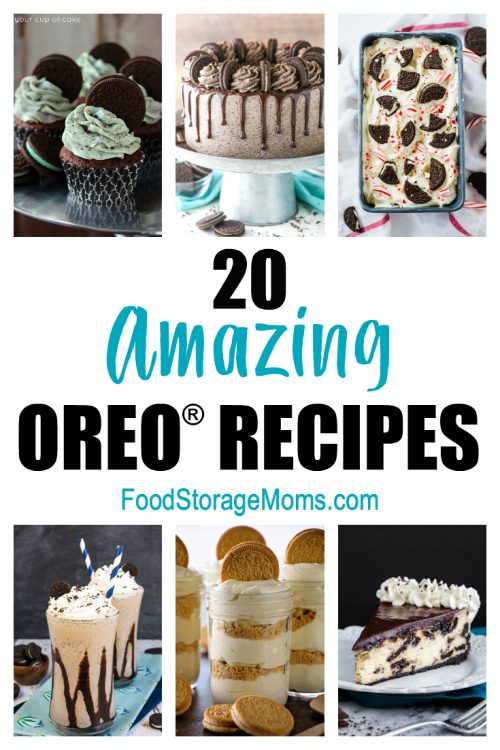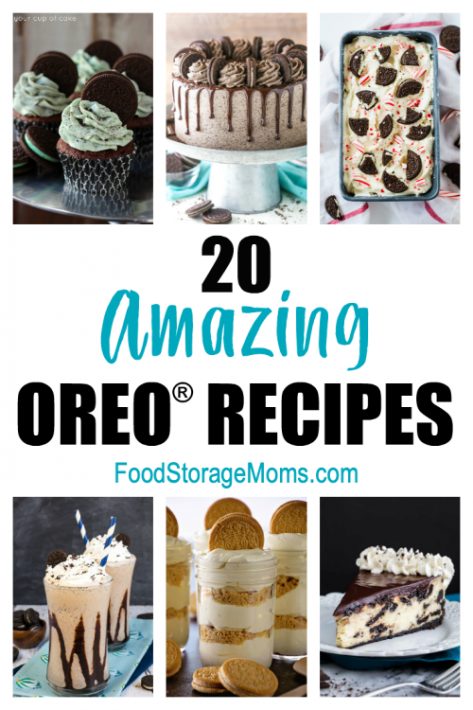 1. Oreo Loaded Cheesecake Brownies
Oreo Loaded Cheesecake Brownies by OMG Chocolate Desserts
Layered with crushed double-stuffed Oreos, these fudgy brownies are outrageously delicious and a sight to behold!
2. Mint Oreo Cupcakes
Mint Oreo Cupcakes by Your Cup Of Cake
Mint and chocolate are two flavors that pair well together, and these cupcakes take it to the next level with the Oreos making a surprise crust for the cupcakes. Gentle flecks of Oreos appear in the mint frosting, too. Delicious!
3. Chocolate Oreo Cake
Chocolate Oreo Cake by Life Love And Sugar
If you're looking for a showstopper dessert, this is it! Combining a chocolate layered cake with an Oreo-based frosting, this cake will wow your friends and family! Perfect for that special celebration.
4. Mocha Oreo Milkshakes
Mocha Oreo Milkshakes by Inside Brew Crew
For a completely decadent milkshake, crush up some Oreos, blend with ice cream, drizzle with chocolate syrup, top with whipped cream and add more cookies for a finishing garnish. Go make it now. You know you want to!
5. Homemade Oreo Cookies
Homemade Oreo Cookies by Erren's Kitchen
These homemade Oreo cookies will put those store-bought packages to shame! For a deep chocolate flavor, check out her secret ingredient!
6. Pistachio, Salted Caramel, Oreo Dark Chocolate Bark
Pistachio, Salted Caramel, and Oreo Dark Chocolate Bark by Averie Cooks
Has there ever been a more heavenly combination than pistachio, caramel, and chocolate? Well, yes! Add some Oreo cookies into the mix and you'll be on cloud nine!
7. Oreo Chocolate Mousse
Oreo Chocolate Mousse by A Pumpkin And A Princess
With just 5 ingredients you can make this delectable rich and creamy mousse that is the perfect dessert for that special occasion!
8. Oreo S'mores Trifle
Oreo S'mores Trifle by Crazy For Crust
S'mores and Oreos met and decided to be friends in this awesome trifle. Your kids will think you're brilliant for combining two of their favorite treats!
9. No-Churn Oreo Peppermint Ice Cream
No Churn Oreo Peppermint Ice Cream by Cookie Named Desire
This awesome ice cream recipe is delicious as is, but if peppermint isn't your thing, just leave it out and enjoy those Oreo bits and pieces!
10. Cookie and Cream Chocolate Doughnuts
Cookie And Cream Chocolate Doughnuts by Handle The Heat
Moist and fudgy doughnuts get bedazzled with crumbled Oreos on top!
11. Golden Oreo Cake Batter Blondies
Golden Oreo Cake Batter Blondies by Sally's Baking Addiction
These blondies are over-the-top adorable and taste just as amazing as they look with help from golden Oreos!
12. Mint Oreo Icebox Cake
Mint Oreo Icebox Cake by Life Love And Sugar
This is the perfect summer dessert for picnics, barbecues, and outdoor entertaining. The mint is refreshing and is the perfect flavor combo for the chocolate cookies. Make ahead and freeze!
13. Oreo Macarons
Oreo Macarons by Liv For Cake
These gorgeous macarons take 12 double-stuffed Oreos and turn them into these delicately flecked pieces of confection that are a treat to behold.
14. Oreo Cheesecake
Oreo Cheesecake by Sugar Spun Run
Cookie and cream play nicely with the filling in this beautiful Oreo cheesecake. Add a layer of chocolate ganache on top, pipe some whipped cream along the sides and serve!
15. Cookie And Cream Cupcakes
Cookie And Cream Cupcakes by Taste And Tell
These surprise cupcakes have a marshmallow filling center with piled-high cookies and cream frosting for good measure!
16. Frozen Mocha Oreo Bars
Frozen Mocha Oreo Bars by Neighbor Food Blog
Try this no-bake recipe of creamy, espresso laced mousse topped with Oreos and hot fudge sauce. Just a quick time in the freezer to get it firmed up and it's ready to go!
17. Golden Oreo Dream Salad
Golden Oreo Dream Salad by Julie's Eats And Treats
This gorgeous dessert couldn't be more simple. Whip this up and serve in a mason jar for yummy down-home goodness!
18. No-Bake Oreo Cheesecake
No-Bake Oreo Cheesecake by Spend With Pennies
Your guests will think you spent hours putting together this impressive cheesecake, but you'll know differently. Serve this light and fluffy cookie and cream cheesecake with confidence and wait for the rave reviews!
19. Oreo Coffee Cream Parfait
Oreo Coffee Cream Parfait by The Little Epicurean
Grab a small jar and build this delicious java-inspired parfait, complete with everyone's favorite cookie!
20. Oreo Cheesecake Icebox Cake
Oreo Cheesecake Icebox Cake by Brown Eyed Baker
This delightful icebox cake is super simple to put together. Make-ahead so it's ready for those warm summer evenings when this is just the dessert to help everyone stay cool.
Final Word
You know sometimes you just have to have a cookie! I hope you try some of these Oreo® recipes, life is so good when we try a new recipe. Keep on prepping and stay safe. Thanks for being prepared for the unexpected. May God bless this world, Linda