The Best Enchilada Recipe In The World
This truly is the best enchilada recipe in the world! You know, when it has lots of chicken and it's made with flour tortillas it will be super yummy!
I swear, my friend Kathleen comes up with the best recipes and I will tell you why. She likes to make a different recipe every night for her husband. I tend to use the same recipes over and over again.
I bet I have made that chicken enchilada recipe with the green chilies, sour cream and cream of chicken soup over 100 times in my lifetime. Maybe even 500 times. Anyway, this recipe is a bit different. This is my favorite enchilada or lasagna pan: All-Clad 59906 Stainless Steel 15 by 12 by 2.25-Inch Lasagna Pan Cookware, Silver
I went to a neighborhood dinner and Kathleen made this enchilada recipe. The dinner was a Mexican themed dinner with really cute decorations and they served these enchiladas, lime rice, salad, chips, and salsa. I remember eating more than my share of the salsa and chips! I will share one of my salsa recipes down below as well.
Kathleen's Enchilada Recipe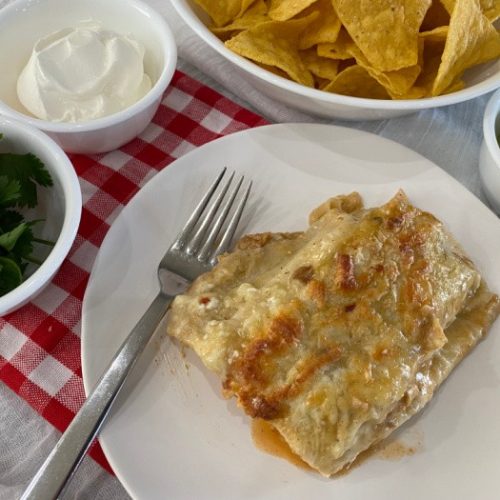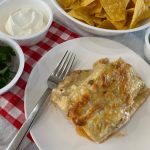 Chicken Enchilada Recipe
Ingredients
1

pound

of cooked chicken

shredded

10

ready-made flour tortillas (I cut them into pieces so they are easier to serve from the pan)

2-

16-ounce

cans green enchilada sauce (one can to serve warm with the enchiladas)

1

pound

of grated Monterey Jack cheese or grated Mozzarella cheese (save one cup to sprinkle over the finished casserole before cooking)

1

cup

heavy cream
Combine the following ingredients:
1/3

cup

honey

1

large lime (squeezed or 5 tablespoons lime juice)

1

tablespoon

chili powder

1

clove

garlic, chopped
Instructions
Preheat the oven to (350°F) = (176°C) degrees. Combine the honey, lime juice, chili powder, and garlic with the chicken. Stir until completely mixed together. Place the bowl in the refrigerator covered with plastic wrap and marinate it for a few hours or overnight. Spread half of the enchilada sauce in a greased 9-inch by 13-inch pan. Layer the cut pieces of tortillas, cheese, and chicken mixture in the pan. Mix the remaining enchilada sauce with the cream. Spread the mixture over the top of the casserole and sprinkle with the last cup of grated cheese. Bake at (350°F) = (176°C) degrees for 30-40 minutes, or until cooked through.
Serve with sour cream, grated cheese, lime rice, black beans, pinto beans, salsa, and Cilantro.
Linda's Salsa Recipe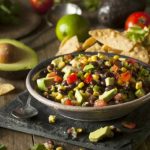 Linda's Salsa Recipe
Ingredients
3

cans black-eyed peas

drained and rinsed

2

cans corn

drained

4-5

tomatoes

chopped

3

avocados

peeled and chopped

1

bunch cilantro

chopped

1/2

purple onion

minced

Juice of 2 Limes

Good Seasonings Italian Dressing Packet-prepared or just make yourself a vinegar and oil dressing
Instructions
Mix all together with the amount of dressing you prefer, then just salt & pepper to taste! Serve cold with tortilla chips. Great as a side dish, too! This is yummy to eat for lunch as well.