Today I'm showing you how to make dog food. Now, hear me out, I have had several bags, cans, and packets of dog food recalled over the years. As I remember it was for Ecoli, Salmonella, Listeria, or whatever, right? My puppy, Bailey is now 19 months old. She is happy, healthy, and loves her homemade dog food.
My sister, Carol, has two dogs and she started making her own dog food as well. I've been doing it subconsciously because I quit buying dog food a few months ago. Bailey eats cooked meat, chopped vegetables, and limited fruits. Please check with your Veterinarian before you make a change with your pet's food. This works for me and saves me money at the same time.
A few months ago, I wrote a post on 11 Human Foods Dogs Should Never Eat. Then I decided to put together some ideas for dog food. I'm not sure it would be cost-effective for large dogs. I have to laugh because that would be like feeding another adult in the family, right?
What Can Dogs Not Eat? by Your Dog Advisor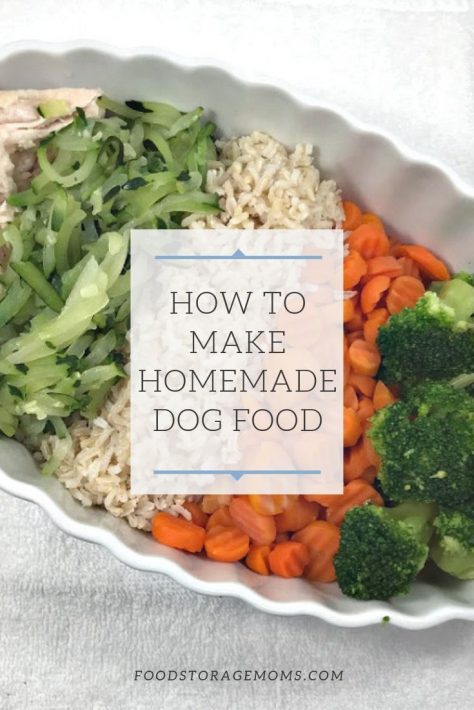 Meat at Discounted Prices
You may remember I buy meat at local grocery stores in the marked down section. I'm talking like 75% off the original price. I bet I look like a hoarder at the store on Black Friday, but it isn't Black Friday. I grab as many of the packages I can and toss them gently into my basket. Then I really look them over to see if the meat will work, it almost always does.
Rarely do I put any packages back. The other day, I picked up some roast beef (4-5 pounds each) regularly priced at $27.00 marked down to $11.00. Those will be saved for Sunday dinner. I bought a bunch of stew meat that I can cook in my pressure cooker to make it tender. When I get home with the discounted meat I put it all in the freezer for future use.
One website I recommend is the AKC Human Foods Dog and Cats can eat. A reader recommended a vitamin supplement to add to the food. I am going to find one for Bailey. That's a great tip.
I found this website called: BalanceIT It shows all the different foods we can feed a healthy adult dog (Disclaimer: under Veterinarian supervision). Mark and I read where you can feed your dog raw meat, I can't do it. We worry about our food chain, our dog will have cooked meat and vegetables.
Tools To Make Dog Food
Sharp knife
Cutting board
Measuring cups
Freezer Bags or containers for storing food- Anchor Hocking Set
Permanent marker to date meals made
How I Made The Dog Food
This week I used chicken, zucchini, brown rice, carrots, and broccoli. I'm super excited because I know she's eating a healthy meal. She loves this food! I will add a bit of her kibble with the next batch. I think it has some nutrients she needs, here again, I'm winging it. Please remember I'm no veterinarian, just a mom to a Shih Tzu.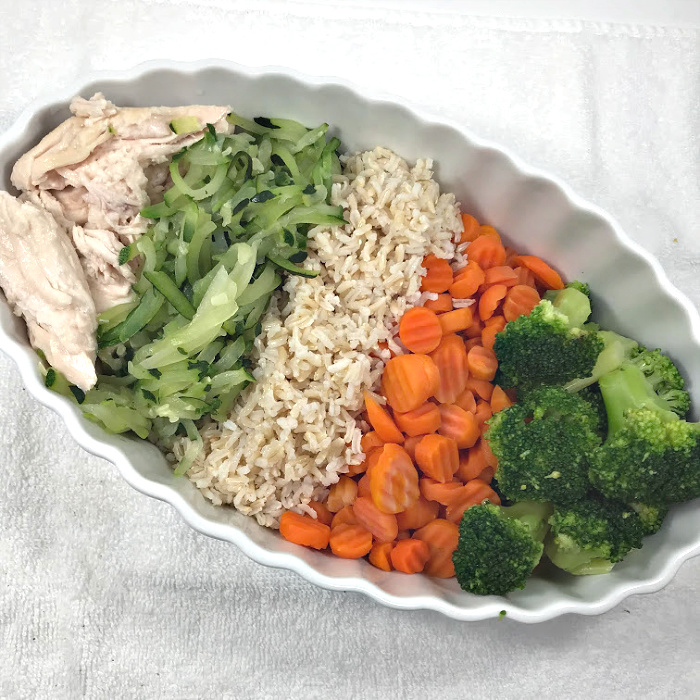 I cooked all the food ahead of time this week. Next week I will try some ground beef with vegetables as well. If you have a chopper like this Pampered Chef Chopper, it works great.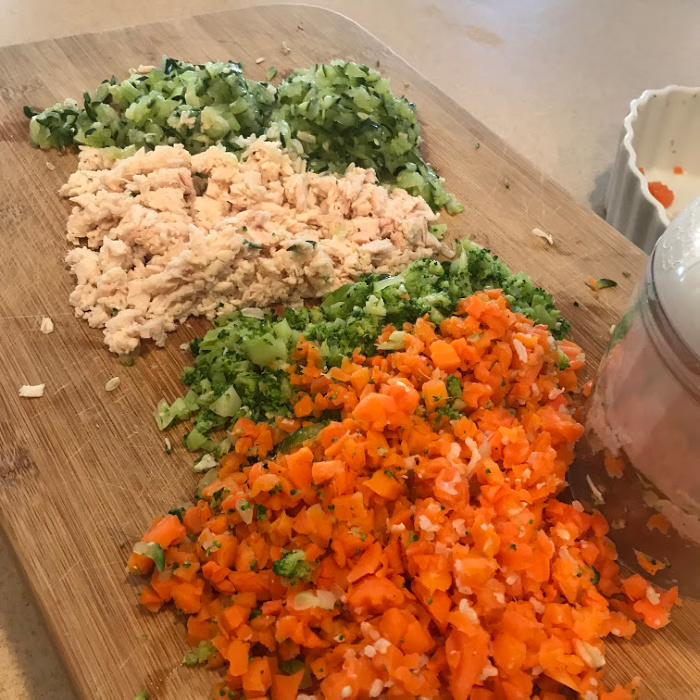 Here is a large silver bowl into which I scooped all the food, it works great.
You can see below where I used a spoon to mix it all up so I can scoop it into containers.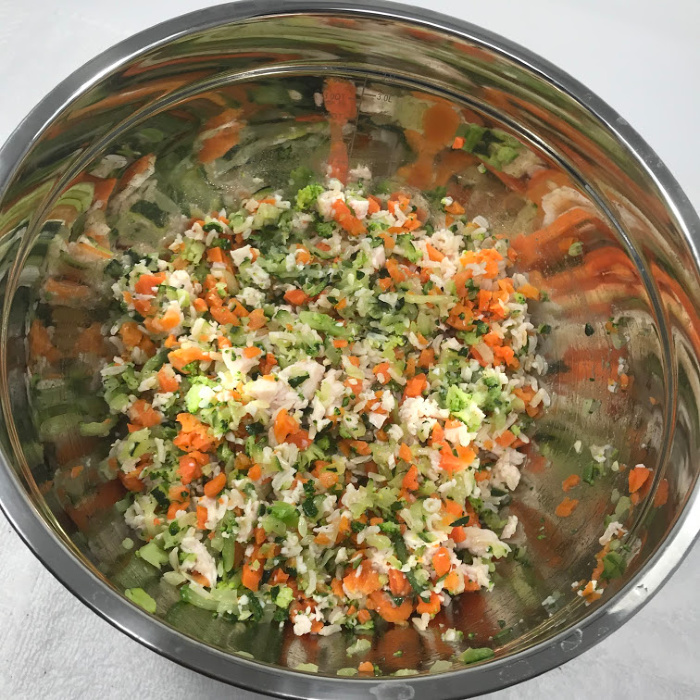 I found some one-cup containers that will work great. They are dishwasher safe, microwave safe, oven, and freezer safe. They are also BPA Free. One-Cup Glass Containers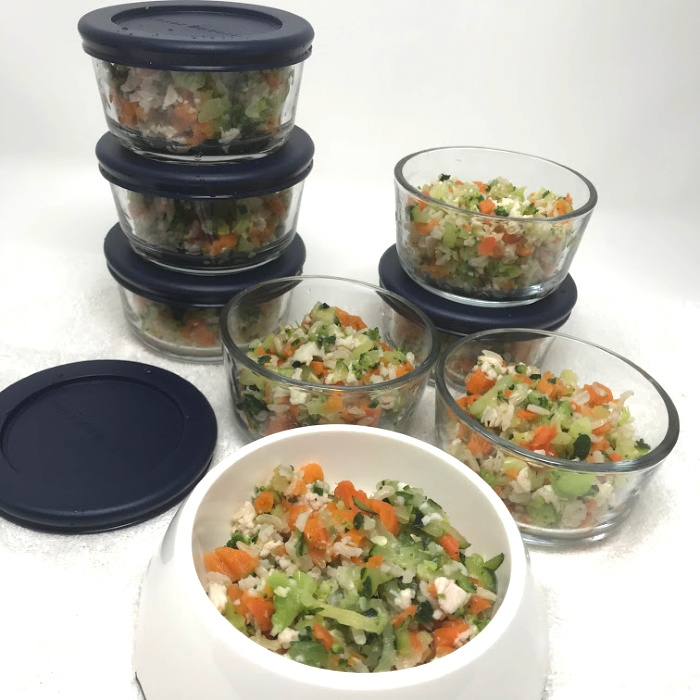 Homemade Dog Food Ideas
Water
We still need to have water available for our pets every day.
Oil
Olive oil
Coconut oil
Peanut butter
Approx. 50% of Proteins
Bacon (fat content is too high-I do not serve bacon to Bailey)
Beef
Chicken
Cottage Cheese
Eggs
Lamb
Salmon
Shrimp
Tilapia
Tuna
Turkey breast
Yogurt
Approx. 25% of Vegetables
Bell pepper
Broccoli
Carrot
Green beans
Kale
Peas
Pumpkin (cooked)
Spinach
Sweet Potato (cooked)
Yellow Squash
Zucchini
Approx. 25% of Grains
Brown Rice
Quinoa
White Rice
Fruits/Snacks
I treat Bailey as if she were a toddler, I peel the food when possible and chop it as small as I can. I don't want her to choke.
Apples, peeled and finely chopped
Bananas, very small bites
Blueberries, chopped fine
Cantaloupe, finely chopped without rind
Oranges, peeled and finely chopped
Pears, pitted, peeled and chopped
Watermelon, finely chopped without rind
How Much Should A Dog Eat?
This is a very good question. I want my pets to have all the vitamins they need, and to eat a balanced meal. But how much should they eat in a day? We don't want our pets to be overweight, or malnourished. My Bailey weighs 10 pounds 3 ounces. I do keep some commercial dry food out for her if she wants to eat something during the day. She rarely eats it, but it's there if she wants it.
I really like this calculator from PetMD and I quote-How Much Should A Dog Eat According to this feeding guide Bailey should eat a smidge more than 3/4 of a cup of food per 24 hour period. Again, she is a small dog weighing 10 pounds 3 ounces.
Final Word
Please let me know if you have tried to make dog food for your pet. I have wondered what would happen to all of our pets if the commercial dog food becomes unavailable for days, weeks, months, or years. We must be prepared to do what we need to do to feed our beloved pets. This is why I'm working on fixing my own dog food. Thanks again for being prepared for the unexpected. May God bless this world, Linda