Do you love soft sugar cookies? This is a moist, chewy, and soft cookie. This is a recipe I have made for years. It's very similar to cookies you may purchase at a specialty cookie store, but you can make them for a lot less money.
We have a few cookie stores here in Southern Utah and I confess I love their cookies! Yes, I have purchased a box or two, okay three or more boxes! I love to try store-bought cookies and try and figure out the recipe.
Here's the deal, we all know what's in those cookies. Let's just say real butter, good vanilla, and fresh ingredients. I usually play around with my mom's cookie recipes and experiment with different ingredients until I find just the right recipe.
This is a great cookie to take to a church, neighborhood, or family party. There is no question when I go to a party I will scope out the homemade goodies, are you like that? Maybe that sounds a bit snobby, but I don't mean it that way. I just love to try homemade treats. THEN get the recipe!!
Here are a cookie scoop and tart pusher similar to the ones I use: Cookie Scoop and a Tart Pusher
Soft Sugar Cookies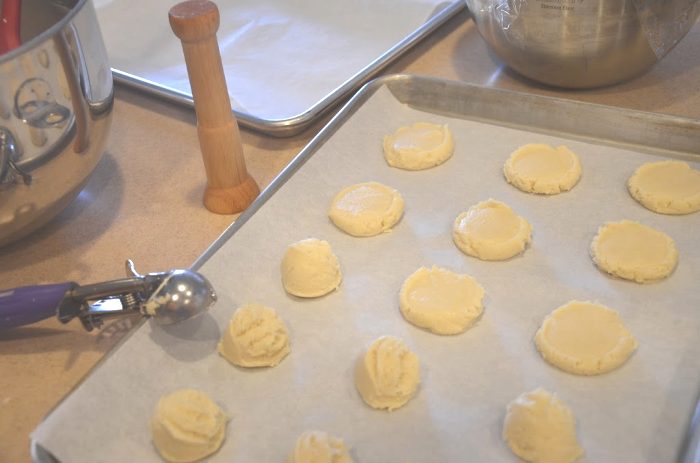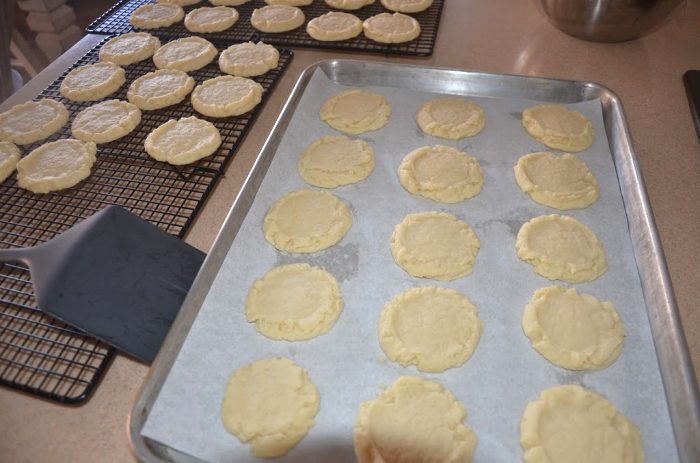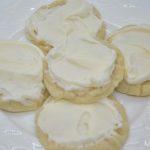 Soft Sugar Cookies by Food Storage Moms
Ingredients
1

cup

softened butter (no substitute)

3/4

cup

oil (I use vegetable oil)

2

cups

sugar

2

tablespoons

water

2

eggs

1/2

teaspoon

baking soda

1/2

teaspoon

Cream of Tartar

1

teaspoon

sea salt

2

teaspoons

vanilla

5

cups

white bread flour
Instructions
Preheat oven to 350 degrees

Cream all the ingredients together except the flour. Slowly add the flour until blended with heavy duty mixer.

Use a cookie scoop (I used the purple-1/8 cup scoop) and place each scoop about two inches apart on greased cookie sheet. Parchment paper or Silpat mat works great too. Next, push the center of the cookies as illustrated above with a small glass bottom or tart pusher but not all the way through. I bake my cookies for 8-10 minutes. (please note *whole wheat takes longer to bake-9-10 minutes).
Recipe Notes
Cream Cheese Frosting: Frosts one bundt cake or 3-4 dozen cookies or 3 dozen cupcakes. Ingredients: 1/2 cup butter softened 1-eight ounce cream cheese (softened) 3 to 3-1/2 cups powdered sugar 1-2 teaspoons vanilla Instructions: Cream the butter with the cream cheese and slowly add the powdered sugar to the thickness you desire. Add the vanilla until blended.
Please tell me what you do for your family get together, neighborhood parties, or church functions. These cookies are popular for family reunions because they stay soft even without plastic wrap covering them.
I freeze the cookies on a cookie sheet so then all I have to do is thaw them to take to a party. The frosting freezes well, too. If I have a little left over frosting I freeze it in a small plastic container to use on graham crackers when I need a little a treat.
Final Word
Sometimes we have to make soft sugar cookies in between prepping for the unexpected, right? Or a casserole, it's what we do, we cook from scratch and maybe wear an apron, sometimes. I don't wear one but I love the look of aprons. Keep cooking from scratch my friends, we must make memories with those around us. May God bless this world.