Almost Famous-Breadsticks
Do you know how to make breadsticks? These easy, almost-famous breadsticks are a soft fluffy recipe you will love to make. Here in Southern Utah, we have a pizza place that makes some bread sticks very similar to these. Have you ever gone into a restaurant and thought to yourself, I wonder how they made these? Well, I had to know what kind of wood sticks they used to make the breadsticks twist around and not catch on fire in the oven.
The server explained this really long complicated way they prepare their sticks in order to make their delicious breadsticks. I have such a short attention span I think, so I started picturing how I was going to prepare my own sticks for baking. I bought these sticks: Bamboo Skewers, 12-Inch
Almost Famous-Breadsticks
The next day I mixed up my bread dough (recipe below) and took my bamboo sticks out of the bag and started wrapping the dough around them. No prep, just do it! This is how they look twisted for the first rise.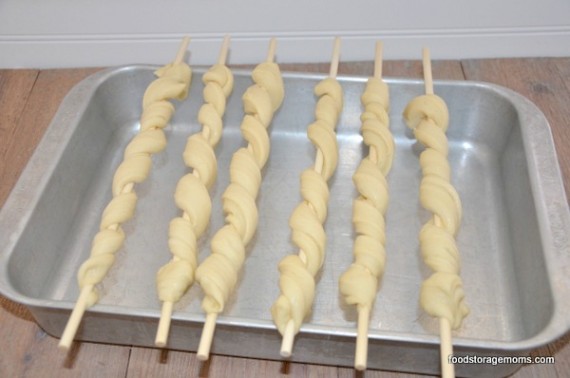 These are ready to bake. I just slathered them with melted butter, garlic, parmesan cheese, and dill weed. Just like having hot bread out of the oven to make a meal special. Having these breadsticks is a delicious addition to almost any meal. I love them with soups, pizza, salads, and many other dinner entrees. If you want a different flavor just drizzle with melted butter before baking and then dip them in your homemade honey butter. There are so many different variations you can try.  Be adventurous and try lots of new things, you'll be pleased with the results.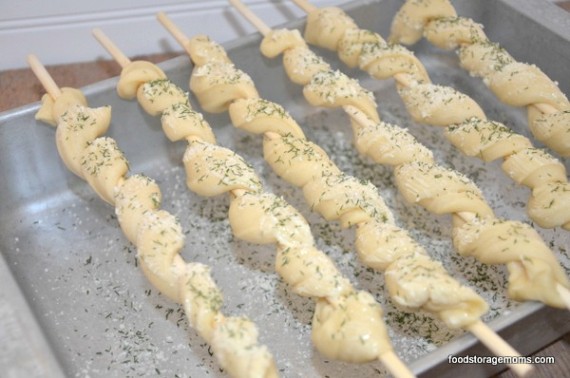 Breadsticks by Food Storage Moms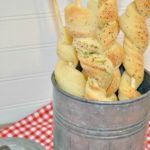 Almost Famous-Breadsticks
Ingredients
2

cups

warm milk

4

teaspoons

SAF instant yeast

4

teaspoons

dough enhancer (optional)

2

eggs

1/4

cup

olive oil

1-1/2

teaspoons

sea salt

1/2

cup

sugar

1/2

cup

water

6-7

cups

of bread flour or regular white flour works
Instructions
1. Place all of the ingredients in order into your mixing bowl. Be careful with the eggs when adding the warm milk too quickly or you will have scrambled eggs.

2. Add half of the flour and keep adding the rest of the flour until the bread dough pulls away from the sides of the mixing bowl.

3. Cover the bowl with greased plastic wrap and let the dough rise for about an hour.

4. Punch the dough down.

5. Roll the dough out on the counter and use a pizza cutter to make 1/2-inch strips to wrap around the bamboo sticks.

6. Hang the skewers of twisted bread sticks over the 9 by 13-inch pans. Cover with greased plastic and let rise one more time about an hour or until they double in size.

7. Remove the plastic wrap before placing the breadstick in the oven.

8. Lather with butter, Parmesan cheese & dill weed if desired. Bake at 350 degrees for 15-20 minutes until golden brown.
Final Word
By now you know I love working with bread dough, anytime, anywhere. I used to really enjoy teaching classes to people who wanted to learn how to make bread, dinner rolls, or cinnamon rolls.
It brings me so much joy when someone asks me if I can teach them how to make bread. If you have fresh ingredients and use my recipes which I share with you, you can make bread. I promise.
These Almost Famous-Breadsticks are one more way to stretch your grocery bill. Please keep on prepping. May God bless this world. Linda