Stuffed Baked Sausage Mushrooms Recipe
It's that time of year when you can make these stuffed baked sausage mushrooms for a neighborhood party, a church get-together, and a family party.
Do you love appetizers as much as I do? This recipe has been in our family for so many years, I'm not sure who shared it with us! These stuffed mushrooms are so creamy from the cream cheese and just the right amount of cooked sausage stuffed as full as we can fill them!
We bake them, drain the liquid, and serve them pretty much right out of the oven. When our family walks in the house they know that during the holidays we'll fix these for sure, and the smell when they arrive gives it away!
They taste even better the next day, hot or cold. Of course, most of the time we never have any left.
In case you missed these other posts, Mushrooms: Everything You Need to Know
Items You May Need In The Kitchen: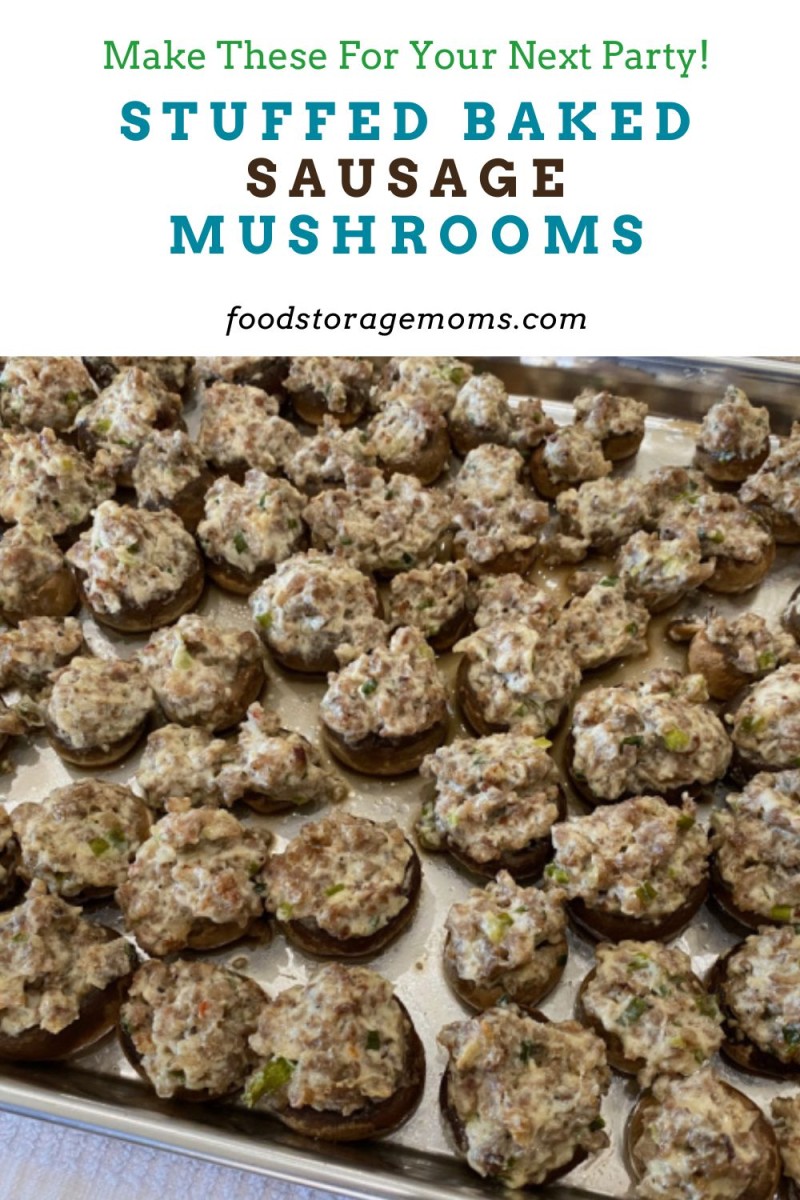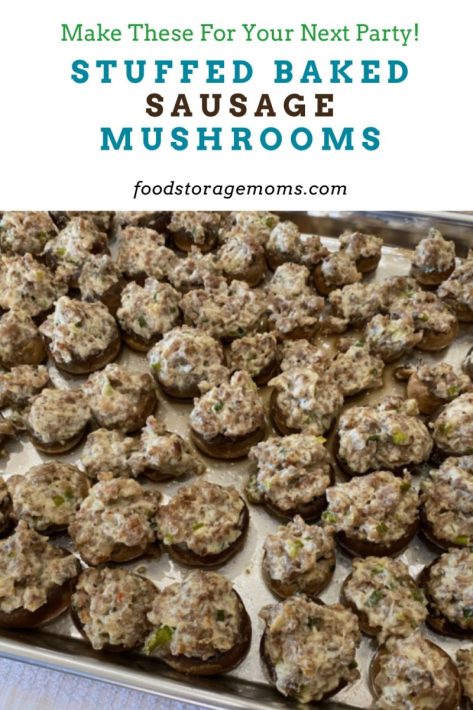 Stuffed Baked Sausage Mushrooms
Ingredients:
Mushrooms: Mushrooms are edible reproductive structures produced by fungi that provide several important nutrients.
Cream Cheese: Soft, creamy, mild-tasting cheese made with milk and cream. The perfect cheese to use when making this appetizer!
Jimmy Dean Maple Sausage: Sausage is ground meat, like pork, beef, or poultry along with salt, spices, and other flavorings.
Green Onions: Green onions or "scallions" are typical names to describe a long, thin, tubular edible plant with an oniony flavor.
Instructions
Step One: Gather The Ingredients
What I love about this recipe are the ingredients. In October I stock up on cream cheese, I might be called a hoarder. But I know I'm going to use a lot and I would rather buy in one swoop.
With the holidays coming, I use so much for appetizers, it's nice to have it in the refrigerator.
So here we go, cream cheese, mushrooms, sausage, and green onions. These are so easy to make and everyone loves them!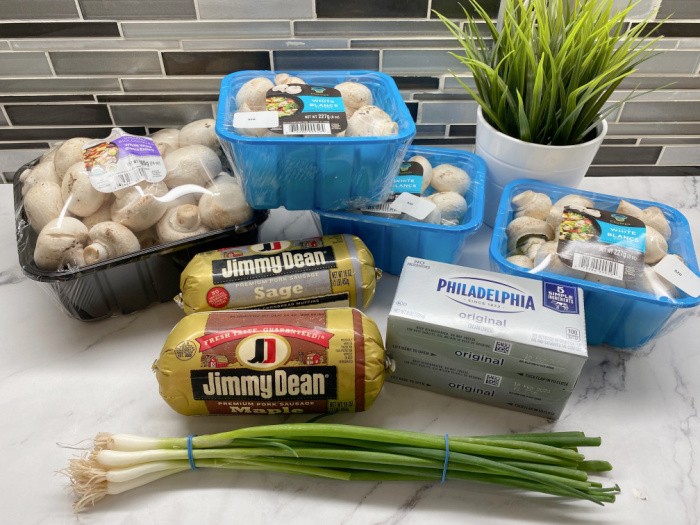 Step Two: Brown The Sausage
Cook and crumble the sausage and drain the grease, if any, in a frying pan or large skillet over medium heat. I think most of us like saute sausage. Ground sausage comes in a lot of variations. My parents used to make their sausage and we loved it.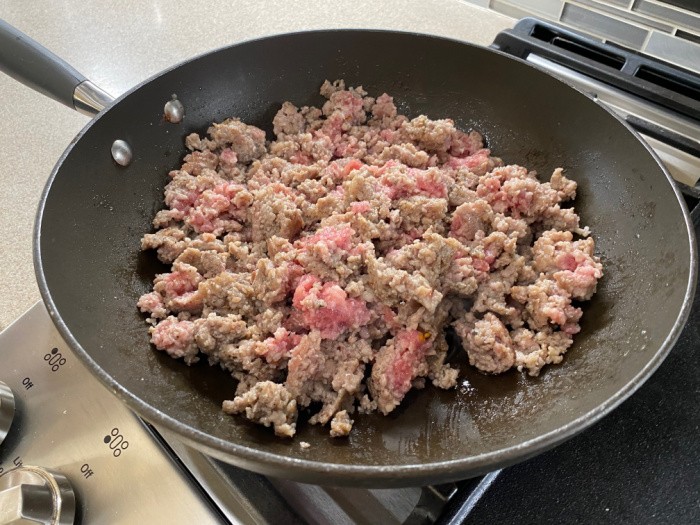 Step Three: Add The Cream Cheese
Stir in the softened cream cheese and mix through.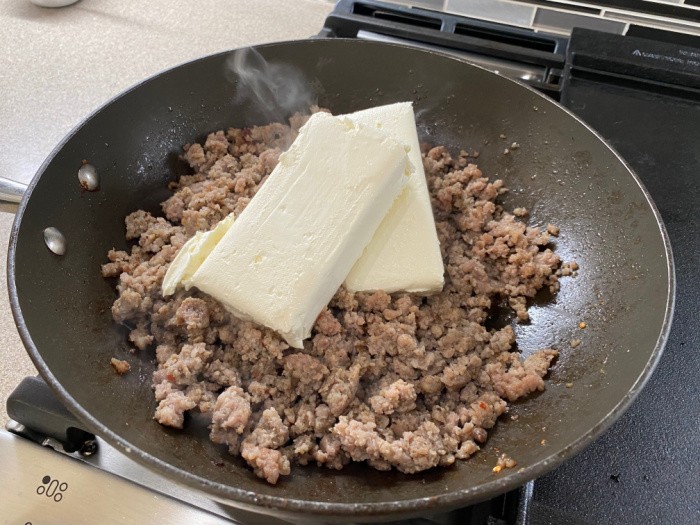 Step Four: Add the Green Onions
Stir in the chopped green onions. The onions add such a unique flavor to the mixture. I tend to put in more than other cooks might.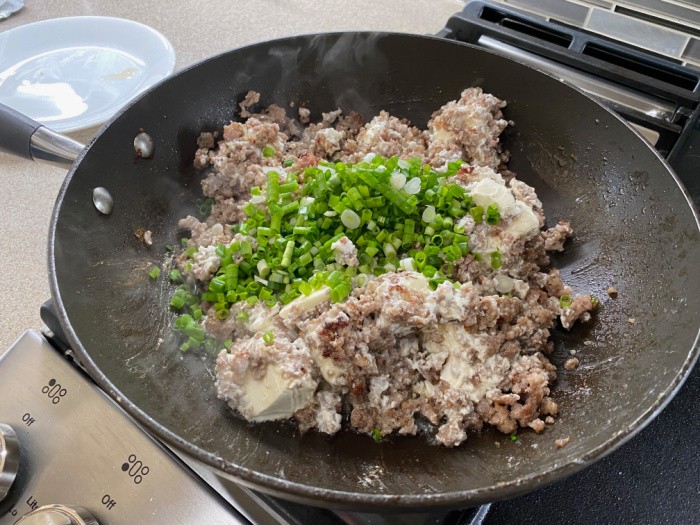 Step Five: Set The Pan Aside
Thoroughly combine the ingredients and set the pan aside.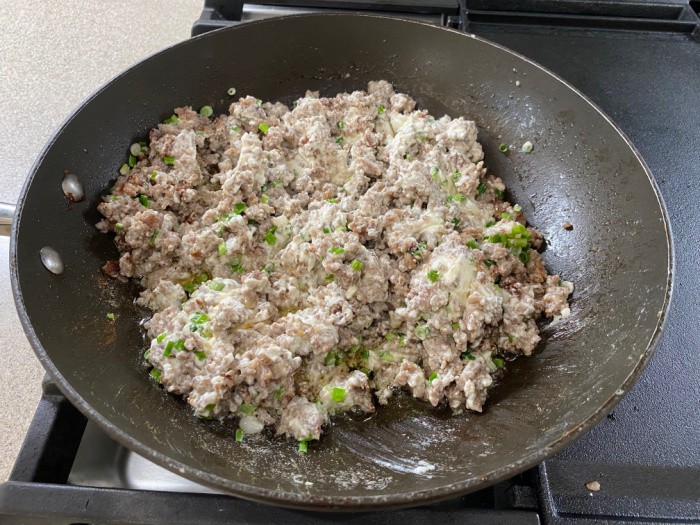 Step Six: Wash the Mushrooms
After washing the mushrooms, let them dry for a few minutes. I pull and cut up the stems and add them to the cream cheese mixture. Once the stems are pulled from the mushrooms some people like to saute them too.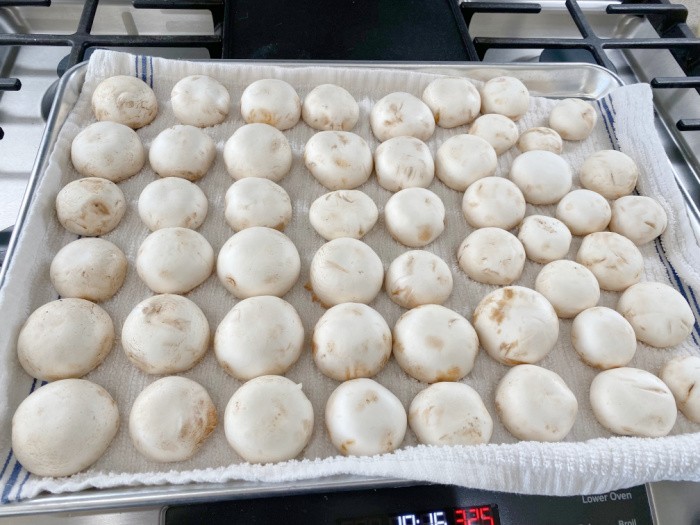 Step Seven: Fill the Mushrooms
Preheat the oven to (350°F) = (176°C). This is the fun part, scoop a spoonful and perform the stuff mushroom caps step. You can place caps on your baking sheet as tight as possible. You may want to consider lining the sheet with parchment paper for a more easy cleanup experience.
I like to buy medium to large mushrooms because they are easier to work with when filling them. Baby Bellas are a great option.
If you love garlic, you may want to sprinkle a little garlic powder on them before baking. For a stronger and unique flavor, you may consider using your garlic press and putting a couple of pressed garlic cloves in the mixture to spice it up a bit.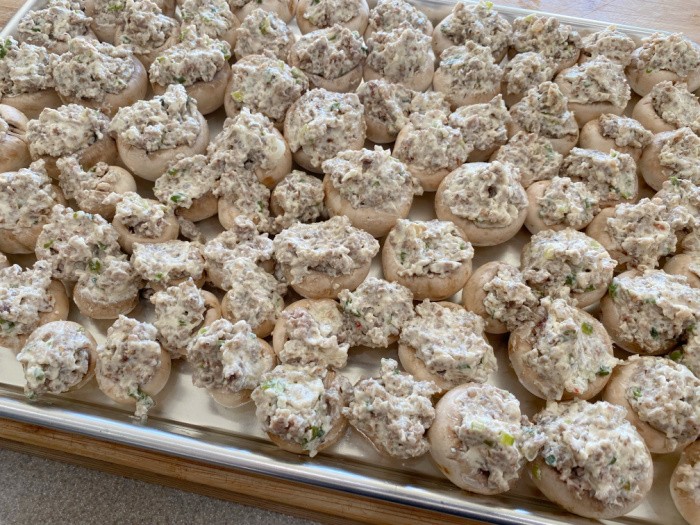 Step Eight: Bake as Directed in Preheated Oven
Bake for about 15-30 minutes, depending on the size of the mushrooms. Serve hot.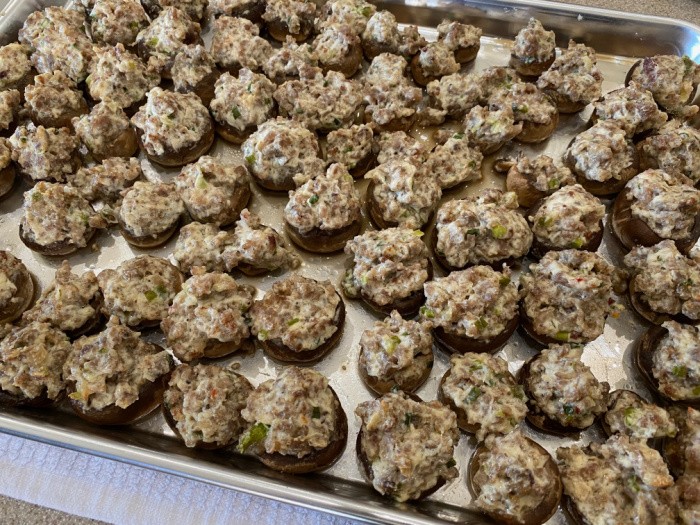 Finished Product
If you happen to have some of the stuffed mushrooms left over, be sure to put them in the fridge. The cream cheese needs to be refrigerated if not eaten in an hour or two.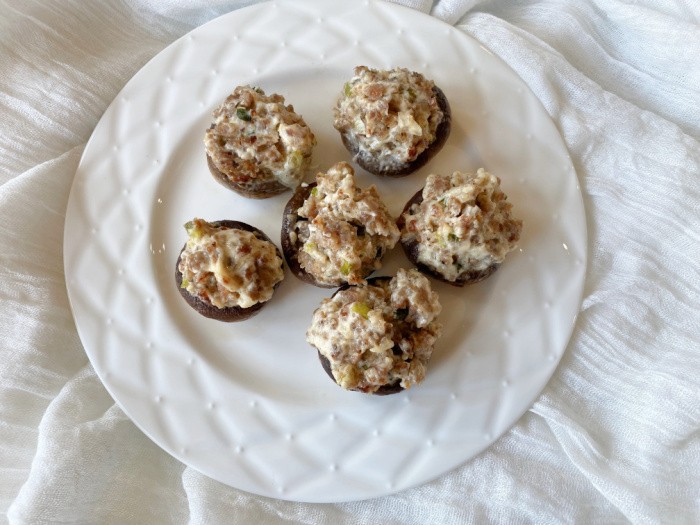 Stuffed Baked Sausage Mushrooms Recipe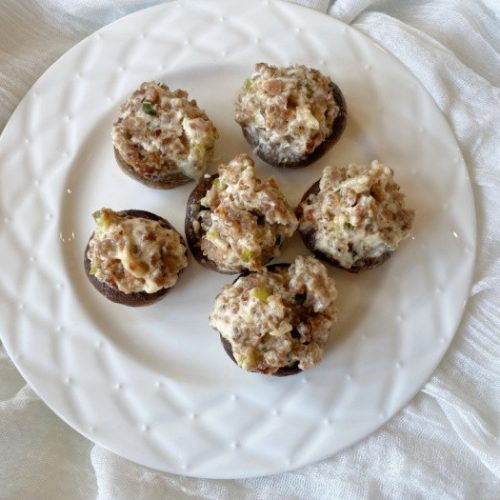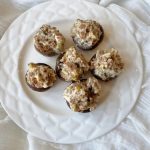 Stuffed Baked Sausage Mushrooms
Ingredients
15

large mushrooms or 24-30 smaller mushrooms-washed and dried-remove the stems

1-8-

ounce

cream cheese softened

1-16-

ounce

package of Jimmy Dean Maple Sausage

or your favorite flavor

Chop the mushroom stems

if desired, to add to the sausage when cooking it

green onions-chopped fine

optional I never use these
Instructions
1. Preheat the oven to (350°F) = (176°C).

2. Cook and crumble the sausage and drain the grease if any.

3. Stir in the softened cream cheese and chopped green onions.

4. Scoop the mixture into each mushroom.

5. Bake for about 15-30 minutes depending on the size of the mushrooms. Serve hot.
Recipe Notes
These are really easy to make the day before and cover with plastic wrap until you want to bake them. These are always gone within minutes.
How do I store the leftovers?
I store them in an airtight container in the refrigerator for 3-4 days. They taste good even when cold, after baking them, of course.
Can I freeze these?
I wouldn't recommend freezing them because the mushrooms would have a weird texture, to me, anyway.
Can I use salt and black pepper in the recipe?
Yes, you can. The sausage has enough salt/sodium for me, but everyone's tastes are different.
Can I use Italian sausage instead of Jimmy Dean sausage?
Any sausage will work if it's crumbly so you can scoop the mixture into the mushroom caps. Just think of the different flavors you can make with this recipe, right?
Can I add parmesan cheese to the cream cheese sausage mixture?
I have tried it with parmesan and Mozzarella cheese as well. This recipe is versatile! You can also try other herbs of your choice. Some additional add-ons you could try are bell pepper varieties (red bell peppers are my favorite as they add color), tomatoes, fresh thyme, spinach, and paprika.
Is it possible to add some breadcrumbs to the mixture before baking them?
I have added breadcrumbs to the recipe to compensate for less sausage. In other words, stretch the filling and it works. I've heard of people who changed up the recipe with a seafood touch using crab or shrimp. I haven't tried it, so I can't suggest it.
What can I serve with stuffed mushrooms?
Garlic Bread
Tossed Salad
French Onion Soup
Tossed Salad with Vegetables
Can I make these the day before?
We like to fry the sausage in a skillet and let it cool. Then place the sausage in the refrigerator the night before. I have even frozen the cooked sausage the week before.
It's all about cutting down the prep time, right? A few years ago, I stuffed them the day before and covered them tightly, and then baked them the next day.
Final Word
Please let me know if you make these stuffed baked sausage mushrooms, is your recipe similar? You know I love to hear from you. I love appetizers, I hope you do too! May God Bless this world, Linda