Easy Thanksgiving Recipes + Gravy
I thought I would share some ideas on how to make some easy Thanksgiving recipes from scratch. Please share with us the family favorites that you like to make on Thanksgiving, I love to hear. Several readers have requested tips on making homemade gravy. I made it in a printable form for you. I love gravy!!
You may make some of the recipes I've listed below, plus some I have never tried. I think would be too cumbersome to share the actual recipes, but I would love to hear the name of the favorites you fix every year. Of course, we typically all have a turkey or a ham during the holidays, but it's the side dishes and the desserts I want to hear about. Let the holiday season begin! I love updating older posts so we learn new things each year.
I also want to hear if your family loves gravy or not. I have to say, I put gravy on my turkey, mashed potatoes, and the dressing. Here's another question, do you call it stuffing or dressing? You know the yummy stuff we all like to make this time of year. I have always called it dressing.
Not sure that is right or wrong, but my mother-in-law made the best dressing in the world. So, my daughters grew up calling it dressing. My kids and grandkids love my gravy so I'm sharing my recipe today. It's easy to make and really yummy. So let's get started.
Easy Thanksgiving Recipes + Gravy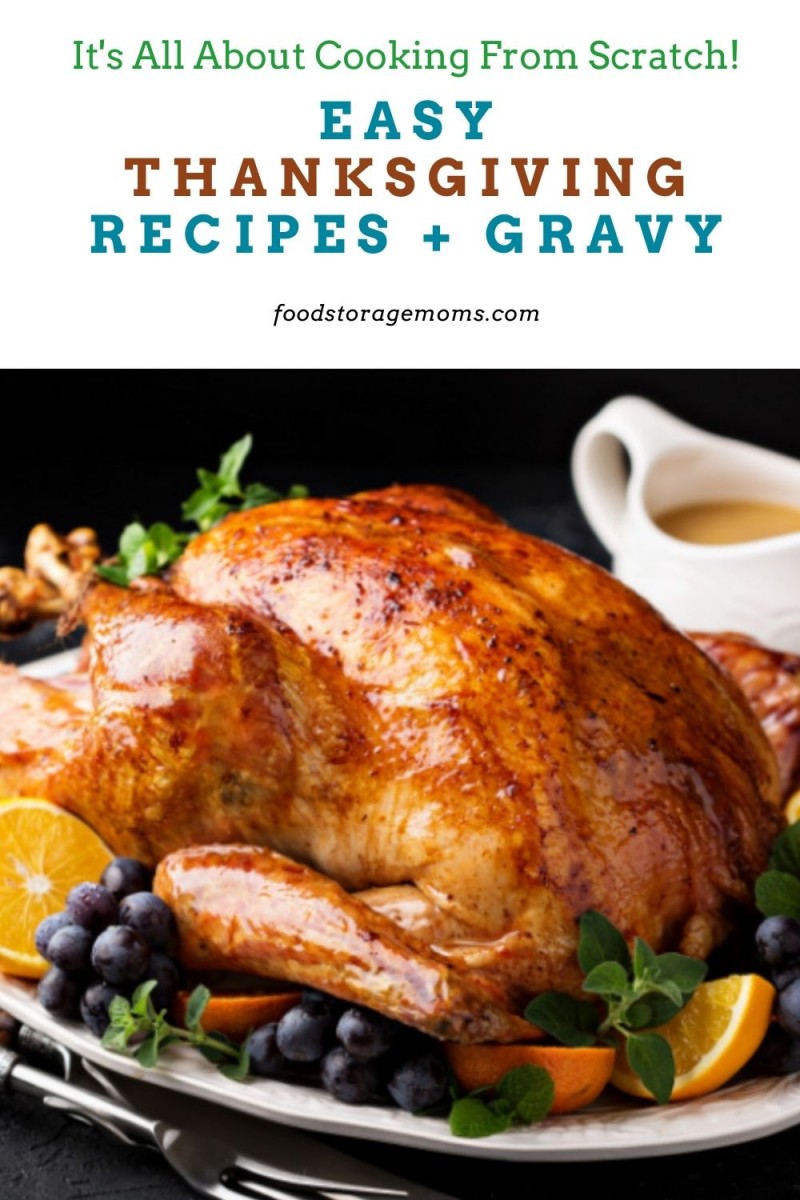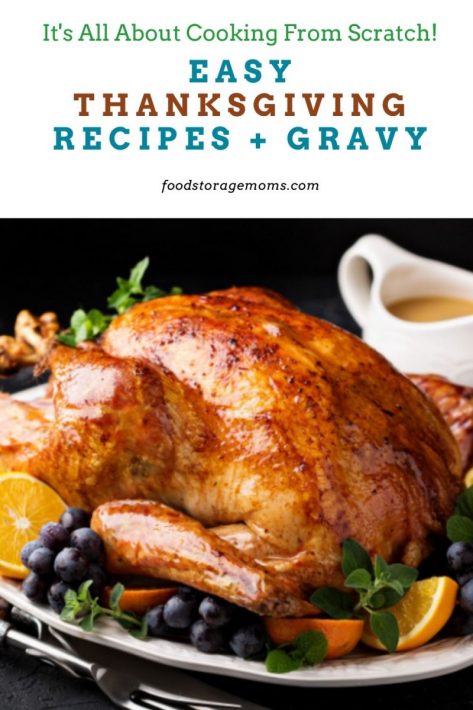 Mark's Family's Turkey Dressing
As I mentioned, Mark's mother was a great cook. She especially enjoyed having family over and fixed her favorite things for them. She was a gravy "specialist." Both Mark and I like to put gravy over the meat, potatoes, and dressing. It makes everything so flavorful, and they tend to be moister too.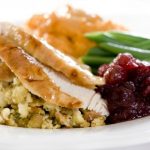 Loosli Family Thanksgiving Turkey Dressing
Ingredients
1

cup

oleo

I use butter you can tell this is a really old recipe now

1

cup

chopped onion

1-1/2

cups

chopped celery

2

or 3-14 ounce cans chicken broth

1

teaspoon

salt

1/2

teaspoon

pepper

1-1/2

teaspoons

RUBBED ground sage

12

cups

dried bread cubes

Giblets

chopped (optional), I never use them
Instructions
Saute the onion, celery, giblets, salt, pepper, and sage in a small skillet. Combine this mixture with the rest of the ingredients in a large bowl. Add more liquid if the mixture is too dry. Bake covered in a greased pan at 350 degrees for 30-45 minutes or until heated through. I have cooked this in my slow cooker on low as well.
Lisa's Apple Yams
Growing up I learned to love yams and sweet potatoes. I haven't had them as often since getting married. Neither of them is Mark's favorite. He'll give them a try if they're smothered with a really sweet sauce, but I like them plain just as well.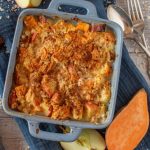 Lisa's Apple Yams
Ingredients
4

large yams (peeled and cooked until tender. Slice the yams' the thickness you desire)

4

cooking apples (peeled and sliced)

Yummy Sauce Ingredients:

2

cups

water

1

cup

brown sugar

1/2

teaspoon

salt

4

tablespoons

cornstarch
Instructions
Grease a 9-inch by 13-inch pan and layer the yams and apples in the pan.

In a medium saucepan combine the water, brown sugar, salt, and cornstarch, stirring constantly. Add one cube (1/2 cup) of butter. Continue stirring constantly. Cook until it starts to thicken. Add 1/2 teaspoon lemon juice. Sprinkle nutmeg and cinnamon over the apples and yams.

Pour the sauce over all of it.

Bake covered at 350 degrees for about 30 minutes. No marshmallows on this one. This recipe is fabulous!
My Sister's Cranberry Pie
Like most of you, I'm sure, I grew up with cranberry sauce as a tasty part of every Thanksgiving meal. We'd spread the cranberry sauce all over the turkey meat and it seemed to give it a unique and special flavor. I hadn't ever had a cranberry pie until my sister introduced this recipe to me. Give making it a try, I'm sure it will become one of your favorite holiday treats.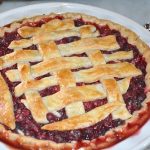 My Sister's Cranberry Pie
Ingredients
4

cups

chopped fresh cranberries

1/4

teaspoon

sea salt

2

cups

sugar

2

tablespoons

flour

2

tablespoons

butter

1

egg

beaten for glaze

pastry for 2 crust 9-inch pie (one for the bottom of the pie and one for the lattice top)
Instructions
Combine the cranberries, salt, sugar, flour and refrigerate the mixture one or more hours. Add the butter when you add the cranberry mixture into the pie crust. Make a lattice pie crust for the top of the pie. Brush the top of pie crust lattice top with egg.

Pre-heat oven to 450 degrees. Bake the pie 10 minutes. Then lower the oven to 350 degrees and bake another 45 minutes. Serve pie in wedges with vanilla ice cream or whipped cream.
Linda's No-Fail Dinner Rolls
One of my very first posts years ago was one where I introduced bread-making to my readers. I have made bread all my married life, and we've found the bread to be one of the staples for every quality meal we enjoy together. I usually make a whole bunch of smaller loaves and then take some to neighbors who I know will appreciate the thought and the delicious flavor.
Some people seem to be afraid to give bread-making a try. I've had a few readers who've mentioned they used to be afraid to try making bread then they tried my recipe. It works! I promise, if you'll try this no-fail dinner roll recipe those fears will disappear, and you'll be making them for every special occasion.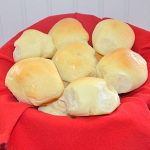 Linda's No-Fail Dinner Rolls
Ingredients
4

Teaspoons

SAF Instant Yeast

1/2

cup

Water

2

Cups

Warm Milk

1/4

Cup

Olive Oil

1

Cup

Sugar

1-1/2

Teaspoons

Sea Salt

4

Teaspoons

Dough Enhancer

2

Eggs

6-7

Cups

White bread flour (Add 1/2 of the flour and then add more until the dough pulls away from the sides of the mixing bowl)
Instructions
Place all of the ingredients in order into your mixing bowl. Be careful with the eggs not to add the warm milk too slowly or you will have scrambled eggs. Add half of the flour and keep adding the rest of the flour until the bread dough pulls away from the sides of the mixing bowl. Cover with greased plastic and let rise the first time about an hour. Punch the dough down and mold into small balls about 1-1/2 inches to 2 inches in diameter. Cover with greased plastic and let rise one more time about an hour or until double the size. Remove the plastic wrap and bake at 350 degrees for about 15-20 minutes on a greased cookie sheet. Do not overbake. They should be golden brown. I spread a little butter on the tops after baking so the rolls are soft on top. If you like a crispier top you can skip this step.
Linda's Gravy
Mark's mom was a great teacher as she showed me the way she made her gravy for the 64 years Mark's parents were married. Mark tells me she always had a treat of some kind ready for her kids when they got home from school. Cookies were her specialty, but she excelled at so many other meal options, including this gravy recipe. You need to be a little creative as you determine how much of some ingredients to use based on the size of the meat offering and how much dripping is available. Try it and I'm sure you'll love it too.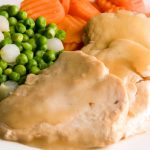 Linda's Homemade Gravy
Ingredients
1

cup

Turkey, Chicken, or Beef Drippings

1-2

cups

of Flour

1

quart

Water or Milk (I use water more than milk)

Salt & pepper

Sugar
Instructions
I use the pan the turkey, chicken or beef was baked in with the "drippings" and bring the liquid to a boil. If you have very little juice or drippings add some water. Now I can't give you exact measurements because this depends on the size of a turkey, chicken, or roast you purchased. I take about 1-2 cups of flour and put it in a quart jar with cold water and shake it like crazy. I slowly add this mixture to the hot boiling turkey, chicken, or beef drippings. Use a whisk and stir constantly. I have a quart pitcher with cold water to add to this pan as the gravy thickens. I add water until it's the consistency I prefer. Not too runny, but not too thick. I add salt, pepper, and sugar to taste. Yep, it's the sugar that brings out the flavor. Of course, it's optional. Now, if you have some lumps no worry, bring out the hand mixer. The flavor is fabulous and so easy to make.
Allison's Creamed Corn Recipe
Allison is my oldest daughter and one who has learned to love cooking. Early on after moving from home, she started dabbling with various recipes and found cooking to be a pleasant way to unwind. Although she works a lot of hours these days making it harder for her to find time for meal prep, she still loves to heat up the kitchen as she makes a fun meal for family and friends.
This creamed corn recipe can be a meal option you set to cook in your slow cooker while running errands. It takes no time at all to prepare, but a few hours to cook. If you like corn, you'll especially enjoy this creamed version of a veggie staple.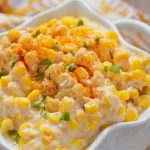 Allison's Creamed Corn Recipe
Ingredients
2

pounds

frozen white super sweet corn

8

ounces

cream cheese

1/2

cup

butter

2

tablespoon

water

2

tablespoons

sugar
Instructions
Instructions

Combine the ingredients in a large slow cooker and cook on low for 3-4 hours or until heated through.
Final Word
Do you love the holidays as much as I do? The leaves are starting to turn colors right now and the weather is getting colder. What a great time to spend in the kitchen trying out new recipes for that traditional Thanksgiving dinner, a night of dinner and games with friends, or a casual evening with loved ones. Let me know if you have some easy Thanksgiving recipes you make every year. Thanks again for being prepared for the unexpected. May God bless this world.
Linda's No-Fail Whole Wheat Dinner Rolls
Copyright pictures:
Thanksgiving: AdobeStock_58186058 by Cobra photo, Sweet Potato Casserole AdobeStock_434326684 by Angelika Heine, Roasted Turkey AdobeStock_182614277 by fahrwasser