Food Storage Lessons From WWII
When it comes to food storage, we can learn a lot from the lessons of WWII. During WWII, people had to survive on war rations, which made feeding a large family very difficult, especially if you were on a tight budget. Despite these difficult times, people endured, and today, preppers can learn important food storage lessons from the people who lived through WWII.
War Rationing
Can you imagine feeding a family of 6 during war rationing in the 1940s? Back then, prepping wasn't something that was talked about very much, but many people did it without even thinking about it. And, those who didn't have food stocked up had to make do with very little.
In the United States, the government began rationing certain foods in May of 1942. They began by rationing sugar, then coffee, and by March of the following year, meats, fats, canned fish, cheese, and canned milk were all added to the list.
With war rationing used at that time, they had a point system, and you could only get a certain amount of points for various food items. When you used all your points for say meat, you couldn't get any more until the following month.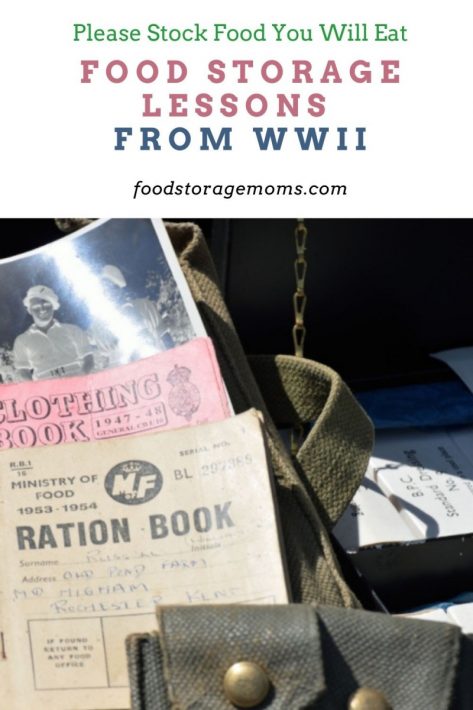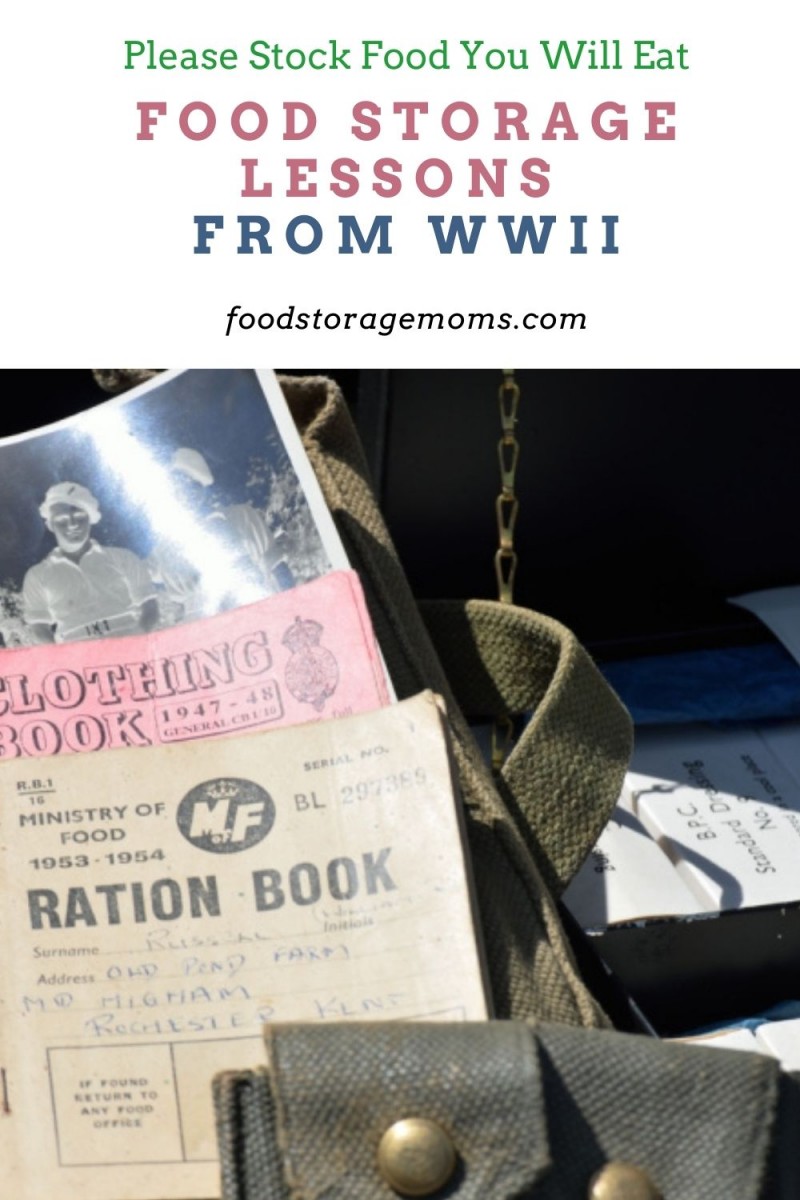 Food Storage Lessons From WWII That Are Still Useful Today
We can learn a lot from history, and it can help us to be better prepared for the future. Here are just a few food storage lessons from WWII that are still useful today:
Canned Goods Are Your Friend
Canned fruits and vegetables, as well as canned meats, were a staple of the WWII diet. They are shelf-stable and easy to store, making them ideal for long-term food storage. On most of these cans, you will notice that the USDA recommends its shelf life right around 2 to 5 years, but if you store it right, it can last even longer. Here are the Canned Foods I Highly Recommend You Store.
I've talked about case lot sales a number of times. Mark and I rely a lot on those sales, and they seem to come to our local stores most often in the fall. We love to stock up on soups especially, but also get cases of corn, beans, peas, and other veggies, along with a variety of fruits. I use cream of chicken soup in so many recipes! My preferred brand is Campbells, you just can't go wrong with their quality and competitive pricing.
We haven't made a habit of buying many canned types of meat, but I do like the canned chicken breast and tuna from Costco. During the summer we'll make lots of sandwiches and make either tuna salad or chicken salad mixtures. Top that off with fresh tomatoes from our garden and you're in canned meat heaven.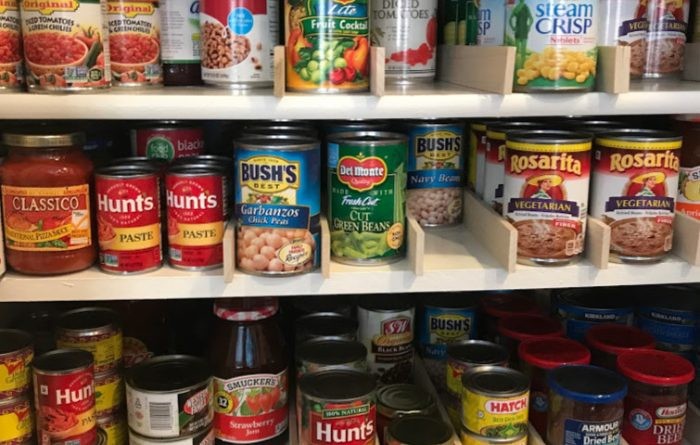 Store What You Eat and Eat What You Store
This is one of the most important food storage lessons that we can learn. If you store any foods that you don't like to eat, then you'll be less likely to eat them in an emergency too. And, if you only eat foods that you have stored and they aren't your favorites, you'll get tired of them fast, or you'll open them up but let them go to waste because family members don't like them
I recommend storing a variety of food items that you enjoy eating. This way, you'll be more likely to eat them in an emergency and you won't get bored with them as quickly or see food spoil in the fridge.
In addition, it's important to store nutrient-rich foods. This will help ensure that you're getting the nutrition your body needs in case of an emergency. Some good examples of nutrient-rich foods include fruits, vegetables, meat, fish, and whole grains.
Store Food in a Cool, Dark Place
When storing your food, it's important to keep it in a cool, dark place whenever possible. This will help preserve its quality and extend its shelf life. Food that is stored in higher temperatures or humid environments can spoil much faster. Food that is stored in airtight containers and kept in a cool, dry place will last for many months, if not years.
Properly Store Your Food
You want to store your food so that you keep oxygen and moisture out, which can cause your food to spoil. For example, store flour in sturdy metal cans, or sealed containers with oxygen absorbers to keep insects like weevils out. Beans, rice, and pasta need to be stored in airtight containers. You can store dried food in Mylar bags, and then keep the bags in sealed containers.
Invest in Items to Barter
During WWII, it wasn't just about food either. There were rations on other items such as gas, tires, automobiles, and other necessities. If you have a large family, you would benefit from stocking up on other supplies you can barter with like alcohol, tools, clothes, and even skills we all need from time to time. What could be bartered back then may not be what is useful today, but there certainly are many similarities to the basic staple we need from generation to generation. Be sure to check out these 50 Items You Need in Order to Barter, in today's world.
Stock Up On Other Essentials
You will also need to stock up on other essentials like prescription medication, pet food, and cleaning supplies. If a situation ever arises where you can't leave your home, you'll be happy you have as many items as you can store and continue using them on a daily basis. Paper products are critical because we will use less water. Please stock paper plates, cups, paper towels, and garbage bags.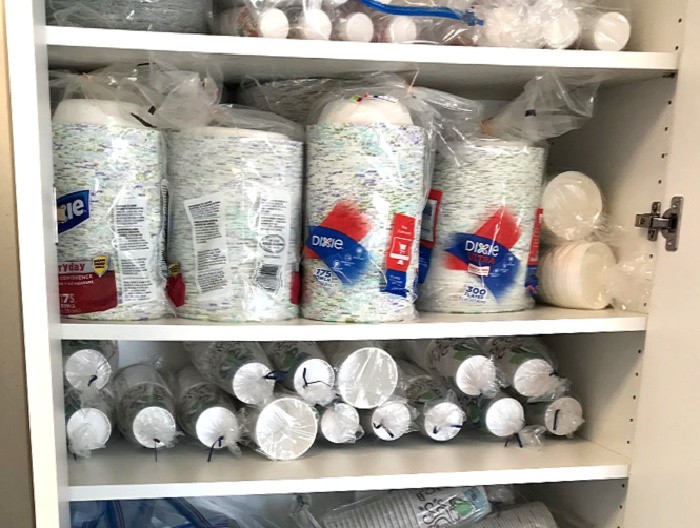 Label Food Storage Containers
It's important to label food storage containers with the date the food was packaged. This will help you keep track of how long the food has been stored. If you can't tell what's inside the container, be sure to label that information too.
It's also important to rotate your food supply regularly so that it doesn't go bad. Try to use the oldest food first, and then replace it with fresh food. This will help you to keep your food storage fresh and avoid wasting any food, and the related money used to buy them.
Every few months, check the expiration dates on your food and put those items with pending expiration dates on the menu. If you have items that have expired, consider throwing them away so you don't get sick from eating them. We used to use the "smell" test to see if food could still be eaten. Those expiration dates are there for a reason, so eat them at your own risk! When you buy new food, put it at the back of your pantry so that you'll use the older food first. This way, nothing should go to waste.
These are 2-gallon buckets with vinyl lettering. I buy my 2-Gallon Buckets from Pleasant Hill Grain. Gamma Lids for 2-Gallon Buckets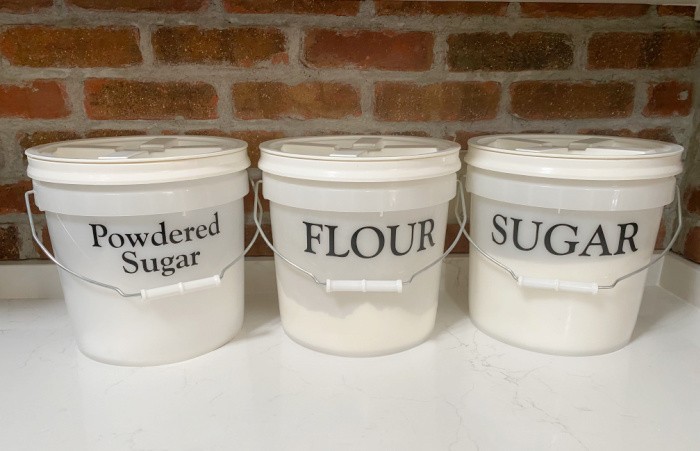 Make a Food Plan
It's important to have a plan for what you're going to eat in case of an emergency. This will help you to make sure that you have enough food to last, and that you're not eating the same thing every day. When you make your food plan, try to include foods that are high in protein and calories, so that you'll be able to sustain yourself for a longer period of time.
Get the kids involved in making the plan so they have a vested interest in not only having enough as they grow older but there will be items on the shelves that they like.
Store Food in Multiple Locations
If something happens and you can't get to your food storage, it's important to have food stored in multiple locations. This will help ensure that you have access to food no matter what. Maybe you can partner with good friends and family members to help store each other's food. That way, in most cases, the food will be available in time of need. It would be good to have that extra food a reasonable distance away so the chances of the emergence affecting all parties involved are minimal.
Keep a 72-Hour Kit
In case of an emergency, it's important to have a 72-hour kit. This kit should include enough food and supplies for you to survive for 72 hours. Be sure to include things like water, non-perishable food, a flashlight, and a first aid kit. 72-hour kits are good if you have to bug out. It ensures you have food, water, and necessities while you are on the road. You should have a kit for every member of your household.
Don't forget any special issue items for your kids and any elder members of your family. Also, those pets need to be looked after too. Make sure your 72-hour kits are located so everyone knows where they are and as easily accessible as possible. You don't want to be looking all over for them or have them in the attic where they'll be tough to get to in a rush.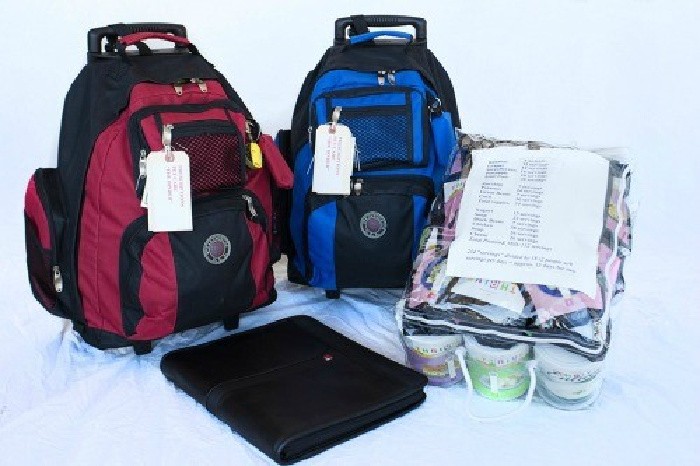 Keep Your Stockpile a Secret
If you have a stockpile of food, it's important to keep it a secret. If people know you have food, they may try to take it from you. It's also important to store your food in a safe place where it's hard to locate for those unfamiliar with your home's layout.
If your neighbors come and ask for help in a survival situation, you can give what you have to spare, but don't talk about your stockpile with strangers, and don't let on how much you actually have with anyone but family members you can trust. You don't want those who didn't prepare to loot your house.
Grow Your Own Food If You Can
One of the best food storage lessons of WWII is that you can't rely on the stores and government to get the food and supplies that you need. When it comes to taking care of your family, one of the best things you can do is have a self-sufficient garden.
Even if you don't have a lot of space, you can plant a garden in containers or raised beds. You can also grow food indoors by using hydroponics or aquaponics. Learn as much as you can about growing your own food and put it into practice. It will take some effort, but it will be worth it in the long run.
Be Prepared to Go Without
Although it's not ideal, sometimes you may need to go without as much food as you're used to. During WWII, there were times when people went without food for days at a time. If this happens, you'll be glad you stocked up on non-food items like water, batteries, and candles so you can still survive as long as possible.
Food Storage Lessons From WWII
Final Word
These WWII lessons have taught us that we never know when there won't be enough to go around. The best thing we can do is start prepping now before a war or another emergency happens that could prompt some food rationing to take place. History is there for us to learn from so that we are best prepared in case a similar situation confronts us down the road, but only if we act now and not wait until it's too late! May God Bless this world, Linda
Copyright Images: WWII Ration Book Depositphotos_95165696_S