Growing Fresh Lettuce Indoors Year-Round
Today, it's all about growing fresh lettuce indoors year-round. My faithful readers have learned over the years that I love to garden. It brings me so much satisfaction to look out my back windows and see the beautiful plants in full bloom as they grow to maturity. There are so many things to appreciate about having your own garden, such as, knowing that the plants are organic, you have fresh food at your fingertips, you can feel comfortable that food will be available even when stores in your area are short on inventory, and you know that what is growing is good for you.
I often hear from some readers that a garden sounds nice, they'd love to grow their own produce, but their apartment or condo living situation makes that seem very challenging, if not impossible. In many of my posts, I've tried to encourage them to try different things, like growing some plants in pots on a deck or patio.
Today, I'm excited to provide another option or resource they can consider. I recently became acquainted with a company that has been around since 2006 which has some products we all should research and possibly give a try. This is particularly true for those with limited or non-existent space for a garden. The company is AeroGrow International, Inc. and their products are sold under the AeroGarden name.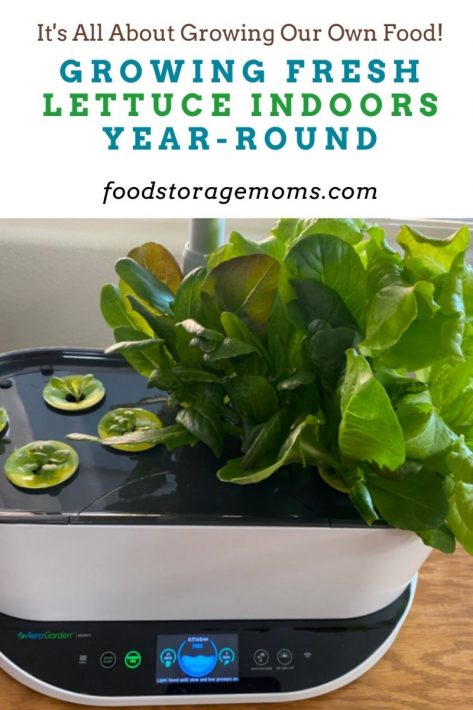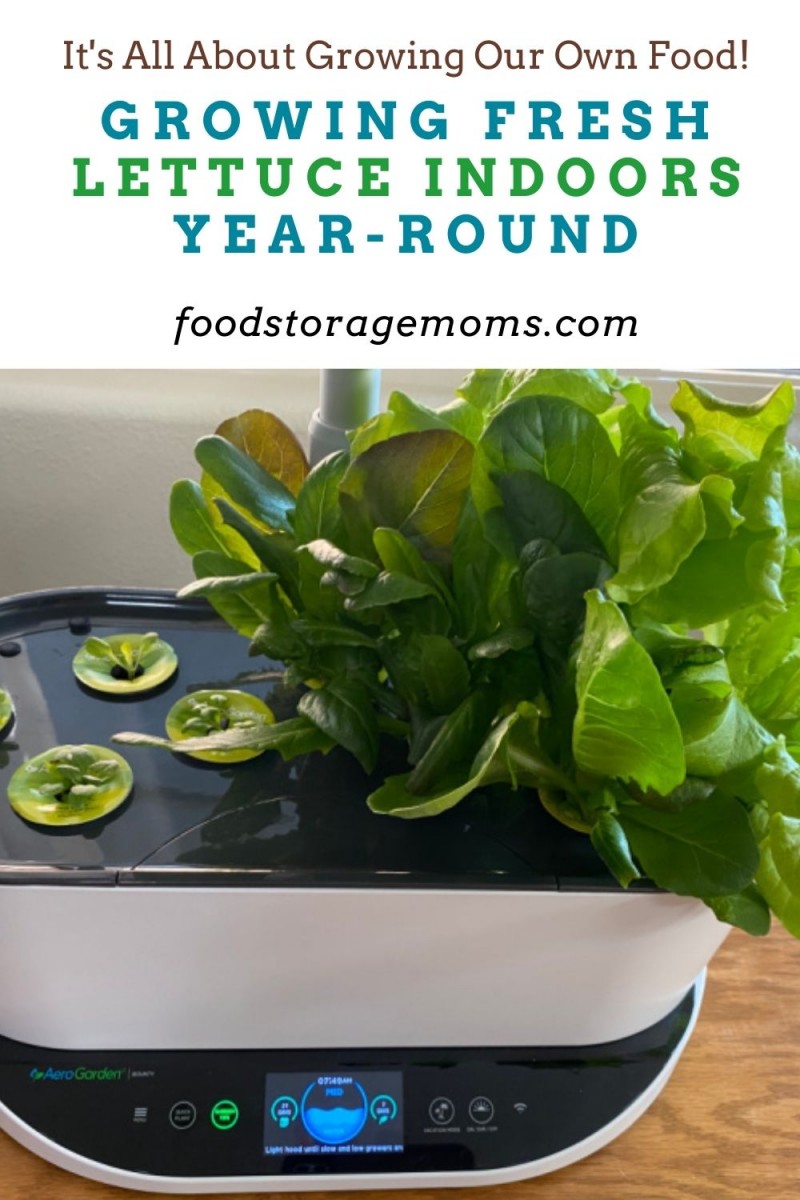 AeroGarden Makes Growing Fresh Lettuce Indoors Year-Round Possible
Their product family provides the option of growing a wide variety of plants indoors. These products come in various shapes and capacities to fit in most everyones' living space and budget. You may ask, "Can I save money using this approach to gardening like I can if I had gardening space outside?" I really don't know. But I do know that the AeroGarden in-home gardening systems make it possible to grow a significant amount of food for you and your family, thus providing a level of confidence that you can survive for a time living off the food that is fresh and healthy.
A short visit to the AeroGarden website at www.aerogarden.com will prove to be fun and enlightening. They have some informational videos on their home page to help get you acquainted with who they are. I found the Frequently Asked Questions (FAQ) link at the bottom of the home page to be extremely helpful in answering dozens of questions that came to mind as I watched the videos and read the marketing points. Let me be clear, I purchased this setup with my own money. A reader mentioned she had tried the product and felt good about the results, so I thought I'd do the same. Rest assured that I trust your opinions and learn from your life experiences. That's one reason I ask for comments at the end of each of my posts.
As I read the materials that were included with the product, and also highlights from their website, I noted that their four main points for your consideration when deciding if to purchase an AeroGarden product are:
Ease of Use – all their products use basically the same approach and are easy to set up and use.
Fast Results – research has shown that most plants can grow 5 times faster in water with proper plant food than they can in soil.
Safe Foods – since the seeds are Non-GMO and you don't need herbicides or pesticides, you can eat them right out of the gardening system without the usual worries for food safety.
Convenience – whether your goal is to grow fresh herbs, veggies, or beautiful flowers, AeroGarden's approach they call "from plant to plate" makes real sense for all of us preppers.
AeroGarden Tips: Growing Fresh Lettuce Indoors Year-Round
Their home page also highlights some issues that make using their systems an easy decision:
If you like "endlessly fresh" food growing in your kitchen, dining room, or other indoor location, their in-home gardening systems are for you.
You don't have to wait for warm weather or the right growing season, their systems allow you to grow the plants year-round.
You don't have to be strong and healthy, have lots of time, have numerous tools, or plenty of sunlight available. You can use these systems to grow clean, fresh, and healthy food indoors where you live and eat every day. It also makes you mindful of how lucky and blessed you are to have food at your fingertips no matter what is going on in the world outside.
High-Tech Gardening
This is "high-tech gardening" at its best. The AeroGarden systems use a sophisticated main base unit that plugs into your in-home electrical outlets. The base unit is like a small computer/timer that has a menu that walks you through a number of steps and hints to make the growing effort easy and successful. It helps you track the level of water in the unit and it can be programmed to circulate the water for different periods of time.
The systems come with a detailed "Quick Setup Guide" that walks you through the getting started phase. The FAQ link mentioned earlier also has "blog post" sub-links that take you through various additional steps to help not only answer critical questions, but also the hands-on steps of how to do things..
You can also put it into "vacation mode" so it will run unattended while you're off having fun. It also allows you to control the amount and time the grow lights are working each day. One thing that blows my mind is you can use your in-home Wi-Fi network to communicate with the unit, including having Alexa act as your personal helper if needed. I'm anxious for you to learn about this unique garden growing option. Let's get started.
Growing Fresh Lettuce Indoors Year-Round
Step One
When your AeroGarden product arrives you'll want to check the inventory to make sure you received everything shown. You can see the "base unit" below with the front facing you. There is a USB-based "post" that has a wider diameter at one end (note the USB connection at the end of the post). Insert the post into the base making sure the USB is properly seated into the base using the black line on the post as a leveling guide. There should be a slight click when properly inserted. Note that the post can be made longer by loosening the round adapters and pulling on the end of the post. You'll need to do this if you use the trellis system for taller plants.
You'll now place the LED Grow Light section of the unit on top of the post. It also has a black line leveling guide on the top end of the post. Again, you'll gently push the light section until it fits snugly in place with the lights hanging over the top of the base unit.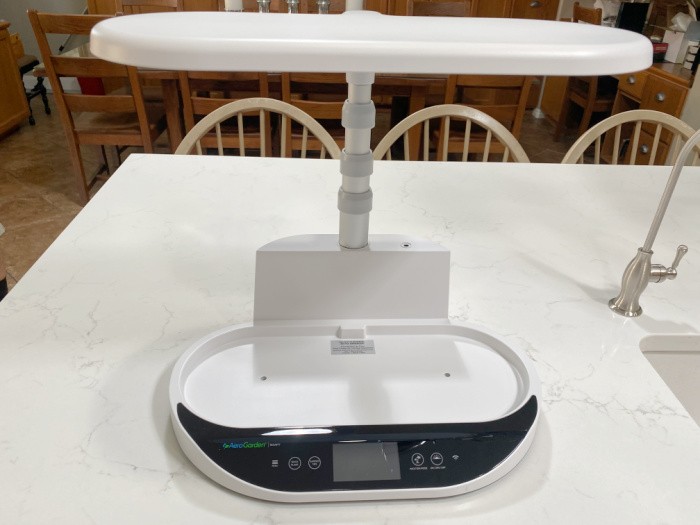 Step Two
To make the AeroGarden unit function as designed, you'll need to connect the water pump cord you see coming out of the back of the top of the base unit into the section of the base unit where you inserted the post. At the bottom of that section is a receptacle for the power adapter cord to be plugged into. Once you plug the power adapter into your wall outlet you'll have the necessary power to run the base unit controls, the lights, and the water pump.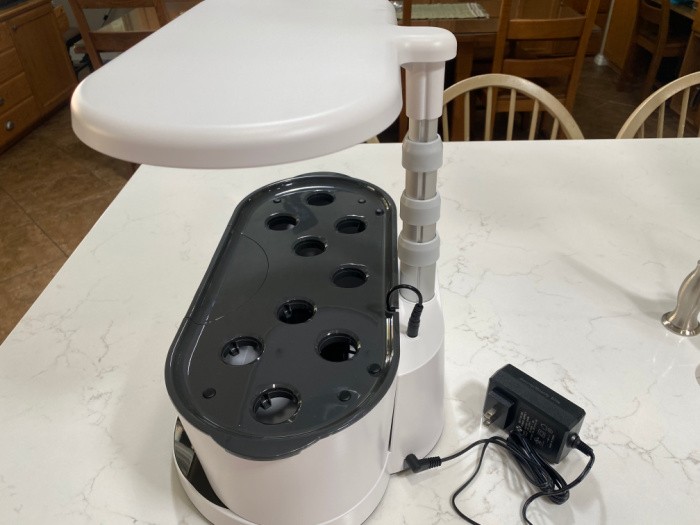 Step Three
Once the power adapter cord is plugged into the unit and the wall outlet you'll see the AeroGarden logo come on the screen instructing you to touch the "Quick Plant" button so you can begin the programming steps needed to successfully grow the plants.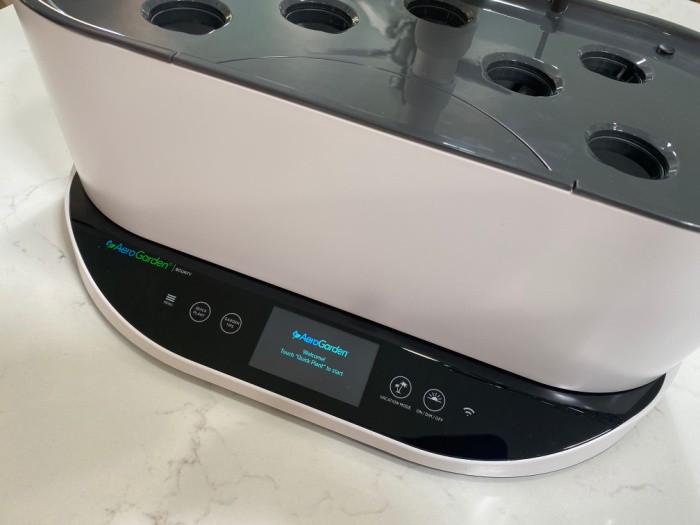 Step Four
During this step, you'll place the seed pods in the open holes on top of the base unit. Before you do that, Mark and I found that putting the "plastic grow domes" on top of the seed pods was easier to do BEFORE placing the pods in the unit. The domes fit a little tight due to the labels attached to the pod. These labels identify the type of seeds included in the pod.
The unit can take up to nine seed pods. You'll need to decide how many pods you want and the proper position to place them. Feel free to use the FAQ section of the website for guidance. (Note: you can see our sink reverse osmosis tap filling the base unit with water. You can also fill the base unit tank by removing the small semi-circle-shaped cover at the top front of the unit.)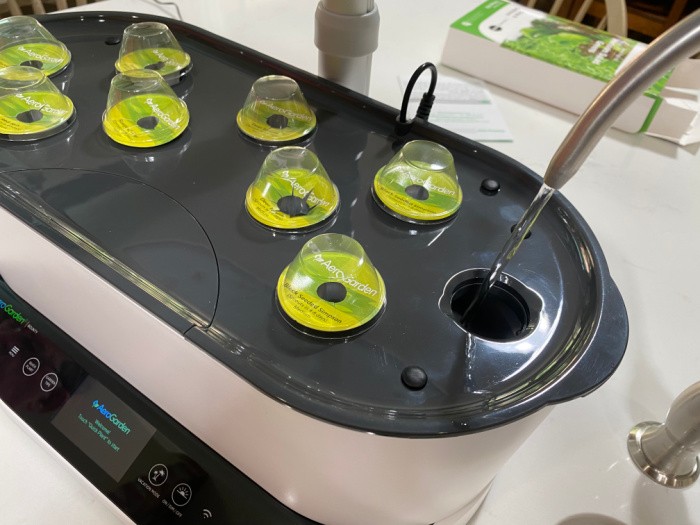 Step Five
As mentioned in Step Four, you need to fill the base unit tank with water. Under the semi-circle-shaped cover on the top front of the base unit, you'll see a tab labeled "Fill to Here." Be sure to use the tab as your guide whenever filling the base unit tank. The unit will alert you when the unit is getting low on water. Once the tank is full, you'll need to put some supplied liquid plant food in the tank. The tank's pump helps circulate the water so all the plant pods get their fair share of the plant food. The plant food bottle walks you through how much food to add to the tank. The base unit will also alert you when it is time to add more plant food. It is on a 2-week feeding cycle.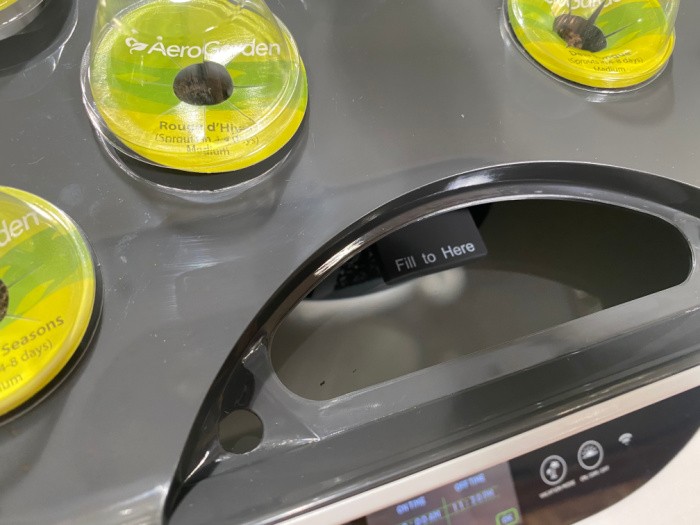 Step Six
This step involves setting up the time of day and the other critical settings based on the type of plants you plan to grow. The menu button and touch screen walk you through what is necessary. There is also a "Garden Tips" button on the base unit control which provides some quality input as you learn the best approaches and use of your AeroGarden system. In the picture below you can see the screen used to enter the date and time of day. The unit proves to be very user-friendly. You can use your WiFi network to communicate with the unit and you'll find the FAQ section on their website to be very helpful when learning how to best use the WiFi feature. Note the "Vacation Mode" and "On/Dim/Off" buttons to control what happens when you're gone and how to manually control the lights.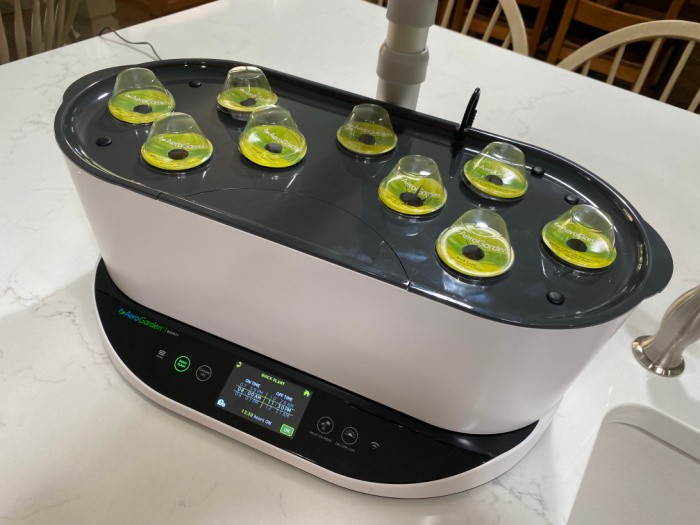 Step Seven
We wanted to get this post out to you as soon as possible, but the last step used in the early part of the growing process is to take off the grow domes once the plant grows to the point it touches the dome. This will help protect the plant at this stage so it can continue to grow without limited space.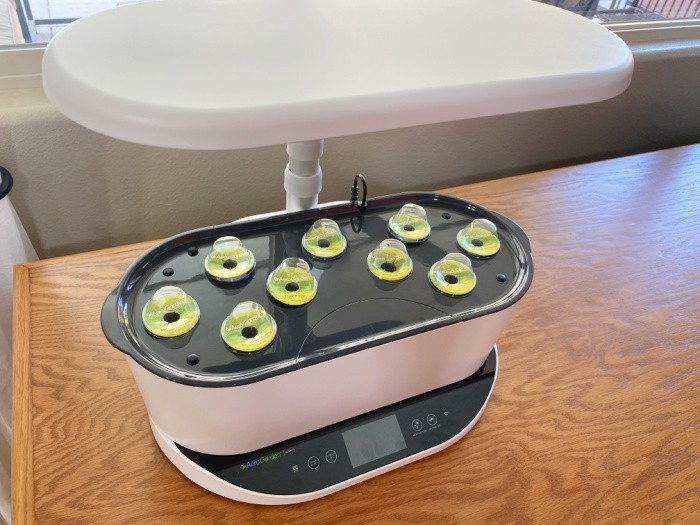 Step Eight
This is the easiest step. Simply monitor the AeroGarden during the growth phase and fully enjoy what you see happening in your home. Today is day 8, I removed five of the domes because the lettuce was starting to touch the top of the plastic. As you can see, four pods have not sprouted yet.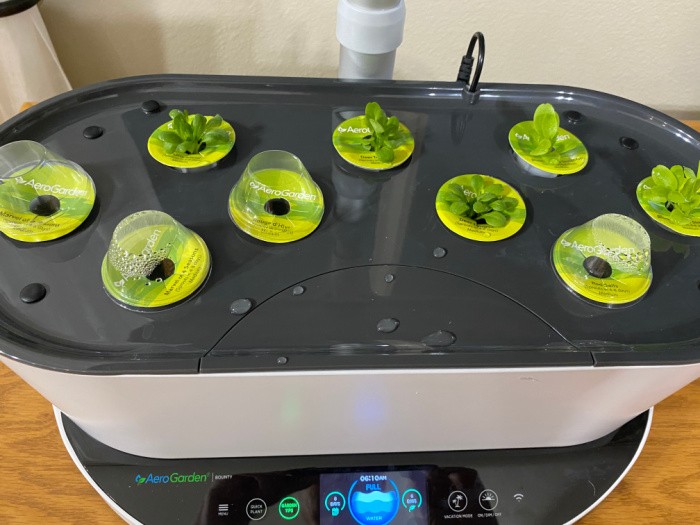 Step Nine
I can't tell you how excited I am to have discovered this awesome way to grow my own seeds, but also grow seeds from AeroGarden. I had a reader tell me they purchased one of these systems and they love it! Some readers mentioned they bought additional ones. When you're ready to harvest the lettuce you cut off 1/3 of the plant, is this the best thing, ever?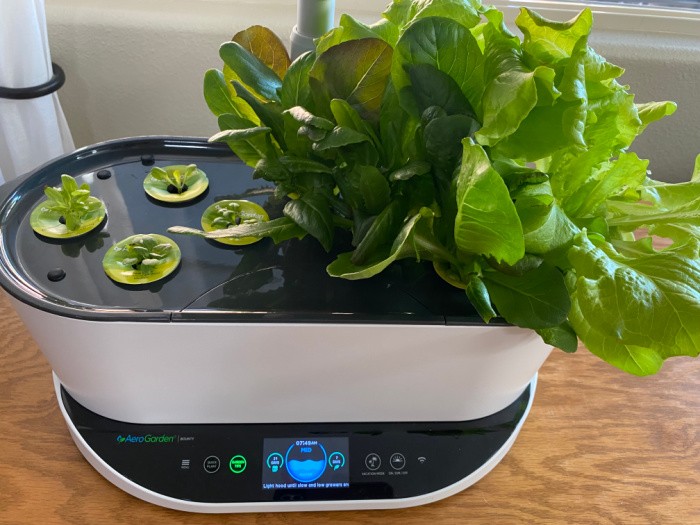 Growing Fresh Lettuce Indoors Year-Round
The last step is to harvest your "crop." Depending on the type of seed pods used, the timing of the harvest and how best to proceed will be different. We don't have room in this post to cover all the plant options and how best to harvest. Take advantage of the FAQ section on the website for quality input.
As part of my research, I looked up answers on the FAQ pages to get information relating to things most interesting to me. To give you a taste of what is included in the FAQ pages, I've put a few of the most commonly asked questions and how the experienced staff at AeroGarden addressed their answers, I quote:
How long will the seed pods last?
Each of our Seed Pod Kits is tested for germination and expires one year after that date. To give your seeds the best chance to germinate, we recommend storing extra kits in a dark, cool, dry place. This will keep them cool and the seeds dormant until you're ready to plant them in your AeroGarden. Some people store them in the vegetable drawer of their refrigerator in an airtight container or bag. Check out this blog post to learn more!
How long will it take for my seeds to germinate?
Different types of plants take different amounts of time to germinate and grow. In general, we've found these germination timeframes to be consistent:
Flowers: take about 7-12 days
Salads: 5-8 days
Herbs: 5-15 days
Fruiting vegetables (such as tomatoes and peppers): 7-14 days
If any of your seed pods don't germinate after 21 days, contact us so we can send out a replacement for you under our 100% germination guarantee.
How long will my plants last in the AeroGarden?
Growing in an AeroGarden is similar to growing plants in any environment. Plants have a lifespan and a life cycle as they grow and mature. The type of plant you are growing and the tending and harvesting it receives will impact the life expectancy of any plant.
Flower varieties typically grow for 4-5 months and can last much longer depending on tending and care.
Lettuces & Greens typically grow for about 4 months.
Herbs typically grow for about 3-4 months and can last 6 months or more. Some herbs, such as basil, can last longer than that, especially with regular pruning and harvesting.
Fruiting vegetable plants (such as tomatoes or peppers) will start to flower and set fruit after they reach a level of maturity. The average lifespan for fruiting vegetables is about 12 months. With continued tending and care, fruiting vegetables can certainly maintain plant growth for longer.
Are the seeds in the pods considered organic?
Our seeds are sourced from large and small vendors from around the world. Many are heirloom seeds, organic sources are chosen when available, and GMO seeds are never used. AeroGrow uses the same proven, patented nutrients that we've used since the beginning – the result of 6 years of intensive testing in our grow rooms. Our nutrients contain no harmful pesticides or herbicides. AeroGarden Liquid Plant Food is derived from minerals that life on earth needs to flourish, in exactly the right amounts for your plants, derived from sources that ensure high levels of consistency and purity. Check out this blog post to learn more! End of quote.
In case you missed this post, Container Gardens: Everything You Need To Know
Growing Fresh Lettuce Indoors Year-Round
Final Word
Here's the deal, if we can grow our own food in our house, the possibilities are endless! Here's to growing fresh lettuce indoors year-round! Please learn to grow some of your food, if you aren't already. You will love it! May God Bless this world, Linda