Quinoa: Everything You Need To Know
Quinoa: everything you need to know. Over the past couple of decades, the production and consumption of quinoa has rapidly taken off thanks to recent health food trends. That's because quinoa comes loaded with so many nutrients that beat out most other grains out there.
Quinoa is also enjoyed in a number of ways and is a great gluten-free food option that people can turn to. But do you realize the many benefits there are when you eat it? Probably not. Here's more about quinoa and everything you need to know about it.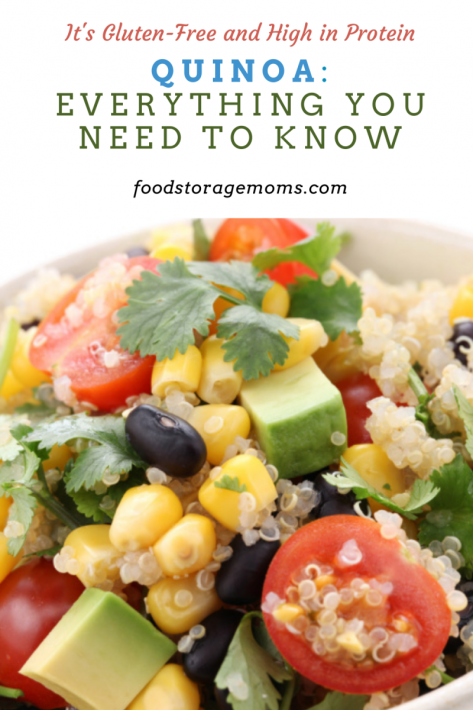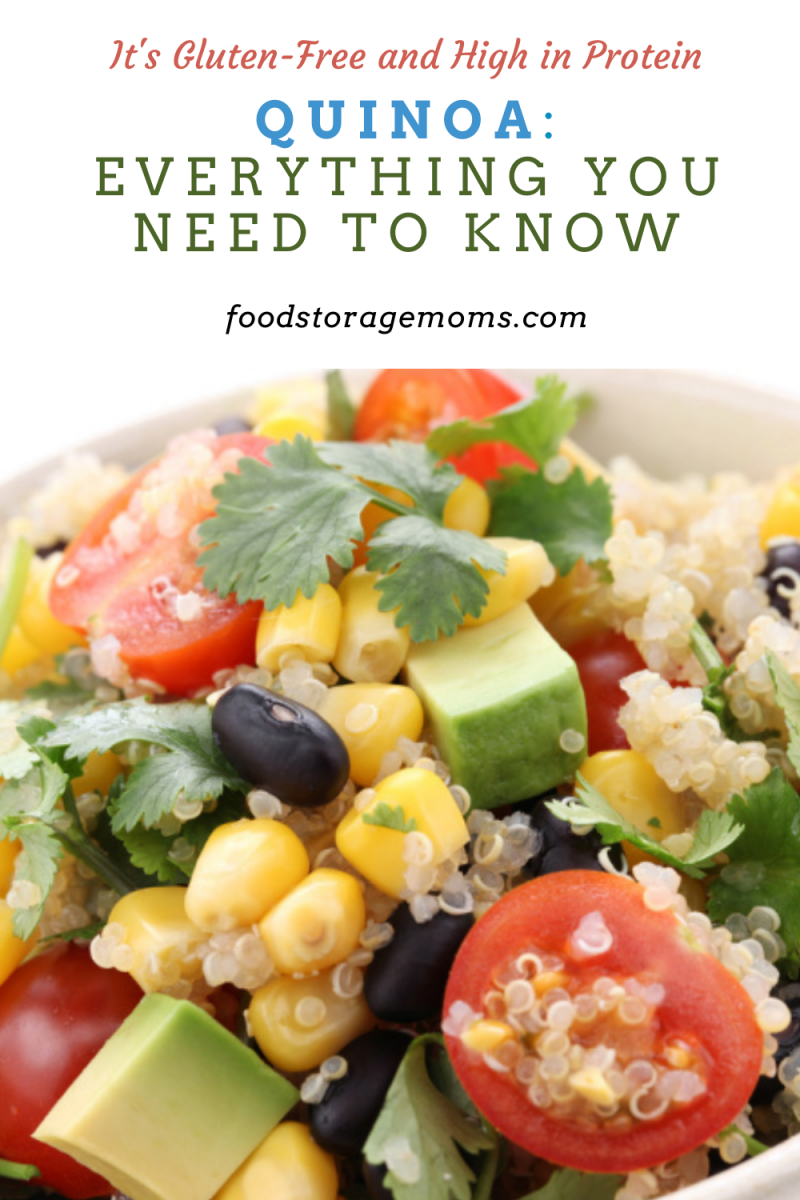 Basic Info About Quinoa
Quinoa (pronunciation: keen-wah) comes from a tall and leafy plant called the Chenopodium Quinoa. Even though quinoa is cooked and eaten very much like rice, it technically is not a grain. Believe it or not, it's more closely related to spinach, chard, and beets.
The part that we eat is the seed, and it also happens to be gluten-free. It's considered to be a high-carb food, but it has several important nutrient features, such as fiber and protein, that make it popular among the natural health community.
Fun Facts on Quinoa
Quinoa is what is considered to be a complete protein. This means that it contains all 9 of the amino acids that are essential for your body's health.
If you've ever cooked quinoa, then you know that a curly string (germ) is released from it, letting you know that it is ready to eat.
Quinoa that's processed and sold prepackaged has already been rinsed. But if you get yours elsewhere, it's a good idea to rinse it. That way you don't taste any of the bitterness that the compound may leave on it.
Where Quinoa Originated
Quinoa is believed to have originated in the Andes of Peru and Bolivia, dating clear back to ancient times.
It was domesticated by the Incan civilization around 4,000 years ago, though there's other evidence that points to an even earlier period of about 5,000 years ago.
It was an important staple food for those people until the Spanish came and introduced the other grains that soon replaced it.
Varieties of Quinoa
There are over 100 types of quinoa, all of them coming in different colors, texture, and flavor. Here's a look at some of the most common ones.
White (Ivory)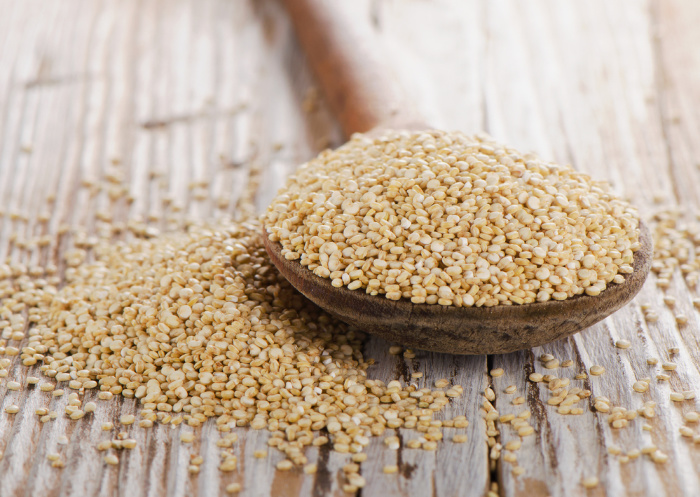 White quinoa is the most common and healthiest available, and the easiest to find at the grocery store. It has a light texture and cooks fluffier than almost any other variety. Organic White Quinoa
Red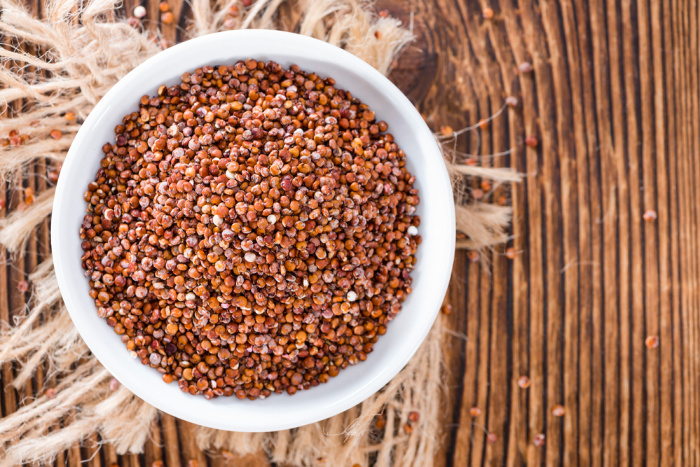 People will often use red quinoa in their salads because it holds its shape better after it has been cooked. It turns more of a brown color when it has been cooked, with rich flavor and a heartier texture. Organic Red Quinoa
Black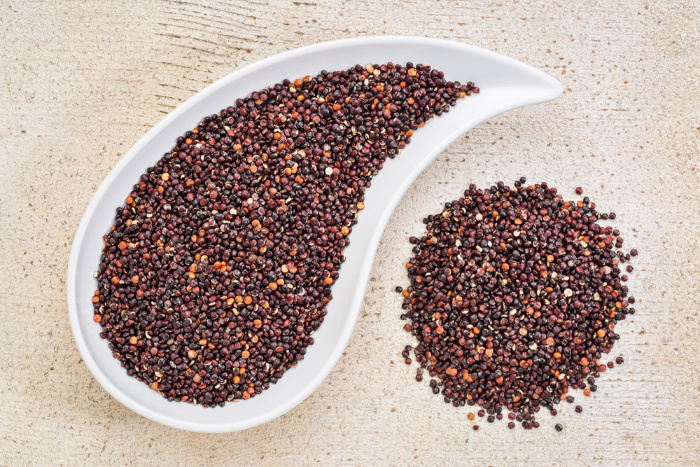 Black quinoa has a sweeter taste to it, is crunchier, and also contains the lowest amounts of fat. Its shape holds better than most other varieties after it has been cooked. Organic Black Quinoa
Rainbow (Tricolor Blend)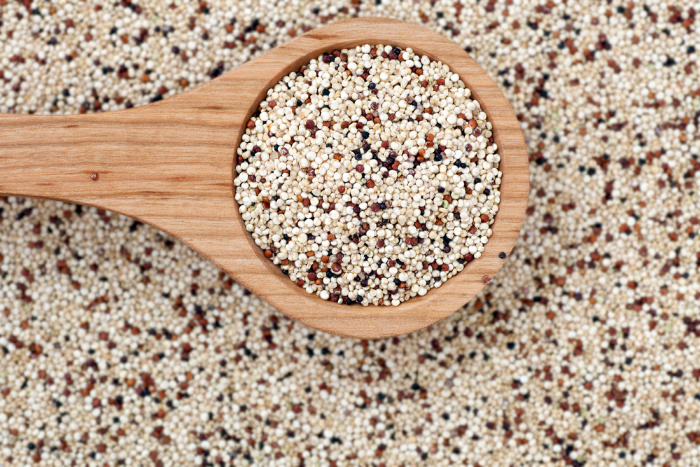 Rainbow quinoa usually comes in a red, white, and black colored blend. Many people enjoy this colorful variety in a salad. Organic Tricolor Quinoa
Flour
Quinoa flour is manipulated into a fine and powdery texture. It's a gluten-free flour that is extremely versatile. It's great to use when making pizza crust, pancakes, muffins, and to thicken soups and sauces.
Flakes
Quinoa flakes are created by steam-rolling the whole grain kernel. This treatment makes it cook much quicker, and the flakes are most times used as an instant breakfast. If you are a fan of oatmeal, you'll love this variety.
Nutrition Facts
People begin to freak out when they hear about how many carbs can be found in quinoa, but it's actually a healthy option.
The carbs that are found in quinoa are nothing like your typical fattening carb.
Quinoa contains what are known as complex carbohydrates, and not the refined carbs which have sugar added and have been stripped of all their nutrients.
Complex carbs help with digestion, allow you to feel full longer, and provide you with a higher level of energy.
Quinoa is also crammed with vitamins and minerals, even more so than what you can expect from most grains.
Quinoa contains about twice the protein and 5 grams more of fiber than what you will find in rice.
There are also high levels of magnesium, manganese, copper, zinc, phosphorus, and iron.
All of these provide several health benefits that you don't want to miss out on. How's that for quinoa: everything you need to know.
Health Benefits of Quinoa
High In Protein
It can't be stressed enough, quinoa contains a high level of protein that comes from amino acids present. It's a complete protein food, containing all nine of the essential amino acids.
High in Antioxidants
Quinoa comes packed with antioxidants that neutralize free radicals. This can prevent aging, diseases, and certain types of cancer. If you were to allow the seeds to sprout, this would increase the antioxidant content even further.
A Healthy Option for People with a Gluten Intolerance
All gluten-free foods are not necessarily healthy. It's important to stick with naturally gluten-free foods (like quinoa) to avoid junk foods, even though they are considered gluten-free.
People that don't like the thought of forfeiting bread and pasta have found that quinoa is a healthy alternative.
Promotes Regularity
With the healthy amount of fiber in quinoa, it promotes regularity with your digestive system. This can relieve you from constipation, but it can cause some people who are sensitive to it to become gassy.
May Help You Lose Weight
If you are looking to lose weight, it's important to consume fewer calories than you burn each day. Quinoa can help with boosting your metabolism, reduce your appetite, and help you feel full more quickly.
Quinoa also contains a low glycemic index, which also goes along with lower calorie intake, which reduces the chance of obesity.
Good for Blood Sugar Control
Because of the glycemic index that was previously mentioned, it can help to lower your blood sugar level. This can help steer you away from type 2 diabetes and heart disease later on down the road.
What is the shelf-life?
Unopened, properly stored in air-tight containers in a cool dark location about 3-4 years. If the package is opened, please store in the refrigerator in a an airtight containers for up to 2 years.
How do I store quinoa?
I personally store my quinoa in the plastic BPA containers they come or if they come in bags, I transfer them to quart mason jars and use my FoodSaver.
How long does cooked quinoa last?
After cooking, let it cool down and store it in an airtight container in the refrigerator for up to 5 days.
Can I freeze cooked quinoa?
Yes, you can. I store cooked quinoa in freezer bags or an airtight container, and freeze it for up to a year. When ready to use, remove a bag and let it thaw in the refrigerator the day before you want to use it.
How To Cook Quinoa
This is the 8-quart cooking pot similar to the one I use: 8-quart Soup Pot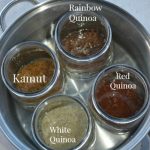 How To Cook Quinoa
Ingredients
1/2

cup

quinoa, any flavor or Kamut

1

cup

water per quart jar
Instructions
I realize we can use a pressure cooker, but I also realize a lot of people do not have one or they do not need 6 cups of quinoa in one flavor. So, I decided to try and cook 4 of my favorite grains in quart canning jars. I used an eight-quart soup pot with a lid. I used the same amount of grain per water ratio for all four grains. I placed one cup water in each quart jar with 1/2 cup of grain per quart jar. I filled the pot with 3 inches or so of water from the tap and placed the jars in the pan. I turned the heat on to bring it to a boil and boiled the filled jars with the lid on top of the soup pan. No lids on the individual jars. Two of the quinoas cooked faster than the others so I removed each quart when they looked fluffy and cooked. It took about 30-40 minutes. The Kamut took about 10-15 minutes longer. It is a chewier grain and adds texture to any salad. Yummy!
My Favorite Quinoa Salad Recipe
Quinoa Summer Salad
Ingredients
3

cups

black beans, cooked, and drained

3

cups

red quinoa cooked

1

large red onion chopped

4

tomatoes cut into bite-size pieces

1

cup

corn (drained)

2

large carrots grated

1

avocado, diced and peeled.

4

cups

chopped romaine lettuce

1

cup

slivered almonds (optional)

Cilantro, chopped (optional)
Instructions
Dressing
2/3 cup olive oil

1/3 cup balsamic vinegar

salt and pepper to taste
Salad Instructions
Make the salad dressing in a separate bowl and set aside. Grab a large bowl and combine all of the ingredients in order. Pour the salad dressing over the salad and toss, enjoy. Garnish with Cilantro, if you have some.
Final Word
Quinoa may not be considered a grain, but it is certainly comparable to one. This food source just happens to have several more nutrients than what you can expect in rice, corn, and whole wheat.
What is a health benefit or interesting fact about quinoa that you found interesting about it? What did you learn about quinoa: everything you need to know? Please keep prepping, we must. May God bless this world, Linda
Copyright Images: Quinoa TriColor Deposit photos_11963014_s-2019.jpg, Black Quinoa Deposit photos_262049068_s-2019, Quinoa Red Depositphotos_71089469_s-2019, Quinoa White Depositphotos_78047274_s-2019, Quinoa Salad Depositphotos_21131563_s-2019