The Great Depression: What You May Not Know
The Great Depression had a huge and lasting impact on every American in how they lived and went about everyday life. Never had this country faced such uncertainty with such a long period of despair that citizens lived through and could be looked back on.
There were so many challenges these individuals had to overcome that the people of today could learn from. I'm excited to share this resource called The Great Depression: what you may not know.
Related: How to Survive in a Homeless Shelter
The Great Depression: What You May Not Know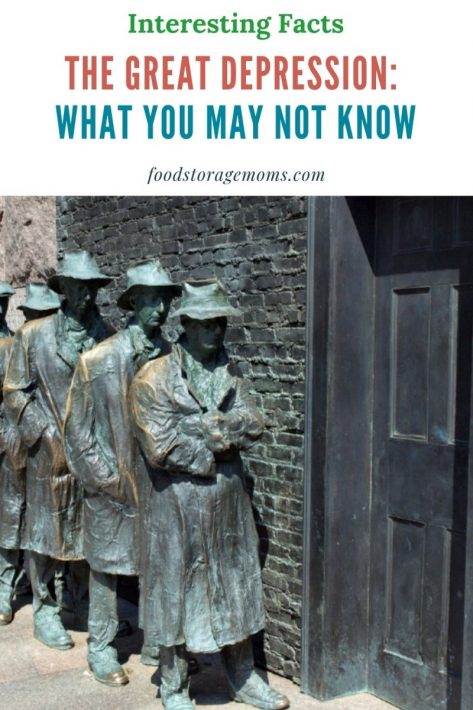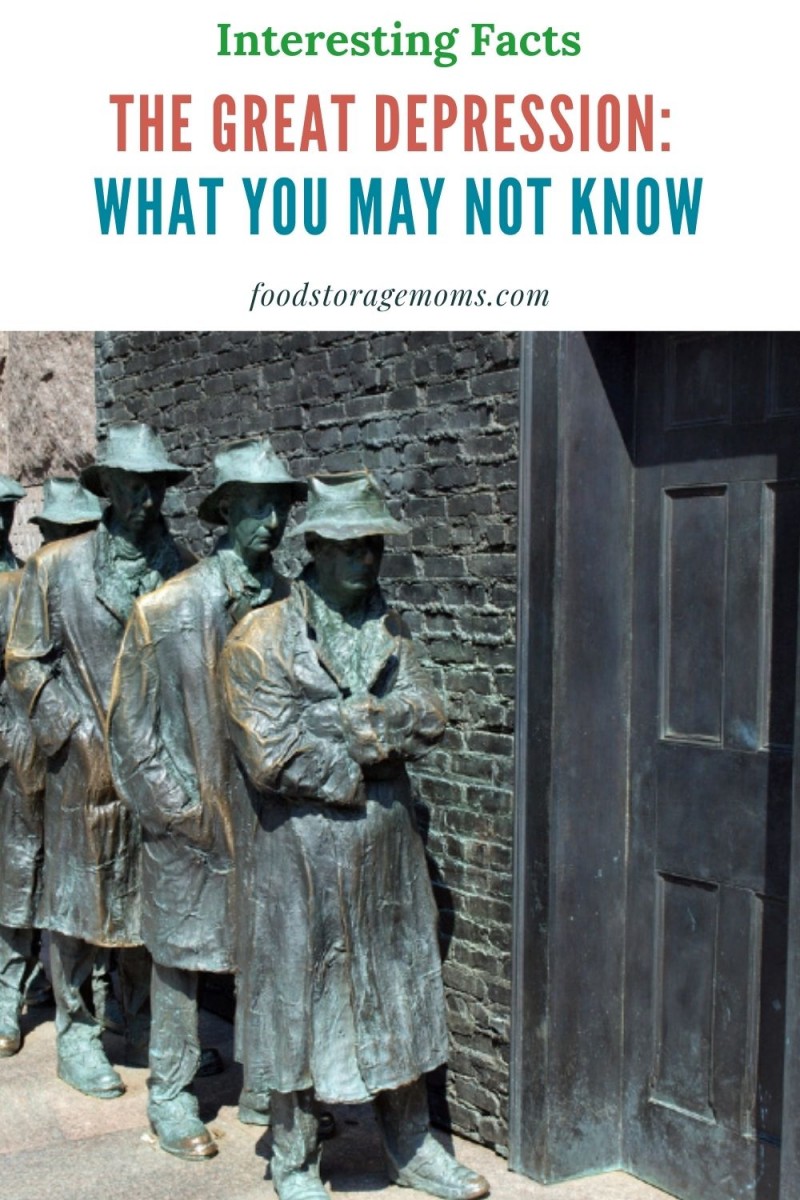 It wasn't just the United States that suffered during this period of time. Due to these dark days, certain world leaders began to rise up to meet the many challenges. Hitler and Mussolini were two ruthless dictators who proposed plans for improving their country's economy, but their strategies and misguided tactics also brought about the second World War.
Here's more about the Great Depression, as well as other related events that made life extremely hard not only for the American people but for the rest of the world. 
Crime Increased
There was a definite crime boom that took place during this time while people were unable to find work. With unemployment rising and without an effective welfare system to rely on, crime became a way of living for many. People resorted to stealing, smuggling, and other illegal activities.
Makeshift Towns were Created
Homelessness was another huge issue during the Great Depression, with over 2 million people left on the streets. Some of them resorted to building temporary "homes" on private property.
Not surprisingly, as similar to today, many people blamed the president for the crisis that was crippling the nation.
Herbert Clark Hoover was the president during this time and was heavily criticized. To direct blame for where they felt it was due, the slums that were created became known as "Hoovervilles."
These shacks were small shanties that were mostly built out of cardboard, lumber, glass, and tar paper to house the homeless population. At the start of the depression, there were an estimated 500 of these Hooverville towns.
But as the 1930s approached, there were nearly 6,000 of them. It wasn't until 1941 that they were all removed, and other programs were put in place.
The Great Depression: what you may not know is a great resource for understanding HOW things worked.
Political Unrest and Social Upheaval
About this time, many protesters and WWI veterans began hunger marches on Washington. Many unemployed workers, particularly those tied in with Unemployed Councils made up the bulk of those involved in the marches.
By the name, you would think they were organized by the hungry. Indirectly they were since the marchers were fearful that without work they couldn't properly feed their families.
The theme for the hunger marches was "Work for Wages," with a push for Congress to address the need for special relief, particularly unemployment insurance.
The most famous hunger march was called the Ford Hunger March since it took place at Ford Motor Company's plant on March 7, 1932, in Dearborn, MI. It became a bloody confrontation with five marchers killed by local police.
There was also another march called the "Bonus Army" march of 1932. It didn't end well since the protestors were violently removed by the army, led by General Douglas MacArthur, where their tents and belongings were burned to the ground.
New Trade Policies Prolonged the Crisis
It has been concluded by economists and experts that it was the stock market crash that brought about the Great Depression, but it was the trade protectionist policies that only worsened its pro-longevity of it.
These new laws were put in place in order to help improve the current situation, but they completely backfired and with devastating results.
One of these laws, the Smoot-Hawley Tariff, sought to raise U.S tariffs on imported goods to their highest levels in U.S history.
In response to this, several European countries refused to buy U.S goods during that time, which certainly didn't help matters since US workers lost their jobs.
The Gold Standard
It was during the 1920s that the gold standard was introduced, right around the time WWI ended. This is when the U.S dollar became equivalent and backed by a certain quantity of gold.
Many economists put the blame on the gold standard for also contributing to stretching out the Great Depression because the federal reserve was unable to expand the money supply in order to help banks and get the economy rolling again.
The Dust Bowl
If things weren't already bad enough, the Dust Bowl only made life that much harder, especially for farmers living in the Great Plains.
Over 100,000,000 acres of farmland became wastelands and ruins because of the severe drought and dust storms in the region. Even people living on the east coast were affected by it.
Farming became virtually impossible because of the eroded soil and living conditions became very poor. As many as 7,000 men, women, and children lost their lives from pneumonia caused by the dust and debris.
The Dust Bowl would go on to last for 6 years, causing further turmoil, in addition to the crisis already gripping the nation.
One of the worst of these storms took place on Black Sunday, April 14th, 1935. A massive 1,000 miles long blackened cloud turned the day into night, with dusty-gusty winds that reached up to 100 miles an hour.
The storm took multiple lives, forcing thousands of people to find other places to live.
It Had a Global Impact
The Great Depression may have struck the heart of the United States, but it had a huge impact on several other countries around the globe.
Countries including Canada, the United Kingdom, Australia, Chile, South Africa, Greece, Brazil, Poland, New Zealand, and Italy faced an unprecedented economic decline.
Out of all of the countries and nations that were affected, Germany was especially hit very hard. Not only was the country dealing with their own economic woes, but the social and political chaos caused instability and unrest among its leaders.
It was during this time that Hitler's Nazi Socialist Party came to power as a political move stating they could solve the country's challenging issues.
WWII Brought an End to the Great Depression
Roosevelt's "New Deal" may have had a positive impact during the crisis, but it did not bring an end to the depression. You may not be aware, but it was WWII that helped America get out of the hole she was in.
Because of the mobilization of men and women and the need for a workforce to support the war effort, the unemployment rate fell dramatically, to as little as 10%. In our more recent economy that would seem high, but it was down significantly from the height of the depression.
To put that into perspective, while the Great Depression was at its worst, 1 in 4 families were found without work. This was a huge improvement compared to the prior decade.
Why Am I Discussing The Great Depression Today?
Those of you who consistently follow my blog posts and visit my website are familiar with a common theme: we never know when events and circumstances around us will change and challenge our way of life.
It could be a sudden illness, a loss of job and livelihood, another 9/11 or Katrina storm. We could be caught in a 100-year flood, a firestorm, an earthquake, or as we are experiencing now a global pandemic.
The key to feeling safe and confident as we face these unforeseen events is to personally prepare in advance for what may be needed to protect ourselves and our families.
So many tend to think the local, state, or federal government will have the resources to jump in and solve our problems and make things good, or like they used to be.
As we've seen lately in the responses to the Covid-19 pandemic, there isn't enough food, water, money, medical equipment / protective clothing, and other critical supplies to maintain support for all those who are affected.
Make A Plan
So what do we do? Today, if you haven't already, start putting together a plan for the steps necessary to make you and your family more self-reliant.
As I've stated so many times before, start small, acquire things your family actually needs and will use, and be consistent as you work to achieve your goals.
That may include water, food, first aid supplies, blankets, medications, and so much more. You know your family better than any other one else, so put your knowledge to work. I'm hoping my blog posts will help guide you on things to consider.
Part of being self-reliant is to have your finances in order. Please plan to set aside some money every month that can be used as a backup reserve for anything that may come your way. You'll be glad you did.
Final Word
Learning about the history of the Great Depression is very important for several reasons. You've probably heard the phrase, history has a way of repeating itself?
Not only can we learn from the mistakes that our country and certain individuals made, but we also can learn how they could be avoided. What are some other Great Depression information and history that you know about?
Even at this very moment, we are facing uncertain times in the world we live in. Are there history lessons that we could look to, to keep us from making repeated mistakes? May God bless this world.
Other Posts to Check Out
To learn more about being prepared during or before a depression, check out some of my other posts:
Copyright Images: Bread Line Deposit photos_89644266_s-2019, The Great Depression Deposit photos_2267141_s-2019