What Happens When Roadways Shut Down?
When emergencies happen, things change very drastically on a number of levels. Throughout history, the world has experienced events that have shut down roadways and made things even more difficult for people to get around and do their daily activities. I want to talk about what happens when roadways shut down. Whether it's a natural disaster or another reason why the roadways shut down, it can be scary and frustrating, but it's always important to understand WHAT happens when something as important as roads aren't readily accessible.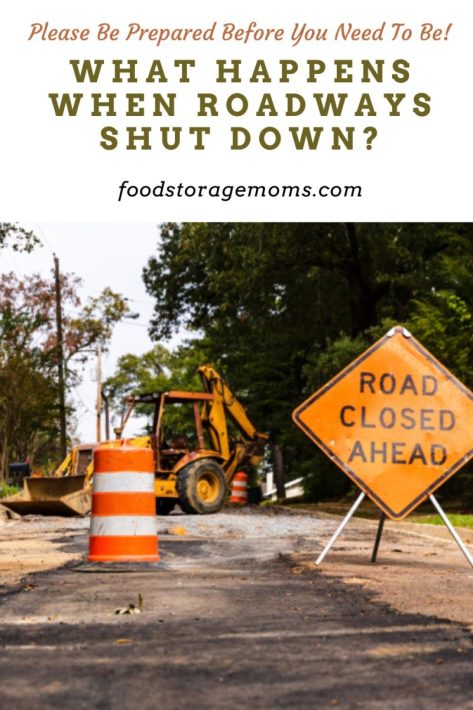 Reduced Traffic and Improved Air Quality
One of the most obvious consequences of the world shutting down is the reduction in traffic. When people stay home and businesses close, roadways that were once bustling with cars, buses, and trucks become eerily quiet. Of course, when there is less traffic, there is an improved air quality as well! Airlines: 13 Things You Need To Understand
When people started having to perform their work remotely over the past few years, it's surprising how much easier morning and afternoon commutes became. Traffic congestion hasn't been as much of an issue, but now that things are getting back to "normal" conditions, we're seeing transportation challenges return.
Decrease in Accidents
The decrease in traffic will also have a positive impact on roadway safety. It makes sense that if there is less traffic, then there will be fewer accidents! What To Do If There's No Gas in a Hurricane
There are various times of the year when traffic increases, like in the summer vacation periods and over holidays as people travel to visit family. We should take these circumstances into account as we plan trips with our own vehicles.
If the roads are shut down due to flooding, landslides, stormy weather, or other emergency situations, you need to stay tuned to your TV, radio, or even social media news outlets so you can receive notifications from local authorities.
Road Closures
Damaged roadways often result in immediate closures for safety reasons. This can disrupt transportation networks and hinder emergency response efforts. How To Prepare For A Road Trip In many locations, lane closures are planned during the warmer summer months in colder climate zones so the weather isn't as much of a factor. We all need to be aware of reduced roadway capacity in work zones during those times of year until the necessary work is completed.
You can expect a diversion in your routes as traffic planners outline detours that may be necessary. Be particularly aware of lane changes near intersections, a freeway exit, an overpass span, and other areas where traffic is affected when lanes are closed or space for vehicles is limited.
Plan ahead and find out what the project duration plan is so you can organize your routes accordingly. Don't find yourself surprised by the situation if you had an opportunity to do some research and structure your route for effective travel.
Communication Disruption
Roadway damage may also disrupt communication infrastructure such as fiber optic cables, power lines, cell towers, or telephone lines that are located near, alongside, or underneath roads. This can impact phone and internet connectivity in affected areas.
I suggest you carry a hand crank radio in your vehicle as a backup communication device, just in case. You always want to have access to the latest news, no matter where you are.
Disrupted Supply Chains
Ruined roadways can interrupt supply chains by making it difficult for a local carrier to move freight as they transport goods and supplies. This may lead to shortages of essential items and delay aid distribution to affected communities. Surviving the Apocalypse with Poor Eyesight This kind of transportation emergency is one we often don't think about.
If you want to see how critical the trucking industry is to our economy, take a position near a freeway that is the main trucking route in your state. You'll be surprised at the high percentage of traffic on that road from the trucking segment.
Increased Travel Time
With damaged roads, alternative routes need to be established, leading to longer travel times and congestion on detour routes. This can impact commuting, emergency services, and the movement of goods. 35 Items Every Prepper Should Have When Traveling
Economic Impact
A Natural Disaster can impact you on roadways and can have significant economic consequences. Businesses may suffer due to limited access, reduced tourism, and decreased transportation efficiency. 15 Valuable Skills I Learned In Home Economics
Repair and Reconstruction
After a natural disaster, roadways must be inspected, repaired, and reconstructed. This process requires time, resources, and coordination among government agencies, contractors, and engineers. How to Choose the Right Backpack for Emergency Situations
Why are roadways important?
Transportation – Roadways serve as the primary mode of transportation for people and goods, allowing for easy movement between cities, towns, and rural areas.
Economic Development – Efficient road networks contribute to economic growth by facilitating the movement of goods and services.
Accessibility – Roadways ensure accessibility to remote areas, enabling communities to access education, healthcare, employment opportunities, and recreational activities for all riders using the roads.
Emergency Services – During emergencies or natural disasters, roadways are vital for the movement of emergency responders and all the equipment needed to effectively address the situation. Emergency Cones
Tourism and Travel – Well-maintained roadways promote tourism and travel by providing easy access to popular destinations, attractions, and scenic routes.
Infrastructure Development – Road construction projects create jobs and stimulate economic activity.
Public Safety – Properly maintained roadways help safety by implementing traffic regulations, signage, and infrastructure such as traffic lights, crosswalks, and speed limits for the protection of drivers, passengers, pedestrians, and those riding a bike.
Public Transport – Roadways accommodate public transportation systems such as buses, taxis, shuttle buses, and trains, providing affordable transportation options for those without private vehicles.
How to Help Take Care of Roadways in an Emergency
What happens when the roadways shut down? You can actually help take care of the roadways in an emergency. There are some simple things you can do to help keep the roadways clear and safe:
Stay calm and assess the situation.
Move your vehicle to a safe location if possible. Make room for emergency vehicles.
Turn on hazard lights to alert other drivers.
Contact emergency services if needed (dial 911).
Set up warning signs or flares to warn oncoming traffic.
Stay inside your vehicle unless it is unsafe to do so.
Follow instructions given by emergency responders and provide additional space for them.
Provide clear and accurate information about the incident when asked by local authorities.
Cooperate with other drivers and emergency personnel on the scene.
If able, assist injured individuals without putting yourself at risk.
Document the incident through photos or written notes for insurance and law enforcement purposes.
Report any hazardous road conditions to the appropriate authorities.
What is the best way for me to get current road conditions in my area?
There are actually a number of ways to determine road conditions so you can plan your route:
The U.S. Department of Transportation's Federal Highway Administration operates a national resource. You dial 511 and get up-to-date information you'll find helpful.
Check with your own local departments of transportation. Most states offer an app to check on road conditions.
Most local area news outlets also have apps you can download that post ongoing updates for weather and general road conditions.
There are navigation apps like Google Maps, Waze, and Apple Maps that provide turn-by-turn real-time traffic and road condition information.
More Tips
Final Word
I've always wondered what happens when roadways shut down. Well, a lot happens, you just have to take it one scenario at a time. I hope that you never have to worry about this in a situation, but with hurricanes, earthquakes, and wildfires, you just never know. As with other emergency situations, a transportation emergency can affect your life and put you at risk. Do all you can to properly prepare and plan ahead. May God Bless this World, Linda
Copyright Images: Roads Closed Sign Depositphotos_265612200_S by Wasppics, Roads Closed Depositphotos_471552626_S by C5Media