How To Prepare For A Road Trip
It's all about how to prepare for a road trip today. Oh, my gosh, as soon as I typed the word road trip, I had a flash back of the 1970s. Mark and I had a 1965 VolksWagon Beetle without air conditioning and not even a radio. Those were the days of carefree living and our hair blowing in the wind with the windows rolled down.
We drove that car all over the place and when gas was like $.29 a gallon as I remember. My dad always told me to drive with water in the car, so I know we had some water in the car to put in the radiator if we needed it. Little did we know at the time that VW Bugs didn't have a radiator. We usually took a small cooler with sandwiches we could eat when we got hungry. I know we didn't have much in the way of an emergency car kit because no one talked about them back then. Sure, we had a few tools and a jack, but that was about all. We were so young, things have changed.
Road Trip Suggestions
Make a Budget/Plan Trip
It's critical you have a budget before the trip starts or you may spend way more money than you had planned on. Make a list of the things you need to budget for and write them down. Have a family meeting and go over the expenses. For instance here is a list to get you started:
Make a list: for each day of the vacation (list expenses allotted for each day-this will keep you on your budget).
Gas: it can vary depending on the hills you may have to climb with your car or if you run into a lot of traffic and you're parked at a standstill for hours. We need to be flexible, within reason.
Lodging: you may save money if you book your sleeping arrangements ahead of time. On the other hand, it's sometimes stressful if you want to stay longer in a city that you were not planning on. Allow enough time to make life simple by making reservations with a little give and take if possible. If you like to book lodging when you make it to the city, hopefully, you can find a room or two. It would all depend on how popular that day of the week or time of the year is for traveling in that location. Look for lodging that offers a continental breakfast, that's one less meal you have to purchase.
Food/Snacks: make a list of the restaurants you want to visit, check the menus online before you leave. Budget food for breakfast, lunch, dinner, and ice cream or other treats.
Excursions/Admission Fees: Add the budget amount of each excursion or admission fees you have planned for each day.
Rental Car: if you need to rent a car, look at all the scrapes and possible dents or chips on the car BEFORE you drive off with a rental. Check with your insurance agent to see if it makes sense to buy additional insurance when you rent the car.
Totals: check the total for each day and add all the days together to balance with your budget. If you use money envelopes (as I do) keep the envelopes in a safe and secure place.
Write a journal as you go, thank you, Cheryl!
Car Maintenance
It's a great idea to get your fluid levels checked in your car before you pile the family in the car for any road trip. Have the car serviced and rotate the tires if needed, and have them checked to see if they are safe enough to travel with your family. If you get them rotated they will check the pressure which is critical for saving gas in the long run.
Wash the Car
I LOVE a clean car, literally. I like the smell of a freshly washed car and sparkling clean windows. Next, remove any trash that may be hiding in the car somewhere. Make sure you stash a few garbage bags in the car, to keep the car clean while you travel. I know, the windows may get fingerprints as you travel, but hey, let's start with a clean car.
Emergency Car Kit
Emergencies or disasters/events can strike at any time, so having certain items in your vehicle can be lifesaving. Place items in a backpack, gym bag, or another container. Be careful about storing items that may be damaged or compromised in extreme heat situations.
Names and phone numbers of who to contact in an emergency.
Pictures of family members (2 sets) one for an emergency board and one picture to keep in your possession.
Pictures of pets (2 sets), one for an emergency board and one picture to keep in your possession.
Medical records of your pets, this is critical if you find a shelter that will accept pets, many will not (unless you have a pet for medical reasons).
Pet 72-hour kit with an extra leash, water/food dishes, and food.
Pet crate or cat litter box with extra bags to dispose of waste.
Emergency toilet with toilet paper, 10-gallon bags, and kitty litter.
Battery/crank powered portable radio/extra batteries.
Flashlight/preferably one with solar/crank/LED.
Compass and maps; not everyone has GPS in their car or on their phones.
Can of motor oil.
Fire Extinguisher (5-pound ABC type).
Flares and/or orange cones.
Jumper cables.
Rags/paper towels.
Shovel.
Pocketknife.
Tire gauge.
Toolbox.
Window scraper for ice.
Necessities for car survival:
Water (rotate water often as heat will affect the safety of drinking it-thank you, Judy (you could use it to pour on your head to cool you down if overheated).
Food
Blankets
Jackets/sweaters
Emergency cash: approximately $200.00 in small bills
First Aid Kit
Baby Wipes
Hand Sanitizer/bars of hand soap
Toothbrushes, deodorant (non-meltable type)
Scissors/pens/pencils (not crayons-they melt)
Emergency snack food and/or MRE meals (items may need to be replaced more frequently if stored in extreme heat conditions).
Whistles
Umbrella
Hand warmers
Extra blankets
Emergency Car Kits by Food Storage Moms
Pack Less Clothes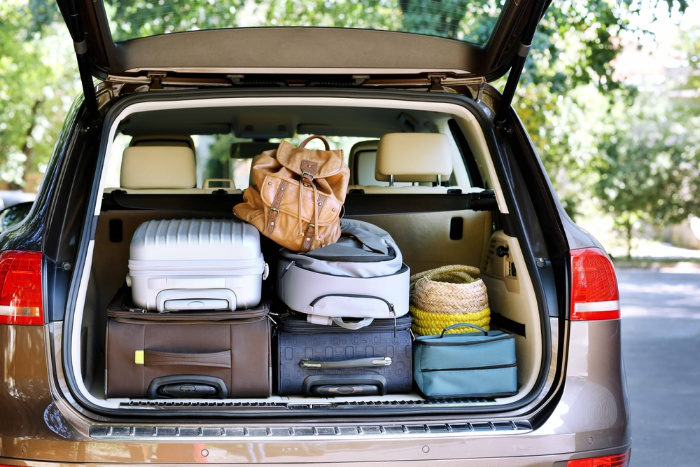 If you can pack lightly, do it. I use these when traveling because it organizes my suitcase and I pack less stuff. eBags Luggage Organizers
You can actually fill these with the items you travel with most and keep them packed in your luggage ready to go for any road trip. Once you buy them you can pick up and go on any trip in a car or plane by just adding clothes and sweaters.
If you think back over trips you have taken, you probably didn't wear all the clothes you took. Pack less and wash some clothes if you have to along the way at your place of lodging.
Road Maps
I know we have GPS in our cars and on our phones. But, what if it doesn't work because of a cell outage or whatever. I highly suggest some road maps. It would be awesome to teach your family how to use them as well. Rand McNally East Coast and Rand McNally West Coast
Make Room In The Car
If you have a Suburban or a minivan, you may have some extra room in your vehicle. It's a little harder to pack "stuff" in a small sedan, or even some small SUV's. Mark and I have a Honda CRV, it's a small car, but there's just the two of us. Sometimes I wish I had a bigger car, but this car works for how many road trips we take.
Stop Often/Frequent Stops
Plan a few stops here and there for stretching and some bathroom breaks. It's great for your legs to stretch to ward off possible blood clots in your legs. Plus getting out of the car is awesome for short periods so you're not as likely to get drowsy.
Stay Entertained On The Road
Plan a few movies for the car, some car games, and books for the family to use while on the road. If you have audible books, those are awesome. It's nice to have the family interact, but it's also nice to have some quiet time while on the road.
Healthy Snacks
Remember we all have to live with one another on the road trip. If all we are eating is licorice and doughnuts, we may get cranky. I love both of these, but sometimes packing healthy snacks will make life a little smoother compared to all sugar-coated snacks.
Kids and Cash
If you have the budget to give your kids a little cash, do it. It doesn't have to be $100.00. It's a good experience to help them learn to budget with "their money." They don't have to ask mom or dad what they can spend it on. It's all about teaching them to make wise decisions on their own.
Splurge If It Works
Sometimes you can't always stay exactly on your budget, remember to be careful, but realistic. You may never see this city or river again. Stop and enjoy that Gooseberry ice cream.
Final Word
I hope my road trip ideas help you get ready to make memories with your family. When I see trailers, motor homes, and cars packed with luggage I always smile because I know those families are having fun together. They will always remember the memories of traveling together. Thanks for being prepared for the unexpected, even in your car. May God bless this world. Linda
This is where I purchase all my garden seeds: SeedsNow