The Best Caramel Oatmeal Carmelitas Recipe
Who is ready to try something new and delicious? The holidays are quickly approaching and it's the perfect time to try out lots of yummy recipes! The Best Caramel Oatmeal Carmelitas are simply the best! Don't worry, they are a very impressive recipe for you to take to all those holiday gatherings.
This is truly the best Caramel Oatmeal Carmelitas recipe ever! Whether you make them for a get together or because you want to eat the whole batch, there will be no judgement from us!
What are Caramel Oatmeal Carmelitas?
In order to describe Caramel Oatmeal Carmelitas, I want to you to close your eyes. Picture a chewy caramel treat that is soooo ooey and gooey! When you bite into it, you get the full taste of caramel, nuts, and chocolate. Of course, I think these taste best if they are left in the fridge overnight.
However, as any other treat, these Caramel Oatmeal Carmelitas barely make it to the next day! The chewy ooey gooey deliciousness is something that everyone just seems to love.
What to Drink With Caramel Oatmeal Carmelitas?
I will tell you that hot cocoa is awseome with Caramel Oatmeal Carmelitas. If you don't like hot cocoa, then maybe a nice tall glass of milk will do the trick.
I always need something to drink with my desserts, especially these carmelitas. If you are still looking for something to drink with this dessert, got for a nice warm cup of coffee, it does the trick every time.
Tips for Making Caramel Oatmeal Carmelitas
I'm sure you are getting excited about making Caramel Oatmeal Carmelitas. There are a few tricks that I use to make this whole process a lot easier.
Caramel
While you can use caramel sauce like I do, you can also use caramel squares or bits. It's all a matter of preference. Some of you may find that using storebought caramel sauce is easiest, some of you may even go for making your own homemade caramel sauce.
Storage
Once you make these Caramel Oatmeal Carmelitas, you don't want any of them to go to waste. Storage options are pretty straight forward. I like to store mine in an airtight container. Once they are in the container, you can keep them at room temperature and store them right on the counter.
Freezing
If you choose to freeze the Caramel Oatmeal Carmelitas, you can! Again, put then in an airtight container. You can store these delicious treats for up to 3 months. Although, good luck getting them to last that long in your freezer! My husband, kids, and grandkids eat them so quickly.
Caramel Oatmeal Carmelitas Recipe: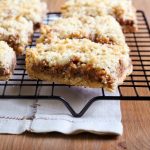 Caramel Oatmeal Carmelitas Recipe
Ingredients
1

jar Mrs. Richardson's butterscotch caramel sauce

12

ounces

of milk chocolate chips

2

cups

flour

1-1/2

cups

brown sugar

2

cups

old-fashioned oatmeal

1

teaspoon

baking soda

1/2

teaspoon

salt

1-1/2

cups

butter
Instructions
Preheat oven to 325 degrees, grease a 9-inch by 13-inch pan and set aside. Combine the flour, oatmeal, brown sugar, soda, and the salt.  Melt the butter and pour it over the flour mixture and mix thoroughly. Scoop half of the flour mixture into the pan and flatten smoothly with your hand or spoon. Bake this pan for 17 minutes. After baking immediately remove the pan from the oven but leave the oven at 325 degrees. Next, you sprinkle the chocolate chips over this layer. Soften the caramel jar without the lid for about one minute. Pour the caramel over the chocolate chip layer and spread evenly with a spoon. The last step is to crumble the remaining flour mixture over this layer. Break up any large chunks and spread evenly to cover the caramel layer. Bake for another 17 minutes.
Here is the first picture with the dry mixture, melted butter, the fabulous caramel sauce, and the chocolate chips.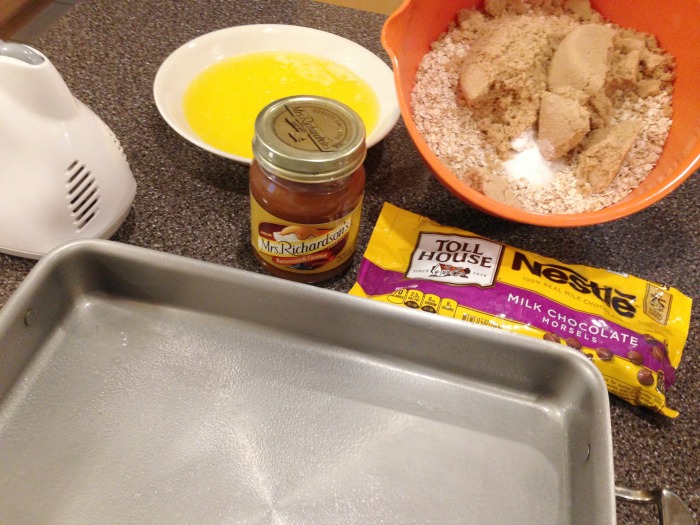 This picture is after I baked the first pan for 17 minutes at 325 degrees with half of the dry mixture patted down in the greased pan. I used my pan like this one: Stainless Steel Lasagna Pan with Lid.
After you pull the pan out of the oven, you keep the oven at 325 degrees and sprinkle the chocolate chips over this layer, and then pour the caramel over the chocolate chips and spread evenly over that layer.
The next layer you crumble the remaining dry mixture over that layer and spread it evenly to cover the caramel and chocolate chips.
Return the pan to the oven and bake another 17 minutes. I have a printed recipe for you below.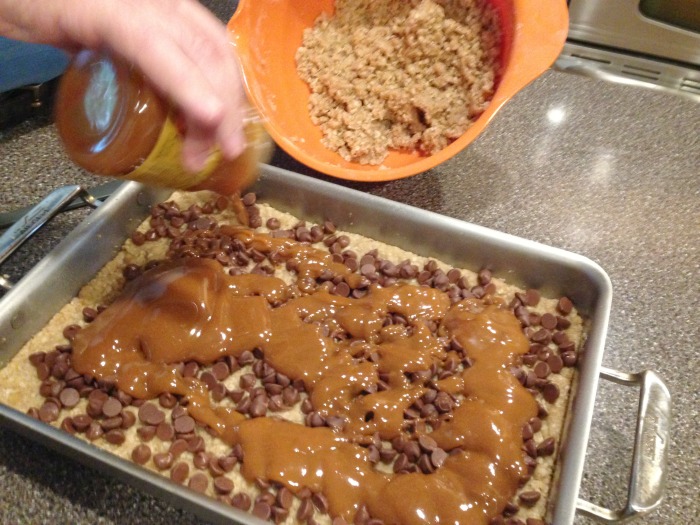 This is the finished cooked pan with the caramel oozing out of the sides. Doesn't it look so yummy?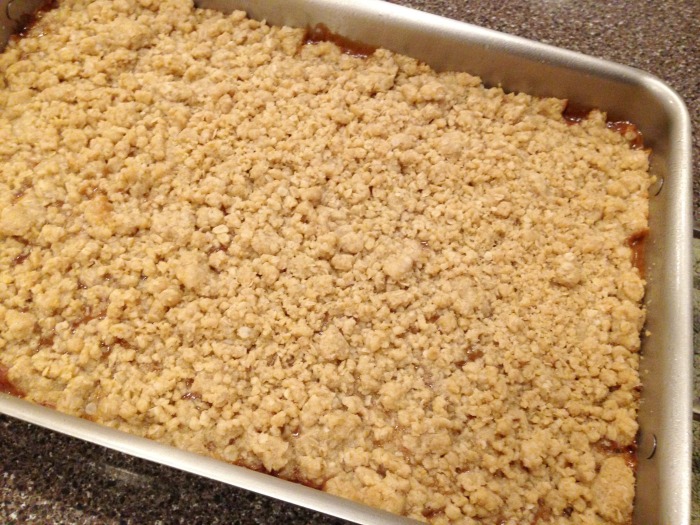 Final Word
I hope you try this recipe, it's really a good one! If you have never made Caramel Oatmeal Carmelitas, now is the time. This recipe is so delicious and a favorite around here. May God bless this world, Linda.