How To Make The Very Best Cinnamon Rolls
Today it's all about how to make the very best cinnamon rolls! By now you know I love to make bread, dinner rolls, and of course, cinnamon rolls. So, when one of my favorite online stores Pleasant Hill Grain asked me to do a review on a "proofer," I was thrilled to try one. It's called a Brod and Taylor Bread Proofing Box.
What is a Proofer?
A proofer is really a dough proofer. It is basically a warming chamber used in baking that helps encourage the fermentation of the dough by the yeast through warm temperatures and controlled humidity. You may hear it called a proofer, proofing box, proofing oven, or proofing cabinet.
While the proofer is helpful year-round, it's especially helpful if your kitchen is drafty, or cool (through the winter, for example), and dry.
How Can You Use A Bread Proofing Box?
It's perfect for yeast bread and sourdough with just the right humidity and low consistent temperature needed.
You can turn any metal stockpot or Dutch oven into its own slow cooker by placing the pan directly on the heating plate.
It's a dry proofer as well, which is perfect for culturing yogurt, butter, and fermenting foods such as kombucha, kefir, and tempeh. You will love melting chocolate, it's so easy.
How To Make Cinnamon Rolls Using a Proofer
When I used to teach bread making classes in a few kitchen stores, I would see the "proofers" people would buy. I had never used one, so you can just imagine my excitement when I was asked to review one. I decided to show you how I make cinnamon rolls and how evenly the rolls were rising in this proofer.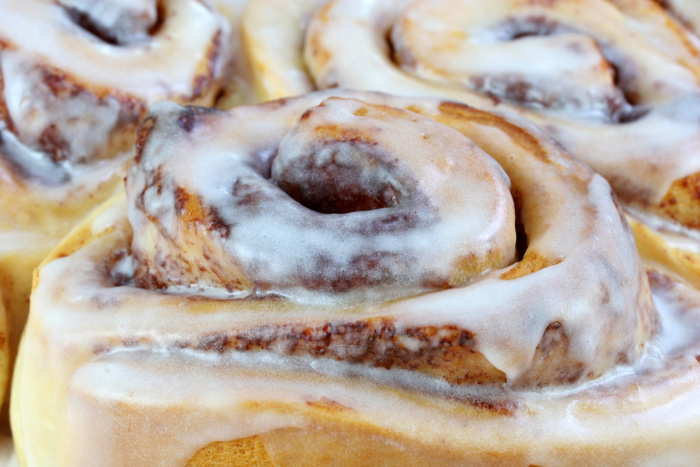 These cinnamon rolls are super easy to make and come out so delicious. Here is how I made them using a proofer!
Step One
You can mix the dough by hand, but I recommend a bread machine. The first thing is to roll out the dough about 1/2 inch thick into a rectangle 10-inches by 18-inches. Spread a layer of butter over the dough.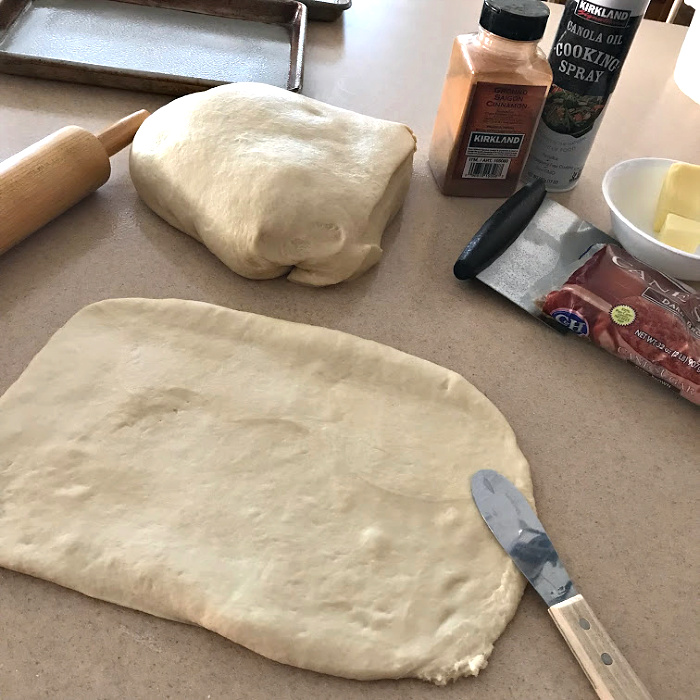 Step Two
After you spread the butter on the dough, sprinkle a lot of cinnamon on the dough. When I taught a class once a class member was surprised at how much cinnamon I use. That's the secret, a lot of cinnamon makes the best cinnamon rolls.
Step Three
Sprinkle a little brown sugar on the top of the cinnamon.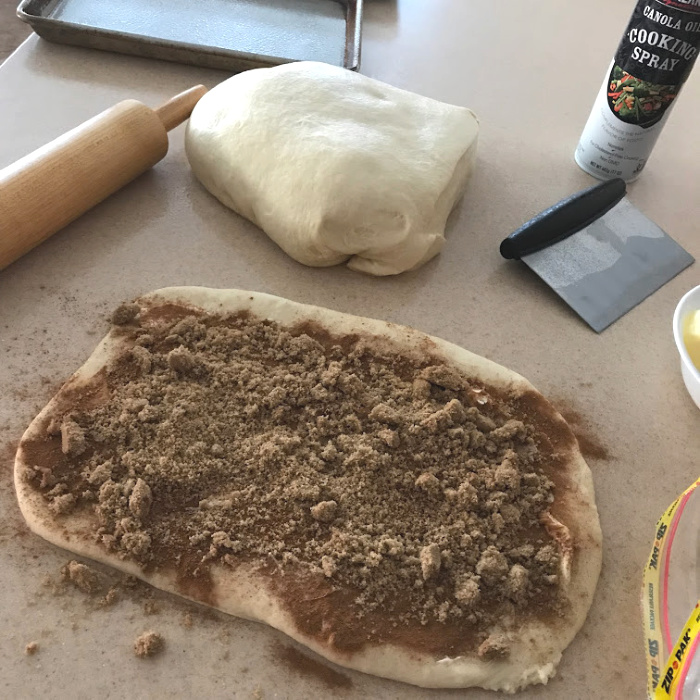 Step Four
Now, you roll the dough and get ready to cut the slices. Is your mouth watering, yet? I use a dough scraper to cut the cinnamon rolls. As you cut the slice you will tuck the end under the cinnamon roll and place it on the greased cookie sheet. I have the recipe below.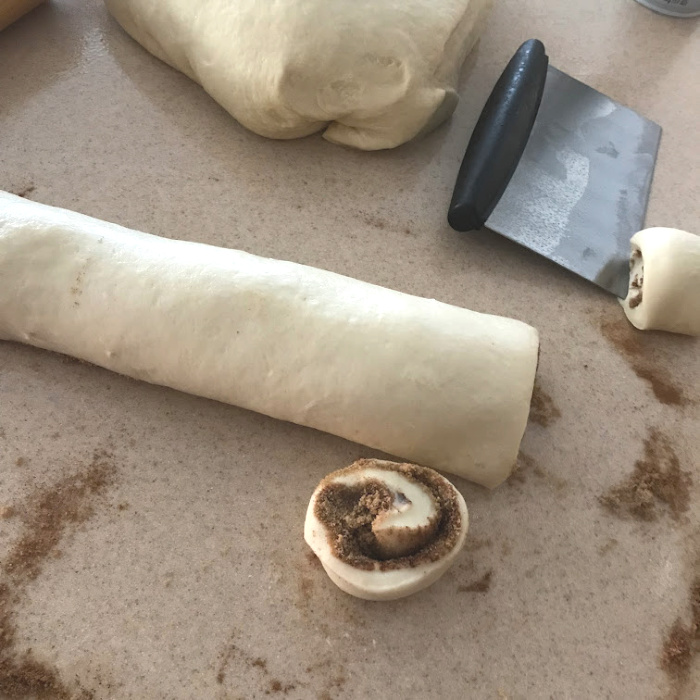 Set-Up The Bread Proofing Box for the Best Cinnamon Rolls
Set up the Brod and Taylor Bread Proofing Box. It's really quite simple to do. Because this dough is a yeast dough I filled the water tray with a little water to place in the proofer.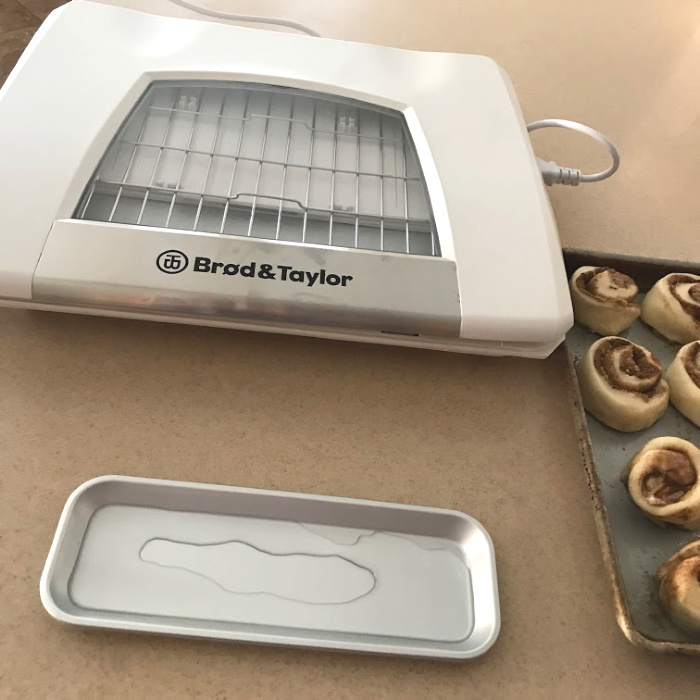 Set The Box In Place
You can see how I unfolded the box and put it in place, it's very simple to set up.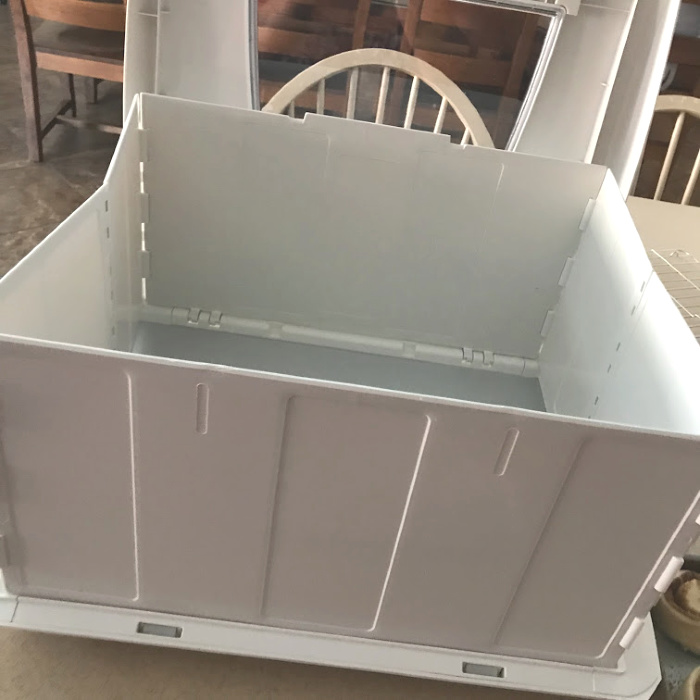 Fill The Water Tray-Place The Rack
Fill the water tray and place it in the box. Next, you place the rack with the legs facing down.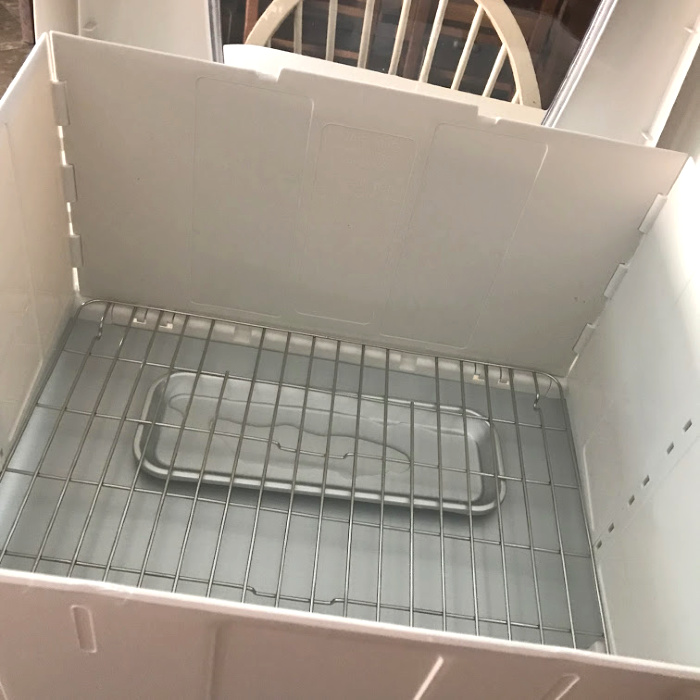 Turn It On-Set The Temperature
Plugin the power cord and push the start button and set it at 90 degrees (yeast bread setting). You can see the button on the left showing pink/red.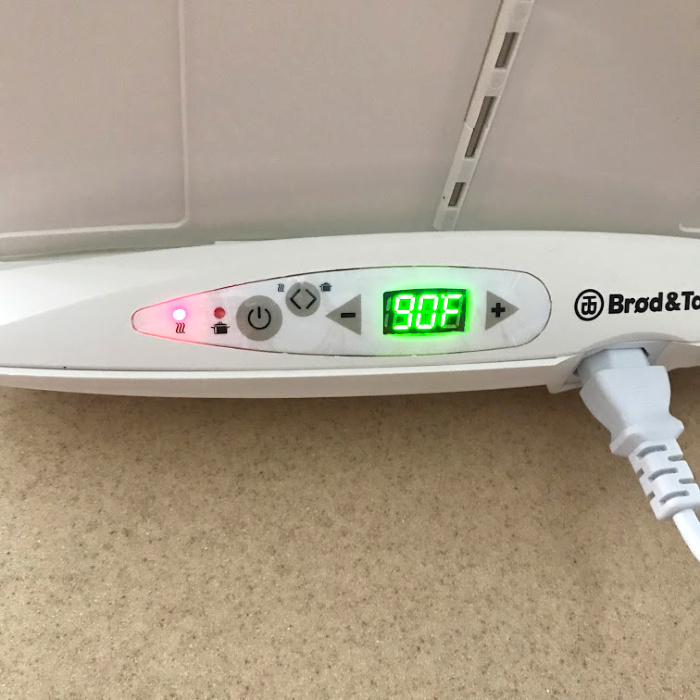 It's Ready When It Turns Green
Once the button on the left turns green it's ready for the cinnamon rolls to be placed inside the box. You will not need a wet cloth/towel or greased plastic wrap to cover your cinnamon rolls because it has the correct humidity right inside the proofer.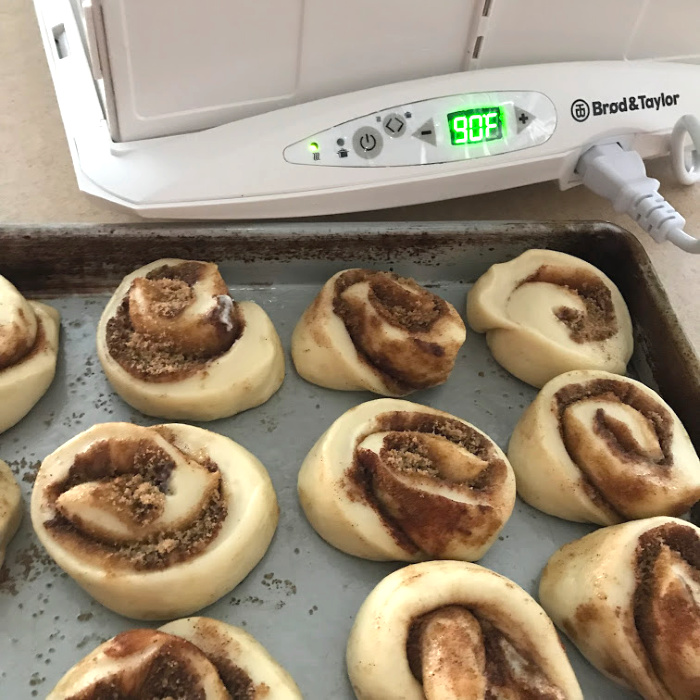 You Can See The Best Cinnamon Rolls Rising as they cook.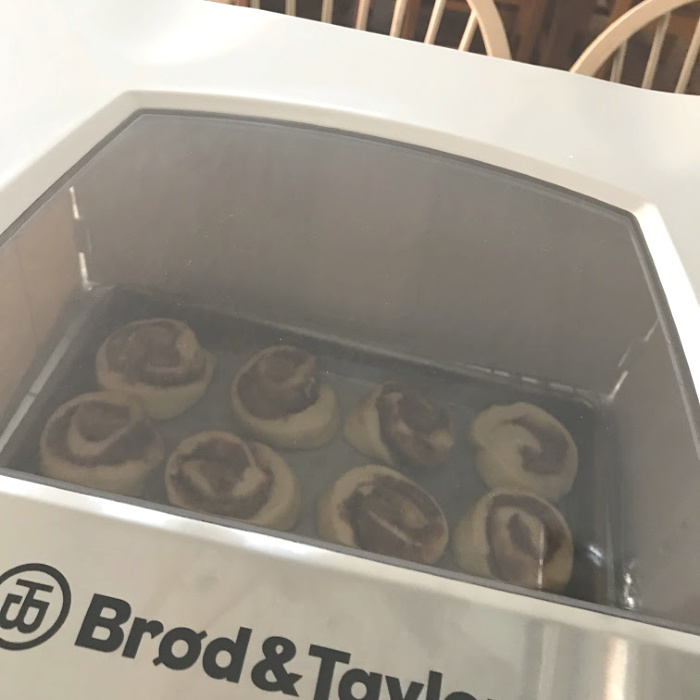 Cinnamon Rolls Rise Evenly In The Proofer. That is why it is such a great idea to have one.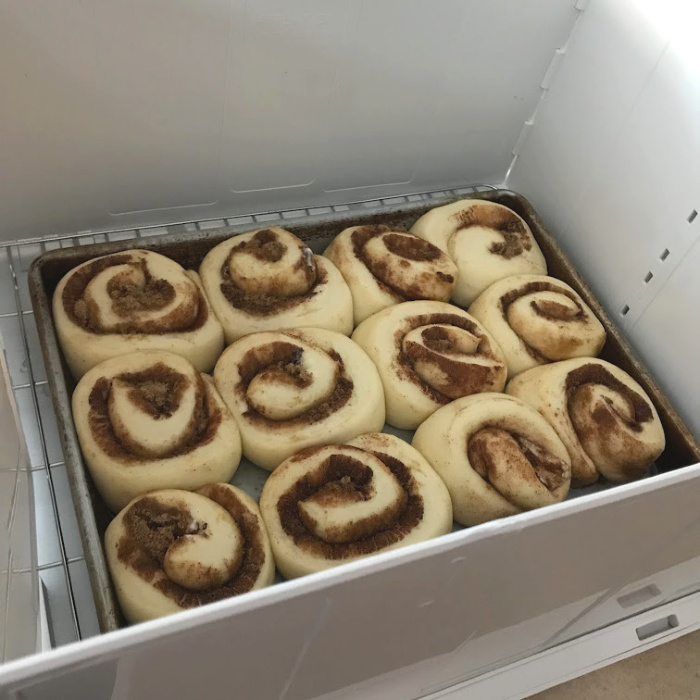 Bake As Directed-Cool-Close And Store
My Review after making the Best Cinnamon Rolls
This Brod and Taylor bread proofing box is amazing! I have been making bread for over 50 years and never knew what I was missing. My cinnamon rolls came out better than ever! Here is what I love about the Brod and Taylor bread proofing box:
It Stores Easily
It's so easy to store this box after closing it. You can store the power cord, the rack and water tray inside. It lays flat and measures 18 x 14.5 x 3″ high or 46 x 37 x 8 cm high.
It Maintains Temperature
The Brod and Taylor proofer accurately maintains the temperature you set. There is a range of 70-195 degrees Fahrenheit.
It has a Big Viewing Window
With a super-tough reinforced polypropylene large viewing window on this Brod and Taylor unit, I can see exactly how my dough is rising the whole way through the process.
It Comes with a Recipe Book
Included with my Brod and Taylor Bread Proofer was a 55-page booklet with recipes for yeast bread, sourdough, yogurt, butter, cheese, kefir, kombucha, tempeh, and various slow cooker recipes.
It Doubles as a Slow Cooker
If I don't need two appliances to cook meals differently, I call that a win. This amazing appliance is not only a bread proofer, but also a slow cooker and a yogurt fermentor.
To use this as a slow cooker, you simply put it in slow cooker mode. The temperatures can be set from 85-195 degrees Fahrenheit. When using this mode, you will always want to cook on low temps and keep a lid on the pot. Keep in mind the rack and water tray are not used when slow cooking.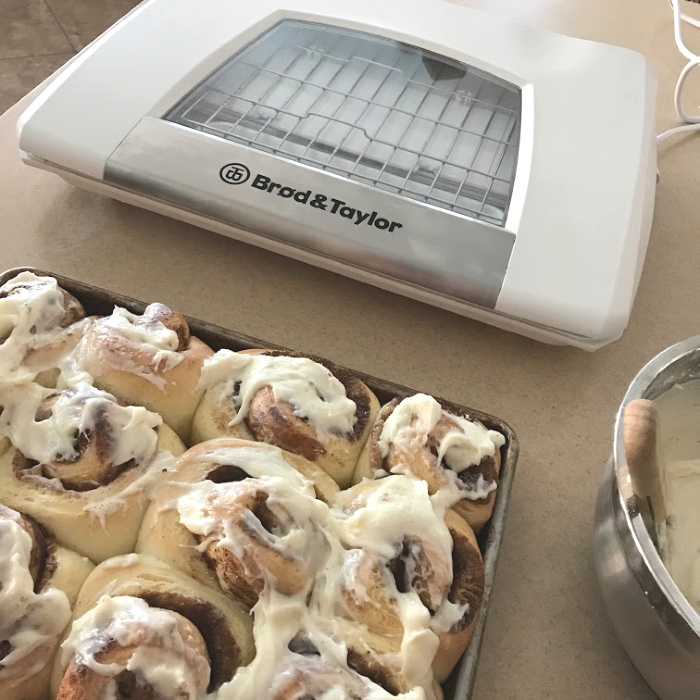 The Best Cinnamon Rolls Recipe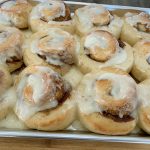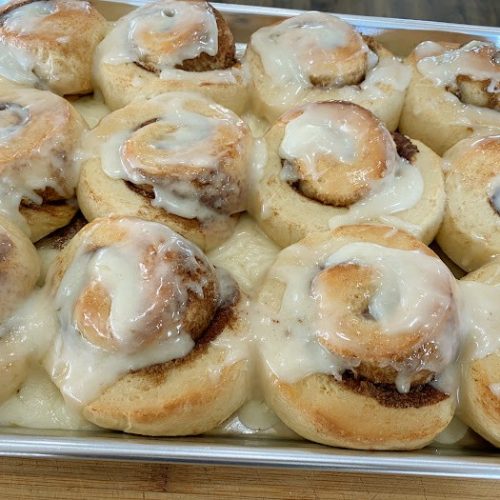 Cinnamon Rolls-No Fail Recipe
Ingredients
4

Teaspoons

SAF Instant Yeast

1/2 

Cup

Water

2

Cups

Warm Milk

1/4 

Cup

Olive Oil

1

Cup

Sugar

1-1/2

Teaspoons

Sea Salt

4

Teaspoons

Dough Enhancer

2

Eggs

6-7

Cups

White Bread Flour

1/2

Cup

Softened Butter (1/4 cup for each rectangle of dough)

Cinnamon-cover the dough with the desired amount of cinnamon. I use a lot of cinnamon!

1

Cup

Brown sugar (1/2 cup for each rectangle of dough)
Instructions
First, in a large mixing bowl, whisk together the yeast, warm milk, olive oil, sugar, sea salt, dough enhancer, butter, and eggs.

Next, add half the flour. Then, keep adding the flour gradually until the dough pulls away from the sides of the mixing bowl.

Cover your mixing bowl with plastic wrap and place the bowl with the dough on the countertop. You want to let it rise for about an hour.

After an hour, remove the dough from the bowl. Punch the dough down and roll it into two 12" by 18" rectangles.

Lather each 12" by 18" rectangle dough with softened butter. Each rectangle will need about 1/4 cup. Add your desired amount of cinnamon on top of the dough. Then, sprinkle 1/4 cup brown sugar on EACH 12" by 18" rectangle of dough.

Roll the dough tightly into a tube. Then, cut it into 1-1/2-inch rolls. Tuck the "tail" under the cinnamon roll. Place the rolls on a greased cookie sheet and cover them with greased plastic wrap and let them rise one more time for about an hour or until the dough doubles in size.

Finally, preheat your oven to (350°F) = (176°C). Then, bake your cinnamon rolls on a greased cookie sheet for 15-20 minutes, or until golden brown.
Make The Frosting
Frost your cinnamon rolls while they are still warm so that the frosting melts on top of them.
Recipe Notes
Don't overheat the milk. Warm your milk to about (110°F) = (43°C)
Anything over that will kill the yeast, and anything lower can increase the time it takes the dough to rise. Dip your finger in the milk, it should be warm, but not hot. 
Use soft butter

. The secret to super tender cinnamon rolls is the butter! You want very soft butter, but not melted butter. Take it out and set it on the counter a few hours before you start the recipe. 

Do Not scoop the flour with the measuring cup!

Flour packs tightly so if you use your measuring cup to scoop it, you will use too much flour and your rolls will be dry. Instead, use a spoon to scoop the flour into the measuring cup, and then scrape the excess off with a butter knife. 

Use room temperature butter for the rectangles

. When lathering with butter before adding the cinnamon, it's best to use room temperature butter rather than melted butter. This prevents the cinnamon and brown sugar from seeping out of the sides. Use the back of a spoon to gently spread the soft butter on the dough.

Don't overbake the rolls. Your cinnamon rolls should be a golden brown. If you overbake them, they will not be as soft and moist as you would like them. Check them after 15-minutes of baking.
Related: Linda's Cream Cheese Frosting Recipe
Final Word
Please let me know if you try making my cinnamon rolls and if you use a proofer! You know I love to hear from you! Life is so good when we know how to make bread, dinner rolls, and the very best cinnamon rolls.
Please be prepared for the unexpected, we can do this, I promise. May God bless this world, Linda