Make Your Own Frugal Breakfast Sandwiches
You can make your own frugal breakfast sandwiches in your kitchen anytime, for breakfast, lunch or even dinner. My brother-in-law, Ron called me one morning and asked me if I had any extra mason jar rings laying around my house he could have.
Well, of course, I do! He wanted to make breakfast sandwiches with eggs cooked in a circle shape. I had been meaning to make a post about how this works, and then time flies by, well you know how it goes. I just picked up some English Muffins and cheese from an awesome grocery store here in town, Harmon's, a family owned grocery store.
Yep, it's my favorite grocery store! It was a perfect cheese because it was formed into a circle. I already had the cooked bacon and the eggs were in my refrigerator, so I was ready to make these.
Here is what happened when I decided to cook the eggs in the mason rings. You will see on the left (I wanted zero yoke texture) that putting a scrambled type egg mixture in the ring it just ran out under the ring. The two mason rings on the right side worked out great.
I sprayed the rings with a vegetable type spray and cracked the two eggs right into the rings. No running out underneath. I still used the scrambled egg mixture on my muffin but now I know my Ova Easy eggs will probably not work in the rings.
I toasted and buttered the English Muffins, put a little salt and pepper to taste on the eggs. I added a slice of the cheese, cooked bacon and we were good to go for breakfast!
Frugal Breakfast Sandwiches: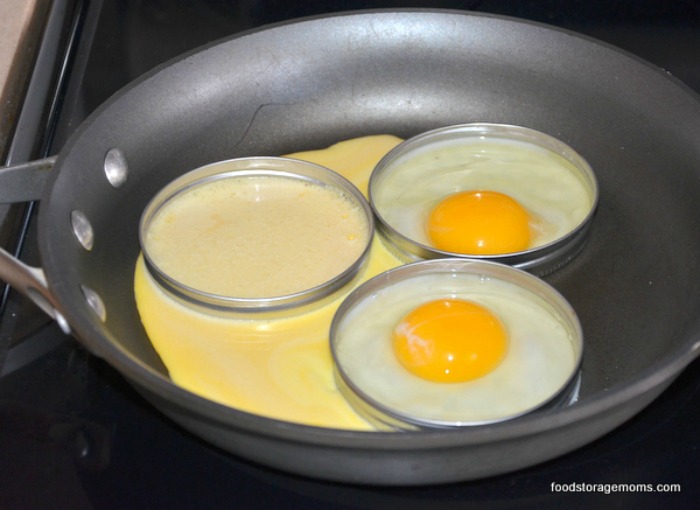 We live about ten miles from town and sometimes I really feel like an English Muffin from a certain restaurant chain that makes them, but I would rather make my own. You know we could make these in a Sun Oven!
I have actually made homemade hamburger buns and used them for these sandwiches instead of English Muffins. Here's my recipe if you want to try making those. These would be perfect for your neighborhood get-togethers and even after a disaster to use up the food in your refrigerators.
The Best Hamburger Buns by Linda
This recipe makes 12 hamburger buns.
Ingredients:
2 tablespoons SAF instant yeast Saf Instant Yeast, 1 Pound Pouch
2 tablespoons dough enhancer (optional-this make them fluffy) NutriMill Dough Enhancer 16oz Bag
1-1/8 cup water
1/3 cup vegetable oil
1/4 cup sugar
1 egg
1 teaspoon sea salt
3-1/2 to 4 cups white bread flour
Instructions:
Preheat the oven to 425 degrees. Now you can make these in a large bowl, but I used my Bosch bread mixer, and as you know I dump everything in the mixer (yep, I'm a dumper). I wait until the bread dough pulls away from the mixer bowl. I add just a little flour until the dough pulls away from the sides of the bowl. Now sprinkle some bread flour on the counter and knead the bread dough about 2-3 minutes and divide the dough into 12 pieces. Grease a cookie sheet and set it aside. Now you roll the pieces into balls and flatten with your hands. Place each flattened ball onto the cookie sheet. I flatten them again with my hand on the cookie sheet. Cover the pan with greased plastic wrap and let rest about 10 minutes. Bake at 425 degrees for 9-12 minutes, or until golden brown.
Please let me know if you make your own frugal breakfast sandwiches, I love hearing from you. May God bless our families.