Food Storage Containers I Recommend
Today I'm writing about the food storage containers I recommend. I have always said, buy right the first time, it will always save you money in the long run. When it comes to something like food storage containers, you want to make sure you're buying quality. Setting money aside for emergency preparation is a real commitment, but it will be worth it.
While everyone does prefer certain brands, these are food storage containers that I recommend. Dealing with food means you need to make sure the food stays safe! The right containers can make all of the difference. You'll find comfort and confidence in having food in your pantry and other storage areas. Please keep in mind that you need "food grade" buckets.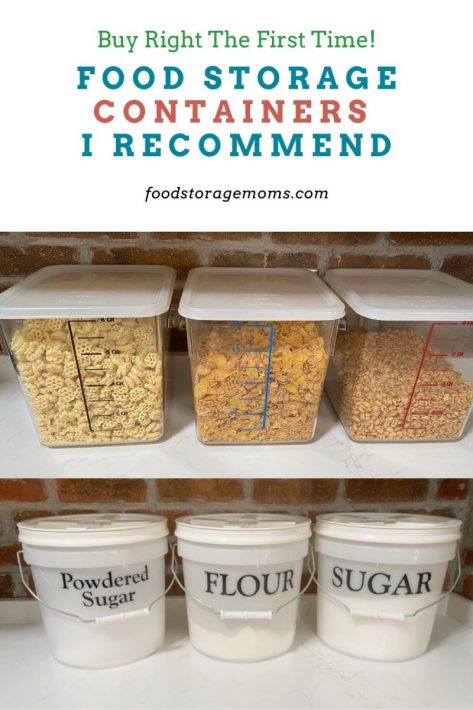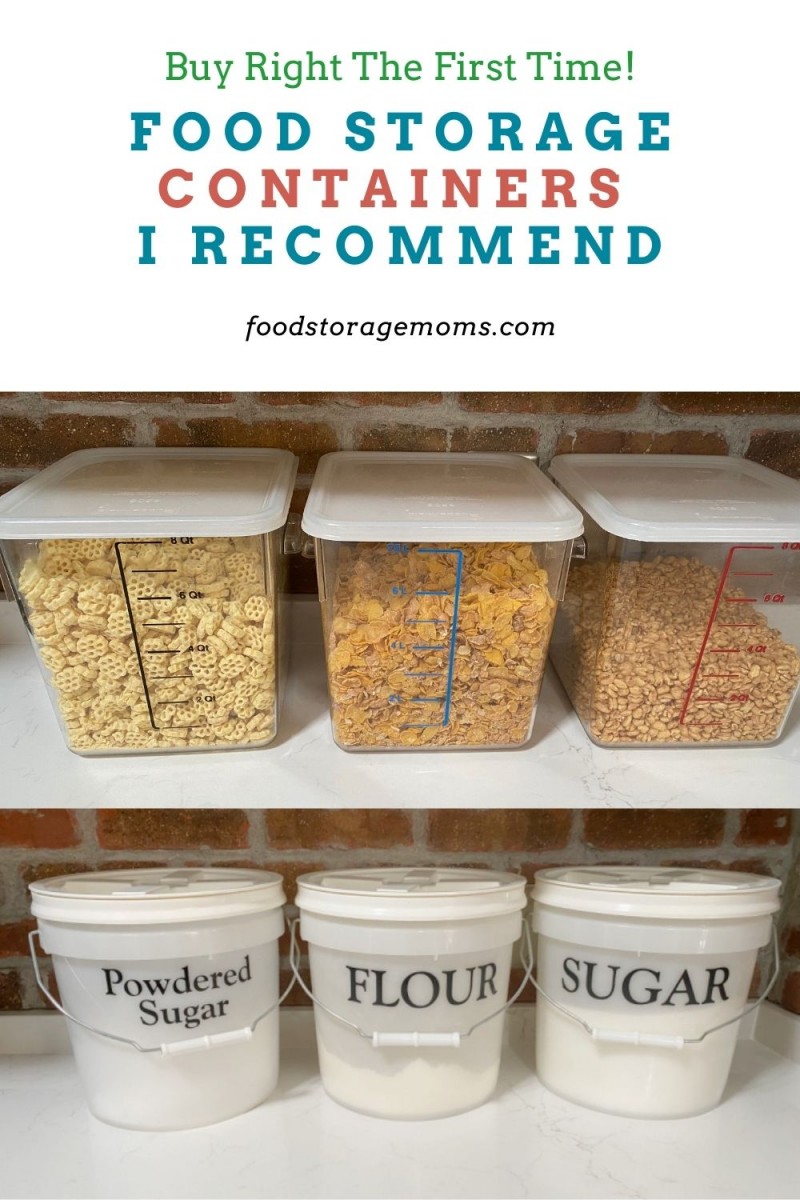 Food Storage Containers
1. 5-Gallon Buckets with Gamma Lids
These are great for things like rice, sugar, flour, wheat, beans, and pasta. Since these are items you need to store anyway, grabbing these Buckets with Gamma Lids is a smart idea! I really like having the buckets with lids because it makes it easier to get to what you need! Although most storage containers have lids, I think these lids are easiest to get on and off. Stacking them is also simple and makes your use of space so much more efficient.
2. Rubbermaid Commercial Containers
These are 8-quart Rubbermaid Containers that I use to store cereal, sugar, flour, rice, and pasta, just about everything else I use often. They are so well-built, and some I know I've had for well over 15 years and they still look like new. I have over 100 of these filled with a variety of things. So, I would recommend grabbing these commercial containers for your food storage because they are that awesome to have on hand.
You make one big purchase, or you can buy them a smaller group at a time. Once you step up and buy them you can have them for years. They also work great if you decide to store other things besides food. I love versatile food storage items.
3. OXO Containers
I use to live in the desert and cockroaches were everywhere, outside anyway. Yes, I had to pay to have them sprayed professionally because I didn't want them in my house. All of my food storage is in hard containers, no bags, ever. I like these because they work for smaller items and are easy to open and close.
OXO Containers are great no matter where you live and what weather and pest challenges you have. It will keep the bugs out and keep anything inside of the containers good! An investment in the containers you use is not a bad thing!
4. Mason Quart Jars
I think most of us have a stash of these, but it's a good reminder to pick up some from time to time. There has been a shortage of these over the past year or two, and there is still a shortage of the lids. If you have a FoodSaver with a special jar adaptor, you can put your dehydrated food in the jars. I store the food I dehydrate in them for one year. Then I start the process all over again when my garden produces.
Quart Wide-Mouth Mason Jars are fairly cheap right now at Walmart. I remember a time during the pandemic when no one could find Mason Jars. Now you can find them everywhere again! Don't be caught without buying extras because they are so handy and a great storage option. Although I have some smallmouth jars and even some pint-size, I do prefer the wide-mouth option since I find it easier to fill them, and also to remove the contents as needed.
5. JarBoxes
I was asked to review one of these when the owner first started out making them. She now is selling them everywhere, I'm so proud of her. She was an avid canner, but wanted something to protect the filled and empty canning jars. The company now makes containers for pint and quart-size jars. They stack on top of each other and you can secure them to a wall if need be. If you'd like to try something new and really keep your jars organized, then I'd suggest buying a few of these JarBoxes! They are so easy to use and a great investment in organizing your food.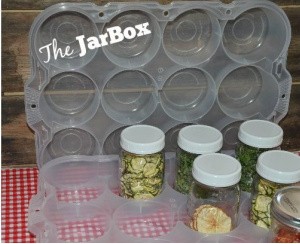 6. Refrigerator Containers
I store my garden greens in these. Lettuce Keepers are great for making sure your lettuce stays crisp! There is nothing worse than buying or growing lettuce and then having it go bad. If you'd like to save your lettuce and make sure it stays nice and crispy, then these lettuce keepers are for you.
I use a lot of lettuce in the kitchen for salads and in recipes I make. When I open my fridge and the lettuce is still good, this makes me so happy! No one likes wasting money, so it makes sense to have something like this on hand in my home.
7. Refrigerator Organizers
Here's the deal, if we organize our refrigerator so we can see the food we have then we will have less waste. Make it so you can see the food you have purchased and rotate as needed. My Favorite Organizers, I use these for drawers in the kitchen, hallways, and bedroom dressers as well. They're so versatile.
Most people don't think about refrigerators when they think of organizing. Stop wasting money on your spoiled food and grab these containers. It's so nice when you can SEE what you have in your fridge. These organizers will actually save you money, which is what I love!
8. Two-Gallon Buckets with Gamma Lids
The ones in the picture with the lettering are my smaller two-gallon buckets with lettering I use in my upper kitchen cabinets. They are not as heavy for me to lift and I refill them from my five-gallon buckets. The only place I can find them is from Pleasant Hill Grain. Two-Gallon Buckets and Two-Gallon Gamma Lids.
Some people may think it's overkill to label the buckets, but I like to quickly see which bucket I need, and also how much is still available for use. I really hate to run out of critical items I need all the time, so seeing what each bucket contains sure helps.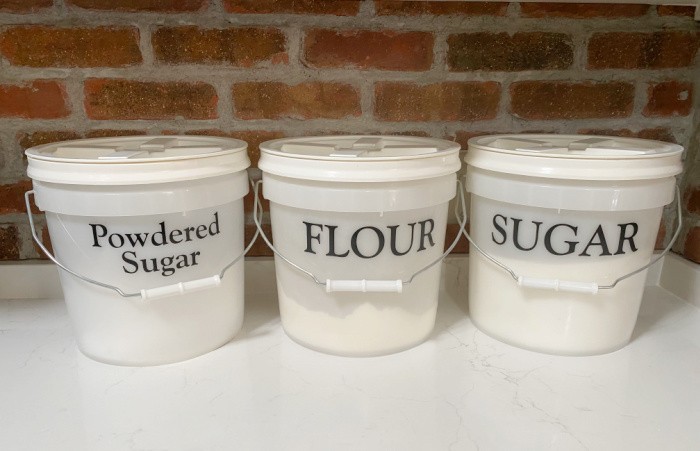 Totes by Matt
Matt was kind enough to send me images of his food storage in the large totes. Here is one more way to store our food storage that we package ourselves. Matt found these Commander Commercial Grade 27 gallon totes at Lowes and Walmart. I like how they stack securely inside one another.
This is the top of the totes.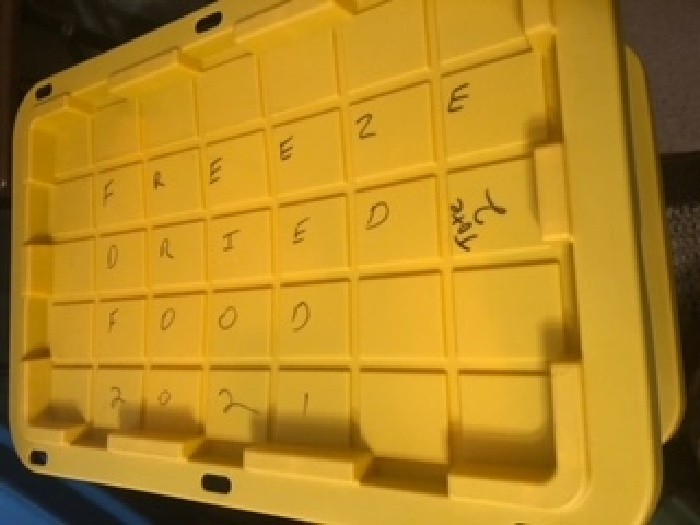 This shows the inside of the tote with the Mylar packages.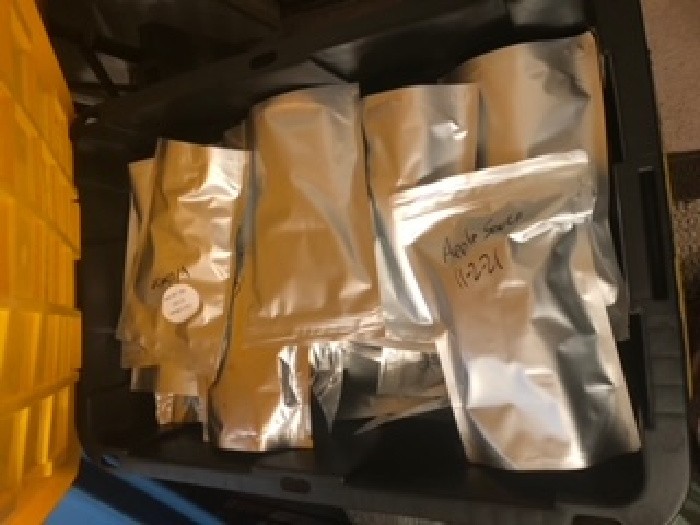 This shows them stacked.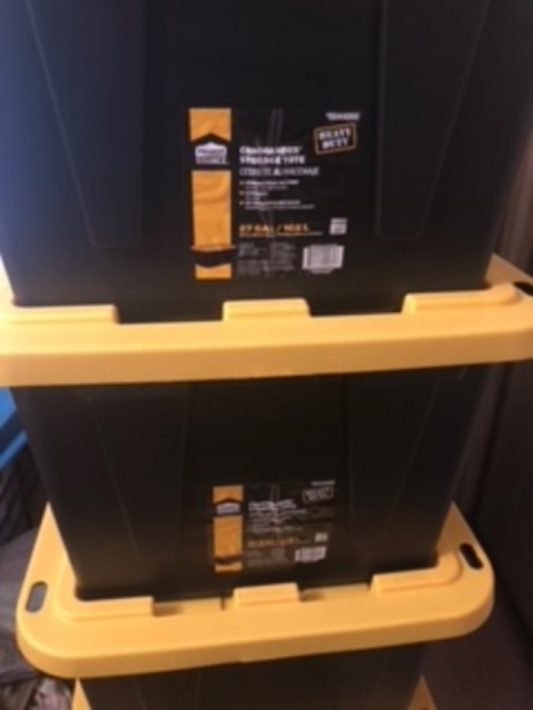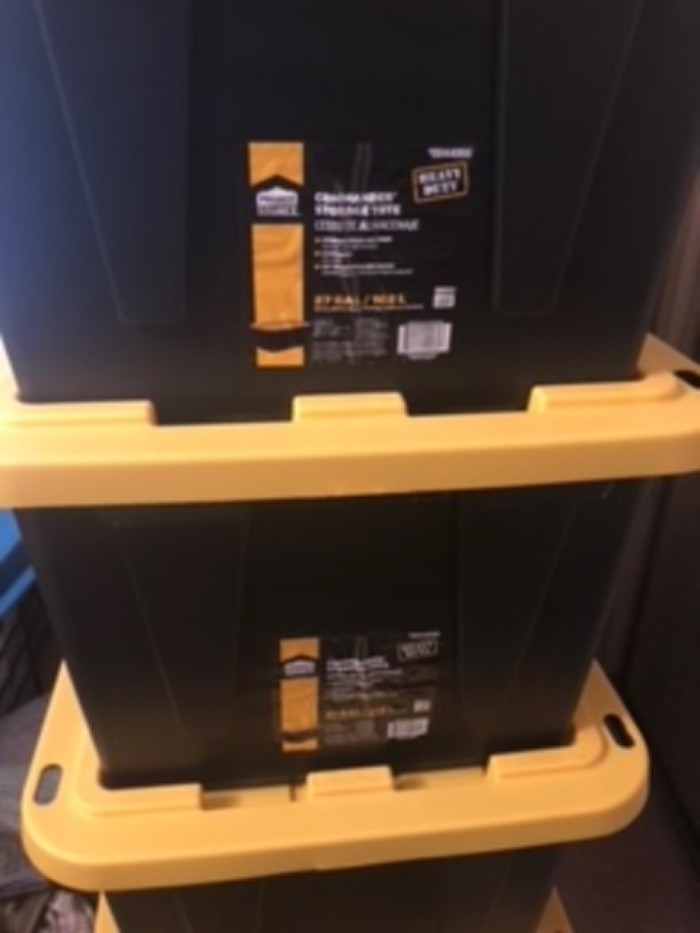 Final Word
I hope you enjoyed my post today about the food storage containers I recommend. Sometimes it can be overwhelming to store food, organize it, and keep it that way. I get it, I really do. Start with a few containers and add to them over time as needs and finances change.
Before long, you'll have just about everything you need to keep your food safe from pests, humidity, etc. I love organizing and keeping my food storage safe. If you're going to invest in storing food, then it only makes sense to invest in proper food storage containers. Stay safe my friends. May God Bless this world, Linda