The Best Peanut Butter Cookies
I'm showing you how to make the best peanut butter cookies ever today! It's my sister-in-law Pat's peanut butter cookie recipe with Hershey's Chocolate Kisses. Now they make dark chocolate kisses! Love it! This is really a tribute to her for being an awesome Aunt to my girl's when they were growing up in Utah, and into their adult life as well. Pat turned 77 this year, she would always have a treat for them when we would go visit her. I still remember her using her apron to wipe their noses because they had fallen outside and came in crying. She always had her arms open to love everyone. I have a PRINTABLE recipe for you below.
As I looked for this recipe in my recipe book, I could see that it makes several cookies. Of course, it depends on the size of the cookie scoop, but I usually get 48 cookies from this recipe. This must be why we always looked forward to her bringing them to the family reunions each year because we could each have one or two or more!!. Thanks to Aunt Pat for the wonderful memories, and this yummy peanut butter cookie recipe!
I use a 1/8 cup cookie scoop to make these yummy cookies. Norpro 703 Grip-EZ 2-Tablespoon Stainless Scoop
 and my favorite cookie spatula: OXO Good Grips Silicone Cookie Spatula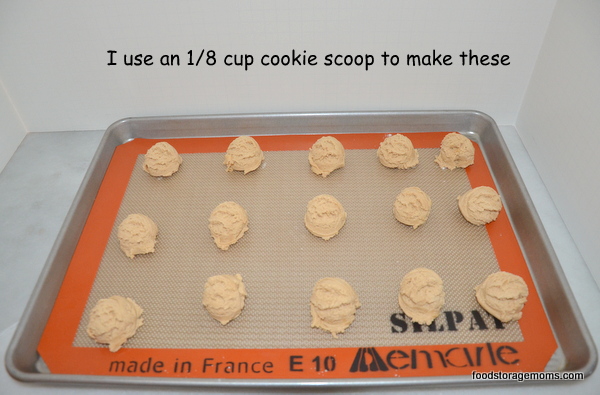 You can grease the pan or use a Silpat liner. Skip the vegetable spray and use this mat forever! Norpro 703 Grip-EZ 2-Tablespoon Stainless Scoop
Softest Peanut Butter Cookies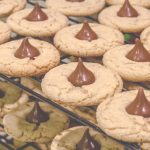 Softest Peanut Butter Cookies Ever
Ingredients
5

cups

flour

I use white bread flour

3

teaspoons

baking soda

1

teaspoon

sea salt

2

cups

soft butter

2

cups

peanut butter

2

cups

white sugar

2

cups

brown sugar

4

eggs

2

teaspoons

vanilla

1

bag chocolate kisses-unwrapped

this is optional-cookies are yummy plain
Instructions
Preheat the oven to 375 degrees. Cream the butter, white sugar, brown sugar, soda, salt, peanut butter, and vanilla. Gradually add the flour until blended well. Shape the dough into 1-inch balls and place on a greased cookie sheet. Bake 10-12 minutes, depending on the size of balls you make. After baking, immediately add an unwrapped chocolate kiss in the center of each cookie. (This is optional)
Let me know if you love peanut butter cookies as much as I do! Do you put chocolate kisses, chips or nuts in yours? I would love to hear. May God bless you for being prepared for the unexpected.
Copyright Images: Depositphotos_60796493_m-2015Peanut Butter Cookies
My favorite things:
Silpat AE420295-07 Premium Non-Stick Silicone Baking Mat, Half Sheet Size, 11-5/8″ x 16-1/2″
Nordic Ware Natural Aluminum Commercial Baker's Half Sheet
Norpro 703 Grip-EZ 2-Tablespoon Stainless Scoop
WaterBrick – 4 Pack Blue with Spigot