Do We Need Or Want Christmas Gifts?
It's that time of year when I know families are faced with the question, Do We Need Or Want Christmas Gifts? So many people really need food on the table, warm shoes on their feet, coats for their school kids, and a warm safe place to sleep. We see television commercials with every electronic gadget known to man, and it appears that we all need one or more to be happy.
There are 7-inch to 9-inch Ipads, Kindles, fancy smartphones, tablets, and more. When I go to Costco I see televisions as big as a bay window or the size of a small car. I have to laugh because I don't have a car big enough to bring one of those babies home to install on the wall!
Much of this post was written back in 2014. Seems like a long time ago when I consider all that's going on with government mandates, all kinds of sickness, inflation through the roof, global challenges of war, drought, severe storm systems, power outages due to vandalism, and more.
Still, everywhere we turn there are advertisements to buy this trinket or that device. How can we slow down the "wants" for Christmas gifts? Please give gifts of preparedness or homemade gifts that are inexpensive to make but are from the heart.
I usually tell a very short story about my life with the grandkids on Christmas morning, especially now that they are older and we have moved closer. I have 17 grandchildren and one great-grandchild. This year it's about Scissors!
When my girls were growing up they knew my sewing scissors were for cloth, not crafts. They tease me to this day since I would always ask, "where are my scissors?" whenever my special scissors couldn't be found.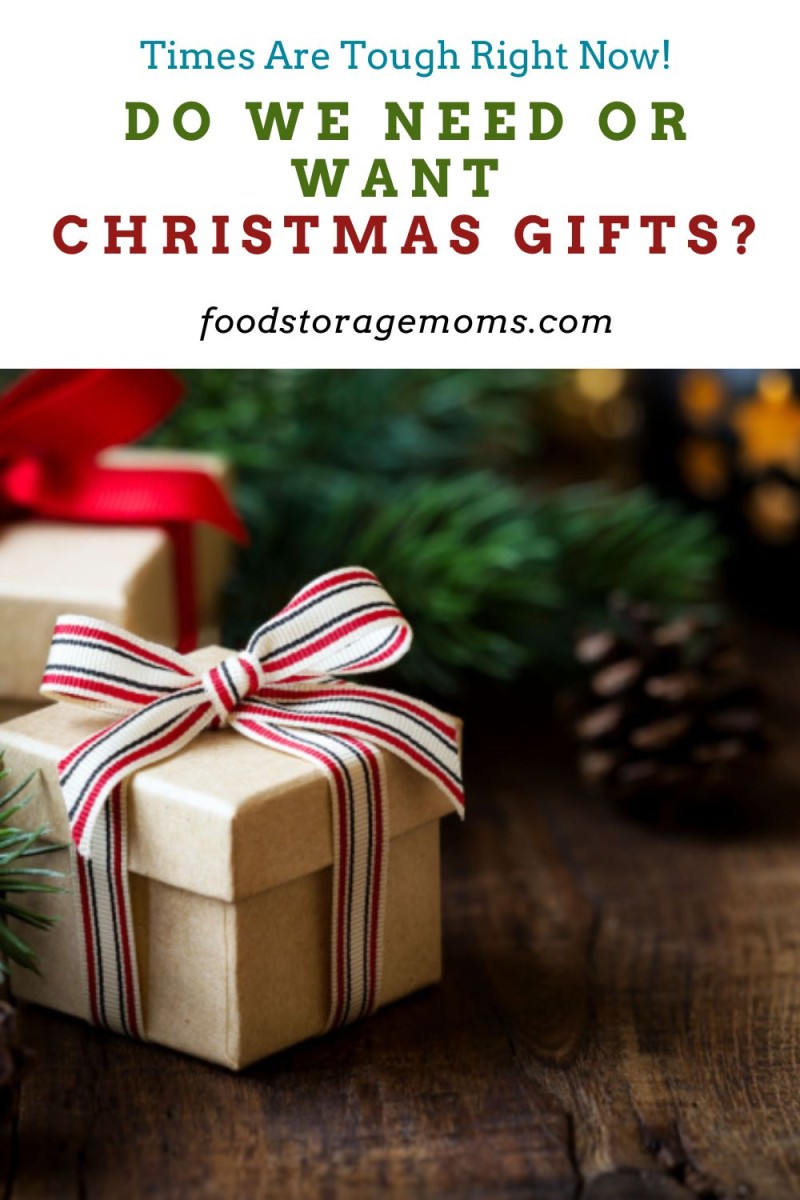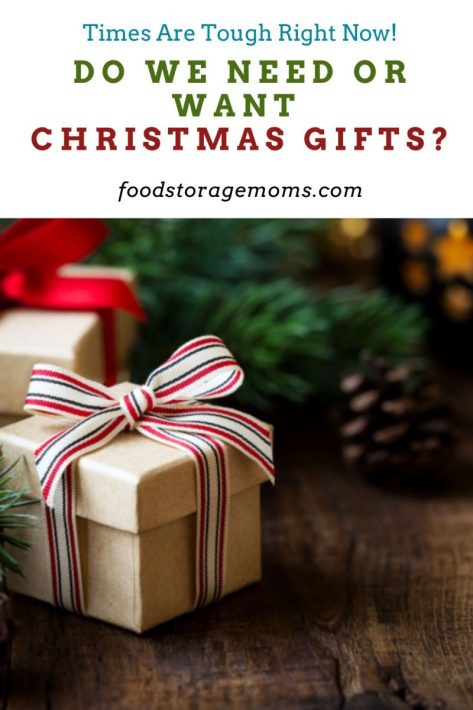 Christmas Stockings and Christmas Gifts
I remember years ago when my daughters were little and Christmas morning was so special. We would start the morning with the stockings on the mantle (filled with lots of oranges because it was so expensive to fill them otherwise). Then came opening the gifts under the tree. My mom usually gave them nightgowns she made.
Do you love the memories of those special gifts given with love? We were never big on giving lots of gifts because we didn't have the money, and I won't use a credit card to purchase gifts. If I can't pay cash for gifts they're not getting them. Period.
I don't want January and the following months to be filled with thoughts about how to pay for Christmas.
Jake-Our First Grandchild
I remember when we had our first grandchild, Jake. There is something magical about having a toddler around the house during the holidays. Jake would look at the Christmas tree, the lights, and the ornaments with wonder in his eyes. It was the little things that made him smile.
We made sure his parents started the tradition of having them as his parents provide what they feel is appropriate and for us not to get too involved at that level since we are the grandparents. In other words, we stepped back and let the parents be the parents.
We had money to buy more but we didn't want Jake to want more and more each year. We didn't want Jake to think that Santa had millions of dollars to spend on every kid in the universe. We would give one gift and it was a "need" because his parents were going to school at the time.
We did the same thing for every grandchild as they came along in terms of Christmas gifts each year. We now have 17 grandchildren. We did the same thing on birthdays.
We never give more than the parents. We want the grandkids to learn that gifts are a privilege and not an entitlement. I'm very proud of how our grandchildren have turned out. Yes, we'll help during the year if there is a need, but there again, we are the grandparents, not the parents.
It really has been a bonus to see our grandchildren grow up and flourish. Most are very frugal and minimalistic. I'm so proud of the approach to life that they've developed. I will admit that some of the grandkids live in neighborhoods where the other kids get very expensive gifts.
I don't have a problem with that, as long as it's not ego-driven. Please don't get me wrong, I have some very wealthy friends that shower their kids with lots of really nice Christmas gifts.
They are millionaires, or close to it. I get that. We aren't millionaires but have sufficient to easily get by. We also have millionaire friends who are very smart and don't let their kids think they are entitled to everything. I tip my hat to them.
We Stopped Giving Christmas Gifts
My husband and I gave family gifts eventually because it is way too much shopping and the cost of shipping gifts all over the US would be too much for our budget. When we semi-retired (does anyone ever really retire?) we decided we would stop giving Christmas gifts. The first year was tough. It seemed weird not to give something to our grandkids.
We quickly learned that our grandkids realized "we get it". They know we love them tons…we don't have to give gifts we can't afford to give to try and express that love. They love hanging out with us. They don't need gifts to know we love them to the moon and back.
I'm happy to report that my grandkids all have financial goals, including savings accounts. Yes, we taught them to save money and to think before they buy something. Is it a want or a need?
Thank You-But We Do Not Need Or Want Gifts
Let me also say about 25 years ago we emailed all of our kids and said we no longer want gifts throughout the year. Yes, I am saying Christmas gifts, birthday gifts, Mother's Day, and Father's Day gifts.
Here's the deal, we would rather have a handwritten note or a love email than any purchased gift. It seems that handwritten notes, letters, or cards are extinct, really. We love emails written with thoughts and memories.
Families Are Stressed Out Buying Christmas Gifts
This time of year I know there are families struggling to feed their families, let alone buy Christmas gifts. We hope that if gifts can be given, they are needed items and not just wanted. Some children need new shoes, boots, gloves, and hats just to walk to school.
Please share ideas that you have and that we can pass on during this holiday season about how to slow down on wants. It really needs to start in the home.
We all went through the 2008 economic disaster. Please be prepared for another tough economic period. I see food prices continuing to escalate and people struggling to make ends meet.
We need to teach our children and grandchildren to not want so many things. They need to understand that they should be considering setting aside funds for their own school expenses, future children's college, a home down payment, food storage, etc. rather than popular gadgets.
Teach Family To Be Self-Reliant
I'm quite emotional as I write this post because I've received emails from readers telling me they can't even buy groceries, let alone Christmas gifts. They're not posting on Facebook statements like "I don't know what we are going to do for Christmas this year". These readers are real people not wanting handouts.
People are put in tough situations like a personal injury accident, when a job is lost, severe sickness in the home or the loss of a loved one. I get it.
But we need to teach our families to try and plan ahead to be more self-reliant and better prepared for the unexpected so when these events do take place, the family is as well prepared as possible to weather the "storm." My favorite Flashlights.
Final Word
Please trust me on this, please be prepared for the unexpected. It's our duty to take care of our families and not think the government or any other entity should step in and provide for us.
With some planning and extra effort, we can handle most things on our own. I used to love making homemade gifts, but now the materials needed to make those items are so darn expensive.
Please enjoy your family this holiday season, no matter what your beliefs or circumstances are. May we all show gratitude for what we do have and bless others with any excess we might have. May God Bless this world, Linda
Copyright Images: Christmas Gifts AdobeStock_123922588 by Kuvona