Did you grow up eating a Watergate Salad? This recipe is truly a classic vintage recipe because it's from my mom's recipe card box. I'm pretty sure this Watergate salad recipe was passed around at church functions in the 1970s, particularly when people were part of potlucks.
This Watergate Salad has pineapple, pistachio pudding, mini marshmallows, pecans, Cool Whip, and coconut. Then you top it off with a few more pecans and of course, Maraschino cherries are optional. I like to use instant pudding mix since it's so easy.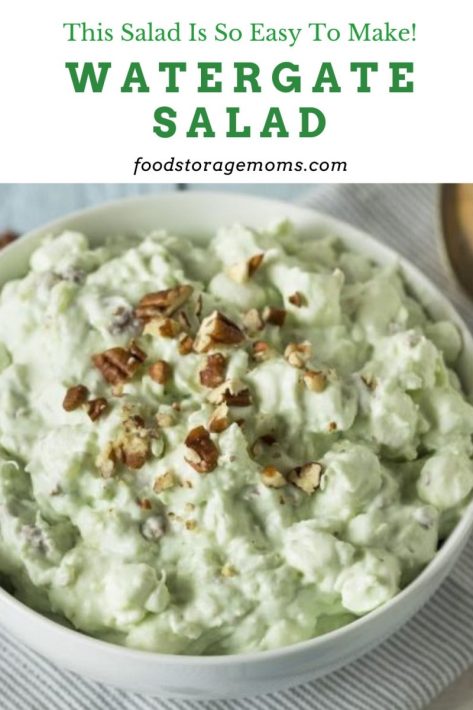 It's creamy, a little sweet, and a little bit tart at the same time. The reason I love this fruit salad is that I usually have the ingredients in my pantry and the Cool Whip in the freezer. I can make this delicious salad at the last minute and let it set up in the refrigerator before bringing it out to be served.
What's really great about this Watergate Salad is that you have most of these ingredients in your pantry and freezer. We can make this salad as a side dish for a party, church activity, or neighborhood get-together. It can also be served as a dessert salad if you need something special to top off a meal.
All you do is stir the ingredients together and refrigerate them for a few hours. You can sprinkle it with chopped pecans and garnish it with a few Maraschino cherries. You will love it!
Why We Love The Watergate Salad
The green color comes from the Pistachio Pudding mixed with pineapple juice.
The Cool Whip gives it a creamy texture. Whipping cream can be the whipped topping if you want to take the time.
The mini marshmallows give it that fluffy fruit salad taste and additional texture.
The crushed pineapple gives you that first sweet yummy bite.
The chopped pecans and Maraschino cherries are frostings on the salad.
During the summer we particularly love this salad since it helps cool us off, not only with the flavor but the temperature from the fridge.
It's a great salad for any holiday.
Watergate Salad
Ingredients
Crushed Pineapple
Pistachio Instant Pudding
Mini-Marshmallows
Cool Whip
Sweetened Coconut
Pecans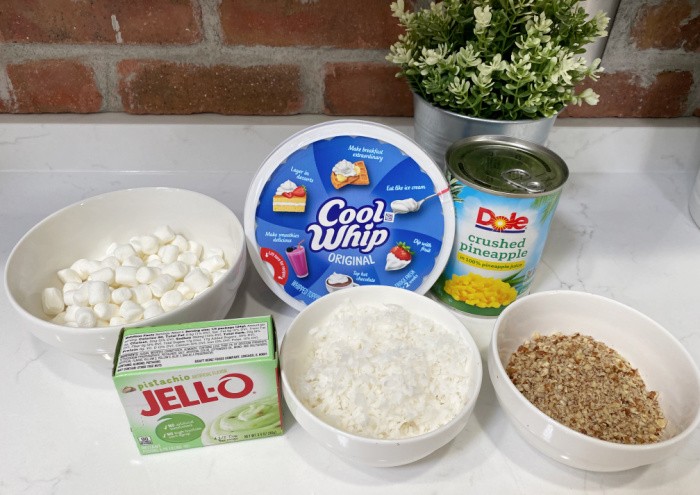 Step One: Drain the Pineapple
Drain the pineapple, and set the juice aside.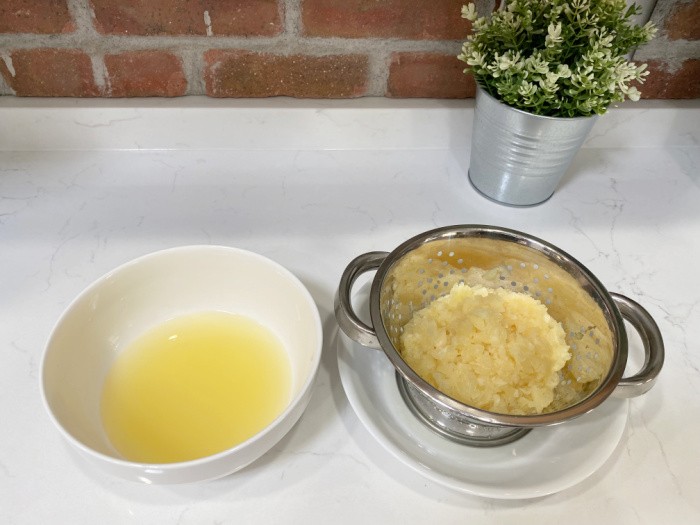 Step Two: Combine Pudding and Juice
Combine the pudding with the pineapple juice and whisk until smooth in a large mixing bowl. It will start to thicken a little bit.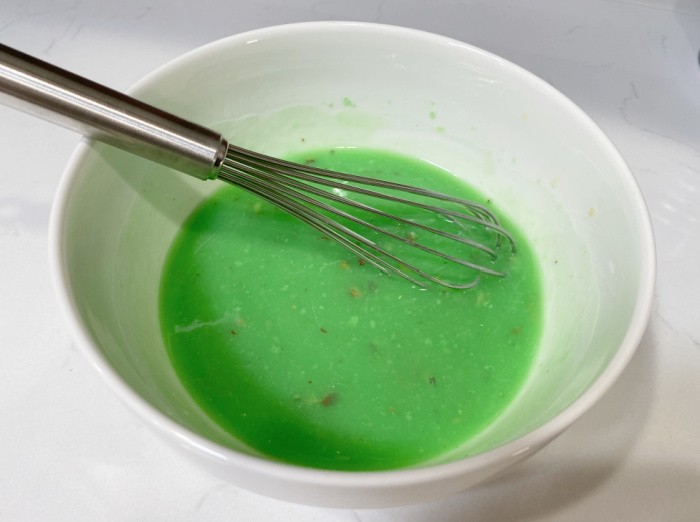 Step Three: Chop the Pecans
Chop the pecans with a food chopper. I used my Pampered Chef Chopper to chop these.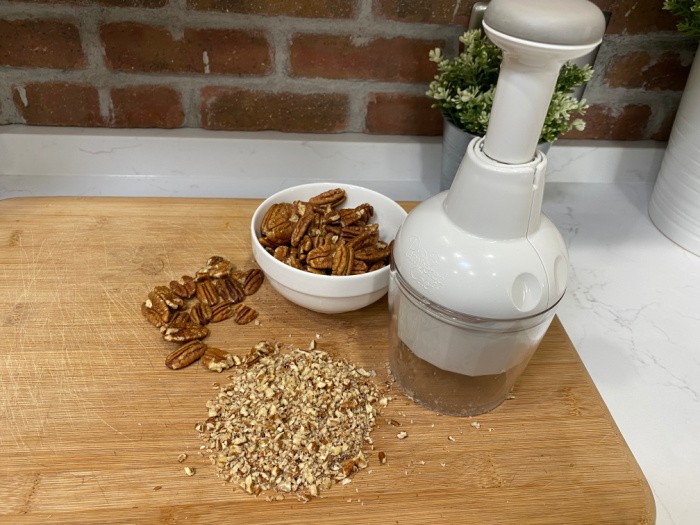 Step Four: Combine Ingredients
In the large bowl, stir in the pineapple, coconut, and mini marshmallows. Now, fold in the thawed CoolWhip and thoroughly combine the ingredients, except for the chopped pecans.
Step Five: Chill 2 Hours
Chill for at least 2 hours, 4 hours preferably. Sprinkle the chopped pecans on top and garnish with a Maraschino cherry.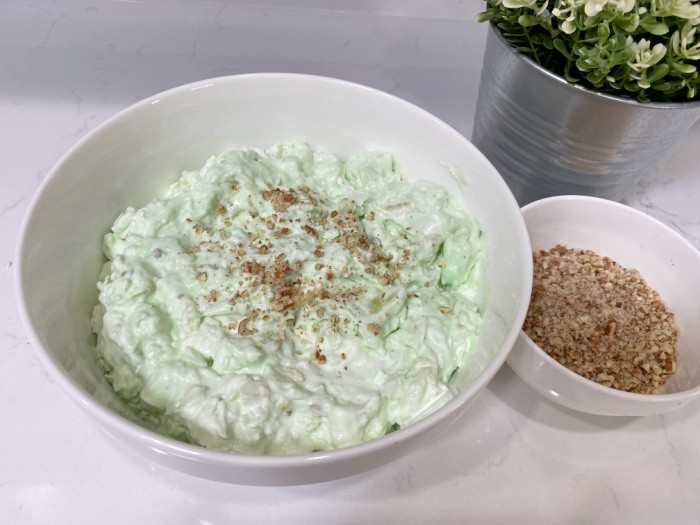 How do I store this Watergate Salad?
I store it in an airtight container in the refrigerator.
Can I freeze this salad?
I would not recommend freezing it, fresh is best.
How long can I store this salad safely in the refrigerator?
A Watergate salad is a fruit salad of sorts, so I would say 3-5 days at the most.
What is in Pistachio Pudding?
I quote Wikipedia: "Pistachio pudding is a green pudding made from pistachio nuts and occasionally contains small chunks of almonds."
Watergate or Pistachio Salad Recipe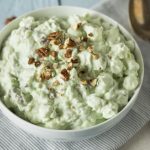 Watergate Salad by Food Storage Moms
Ingredients
1

can

20-ounce crushed pineapple with juice

1

package

3.4-ounce box Pistachio Instant Pudding

1-1/2

cups

mini-marshmallows

1-1/2

cups

Cool Whip, thawed

1

cup

sweetened shredded coconut

1/2

cup

pecans, finely chopped

maraschino cherries (optional)
Instructions
Drain the pineapple juice from the crushed pineapple pieces.

Combine the pudding with the pineapple juice and whisk until smooth.

Stir in the pineapple, coconut, and mini marshmallows.

Now, fold in the thawed Coolwhip and thoroughly combine the ingredients.

Chill for at least 2 hours, 4 hours preferably.

Sprinkle the chopped pecans on top and garnish with a Maraschino cherry. 
What are some other names this salad is known by?
This salad has been known by a bunch of other names over the years as listed below:
Pistachio Delight
Shut the Gate Salad
Green Goop
Scandalous Watergate Salad
Green Goop
Pistachio Salad
Green Goddess
Green Stuff
Green Fluff
Mean Green
Pistachio-Pineapple Delight
Ambrosia Salad
You may be wondering why this is called the Watergate Salad. Often times people try to capitalize on current events to draw attention to their authored work. As the story goes, the individual or company that created the recipe felt it would gain more appeal if it referenced Watergate, a scandal near the time of the recipe's first publication. The recipe was first published by General Foods, now merged into Kraft Heinz.
See below the quote from Wikipedia for a reference to events in the 1970s that prompted the name.
"The Watergate scandal was a major political scandal that occurred in the United States during the early 1970s, following a break-in by five men at the Democratic National Committee (DNC) headquarters at the Watergate office complex in Washington, D.C. on June 17, 1972, and President Richard Nixon's administration's subsequent attempt to cover up its involvement."
Final Word
I love sharing recipes like this Watergate Salad so we can teach the world how fun it is to eat at home. Please stock your pantry and your freezer as you can afford it. I believe hard times are coming, let's teach the world to be prepared today, not next year. Thanks again for being prepared for the unexpected. Please keep prepping! May God bless this World, Linda
Copyright Images: Watergate Salad Pistachio Fluff AdobeStock_133153427 By Brent Hofacker