What to Stock Up on for Winter
It sure doesn't seem long ago we were saying," it won't be long before winter arrives," and boy, it's arrived with a vengeance. Being prepared for stormy, wet, and cold winter weather is essential. One way to make sure you're ready for the harsher weather conditions is to stock up on specific items that can come in handy. You wouldn't want to get stuck at home without power, food, and a reliable source of water.
Even if it's never happened to you or your area before, the recent winter storms have shown you never know what to expect when it comes to the severity and the length of time the storm will be making an impact. It's best to be prepared with the right items before the snext big winter storm arrives. If the snowstorm and terribly cold weather in Texas last year taught us anything, the weather is unpredictable, and taking preventive measures makes the most sense.
Today, I want to reinforce the idea of organizing your winter storm prepping materials, opening all the boxes of items you may have purchased for preparedness, and begin practicing the use of each item. What you have acquired may not have come in a box, it could be weather-strip door materials, insulation that needs to be spread in the attic, storm windows for that room add-on, emergency heating, and more.
If you haven't done so already, get those last-minute projects completed before it's too late to protect your home and family. Pay particular attention to anything that protects your family if you lose power to your home.
Please locate all of your extra batteries for the flashlight each member of the family should have. Store them in one place so you can find them and use them when you need to. Here is a look at a few of my battery boxes, and yes, I have a few of them. Battery Boxes
What to Stock Up on for Winter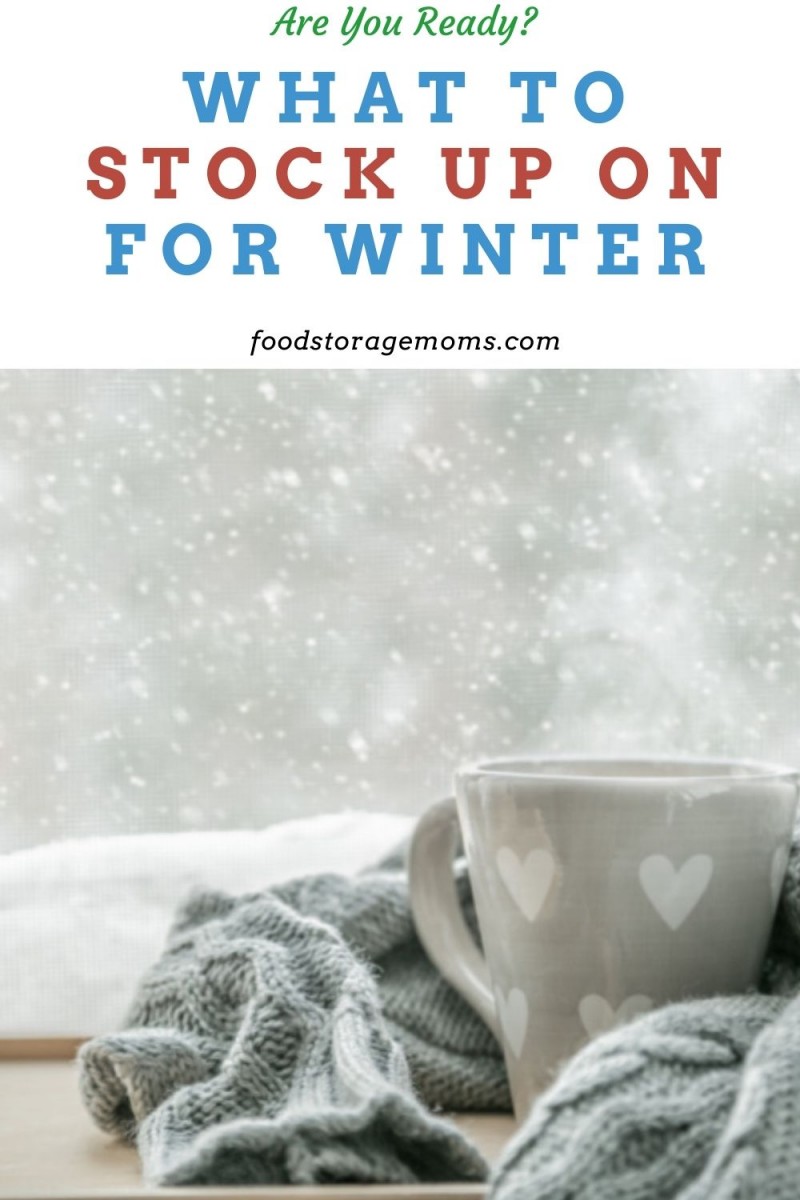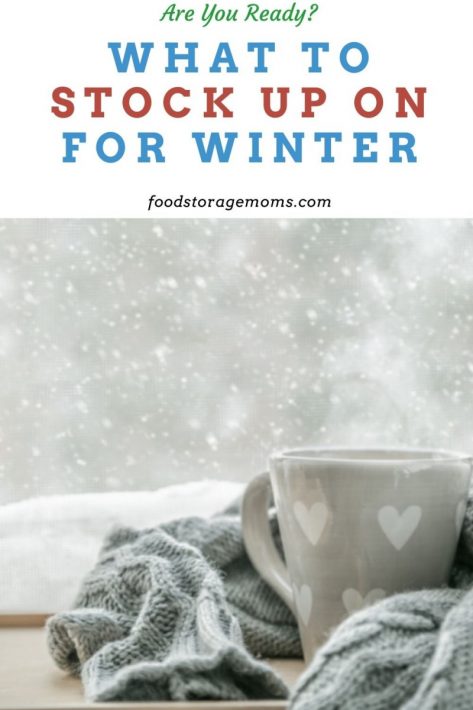 This week we've been hearing on the radio and TV about the "once-in-a-generation" storm that has spread across the majority of the U.S. One area that has experienced the devastating storm more severely is Buffalo, located in western New York. Erie County and others like Niagra County, have had over four feet of snow in a very short time. The city has had heavy winds with whiteout conditions, extreme cold, and blizzard warning notices in many locations.
Bullalo's Mayor Byron Brown held a news conference early this week and announced a driving ban due to the terrible conditions. Although the National Weather Service had announced days earlier a winter storm watch that became a winter storm warning, many residents, and even city officials, were caught off guard. Many individuals felt they could ignore the ban, and their travel on the snowy roads with poor traction caused the city's work crews and the police chaos since they couldn't clear the streets of snow and many cars were stranded or involved in accidents due to poor visibility issues.
People were told to stay inside for their own protection, but in Buffalo proper, there were close to 40 storm-related deaths as of this morning, and still counting. Across the U.S. the death toll has approached 150 and is still climbing. Airports for the most part have been hampered and thousands of flights canceled. Things are starting to get back to normal, but various areas of the country are still experiencing gridlock on the roads.
Some Basic Items I Suggest:
Warm Gloves, hats, scarves, mittens,
Snow Boots with warm wool socks
Snow Shovels (if applicable)
Window Scrapers
Snow/Ice Melter and bags of sand for traction
Emergency Car Items – jumper cables
Snow Blower (if applicable) with fuel
Wood for your fireplace or wood-burning stove
A good first-aid kit
1. Packages of Bottled Water
Be sure to buy packages of bottled water while it's on sale so that you can have a lot of it available at home. If you end up without a water source due to harsh and damaging storms, having as much water as possible can help.
You can use the water for drinking, washing up, brushing your teeth, and preparing different meals. It doesn't mean that you need to rush and buy as much water as you can find, just pick some up each time you visit the store.
However, if you regularly check the weekly advertisements to see what's on sale and you manage to see a good deal for water, grab it while you can. It's a good idea to store the water in the basement or other safe areas in the house so that you have it available to you when you need it the most.
Better, yet, start purchasing long-term water storage containers. Yes, they are expensive at first, but so is bottled water. In case you missed this post, The Best 5-Gallon Water Jugs, and don't forget to purchase some Water Preserver so you only have to rotate out the water every 5 years. If you use bleach (unscented) it needs to be rotated every six months.
Please keep in mind that WATER is the number one thing we need for survival, so please stock as much as you can, you will be grateful you did. Trust me.
2. Non-Perishable Food to Save and Eat in an Emergency
Always stock up on some non-perishable food. You're going to want to have food that can last for a while, especially if you get snowed in and can't leave your home. Besides, you may not be able to get to the store. It's for that reason you should buy plenty of canned goods based on storage space and your finances.
Canned goods tend to have a longer shelf life than other products. You can find all kinds of canned goods, including vegetables, fruits, soups, and meat.
Sure, they might not be your favorite foods because they don't taste nearly as fresh as other options, but they're good to have when you're in a difficult situation. You can stock up on non-perishable food for your family to eat in emergencies by grabbing these items while they're on sale. Have other family members shop with you so you can get their input regarding desired items they'll eat.
I always recommend having foods your family will eat, not just "food storage." If you buy things the family won't eat, you may be in a world of trouble. Again, you may want to have the family go to the grocery store with you and choose the items they would eat for at least a week if you lost power.
You may want to label a bag or small box for each child and place the items on your food storage shelves. Nothing says love like having a bag with your name on it, right?
3. Pet Food
If you have a pet at home, make sure you're thinking about the animal when stocking up for the winter. Again, if you can't get to the store for groceries, you won't have an opportunity to get out and get pet food. So, grab the food that your dog, cat, or another bird or animal regularly eats and enjoys.
You might even want to stock up on some treats for your pet. It doesn't matter what you get, as long as you're choosing options that are good for your pet. You wouldn't want the animal to go hungry in an emergency.
Please remember, you need water for your pet as well. You need one ounce (30ml) of water per pound of your dog each day. If your dog weighs ten pounds, you will need ten ounces of water each day.
4. Heavy Blankets/Comforters
Pack plenty of heavy blankets and comforters in the home. While you probably already have a few blankets for the bedrooms, it's a good idea to have more blankets that are available for use in an emergency. It's easy to store these blankets in a storage container or bag until you're ready to use them to keep them from taking up too much space.
If you end up in a situation where you don't have heat, it will get cold in your house during the winter months. The best way to combat the cold is to stay in a room with the rest of your family while piling up the blankets and layering the clothes. You sure don't want any family members to experience frostbite or hypothermia when their body temperature gets too low.
When selecting the best blankets to use, consider options with thick layers or coverings made of fleece materials because of how warm they can make you feel. You may want to invest in sleeping bags, but if you have a lot of blankets, use them.
5. Portable Generator/Portable Heater
It pays to have a portable generator in the home. It's something you can use when you don't have heat or electricity to get the heat and electricity that you'll need. You don't want to get stuck in a dire situation that leaves you feeling cold, hungry, and miserable.
While a portable generator does cost money, the initial investment is worth it because you can put it to good use in times of need. I have opted not to purchase a generator because of the cost. If I lived where there are hurricanes, I would find a way to purchase one.
There are different types of generators available for purchase, some of which cost more than others. The initial cost will depend on the size/capacity of the generator and the brand. If you're not too picky, you can find a suitable option that will provide you with comfort when dealing with a loss of power at home.
You may want to consider getting a portable heater, Mr. Heater MH9BX 9000 BTU Propane Portable and
Mr. Heater-F273702 12 ft Propane Hose and Mr. Heater Universal Fuel Filter
Please set it up and practice using it by following the manufacturer's instructions. Here are my set-by-step instructions. How To Heat Your Home In An Emergency
6. Convenient Camping Stove or Butane Stove
You're probably wondering why you'd need a camping stove when you're not going anywhere. However, the camping stove can come in handy if you're without power during the cold winter months.
If something happens and you don't have power, it's crucial to have a way to prepare food for yourself and your children. These stoves aren't designed for indoor use, so make plans for a location where they can be safely put to use and you don't have to worry about carbon monoxide poisoning.
You may think you can use your barbecue, but you may want to think again. It would use way too much fuel to boil water. I'd steer clear of a kerosene heater and stove. They have been known to be especially risky, particularly if people ignore the warnings and put them to use indoors.
7. Start Stocking Up on the Essentials for Winter
A butane stove is an excellent option. It's portable and provides enough heat to warm up different meals, whether you're preparing soups, stews, or macaroni and cheese. I prefer a Butane Stove with Extra Fuel stored.
Please remember the pan you use on your butane stove should not hang over the burner. Butane Stove. You can boil water, make a cup of soup, heat up some beans, and so much more.
It's worth buying and storing somewhere in the house because you never know when you might need it. You may even get to help your neighbors if they're dealing with a loss of power and could use some assistance.
It's a good idea to start stocking up on the essentials for winter as early as possible to get a headstart. You can catch many of these items on sale to get the best deals on them before you start stockpiling them.
If you know what to buy and add to your home, you can keep yourself and your loved ones safe, comfortable, and protected if a winter weather advisory gets sent out and a situation arises that leaves you without power.
Please stock up on OTC Medications as soon as possible, and be ready before you need them. In case you missed this post, 35 OTC Medications You Should Store
Having items specific for use by young children and older adults is critical.
8. Snacks
Please stock your pantry with some healthy snacks, popcorn, candy, chocolate, and even junk food, if you feel inclined. If we are stuck at home for 2-3 weeks because of an unforeseen snowstorm, I may want some Peanut M & M's. It's all about being prepared, right?
What can I do to better prepare my house for the winter?
Some things you should consider are:
Insulate pipes on your exterior walls so they don't freeze.
Caulk around window and door frames to keep cold air and moisture out and any warm air in.
If you have a fireplace, make sure your chimney and flue are clear and free of buildup and debris.
Get some covers for your windows to help block any cold air that may come in through poorly insulated windows and window jams.
Are there things I need to do so my vehicle is best prepared for winter?
I'd suggest you find a good auto dealer or quality mechanic you can trust and have them check the following to make sure they're in good working order:
Brakes
Antifreeze
Heater and Defroster
Exhaust system
Battery
Ignition system
I always tell my readers to keep their gas tank between 50% and 75% full at all times. You don't want to be running out of gas if blocked in or stranded.
Final Word
Having food, water, comfy blankets, and other essential items at home can always come in handy. Even if you've never experienced getting snowed in or dealing with a loss of power, it's better to take precautionary measures than to end up in a horrible situation. If you have other ideas to add, I'd love to hear from you. May God Bless this world, Linda.
Copyright Images: Winter AdobeStock_184392202 by anaumenko