What to Stock Up on for Winter
It won't be long from now before winter arrives. Being prepared for wet and cold winter weather is essential. One way to make sure you're ready for the harsher weather conditions is to stock up on specific items that can come in handy. You wouldn't want to get stuck at home without power, food, and a reliable source of water.
Even if it's never happened before, you never know what to expect, so it's best to be prepared with the right items. If the snowstorm in Texas taught us anything, the weather is unpredictable, and taking preventive measures makes the most sense.
What to Stock Up on for Winter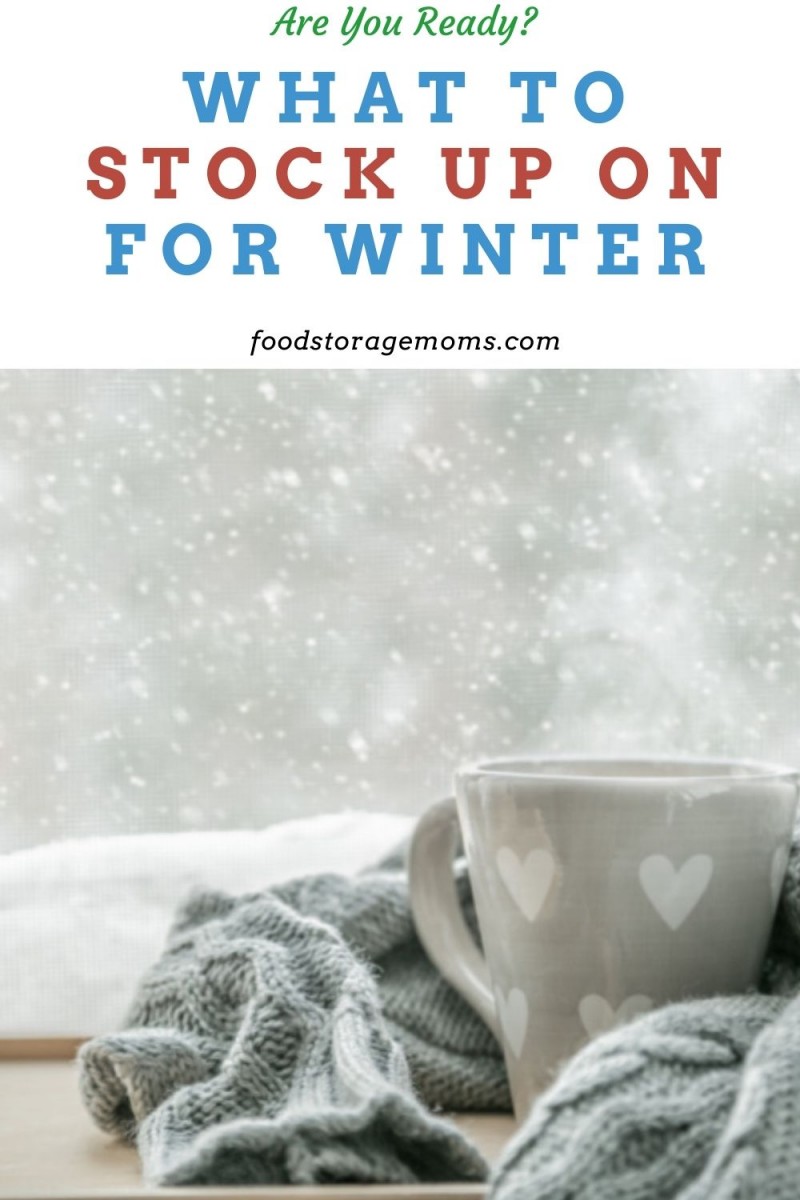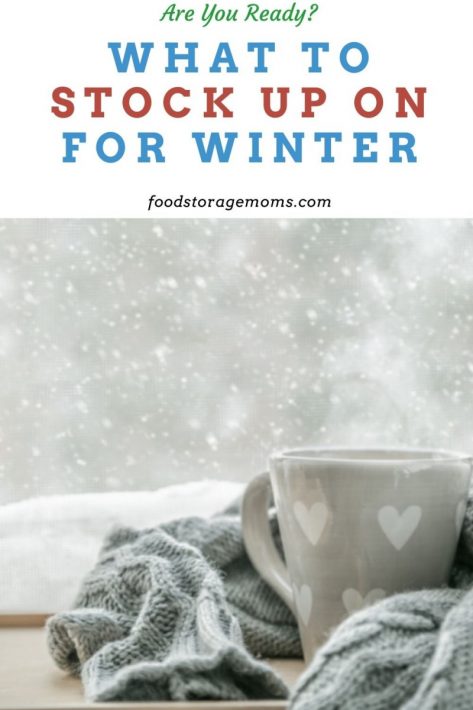 Items I Suggest:
Warm Gloves
Snow Boots
Snow Shovels (if applicable)
Window Scrapers
Snow/Ice Melter
Snow Blower (if applicable)
1. Packages of Bottled Water
Be sure to buy packages of bottled water while it's on sale so that you can have a lot of it available at home. If you end up without a water source due to harsh and damaging storms, having as much water as possible can help.
You can use the water for drinking, washing up, brushing teeth, and preparing different meals. It doesn't mean that you need to rush and buy as much water as you can find, just pick some up each time you visit the store. 
However, if you regularly check the weekly advertisements to see what's on sale and you manage to see a good deal for water, grab it while you can. It's a good idea to store the water in the basement or attic so that you have it available to you when you need it the most.
Better, yet, start purchasing long-term water storage containers. Yes, they are expensive at first, but so is bottled water. In case you missed this post, The Best 5-Gallon Water Jugs and don't forget to purchase some Water Preserver so you only have to rotate out the water every 5 years. If you use bleach (unscented) it needs to be rotated every six months.
Please keep in mind that WATER is the number one thing we need for survival, so please stock as much as you can, you will be grateful you did. Trust me.
2. Non-Perishable Food to Save and Eat in an Emergency
Always stock up on some non-perishable food. You're going to want to have food that can last for a while, especially if you get snowed into your home without a way to get to the store. It's for that reason you should buy plenty of canned goods.
Canned goods tend to have a longer shelf life than other products. You can find all kinds of canned goods, including vegetables, fruits, soups, and meat.
Sure, they might not be your favorite foods because they don't taste nearly as fresh as other options, but they're good to have when you're in a difficult situation. You can stock up on non-perishable food for your family to eat in emergencies by grabbing these items while they're on sale.
I always recommend having foods your family will eat, not just "food storage." If you buy things the family will not eat, you may be in a world of trouble. You may want to have the family go to the grocery store with you and choose the items they would eat for at least a week if you lost power.
You may want to label a bag or small box for each child and place the items on your food storage shelves. Nothing says love like having a bag with your name on it, right?
3. Pet Food
If you have a pet at home, make sure you're thinking about the animal when stocking up for the winter. Again, if you can't get to the store for groceries, you won't have an opportunity to get out and get pet food. So, grab the food that your dog, cat, or other animal regularly eats and enjoys. 
You might even want to stock up on some treats for your pet. It doesn't matter what you get, as long as you're choosing options that are good for your pet. You wouldn't want the animal to go hungry in an emergency.
Please remember you need water for your pet as well. You need one ounce (30ml) of water per pound of your dog. If your dog weighs ten pounds, you will need ten ounces of water each day.
4. Heavy Blankets/Comforters
Pack plenty of heavy blankets and comforters in the home. While you probably already have a few blankets for the bedrooms, it's a good idea to have more blankets that you can use in an emergency. It's easy to store these blankets in a storage container or bag until you're ready to use them to keep them from taking up too much space.
If you end up in a situation where you don't have heat, it will get cold in your house during the winter months. The best way to combat the cold is to stay in a room with the rest of your family while piling up the blankets and layering the clothes.
When selecting the best blankets to use, consider options with thick layers or coverings made of fleece materials because of how warm they can make you feel. You may want to invest in sleeping bags, but if you have a lot of blankets, use them.
5. Portable Generator
It pays to have a portable generator in the home. It's something you can use when you don't have heat or electricity to get the heat and electricity that you'll need. You don't want to get stuck in a dire situation that leaves you feeling cold, hungry, and miserable.
While a portable generator does cost money, the initial investment is worth it because you can put it to good use in times of need. I have opted not to purchase a generator because of the cost. If I lived where there are hurricanes, I would find a way to purchase one.
There are different types of generators available for purchase, some of which cost more than others. The initial cost will depend on the size/capacity of the generator and the brand. If you're not too picky, you can find a suitable option that will provide you with comfort when dealing with a loss of power at home.
You may want to consider getting a portable heater, Mr. Heater MH9BX 9000 BTU Propane Portable and
Mr. Heater-F273702 12 ft Propane Hose and Mr. Heater Universal Fuel Filter
6. Convenient Camping Stove or Butane Stove
You're probably wondering why you'd need a camping stove when you're not going anywhere. However, the camping stove can come in handy if you're without power during the cold winter months.
If something happens and you don't have power, it's crucial to have a way to prepare food for yourself and your children.
You may think you can use your barbecue, you may want to think again. It would use way too much fuel to boil water.
7. Start Stocking Up on the Essentials for Winter
A butane stove is an excellent option. It's portable and provides enough heat to warm up different meals, whether you're preparing soups, stews, or macaroni and cheese. I prefer a Butane Stove with Extra Fuel stored.
Please remember the pan you use on your butane stove should not hang over the burner. Butane Stove. You can boil water, make a cup of soup, or heat up some beans, and so much more.
It's worth buying and storing somewhere in the house because you never know when you might need it. You may even get to help your neighbors if they're dealing with a loss of power and could use some assistance.
It's a good idea to start stocking up on the essentials for winter as early as possible to get a headstart. You can catch many of these items on sale to get the best deals on them before you start stockpiling them.
If you know what to buy and add to your home, you can keep yourself and your loved ones safe, comfortable, and protected if a winter weather advisory gets sent out and a situation arises that leaves you without power.
Please stock up on OTC Medications as soon as possible, be ready before you need them. In case you missed this post, 35 OTC Medications You Should Store
8. Snacks
Please stock your pantry with some healthy snacks, popcorn, candy, chocolate, and even junk food, if you feel inclined. If we are stuck at home for 2-3 weeks because of an unforeseen snowstorm, I may want some Peanut M & M's. It's all about being prepared, right?
Final Word
Having food, water, comfy blankets, and other essential items at home can always come in handy. Even if you've never experienced getting snowed in or dealing with a loss of power, it's better to take precautionary measures than to end up in a horrible situation. If you have other ideas to add, I'd love to hear from you. May God Bless this world, Linda.
Copyright Images: Winter AdobeStock_184392202 by anaumenko