How To Heat Your Home In An Emergency
Today I wanted to introduce and review a propane-based heating unit that is rated for indoor use (with the propane tank placed outside). This how to heat your home in an emergency post is one I've wanted to do for some time now. I felt strongly to repost this one for those who missed it.
Matt, Harry, and Ray, all loyal readers, suggested this particular portable heater. I had been reading about them from other people on social media, so with their help, I took the plunge and bought one, along with some of the accessories to go with it. Some of you probably already have one, and that's awesome!
Harry even sent me the links to each part at Walmart so I bought the correct ones. I have been blessed with some of the best friends on the internet through my blog! I highly recommend using a Carbon Monoxide Detector when using this portable heater.
In case you missed this post, 6 Reasons To Store Blankets For Any Emergency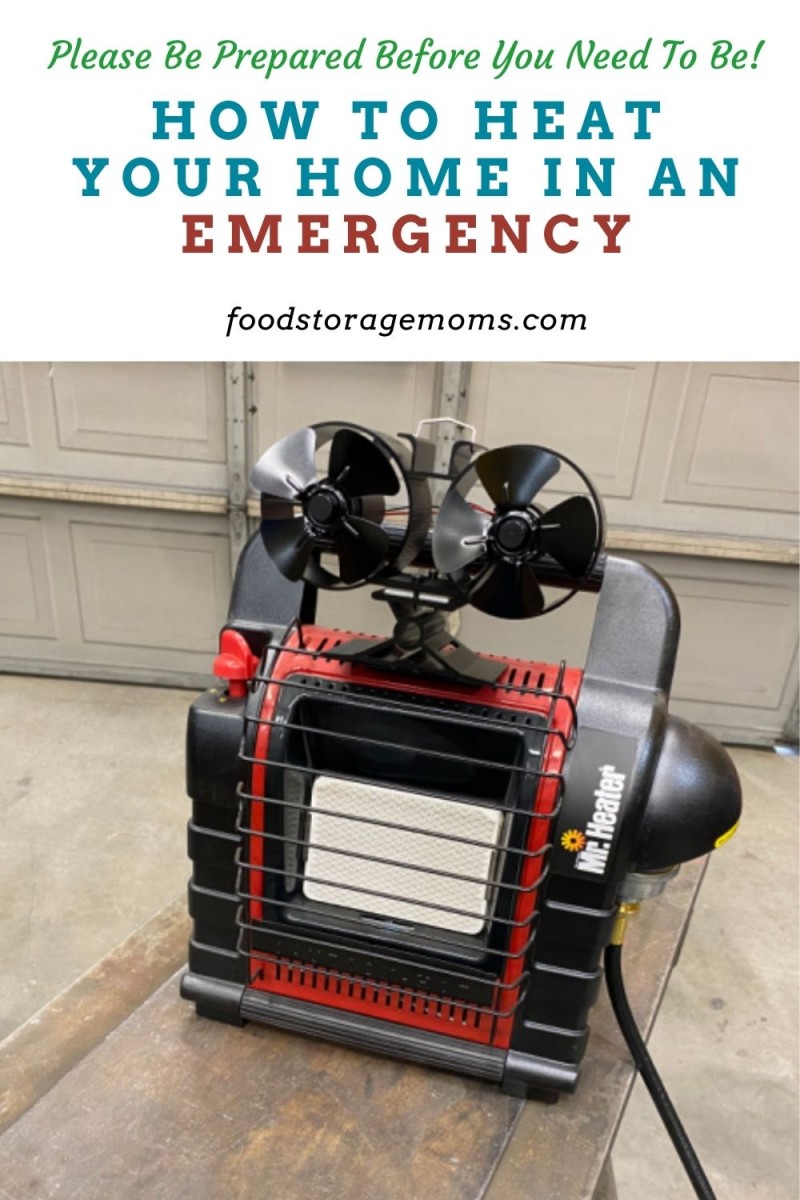 How To Heat Your Home In An Emergency
The focus of my website and daily posts has always been to help my readers be more self-sufficient, whether it's to store food (thus my www.foodstoragemoms.com website), store water, grow a garden, save on necessities, or survive an emergency of any kind. We never know what unexpected events might change our lives in an instant, so the key is to plan and try to be as prepared as possible.
The news coverage this week has been full of visuals and reports of the effects of a major winter storm that has placed millions in harm's way, mainly along the southern and east coast states. There have been hundreds of vehicle accidents due to snow and ice on the roads. Thousands have been stranded in airports because flights were canceled, and hundreds of thousands have been without power for days because of ice on power lines and winds that knocked trees and power poles down.
What options do families have when the power goes out and they have no way of heating their homes? People forget that even though they rely on natural gas or heating oil to heat their homes, their furnace fans that are used to circulate the warm air in those homes won't work without electricity. If they rely on electric furnaces, nothing will make those work when the power goes out unless you have a generator that runs on other fuel.
Fireplaces and Wood-Burning Stoves
Some families are truly blessed to have a fireplace or wood-burning stove that can warm one or two rooms in their house. That fireplace may not be too efficient, but you can at least sit reasonably close to it to stay warm. I hope those same families planned ahead and stocked up on firewood to burn. If not, those units won't be any good at all when it comes to heating a home.
I've done some research about alternative heating sources, and also had some fellow preppers step up and provide insight based on their own experiences. Our friends Matt, Harry, and Ray told me about an awesome propane-fueled heater that is rated to be used in your home during an emergency (with the propane tank placed outside your home). In the next two pictures you can see the hose I purchased so I could set the propane tank outside as recommended by the heater manufacturer, 10-Foot Mr. Heater Buddy Series #F273704
The box it comes in shows it in outdoor environments like fishing, hunting, camping, etc., but also indicates that in a true emergency it can be used indoors. Harry sent me the links from Walmart to purchase the items and Matt sent me a YouTube showing how to use the "fan." We are such a great team here to get valuable information out to my readers, I thank all of them from the bottom of my heart.
Mr. Heater Portable Buddy Hose
I placed the heater on its back so I could take a picture with the hose attached, please note, don't operate it this way, this was for picture taking only.
Mr. Heater Portable Buddy
That's why I bought the Mr. Heater Portable Buddy heating unit that I'll discuss today, in hopes it will give others some comfort and encouragement that we can in fact survive cold weather when the power goes out. Here is the box my Mr. Heater Portable Buddy #F232000 MH9BX came in. Note that the box lists a number of the features and benefits of this particular unit.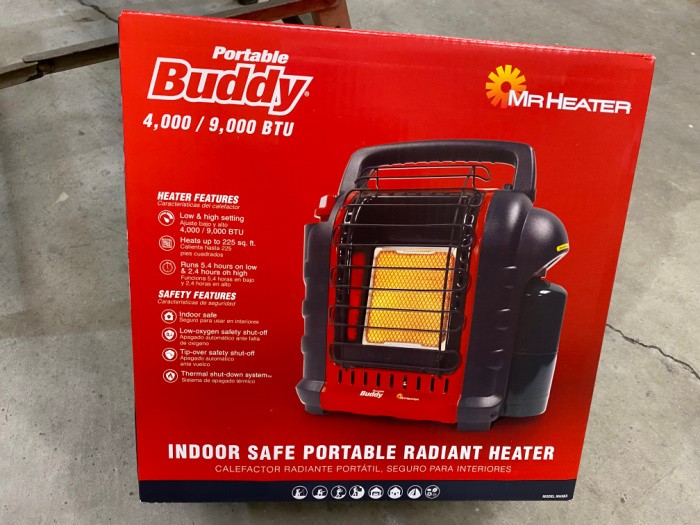 The company that makes this unit is called Mr. Heater Corporation. They are China-based, but have a U.S.-based distribution system with Amazon and Walmart being two of their key outlets. I like the fact that the heater is fairly small at 7.7" by 13.4" by 15". We'll get into that in a minute, but the heater actually uses radiant heat that can get pretty hot and generate a fair amount of heat for your home.
The box and user manual both have plenty of "WARNINGS," but careful use of the heater, and taking advantage of the safety features built into the unit, make it one I can confidently recommend.
This small heater can generate from 4,000 to 9,000 BTUs of heat, depending on if you have it set on low or high, or some point in between. It will run for 4.5 hours on the high setting and 2.4 hours on the low setting using the 1-pound propane canister.
It Can Heat Up To 225 Square Feet
It indicates it can effectively heat up to 225 square feet, making it very effective if used in a tent or smaller RV. It heats a decent-sized room at just under 12' by 20′ at that rated efficiency level.
They call it their "Portable Buddy" since it can be moved from one location to another easily, and it has a nice "easy-grip" handle. It has a heavy-duty wire screen guard on the front to protect you from the radiant heat "burner tiles" that are the generators of the radiant heat. Since it generates so much heat, neither you nor your children should sit too close to the unit. I'd suggest you set the unit on a cookie sheet or some other non-flammable surface when using the heater.
Like many gas stoves and water heaters, it has an ignitor system to light the pilot light, so you don't have to worry about having a lighter or matches close by. Boy, what a convenient feature. You can see the fan unit I'll explain in a minute mounted on top of the heater.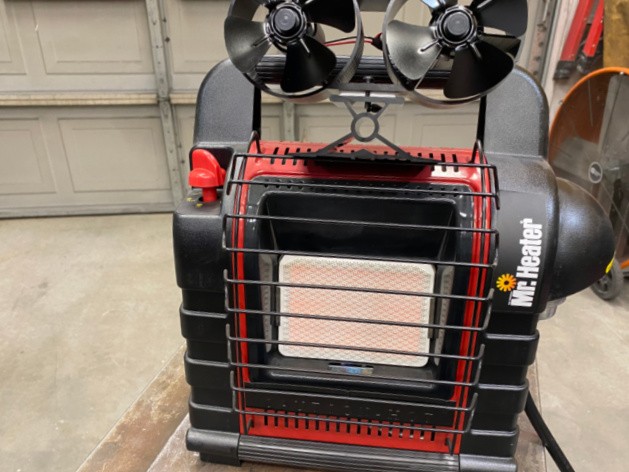 It is designed to use one-pound disposable propane canisters. If you buy the Mr. Heater Buddy series hose assembly and the Gas One Refill Adapter, you can actually refill those canisters from the 20-pound propane tanks you use to BBQ. The other option is to use the hose assembly to directly connect the unit to those large 20-pound propane tanks. They highly recommend, for safety reasons, you use the 10-foot hose assembly to keep the tank outside while using the unit indoors.
Mr. Heater Fuel Filter Unit
When using the larger propane tank, they also suggest investing in a Mr. Heater Fuel Filter unit. This optional accessory is designed to keep any oil and other contaminants located in the hose or the tank from entering and possibly damaging the Mr. Heater unit itself. They were pretty cheap, so it's worth the cost. Depending on how often you use the hose assembly, they suggest you consider replacing it annually. Less frequently used units could go longer without replacement. Mr. Heater Fuel Filter Unit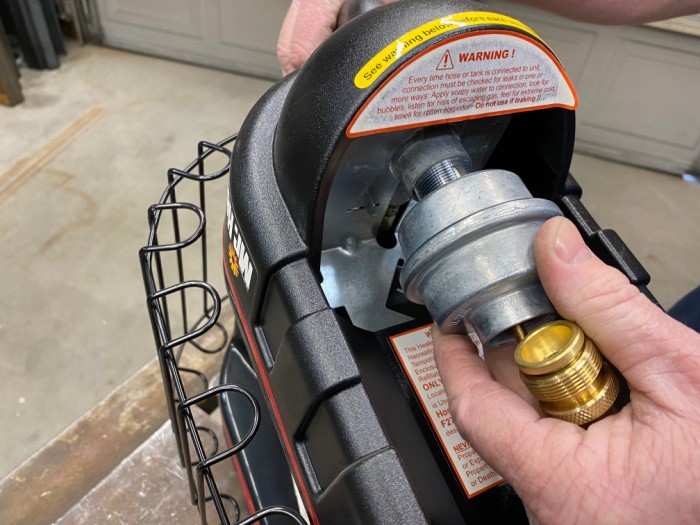 Heater Fan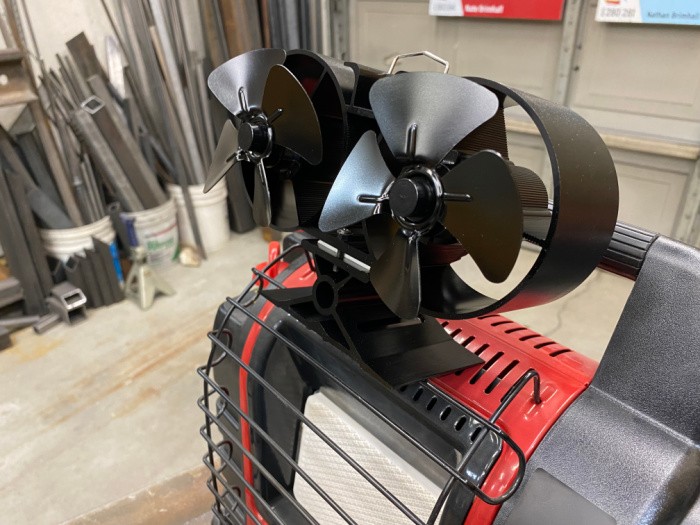 Our friend, Matt, also suggested I spend the extra money and buy a heater fan system that's used to push the heated air. I bought the CR Sure heat-powered stove fan based on the reviews. It is actually designed to be placed on top of a wood-burning stove, but works great when resting on top of the Mr. Heater unit. 
This stove fan is so great. It uses the heat from the heater to generate the power to run the fan, so you don't have to have any kind of power source to run the fan. The hotter the heater gets, the faster the fan blades turn.  It's offered for sale on Amazon, Twin Bladed Stove Fan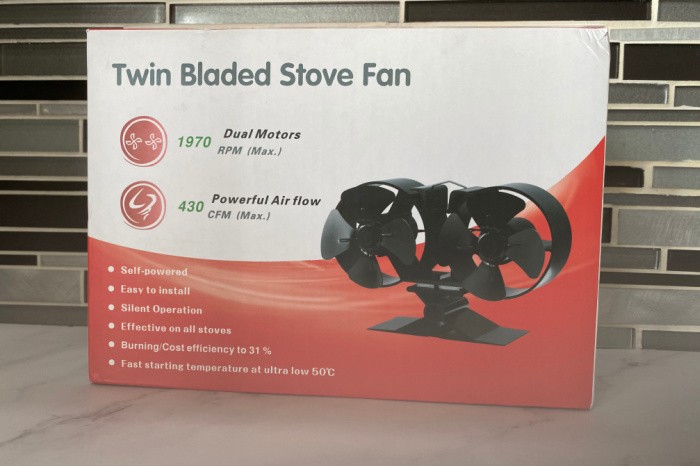 Keep It Off The Floor
Matt sent me this image. This is critical if you need to place your heater on carpet or wood floors to be sure you have something safe to place the heater on. This would be a good idea on any floors for that matter, just to protect your flooring. One option would be to grab a cookie sheet and turn it upside down and place your heater on it.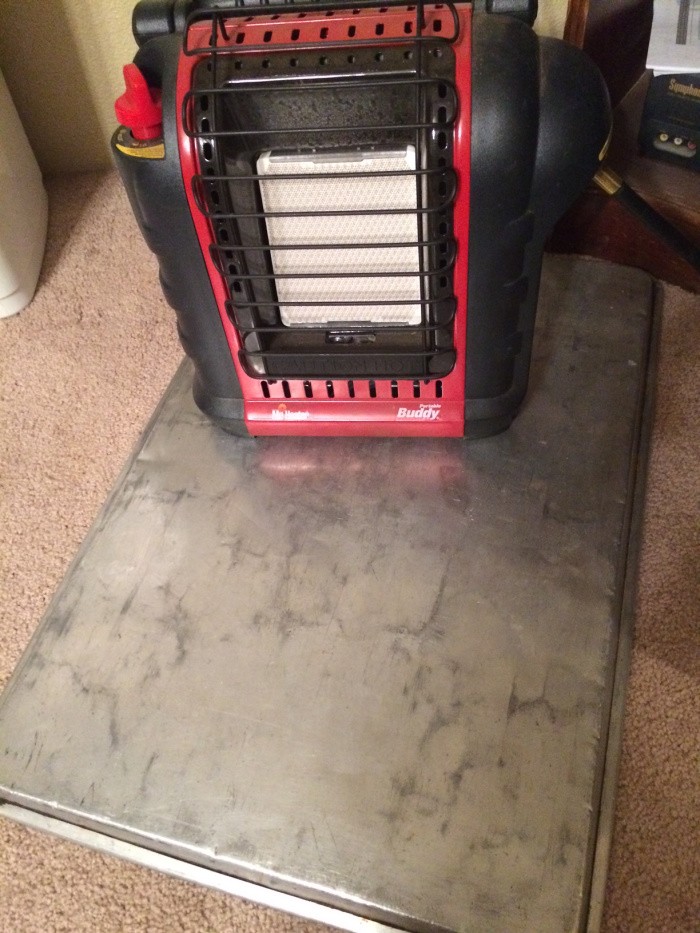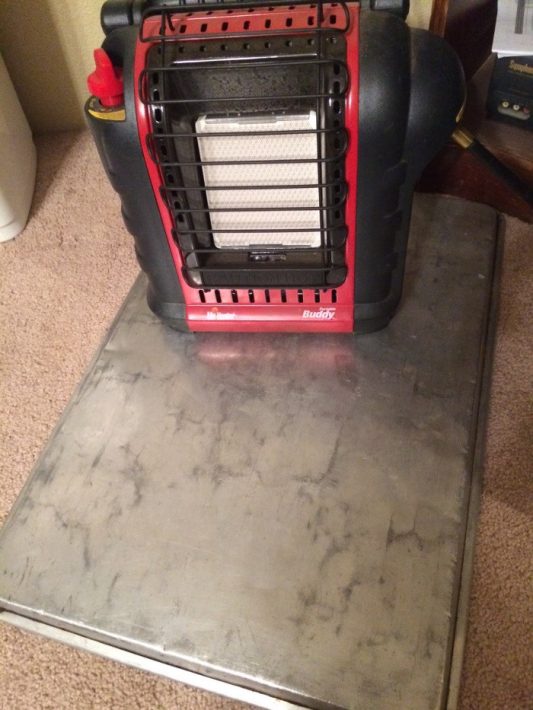 Stove Fan Thermometer
The stove fan also comes with a thermometer you can use to see what the heater's temperature is registering. That's important since the fan isn't designed to run in an environment hotter than about (460°F) = (237°C). The thermometer has a small magnet on the back so it can be attached to a metal surface. It's designed to attach to a stove vent pipe but works just fine attached to the heater, as you can see from the picture.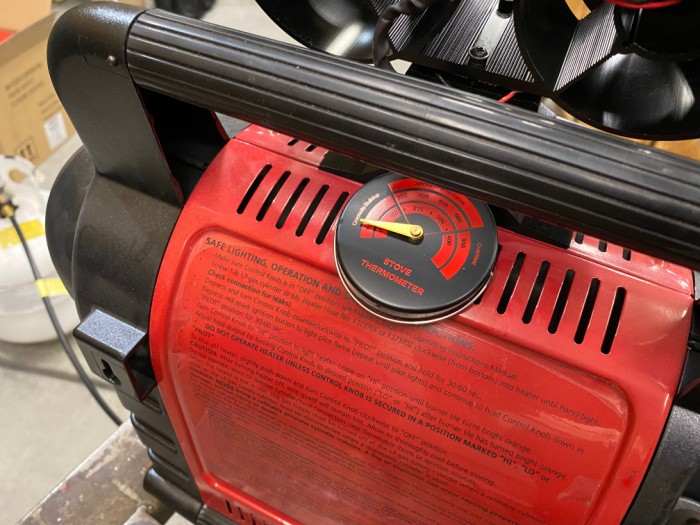 As mentioned, the Mr. Heater owner's manual lists all sorts of warnings and things to generally be aware of so you can heat the room efficiently and safely. It is important to be aware of these things and try to implement any suggested steps.
Ventilation Needed
Although the Mr. Heater unit states it's designed to be used indoors, the instructions, and common sense, make having some ventilation a key consideration. The "General Safety Instructions" state that the room in which it's used needs at least 9 square inches of ventilation in a ceiling location and another 9 square inches near the floor. That would be a vent that is at least 3 inches by 3 inches in both locations. Using the stove fan can make the heater more efficient by moving the air within the room rather than having all the heated air close to the unit itself.
Fresh Air Required
Besides having the vents to provide an "exhaust" feature for the combustion needed for the heater to work effectively, the vents also provide for incoming fresh air needed for the heater to burn the propane, but also so those in the room have the air necessary to fully breathe properly. You don't want to put yourself in a position where asphyxiation is a possibility. Better to be cold than dead!
As you read this you realize there is a real balancing act in using the heater to warm things up, and having proper ventilation so those in the room being heated aren't exposed to dangerous carbon monoxide poisoning. Remember, carbon monoxide is an odorless, colorless, tasteless, and flammable gas that results from combustion, including the use of propane.
Check Connections Carefully
Another concern is making sure that ALL connections between the heater and the propane tanks are tight and don't leak. It is suggested that you use a soapy solution to double-check the connections to make sure you don't see any bubbles, indicating the propane is leaking and creating those bubbles.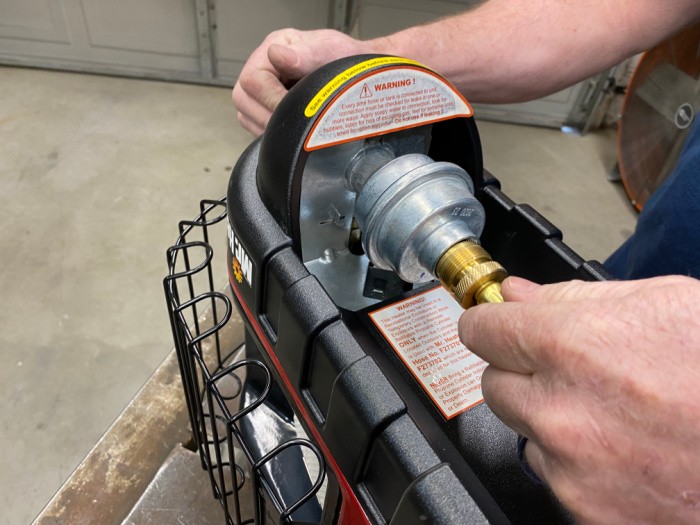 It is also suggested that you become familiar with the odor that emanates from propane. It's an added safety feature, just like the odor component added to commercial natural gas provided for your home. Always conduct an "odor test" whenever using the heater and shut off all valves if the odor is present.
Safety Feature-"Low-Oxygen Safety Shut-Off"
Thank goodness Mr. Heater has some great built-in safety features. One is the "low-oxygen safety shut-off." That feature is designed to protect you from asphyxiation by shutting down the unit if there isn't enough oxygen for combustion. The low oxygen could also be caused by using the unit at high altitudes. The manual indicates that there could be issues if used at an altitude above 7,000 feet.
Tip-Over Safety Shut-Off
It also has a tip-over safety shut-off. This feature is great since the unit may get tipped over while being used, whether you are aware of it or not. That could happen during the night if someone were to bump the unit. If tipped over, it automatically shuts off. The owner's manual suggests that you don't let the unit run while sleeping, so that's something you'll have to decide.
Thermal Shut-Down System
Finally, the unit will also shut off if it gets too hot, called a "thermal shut-down system." This is a great safety feature that will protect you if you happen to set the unit on high and then forget, or if there happens to be a malfunction in the settings for some reason.
The state of California takes a more restrictive approach to the use of this heater. The packing box lists a number of warnings, many of which I've outlined in this post. There are some, like not using it indoors, that are specifically for when used in CA. They also state that since the unit has some lead parts, you could be subject to the effects of lead and other chemicals, some of which have been known to cause cancer. Just a heads up.
Final Word-How To Heat Your Home In An Emergency
Although Mr. Heater comes with a number of warnings and cautions as outlined in the owner's manual, so does your BBQ, camp stove, butane stove, and other gas-fueled appliances. As long as you're careful, follow the instructions, and use common sense, you should be fine.
This unit comes with those built-in safety features that many other heaters don't, so I feel much more comfortable recommending you consider this emergency heater. We are all interested in finding ways to protect ourselves and family members when disasters strike, we lose power, or other unforeseen circumstances arise. Here is an awesome solution to consider when you need to heat a section of your home. May God bless this world. Linda