12 Easy Ways to Prep with Zero Dollars
Are you broke? It's possible to learn how to prep with zero dollars! World circumstances are becoming nearly impossible for us to ignore any longer. The world in which we now live is more unstable than ever before. Natural disasters, crime, terrorism, and economic uncertainty all seem to be increasing at an alarming rate. It seems like the term "perfect storm" describes the world we live in now. With inflation also on the rise, it's becoming much more difficult for families to set any money aside, especially when it comes to prepping.
Maybe you've only recently come to realize that it's time you gather food, water, and other supplies to meet your family's needs if an emergency were ever to occur, but lack the finances to make that happen. I have a few clever ideas that may help you out. These are several ways to prep with zero dollars: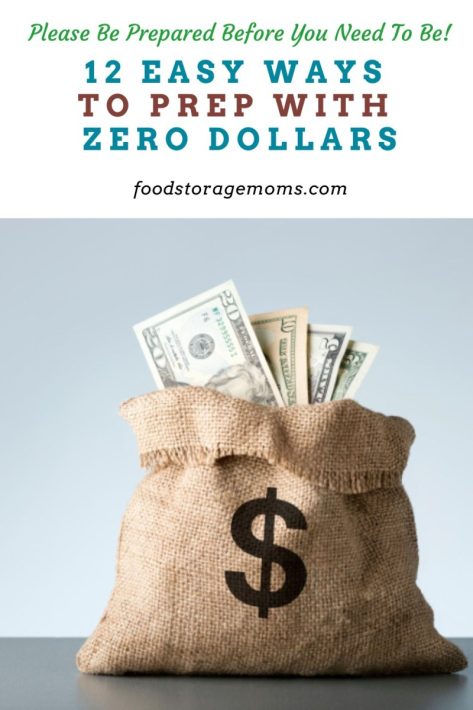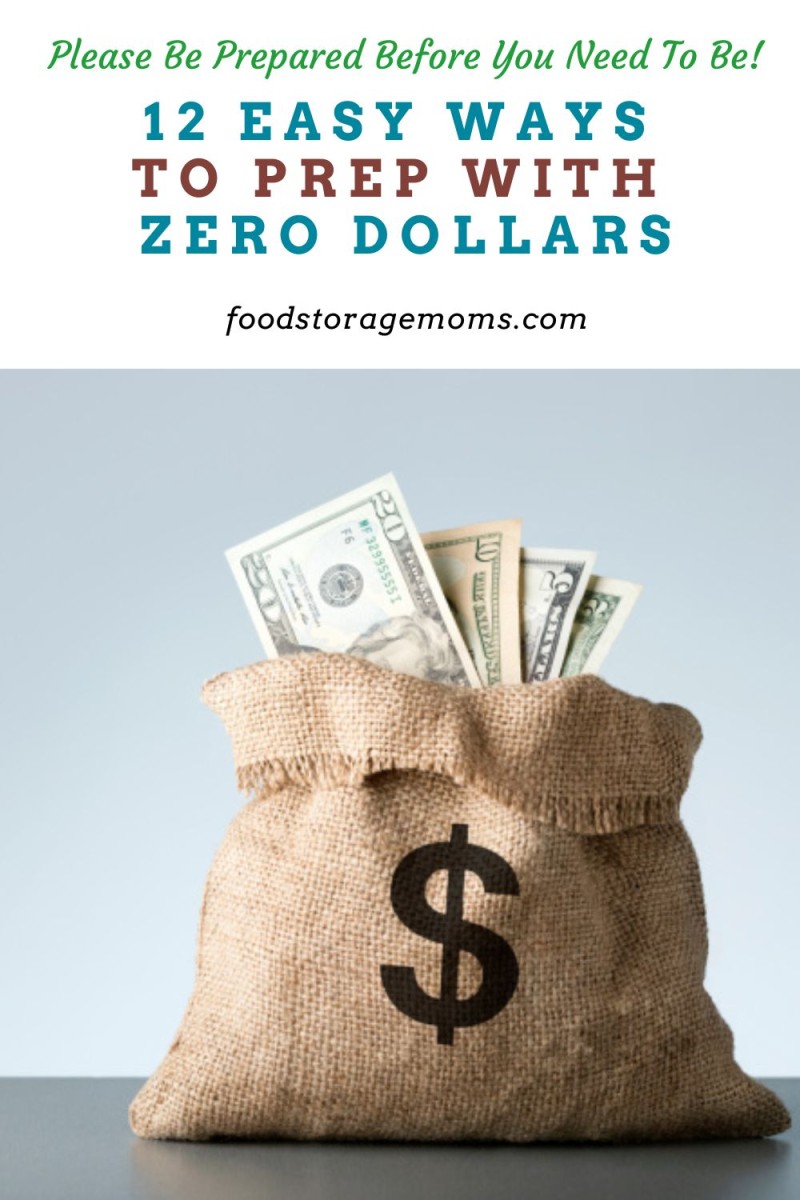 12 Easy Ways to Prep with Zero Dollars
1. Get to Know Your Neighbors
In the event of an emergency, it's always good to have people you can rely on nearby. If you live in an apartment complex, get to know your neighbors and create a system for helping each other out in case of an emergency. If you live in a rural area, make sure everyone in your neighborhood is aware of your plan and knows how to contact you.
2. Learn How to Garden
This is a great way to provide fresh produce for your family without breaking the bank. You'll just have to spend a little upfront for seeds, but then you can start gathering the seeds as part of your harvest and enjoying your food for free going forward. Start small by growing some herbs or vegetables in pots on your balcony or porch. Once you get the hang of it, you can expand your garden and start growing more food.

3. Join a Community Supported Agriculture Program
This is a great way to get fresh, local produce delivered right to your door. You can usually find a CSA program in most areas, and the price is typically very reasonable. This is a great way to support your local farmers, while also getting access to high-quality products for your family.
Many communities have neighborhood gardens where you can go and do your part to plant various plants that will grow in that area, maintain the garden by weeding, watering, and fertilizing, and then harvesting the food.

4. Go Foraging
There are many edible plants that grow wild all over the world. Do some research and see what you can find in your area. You may be surprised at how many edible plants are growing right under your nose! Just be sure that you aren't mistaking a plant for something else because there are look-alikes with certain plant species that are poisonous.
This could prove to be a fun and educational family activity with everyone joining in and doing their part.

5. Raise Chickens
Chickens are relatively easy to care for and don't take up too much space. They also provide you with fresh eggs on a daily basis. If you have a little more space, you could also raise rabbits that provide both meat and fur.
Be sure to check local regulations regarding having farm birds and animals on your property. Also, be prepared for some interesting sounds each morning as the rooster lets you know the sun is up.

6. Learn to Preserve Food
This is a great way to extend the shelf life of the food you do have and make it last longer. Canning, dehydrating, air drying, and pickling are methods of preserving food that are relatively easy to learn. You can dry fruits and vegetables, and make your own jams and jellies.
When our girls were growing up we canned all sorts of items. We looked forward to late summer and early fall when we could pick up bushels of peaches, pears, apricots, and other fruits to can. We also grew our own green beans that we were able to eat all winter long after canning the harvest.

7. Barter With Other Preppers
 This is a great way to get the supplies you need without spending any money. If you have a skill that another prepper needs, offer to trade your services for their supplies. For example, if you're good at sewing, you could trade some of your sewing time for food or other gear that you need. This is an important tip for learning how to prep with zero dollars.
I've mentioned that for many years I made all my daughters their school clothes. I really appreciate my mom teaching me how to sew, and it's come in handy so many times over the years. As a matter of fact, I'm making some school bags for my daughter who has a pre-school. It's been fun to get back in the sewing groove again!

8. Find Freebies Online
There are many websites and forums that cater to preppers and offer freebies from time to time. Keep your eye out for these deals and take advantage of them when you can. You may be surprised at what you come across!
Some manufacturers want to find people who will test their products and then report back, while having the opportunity to keep the product.

9. Check the Craigslist Free Section
This is a great place to find all kinds of things for free, including food, gear, and even animals. People are always giving away things they no longer need or want, so it's definitely worth checking out on a regular basis. You can't beat free!

10. Scavenge
This may not be the most dignified way to get supplies, but if you're in a bind, it's definitely an option. You can usually find all kinds of things just by looking in dumpsters and on the side of the road. Just be sure to use caution and common sense when scavenging, and only take what you absolutely need.
I have seen neighborhoods where the city or county has a city-wide cleanup and people put stuff out on the curb once a year to have picked up to take to the dump or a thrift store. It really is true, someone's trash is another one's treasure.

11. Only Buy Supplies When They're On Sale
For certain emergency supplies, there's no way around spending a bit of money to get what you need. Start off by making a list of everything that you hope to eventually get your hands on, then only buy those items when they are on sale at a discounted price.
You can also shop at thrift shops like Goodwill, Deseret Industries, and The Salvation Army to find incredible deals on items you wouldn't expect to find. You may even strike gold on prepping supplies while you're out visiting garage sales in your area.  

12. Learn Priceless Survival Skills
Sure, survival items are very important to have, but if you don't know how to use them, they'll be completely useless to you following an emergency. That being said, survival skills are absolutely priceless yet don't have to cost you anything besides your time. But don't wait around until after a disaster has happened to figure out what those skills are. Here are a few for you to consider:  
Hunting and Fishing skills
Gardening (already briefly mentioned)
Herbalism and foraging skills (Mentioned earlier)
Learning new trades (welding, sewing, electrical, construction)
Zero Dollar Day
Have you heard about Zero Dollar Day? Well, it's my understanding from people who have tried it, you don't pay bills, buy a pack of gum, fill up your gas tank, or Venmo money to someone. Also, you can't buy a bottle of water to go out to lunch! You literally don't spend even one cent on anything in a 24-hour period.
A popular health trend right now is what's called "intermittent fasting." Maybe for a more healthy financial outlook, we all should try the same thing with our spending habits.
Make a Prep List
It doesn't cost anything to write down items you need, or wish for, in your preparedness journey. Do it today, what are you waiting for? Most of us can't afford to buy an entire pantry full of food, or completely fill a freezer, in one day or even a week. Make a list and check off what you need, one side of the paper can be inexpensive items, and the other side the more pricey items.
We all have to establish our own priorities. Set some goals and the timeline you hope to achieve them, then move forward with your plan.
Beans and Rice Day
I'm sure you have beans and rice stocked if you eat these items. One day, gather all the recipes you can find to make beans and rice recipes. Put them together in a binder or your favorite spot to save recipes that are not online. If we lose power, and we will at some time or another, please have hard copies.
Plan to make a bunch of meals using those beans and rice, then put some in the fridge and others in the freezer. You can then eat those meals over the next few days or weeks. By doing so you've cut down on trips to the store where you might be tempted to make some impulsive purchases. In the meantime, you'll be eating healthy meals.
Zero Dollar Based Budget
This plan will cost you nothing. Grab a sheet of paper and write down your NET income after taxes. Now, write down your expenses, starting with rent or a house payment. If your home is paid off, you will skip this line.
Add your car or truck payment, unless they are paid off. If they are, move to the next line. Now add the utilities rounded up to the nearest dollar.
Now list other expenses like haircuts, groceries, gifts, various insurance costs, gasoline for cars/trucks, and so on. It's quite an easy project to show your net income and then subtracting all of your expenses. It doesn't cost anything to look at where you're spending your money each month. Can we cut expenses somewhere? Do we need to get a second job?
The price of food has escalated significantly this past year. I'm so glad I know how to make bread and cook from scratch. I know I keep harping on teaching your kids and grandkids to come to do the same, but you will be so glad you did. I'm sure many of you have taught them some of your prepping skills already. If not, it's never too late!
One Entire Day
It's really quite fun and educational to take one entire day and write down everything you spent money on like gas, groceries, coffee or sodas, haircuts, etc. Life is so good! You'll be surprised where it all goes, and you'll hopefully learn some areas you can cut corners or eliminate unnecessary spending.
Stay Out Of The Grocery Store
One thing I have had to learn over the years is to stay out of grocery stores as much as possible. If you stock your pantry, you should be able to go a month without grocery shopping. Okay, I can hear some of you say, I need fresh milk, vegetables, and fruit. Oh, I love those, too. But, let's pretend the grocery stores are closed for a month. We better be prepared, enough said. Do you get what I am saying?
It can prove to be a great exercise to see how well prepared you really are. Yes, you may be eating canned foods, drinking from your water tank, or eating those breakfast cereals with your stored instant milk, but the lessons learned will be well worth it.
Skip Eating Out For One Month
This would not be hard for me, but I know families who eat out every single day. It's a way of life for them. I'm too cheap and I cook great meals. I would rather eat at home. It's just a personal preference, but just think of the money you will save.
Final Word
With a little creativity, you can easily stockpile emergency supplies without spending much, if any, money. These are just a few ideas to get you started. Remember, the most important thing is to be prepared for anything that comes your way. Can you think of any other ways to stock up on emergency supplies without spending money? I'd love to hear from you in the comments down below! May God Bless this world, Linda
Copyright Images: Burlap with Dollars AdobeStock_408262569 by 22091967