How To Be Prepared For An Economic Collapse
Do you know how to be prepared for an economic collapse? If there was ever a time in the history of the world we need to be ready it's today, not tomorrow. I'm not a doomsday prepper, but I will tell you one thing, we each have to put together a plan as part of our strategy to be properly prepared and do so as soon as possible.
My gut is telling me to shout from the rooftop to get ready for something this country hasn't seen in many years. If you are sitting on the fence about getting food storage, water, emergency cooking devices, fuel, paper products, emergency toilet supplies, an emergency washtub, and many more things, (I will make a shortlist today), JUST DO IT! Remember, I don't list weapons, this is a family-friendly blog and so is my book. Prepare Your Family for Survival
Another book I love is, Bugging In by Raymond Dean White
How To Be Prepared For An Economic Collapse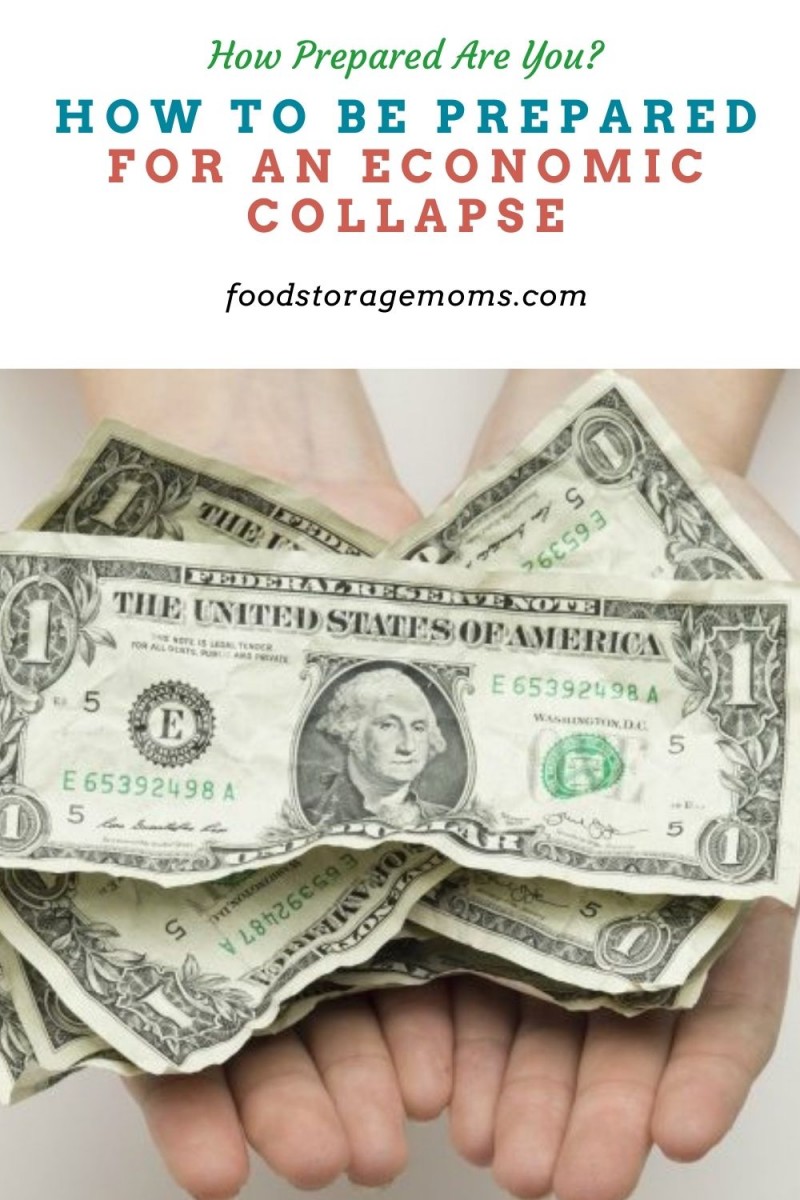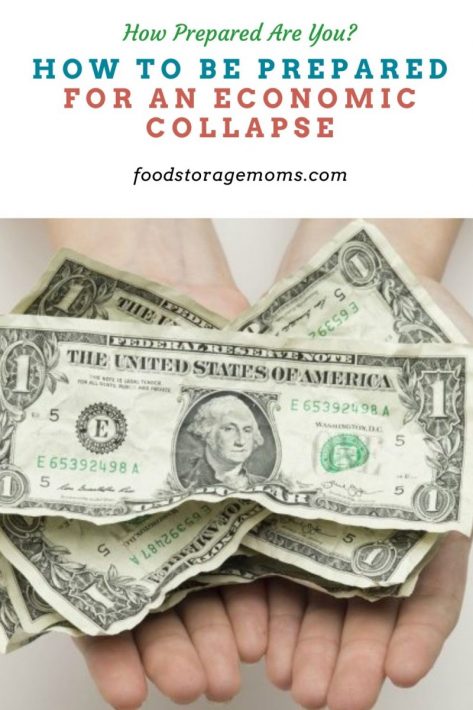 When it comes to being prepared for an economic collapse, most of us don't remember WHAT to do. Instead, when the time comes we are likely to panic if we aren't properly prepared. I want to avoid that and give you the tools now! These tools can help all of us survive an economic collapse.
Withdraw Liquid Money
Be ready to withdraw any liquid monies before an economic collapse happens because within a week or less (if we lose electricity you will not have access to any funds via ATMs, checks, or monthly income deposits, for who knows how long). This is scary because we do not want a run on the banks. This means everyone runs to the bank to withdraw their money and the bank can't stay open if this happens. Of course, if we have a cyber attack you won't even have time to withdraw any money. Period. I'm talking about an economic collapse here.
Get Out of Debt
The truth is that you need to get out of debt as soon as possible. You may be asking why, but the less debt you owe, the fewer issues you can have with creditors. Plus, it's a lot easier to prep when you don't owe money to anyone. This is particularly true if you have significant credit card debt. Granted it's unsecured, but if you get behind in payments those issuing the card can get pretty nasty.
The high-interest rates on cards make it almost impossible to pay them off in a reasonable timeframe, especially if you only make the minimum payments required. Let's work to get those paid off and have some extra funds for more important expenditures, like stocking up on food.
Prepare to Pay Home Property Taxes
Be prepared to pay home property taxes because the government can and will take your home if they are not paid (yep they will be the proud owners of thousands if not millions of homes if the property taxes are not paid). It makes you realize how much control our government has with the property taxes we owe on OUR homes.
In most cases, the property tax is collected by the lender as part of your monthly payment, just like your home insurance is. It adds some hassle to your monthly payment system, but you MAY want to consider making that payment directly each month or quarter if your lender and the taxing agency in your area will allow it. There's nothing like the good feeling of being in control of financial matters, particularly when it comes to government-related obligations.
Keep Cash in Small Bills
Keep some cash available in your home in small bills ready to use. If you don't have one already, I'd suggest getting a small safe to keep the cash and your significant documents in. We've had a safe in our home for years, and it sure makes me feel more comfortable and secure.
If the banks are closed for days, weeks, or months, the money you have in your home will be your saving grace. Your monthly deposits from payroll income or things like Social Security may not be available if the banks are struggling without power. They will be unable to take or disperse any funds. Those ATMs will not work without power.
Stock Up On the Right Foods
Stock up on food you will eat, lots of it. Here's a checklist that I designed that may help: What Do I Have: basics like honey, sugar, flour, baking powder, rice, beans, pasta, baking soda, and spices so you can make meals from scratch. I also offer this handy post: Where Do I Start
Grab Recipe Books
Go to thrift stores and get old cookbooks with recipes you would like to make with the stored items you have in your emergency prep inventory. The internet will not work if we lose power. Have several hard copy cookbooks available as references.
Learn to Bake
Learn to make bread, tortillas, biscuits, and crackers. If you know how to make these, then teach your neighbors, they will need to learn these old-school skills, I promise. If you do know how to bake and make meals from scratch with your stored items, then be consistent in using those skills so you can stay current, and also start showing everyone around you!
Store Water
Store more water than you have ever dreamed of storing. By the way, when you fill your containers use a lead-free hose made after 2007 like this one: NeverKink Lead-Free Camper Hose. Storing water is probably my most frequently covered subject. Over the years I've discussed what containers to use based on the size of your family and how much storage space you have. Also, how to preserve the water so you don't have to swap it out as often.
With all the dehydrated food you have, water is a necessity just to re-constitute/hydrate it. You also need water to keep yourself hydrated, follow personal hygiene goals, and to at least launder your underwear.
Get Soil Ready to Garden
Get some soil ready to garden, you will need to produce your own food, please do it NOW. You'll need to get some garden tools. Seeds are needed as well. Check your local garden nursery for plants/seeds that you can grow where you live.
For some years now, I've published a series based on the proper timing of planting gardens in various areas of the country. Check out my archive to see what's needed each month of the year for your particular location, it's very helpful information.
Store Fuel
Store fuel, such as propane, outside. Inside your garage or shed, you can store charcoal briquettes (without the starter fluid), lump charcoal, clean pine cones, and wood scraps. Please store them in air-tight containers so they will last longer. I use 5-gallon buckets with Gamma lids. Gamma Seal Lid Variety Pack – 6 Colors
and 5-gallon buckets 5 Gallon White Bucket & Gamma Seal Lid I also store butane fuel 12 Butane Fuel
Epic First Aid Kit
Put together a first aid kit like no other one you have put together before. If the stores are closed you need to have the items you use every day, or occasionally. Here's a list: First-Aid-Kit-Checklist-Printable Please add your favorite items to my list and get as many items as your budget allows. Check expiration dates. Think of economic collapse.
Don't Forget Prescriptions
Prescriptions availability is one of my biggest fears for those with life-threatening illnesses and diseases. Ask your doctor if you can purchase a 90 day supply, or even a one-year supply so you always have what you need on hand. In an economic collapse you may not be able to rely on your insurance company to communicate and authorize a refill, you may need to pay cash for some prescriptions.
Passport Update
Make sure your passport is current. If you need to flee the country, you will want to have your passport ready for travel. In an emergency, your passport isn't going to be updated by the government.
Learn Proper Skills
Do whatever you can to learn the skills you could trade for food or water, like sewing, cooking, gardening, etc. You should always be willing to learn new skills that could make a real difference to survival.
Stay Physically Active
Staying physically active is so important. Strengthen your body, get out and bike, walk or swim, just do it. We will need our bodies to be strong and healthy. This is never something you should slack on, as long as your body is able to function to some degree. Your family needs you to be physically fit for any obstacles that might come your way. Be sure to get a doctor's clearance before you start any new regimens
Paper Products
Stock up on paper products like plates, cups, and napkins because we will want to use our water for drinking and our fuel for heat or cooking and not for the dishes. Get plenty of plastic utensils too. Don't forget the key item we all use every day, toilet paper. Stock up on a little extra each time you visit the store. I'm not suggesting you hoard things, just plan ahead and have some extra, just in case.
Invest In the Right Tools
Invest in cooking devices to boil water and cook meals, like a Lodge Dutch oven Lodge Camp Dutch Oven, 6 Qt
that you can use outside with some charcoal. Get a Sun Oven if you have a lot of sunshine. All American Sun Oven Camp Chef has a great stove/oven combination Camp Chef Camping Outdoor Oven you can make pancakes on top and bread in the oven. I purchased one of these for each of my four daughters, Butane Stoves with Fuel
Stock Up On Hygiene Items
Stock up on shavers, soap, shampoo, dish soap, laundry detergent, bleach, etc. Don't forget to get a clothesline, clothespins, and a washtub/board, or make my emergency washing machine with 2 six-gallon buckets and this awesome tool: Washer Mobile Tool. Our fabulous electric washers and dryers may not work for days, weeks, or months without power. I better start lifting weights, just saying. I have now updated to this awesome Lavario Washer (it will do blue jeans and sheets)! In case you missed this post, How To Make Emergency Washing Machines
Be Prepared
Please be prepared for the unexpected. The question is not if, the question is when we have an economic collapse. Some financial gurus are warning us that some tough times are ahead. Our supply chain is messed up, our fossil fuel supplies are drying up before we have the renewable technologies in place to fully replace them, countries and their governments are at odds with each other rather than following a cooperative path, inflation has risin its ugly head, and sicknesses of different kinds are upsetting labor markets and free economies. Yes, we have challenges now, and looking into the forseeable future.
Final Word
The truth is that you can't overprepare for economic collapse. You have to do things now so that you're prepared later. Some of the items on this list may seem like a lot of work. However, it's the people who do the hard work that are prepared. The next time you're thinking about how to prepare for an economic collapse, you have these tips to lead you in the right direction. May God Bless this world, Linda.