How To Be Prepared For An Economic Collapse
Do you know how to be prepared for an economic collapse? If there was ever a time in the history of the world we need to be ready it's today, not tomorrow. I'm not a doomsday prepper, but I will tell you one thing, we have to put together a plan as part of our strategy to be properly prepared and do so as soon as possible.
My gut is telling me to shout from the rooftop to get ready for something this country hasn't seen in many years. If you are sitting on the fence about getting food storage, water, emergency cooking devices, fuel, paper products, emergency toilet supplies, an emergency washtub, and many more things, (I will make a shortlist today), JUST DO IT! Remember, I do not list weapons, this is a family-friendly blog and so is my book. Prepare Your Family for Survival: How to Be Ready for Any Emergency or Disaster Situation
And by the way, I will not skin a squirrel and eat it. Just giving you the heads-up here.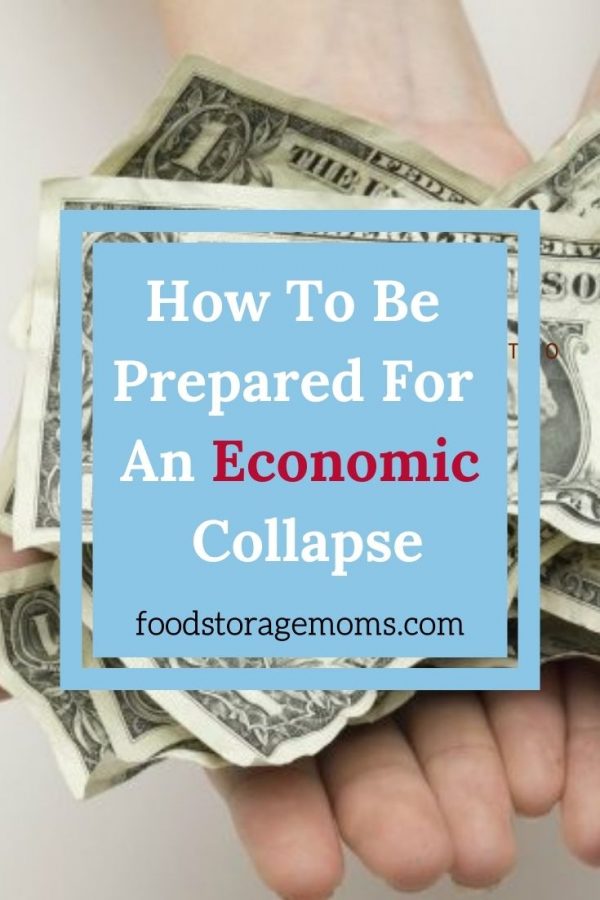 When it comes to being prepared for an economic collapse, most of us don't remember WHAT to do. Instead, when the time comes we are likely to panic if we aren't properly prepared. I want to avoid that and give you the tools now! These tools can help all of us survive an economic collapse.
Withdraw Liquid Money
Be ready to withdraw any liquid monies before an economic collapse happens because within a week or less (if we lose electricity you will not have access to any funds via ATMs, checks, or monthly income deposits, for who knows how long). This is scary because we do not want a run on the banks. This means everyone runs to the bank to withdraw their money and the bank can't stay open if this happens. Of course, if we have a cyber attack you won't even have time to withdraw any money. Period. I'm talking about an economic collapse here.
Get Out of Debt
The truth is that you need to get out of debt as soon as possible. You may be asking why, but the less debt you owe, the less issues you can have with creditors. Plus, it's a lot easier to prep when you don't own money to anyone.
Prepare to Pay Home Property Taxes
Be prepared to pay home property taxes because the government can and will take your home if they are not paid (yep they will be the proud owners of thousands if not millions of homes if the property taxes are not paid). It makes you realize how much control our government has with the property taxes we owe on OUR homes.
Keep Cash in Small Bills
Keep cash in small bills ready to use in your home in a safe secure place. If the banks are closed for days, weeks, or months, the money you have in your home will be your saving grace. Your monthly deposits from income will not be available if the banks have zero electricity. They will be unable to take or disperse any funds. Those ATMs will not work without power.
Stock Up On the Right Foods
Stock up on food you will eat, lots of it, here's a checklist that I designed that may help: What Do I Have: basics like honey, sugar, flour, baking powder, baking soda, and spices so you can make meals from scratch. I also have: Where Do I Start
Grab Recipe Books
Go to thrift stores and get old cookbooks with recipes you would like to make. The internet will not work if we lose power. Have several hard copy cookbooks available as references.
Learn to Bake
Learn to make bread or crackers. If you know how to make these teach your neighbors, they will need to learn this old-school skill, I promise. If you do know this skill, then start showing everyone around you!
Store Water
Store more water than you have ever dreamed of storing. By the way, when you fill your containers use a lead-free hose made after 2007 like this one: NeverKink 8612-50 5/8-Inch-by-50-Foot Boat and Camper Hose
Get Soil Ready to Garden
Get some soil ready to garden, you will need to produce your own food, please do it NOW. Please get some garden tools, you will need them. Seeds are needed as well. Check your local garden nursery for plants/seeds that you can grow where you live.
Store Fuel
Store fuel such as propane (outside), inside your garage, or shed you can store charcoal briquettes (without the starter fluid), lump charcoal, clean pine cones, and wood scraps. Please store them in air-tight containers so they will last longer. I use 5-gallon buckets with Gamma lids. Gamma Seal Lid Variety Pack – 6 Colors
and 5-gallon buckets 5 Gallon White Bucket & Gamma Seal Lid – Food Grade Plastic Pail & Gamma2 Screw Seal Tight Lid (Red)
I also store butane fuel 12 Butane Fuel GasOne Canisters for Portable Camping Stoves
Epic First Aid Kit
Put together a first aid kit like no other one you have put together before. If the stores are closed you need to have the items you use every day or occasionally. Here's a list: First-Aid-Kit-Checklist-Printable Please add your favorite items to my list and get as many as your budget allows. Check expiration dates. Think of economic collapse.
Don't Forget Prescriptions
Prescriptions, this is my biggest fear for those with life-threatening illnesses and diseases. Ask your doctor if you can purchase a 90 day supply, or even a one year supply. Yes, forget about insurance companies, you may need to pay cash for some prescriptions.
Passport Update
Make sure your passport is current. If you need to flee the country, you will want to have your passport ready to travel. In an emergency, your passport isn't going to be updated by the government.
Learn Proper Skills
Do whatever you can to learn the skills you could trade for food or water like sewing, cooking, gardening, etc. You should always be willing to learn proper skills.
Stay Physically Active
Stay physically active. Strengthen your body, get out and bike, walk or swim, just do it. We will need our bodies to be strong and healthy. This is never something you should slack on either. Your family needs you to be physically fit for any obstacles that might come your way.
Paper Products
Stock up on paper products like plates, cups, and napkins because we will want to use our water for drinking and our fuel for heat or cooking and not for the dishes. Get plenty of plastic utensils too.
Invest In the Right Tools
Invest in cooking devices to boil water and cook meals like a Lodge Dutch oven Lodge Camp Dutch Oven, 6 Qt
that you can use outside with some charcoal. Get a Sun Oven if you have a lot of sunshine. All American Sun Oven- The Ultimate Solar Appliance
Camp Chef has a great stove/oven combination Camp Chef Camping Outdoor Oven with 2 Burner Camping Stove
you can make pancakes on top and bread in the oven. I purchased one of these for all four of my daughters: Camp Chef Butane 1 Burner Stove with Camping Case
Stock Up On Hygiene Items
Stock up on shavers, soap, shampoo, dish soap, laundry detergent, bleach, etc. Don't forget to get a clothesline, clothespins, and a washtub/board or make my emergency washing machine with 2 six-gallon buckets and this awesome tool: Ball Clothes Washer Portable Washing Machine
Our fabulous electric washers and dryers may not work for days, weeks, or months without power. I better start lifting weights, just saying.
Be Prepared
Please be prepared for the unexpected. The question is not if, the question is when we have an economic collapse. God bless you and your family.
Final Word
The truth is that you cannot overprepare for economic collapse. You have to do things now so that you're prepared later. Some of the items on this list may seem like a lot of work. However, it's the people who do the hard work that are prepared. The next time you're thinking about how to prepare for an economic collapse, you have these tips to lead you in the right direction. May God Bless this world, Linda.