Spinach Recipes and How To Grow Spinach
Today it's all about spinach recipes your family will love. Have you tried growing spinach before? It's really easy to grow and you can harvest for weeks. I'll give you tips on growing spinach below. When I was growing up, my mom used to cook spinach. I must confess I didn't like it very much back then.
Yes, she tried to spruce it up with lemon, as I remember. Nope, I still didn't like it. Then, I was introduced to so many spinach recipes that are unbelievably delicious. It was a game changer, I started growing spinach every year.
Spinach Recipes
Strawberry Spinach Salad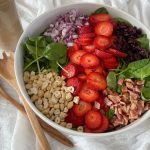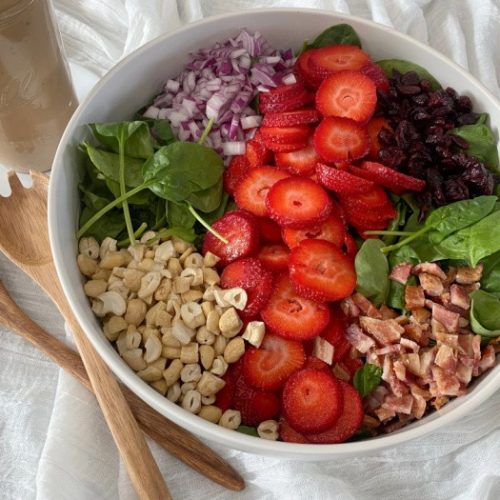 Strawberry Spinach Salad
Ingredients
One bag of baby spinach or salad greens (your choice, any size)

6

pieces

of thick bacon (cooked, drained and crumbled)

1/4

cup

chopped cashews or sliced almonds

1/4

cup

craisins

1/4

chopped red onion

8-10

ounces

of sliced fresh strawberries
DRESSING:
1

cup

mayonnaise

1/4

cup

milk

1/8

cup

of your favorite balsamic vinegars (strawberry is good for this salad)

1/8

cup

sugar

2

tablespoons

strawberry jam
Instructions
Strawberry Spinach Salad
Grab a large bowl and layer the spinach, bacon, cashews, Craisins, chopped red onions, and freshly sliced strawberries.
Strawberry Spinach Salad Dressing
Use a blender to mix the ingredients for the dressing. Chill the dressing and pour it over the salad just before serving.
Spinach Quiche
These are really easy to make and take to brunch or neighborhood get-togethers. You can eat them cold or hot.
Spinach Quiche by Food Storage Moms
Ingredients
2

Cans Crescent Rolls (8 oz. each-8 rolls each)

1- 8

-ounce

Cream cheese-softened

3

Eggs

1- 9

ounce

Frozen spinach (uncooked and drained)

¼

Cup

chopped onion

1-1/2

Cup

shredded Mozzarella

Salt and Pepper to taste
Instructions
Spray the muffin tins with your favorite vegetable spray and then place a crescent triangle in the muffin cup starting at the bottom and making part of it go up the sides as much as you can to make a cup to fill with egg mixture. In a bowl beat the eggs, add the cream cheese, onions, spinach, and cheese. Salt and pepper to taste. Fill the muffin cups, be careful not to overfill them.

Bake at 350 degrees for 17-22 minutes. Please do the toothpick or knife test to make sure they are done. This makes 16 muffin cups. Remove from muffin tin and serve. They are good cold the next day as well! Plus another bonus these quiches freeze very well!
Spinach And Artichoke Dip
This is a really easy dip to make to take to parties or for Sunday Brunch!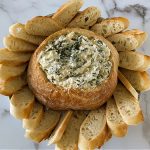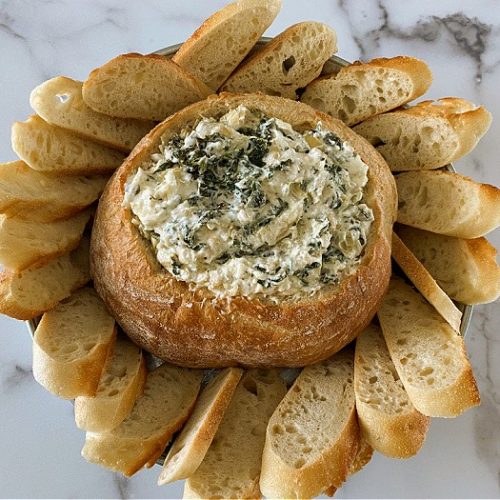 Spinach And Artichoke Dip
Ingredients
1

9-ounce

frozen spinach (thaw and drain the liquid)

1

8-ounce

package cream cheese (cubed and softened)

1

cup

mayonnaise

1

cup

sour cream

1

tablespoon

lemon juice

2

teaspoons

dry parsley

1

15-ounce

jar marinated artichoke hearts (chopped fine and drained)

salt & pepper to taste

1

cup

Parmesan cheese
Instructions
Slow Cooker: Combine all of the ingredients in the slow cooker and cook on low for 2-4 hours, or until heated through. Serve with baguette sliced bread.

Oven Baking: Preheat your oven to (350°F)=(176°C). Grease a 9 by 13 baking pan. Combine all of the ingredients in a bowl and mix thoroughly. Scoop the mixture into a greased pan. Bake for about 20 minutes or until heated through.
Spinach Bowtie Pasta Salad
This recipe makes a huge bowl of salad. It's great for family reunions and neighborhood get-togethers. It's nice because you can stretch the salad with more chicken, pasta, or spinach. Life is good when we can make more salad if extra people show up, right?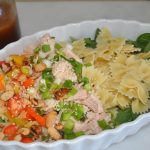 Spinach Bowtie Pasta Salad by FSM
Ingredients
4 to 6

chicken breasts cooked in the oven drizzled with olive oil. You can also use cans of chicken

drained

2

packages

16 oz. pasta of choice. I prefer bowtie pasta. Cook as directed on package, rinse with cold water

Green onions-one bunch

sliced

1-16-

ounce

package of spinach

washed, stem and tear if desired

Bell peppers chopped

red, green and yellow

1/4

cup

sesame seeds

1/4

cup

to 1/2 cup almonds

fry the almonds-stir constantly with 2-3 tablespoons sugar

DRESSING-Mix in a blender

3

tablespoons

sugar

1/3

cup

red wine vinegar

1/2

cup

canola oil

1/4

teaspoon

of salt and pepper

1/3

cup

soy sauce
Instructions
Place all the ingredients (except the dressing) in a very large bowl and cover with homemade dressing. Serve immediately.
My Favorite Spinach Dip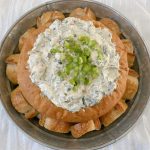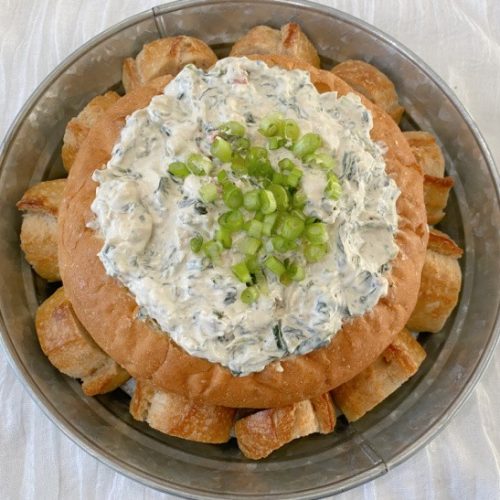 Easy-To-Make Spinach Dip
Ingredients
16

-ounces

sour cream

1

cup

mayonnaise

1-

8-ounce

cream cheese softened

1-8

ounce

chestnuts, drained and chopped

1

bunch green onions, chopped fine

1.4

-ounce

package Knorr Vegetable Recipe Mix

1-10

ounce

package frozen spinach, thawed and drained

Bread chunks, or vegetables for dipping
Instructions
Drain the spinach, and then press down on the spinach to remove any excess moisture.

Then add the mayonnaise, sour cream, green onions, and the dry soup mixture to the bowl of cream cheese, and mix well.

Add the chopped chestnuts, and mix until smooth.

I used an eight-inch round loaf of French bread (for the "bowl") today because it was cheaper than the sourdough round loaf. It works okay, although I like the sturdier sourdough loaves. You basically cut out the top on an angle, remove some of the bread inside the round loaf, and set it aside.

Fill the "bread bowl" with the spinach dip

This recipe is similar to the Knorr package.
Growing Spinach
Spinach can be grown year-round in several zones. Please check your zip code zone for your area to see if your neighborhood works. Check For Your Zone
Spinach loves well-drained soil with a pH of 6.5-7.0. Plant the seeds about 4-6 weeks before the last frost in the spring and again 6-8 weeks before the first frost in the fall. Start with organic compost in the soil and with some well-rotted manure. Sow the seeds about 1/2 to 1 inch deep and cover them with soil. Plant the seeds about 12 inches apart to give them room to grow and leaf out. The seeds will germinate quickly and grow fairly fast.
If you stagger the seeds you'll have a crop that keeps on going all summer into the fall. When the spinach is ready to harvest cut the spinach leaves 2 inches above ground level. Spinach loves cool weather. Once the weather turns warm the spinach may "bolt," meaning one of the branches "bolts" above the rest of the plant. Once they start to bolt harvest the entire plant. This is where I buy my seeds: SeedsNow
If you don't have a garden spot available, think about growing spinach in pots, it's really easy to grow just about anywhere.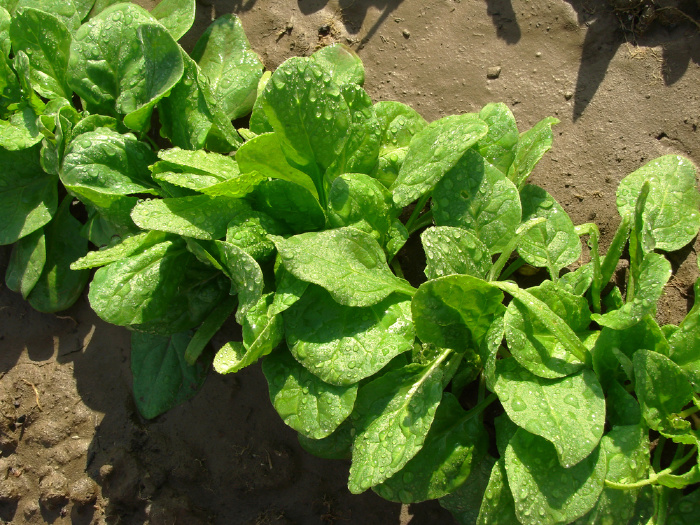 Final Word
I hope today's post about spinach recipes gets you excited to plant a few spinach seeds and make a salad with your own harvest. Here's to growing your own food and loving it. Thanks for being prepared for the unexpected. May God bless this world.