The Best Hot Chicken Salad
This is the best hot chicken salad recipe ever! It has shredded chicken, chopped celery, chopped onions, almonds, a creamy sauce, and crushed potato chips on top! What I love about this recipe is that you can use your food storage. Please remember you do not need to buy a special cookbook for the food storage you have stored.
Here's the deal, if you buy #10 cans you just substitute the ingredients in your recipes with freeze-dried vegetables. If you have dehydrated vegetables you can easily throw those in a soup or stew because they do need to be cooked. It's all about cooking from scratch, this means using the ingredients you have in your pantry or freezer. The same goes for canned chicken, ground beef, pork, turkey, etc. Life is so good when we only have to go to the pantry to fix a meal, right?
The reason I wanted to share this hot chicken salad is that I just went to a bridal shower and the hostess served this recipe. I confess I had two or three small helpings! It's literally to die for, I promise. What's crazy, I remember making this salad years ago. Do you have recipes in the back of your cookbooks and you suddenly start digging for them? Well, here is mine I dug out of the cobwebs, so to speak.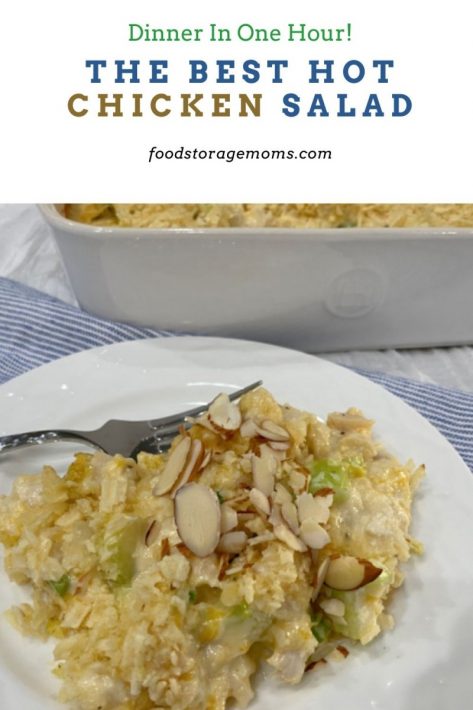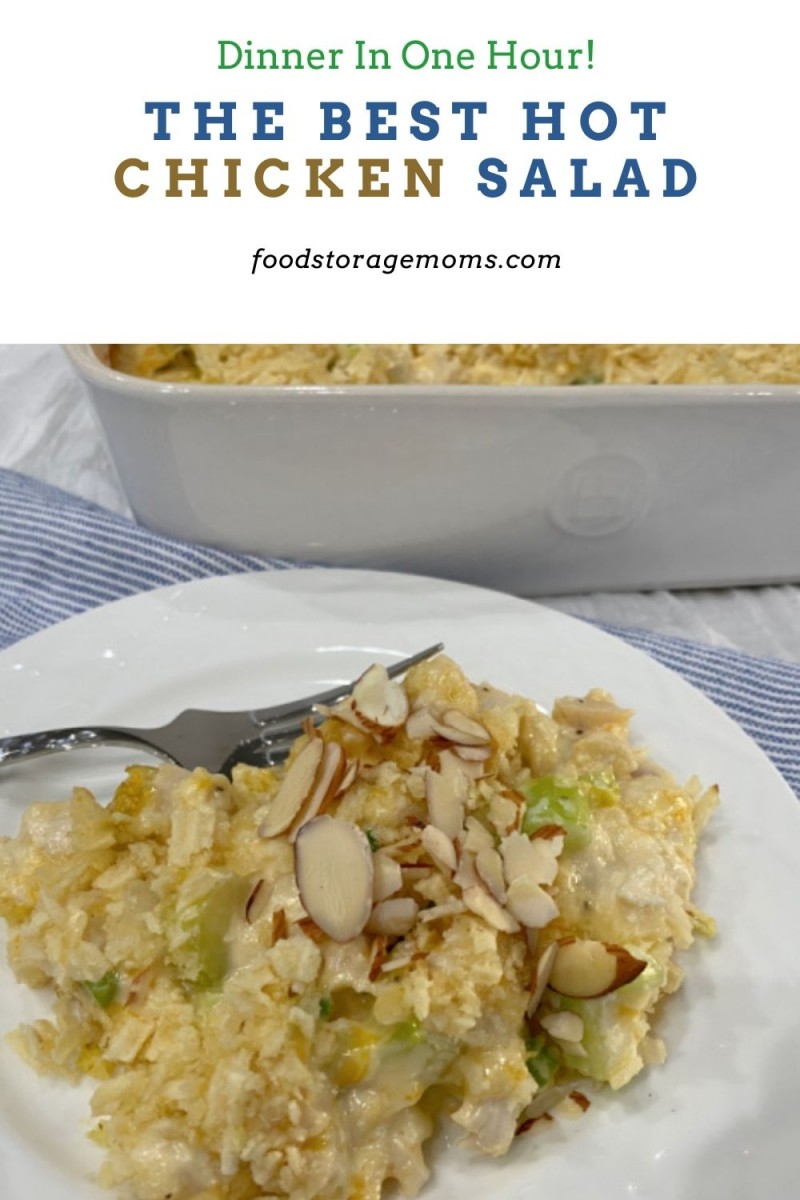 Cooking The Chicken
Today, I cooked the chicken in my pressure cooker for about 20 minutes since it was still slightly frozen. I just added one cup of water and set it on high. I grew up with my mom using a stovetop pressure cooker, so when the electric ones started showing up I was so excited to get one.
You may remember me telling you I took about six or seven classes from Chef Brad using a Fagor pressure cooker. I did purchase an Instant Pot but ended up giving it away. They are both good pressure cookers, I just prefer the Fagor. UPDATE: Fagor is now Savor, it's awesome! Savor Pressure Cooker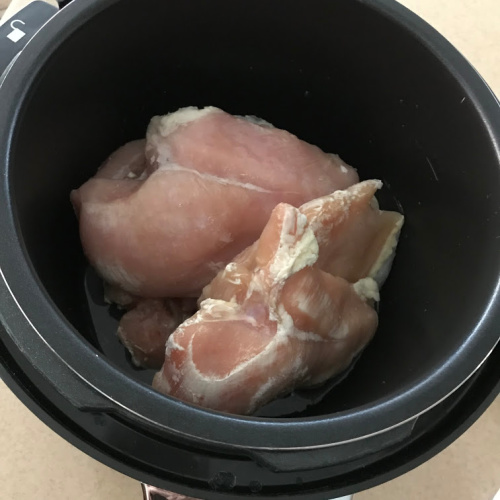 This is how the chicken breasts looked after pressure cooking them.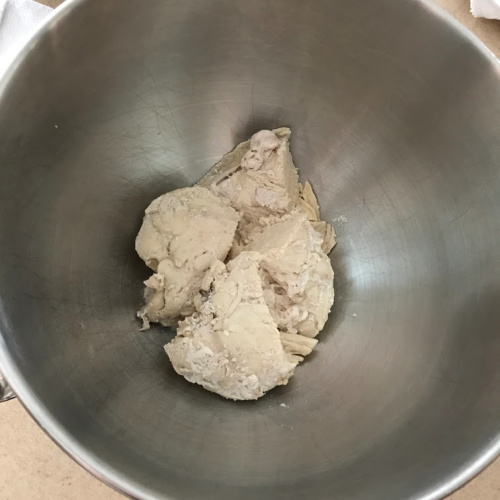 Shredding The Chicken
I started shredding two of the cooked chicken breasts in my KitchenAid 6-quart stand mixer. It's a powerful machine, but I didn't want to burn up the motor by shredding anymore.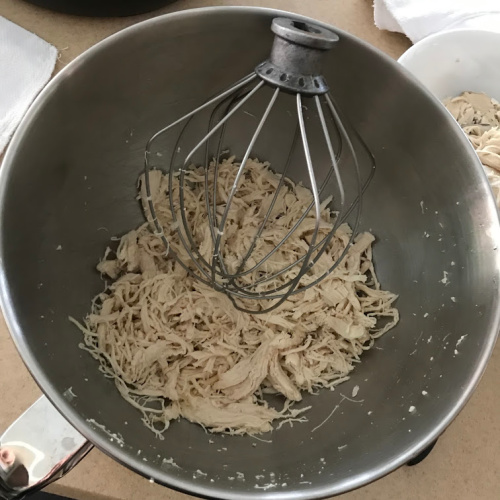 The great thing about this hot chicken salad is the fact that you can mix up the ingredients in the KitchenAid bowl by hand after you shred the chicken. You add the crushed potato chips to the top of the casserole right before putting it in the oven.
Hot Chicken Salad Recipe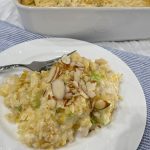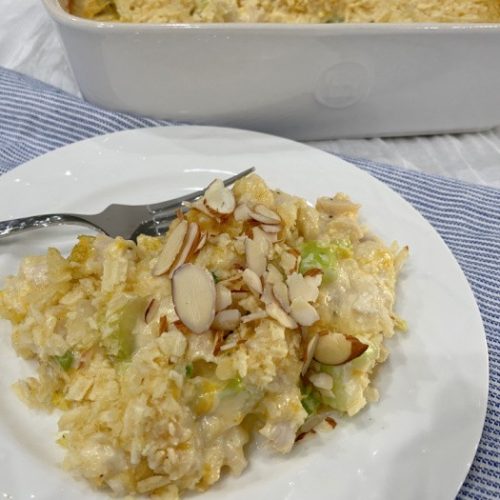 Hot Chicken Salad Recipe
Ingredients
4

cups

cooked shredded chicken

1/4

cup

finely chopped onion

3/4

cup

chopped celery

1

cup

mayonnaise

1

10.5-ounce cream of chicken soup

1

tablespoon

lemon juice

1/2

teaspoon

black pepper

1/2

cup

slivered almonds (I used sliced almonds)

1

cup

shredded cheddar cheese

1-1/2

cups

coarsely crushed potato chips (I like the look of ruffled chips)
Instructions
Preheat oven to 350 degrees. Grease an 11 by 8-inch casserole pan. Combine the ingredients, except for the crushed potato chips in a large mixing bowl. Mix well. Scoop the mixture into the greased pan and spread evenly. Sprinkle the potato chips over the mixture. Bake for 25-30 minutes until heated through. Serve it warm and enjoy.
Linda's Dinner Rolls
You may want to make some homemade dinner rolls to go with this yummy hot chicken salad!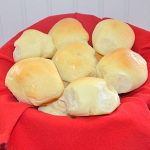 Dinner Rolls-No-Fail
Ingredients
4

Teaspoons

SAF Instant Yeast

1/2 

cup

Water

2

Cups

Warm Milk

1/4 

Cup

Olive Oil

1

Cup

Sugar

1-1/2

Teaspoons

Sea Salt

4

Teaspoons

Dough Enhancer

2

Eggs

6-7

Cups

White bread flour

Add 1/2 of the flour and then add more until the dough pulls away from the sides of the mixing bowl
Instructions
Place all of the ingredients in order into your mixing bowl. Be careful with the eggs not to add the warm milk too slowly or you will have scrambled eggs.

Add half of the flour and keep adding the rest of the flour until the bread dough pulls away from the sides of the mixing bowl.

Cover with greased plastic wrap and let rise the first time for about an hour.

Punch the dough down and mold it into small balls about 1-1/2 inches to 2 inches in diameter.

Cover with greased plastic wrap and let rise one more time about an hour or until double the size.

Remove the plastic wrap and bake at (350°F)= (176°C) degrees for about 15-20 minutes on a greased cookie sheet. Do not overbake.

They should be golden brown. I spread a little butter on the tops after baking so the rolls are soft on top. If you like a crispier top you can skip this step.
Final Word
I hope you try making this hot chicken salad for your family. It's so funny how old recipes pop up at bridal showers, neighborhood parties, or church get-togethers! I will be freezing this casserole in a few smaller containers for later. Don't you love having a few meals in the freezer that you can reheat at a later date? Life is good when we don't have to go to the grocery store, right? Thanks again for being prepared for the unexpected. May God bless this world, Linda