Thanksgiving Trimmings: Side Dishes
I can hardly wait for the all the Thanksgiving trimmings this year. I love the recipes in my family that have been handed down for generations. Here's the deal, I now live away from all my kids and grandkids, but as my girls moved out of the nest we learned to compromise on holidays. You know, it's our family or the in-laws turn this year. Then we had a few divorces and that broadened the spectrum, but it also brought us more grandchildren. So, life is good for our family.
I realize some people don't celebrate some holidays, but my family does and we love getting together whenever it's feasible for all involved. I'm hoping some of my recipes will make it to your table someday. Our family is notorious for appetizers, and sometimes I wonder why we even buy a ham or a turkey. But, my husband always wants to see the "wishbone."
Plus the Thanksgiving trimmings must include a turkey, or a ham, right?
Mark likes the dark meat from the turkey, like the drumsticks and the heart you find stuffed inside the turkey. We toss the giblets and add some celery, chopped onions and a cube of butter to the inside of the washed out turkey. It's a tradition, we don't eat that stuff, but my mom did that, so I do the same thing to the fresh turkey.
I should say defrosted turkey. I would love to hear what your family serves on Thanksgiving. There is something really special about looking at the decorated tables and the loved one sitting around the table and eating together. Family brings us joy, what else can I say.
My entire family makes different dishes the day before so we can all enjoy the day together.
Thanksgiving Trimmings
Turkey or Ham
My daughter, Heidi started using an electric roaster to cook the turkey a few years ago and it makes the turkey really moist and tender. I never put stuffing inside my turkey when it's baking. I heard it was unsafe to eat, and so that's how I roll.
We pick up a ham at Costco that is sliced in a spiral shape and make sandwiches later with turkey or ham. I love to make ham salad with the leftover ham as well. You grind it, add mayo or Miracle Whip, and pickle relish! Love it!
Turkey Stuffing
I cook my turkey stuffing in a slow cooker because we have so many appetizers, rolls, and casseroles baking. This is Mark's mother's dressing recipe and we still make it to this day. I cut the original recipe in half because we could never eat the original recipe amount.
Thanksgiving Turkey Dressing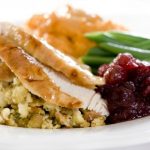 Thanksgiving Turkey Dressing
Ingredients
1

cup

butter

3/4

cups

chopped onions

1-1/2

cups

chopped celery (leaves and all)

1

teaspoon

salt

1/2

teaspoon

pepper

1-1/2

teaspoons

GROUND sage (not rubbed)

12

cups

of dried bread cubes

3

cans of 14-ounces each chicken broth (add water if needed for a moister dressing)
Instructions
Melt the butter in a frying pan, add the celery, onions, and spices and cook until tender.  Grab a large stainless steel bowl and combine all of the ingredients, add water if you like your stuffing a little moister. Bake at 350 degrees in a greased covered casserole dish until heated thoroughly. I put mine in a large greased slow cooker and put it on low to heat it through.
Mashed Potatoes
Here's the deal, I have to have real mashed potatoes, sometimes I peel them and sometimes I don't. This year I will probably peel them, cut them into chunks and use my pressure cooker to cook them. I add butter, sour cream, and a little milk. I use my hand masher because I love a few chunks. Oh, I can hardly wait for T day. Sometimes I do use my hand mixer, either way, they are yummy. Cooking Potatoes In A Pressure Cooker by Linda
Green Beans or Green Bean Casserole
This recipe is right off the French's Crispy Fried Onions. You know you grab 2-3 cans of green beans, drained. Add some milk to some cream of mushroom soup, stir in the beans and sprinkle on the crispy onions after putting the green beans in a greased casserole. Bake at 350 degrees for about 30 minutes, or until the onions look a little crispy. Yummy!
Lisa's Apple Yams
I grew up on sweet potatoes with butter, brown sugar and marshmallows on top. I have never fixed these because Mark calls them Ipecac. I know my daughters love plain sweet potatoes, but we have never made them for Thanksgiving. Update, my friend, Lisa B. shared this yummy recipe with me.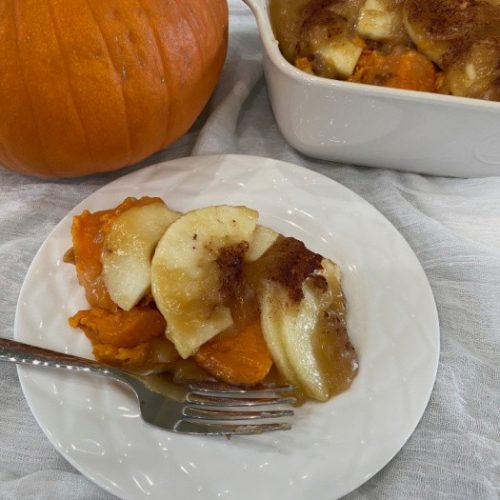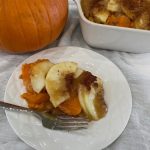 Lisa's Apple Yams aka Sweet Potato Casserole
Ingredients
4

large sweet potatoes or yams (peeled and cooked until tender. Slice the sweet potatoes/yams the thickness you desire)

3-4

cooking apples (cored, peeled, and sliced)
Sweet Potato Casserole Sauce Ingredients
2

cups

water

1

cup

brown sugar

1/2

teaspoon

salt

4

tablespoons

cornstarch

1/2

cup

of unsalted butter

1/2

teaspoon

lemon juice

Nutmeg and Cinnamon to taste
Instructions
Sweet Potato Casserole
Gather all of your ingredients.

Wash the sweet potatoes and cut the ends off.

Place foil on a cookie sheet and spray with cooking spray. Place the sweet potatoes/yams on the foiled and greased cookie sheet. The cooking time will depend on what size of sweet potatoes/yams you purchase. I used rather large sweet potatoes, it took 1-1/2 hours to bake them.

Remove the baked sweet potatoes/yams from the oven and allow to cool.

After the sweet potatoes/yams have had a chance to cool, it is time to peel and slice them to your desired thickness.

Next, throughly wash the apples. Using an apple peeler or other tool – peel, slice, and core the apples. Slice down the center of the peeled and cored apple to create apple slices that will be ready to be place in the casserole dish.

Grease a 9×13 inch pan and layer the sweet potato/yams and apples.

**It is time to make the sweet potato sauce! See below for instructions.**

Once the sauce has been poured over the sweet potatoes/yams and apples, it is time to bake.

Cover the sweet potato/yam mixture with foil and bake in the oven at (350°F) = (176°C) for 30 minutes. No marshmallows on this one. This recipe is fabulous! Enjoy!
Sweet Potato Casserole Sauce
It is time to prepare the sauce that will be pored over the layered sweet potatoes/yams and apples in the greased 9×13 in pan.

In a medium to large pot, combine the water, brown sugar, salt, and cornstarch, stirring constantly.

Add one cube (1/2 cup) of butter. Continue stirring constantly. Cook until it starts to thicken. Add 1/2 teaspoon of lemon juice.

Stir the brown sugar mixture constantly to keep from burning. Stir until the mixture is throughly mixed.

Pour the sweet potato sauce over the sweet potatoes/yams and apples. Try to make sure each piece is covered with the sauce.

Sprinkle with cinnamon and nutmeg (I forgot to add these earlier).
Frozen Peas
We buy one bag of frozen petite peas and microwave it. I think I'm the only one at the table that eats them. It's a tradition.
Gravy-Lots of It
I bring the drippings from the turkey pan to a boil and add flour that I have mixed together with water and I slowly pour the mixture into the hot drippings. I lower the heat and use a hand mixer to keep the lumps away. I add some pepper, a little sugar and it's good to go.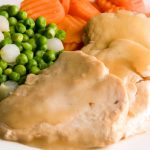 Linda's Homemade Gravy
Ingredients
1

cup

Turkey, Chicken, or Beef Drippings

1-2

cups

of Flour

1

quart

Water or Milk (I use water more than milk)

Salt & pepper

Sugar
Instructions
1. I use the pan that the turkey, chicken, or beef was baked in with the "drippings" and bring the liquid to a boil. If you have very little juice or drippings, add some water. Now, I can't give you exact measurements because this depends on the size of a turkey, chicken, or roast you purchased and how many drippings are available. Over time, with experience, you'll learn.

2. I take about 1-2 cups of flour and put it in a quart jar with cold water and shake it like crazy.

3. I slowly add this mixture to the hot boiling turkey, chicken, or beef drippings. Use a whisk and stir constantly.

4. I have a quart pitcher with cold water to add to this pan as the gravy thickens. I add water until it's the consistency I prefer. Not too runny, but not too thick.

5. I add salt, pepper, and sugar to taste. Yep, it's the sugar that brings out the best flavor. Of course, it's optional.

6. If you have some lumps, no worries, bring out the hand mixer. The flavor is fabulous and so easy to make.
Homemade Dinner Rolls
My no-fail recipe is at the bottom of the post. Please use fresh yeast, fresh bread flour, other fresh ingredients and they will always turn out awesome, I promise.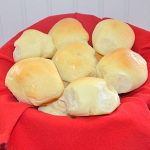 Linda's No-Fail Dinner Rolls
Ingredients
4

Teaspoons

SAF Instant Yeast

1/2

cup

Water

2

Cups

Warm Milk

1/4

Cup

Olive Oil

1

Cup

Sugar

1-1/2

Teaspoons

Sea Salt

4

Teaspoons

Dough Enhancer

2

Eggs

6-7

Cups

White bread flour (Add 1/2 of the flour and then add more until the dough pulls away from the sides of the mixing bowl)
Instructions
Place all of the ingredients in order into your mixing bowl. Be careful with the eggs not to add the warm milk too slowly or you will have scrambled eggs. Add half of the flour and keep adding the rest of the flour until the bread dough pulls away from the sides of the mixing bowl. Cover with greased plastic and let rise the first time about an hour. Punch the dough down and mold into small balls about 1-1/2 inches to 2 inches in diameter. Cover with greased plastic and let rise one more time about an hour or until double the size. Remove the plastic wrap and bake at 350 degrees for about 15-20 minutes on a greased cookie sheet. Do not overbake. They should be golden brown. I spread a little butter on the tops after baking so the rolls are soft on top. If you like a crispier top you can skip this step.
Cranberry Sauce
I buy the fresh cranberries and follow the recipe on the bag from the produce department, or I just buy ready-made cranberry sauce. I make it the day before so I can pull it out of the refrigerator right before we sit down and enjoy our meal.
Pies
I buy the following pies: pumpkin, pecan. I wish I could say I make pies from scratch, nope. I own it. I love those huge pies at Costco, they rock! They are cheap and yummy!
Appetizers
My favorite post that includes my Appetizers by Food Storage Moms
Miscellaneous
Olives
Whipping Cream
Butter
Jam
Honey
Final Word
I hope my Thanksgiving trimmings post today gives you some new recipe ideas. Please tell us what you fix on Thanksgiving, I love to hear from you. I realize we have a lot of turmoil in this crazy world right now, but we must continue to prepare for the unexpected and be thankful for what we have. May God bless you all.
My favorite things: