Homemade Worcestershire Sauce
Today, I'm sharing my recipe for homemade Worcestershire Sauce. It's one of those condiments that adds some extra flavor to so many recipes. I love making my own sauces and seasonings, and this recipe can be made with ingredients you should have in your home already.
Have you been in the middle of a recipe and realized you are out of a certain spice or condiment? That's one reason I've suggested to my readers to be sure to take inventory from time to time so they aren't caught by surprise. It's also why we need to know how to make our own condiments whenever possible.
The ingredients we see on commercial bottles of so many products have questionable chemicals that are hard to pronounce, let alone understand what effect they may have on our bodies. With that in mind, why not make our own so we know exactly what's in them?
I love making homemade salad dressing because, as we all know, fresh is best. Lately, I've been making so many recipes with Worcestershire sauce, I thought to myself, "Why can't I make it from scratch?" So here I am, sharing my recipe.
I saw recipes with fish sauce, honey, chili powder, etc. None of them looked good to me and my flavor preferences, so of course, I had to experiment with my own flavorings and seasonings.
Nothing is more frustrating than going to the refrigerator knowing you need 3 tablespoons of something, and only 1 tablespoon is left in the bottle! Let's learn together how to make Worcestershire sauce so those situations are the exception.
As I did my research to prepare for this post I discovered some interesting things about this popular sauce, like the following from Wikipedia:
I quote Wikipedia, " Worcestershire sauce (/ˈwʊstərʃər/ WUUS-tər-shər) is a fermented liquid condiment created in the city of Worcester in Worcestershire, England, during the first half of the 19th century. The creators were the pharmacists (chemists in British English) John Wheeley Lea and William Henry Perrins, who went on to form the company, Lea & Perrins. Worcestershire sauce has been considered a generic term since 1876 when the English High Court of Justice ruled that Lea & Perrins did not own a trademark for the name Worcestershire."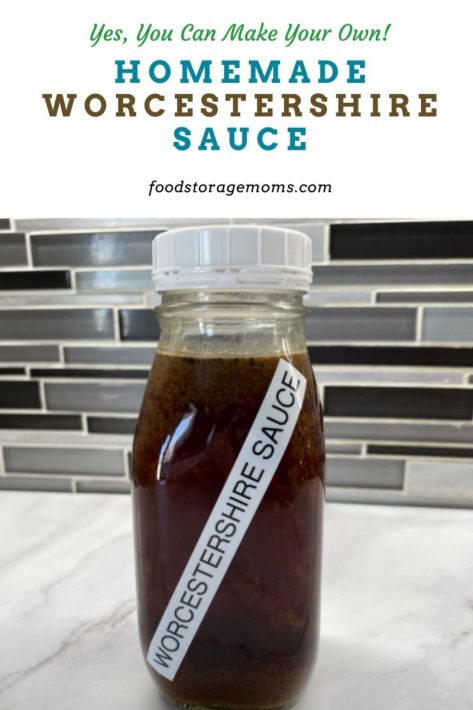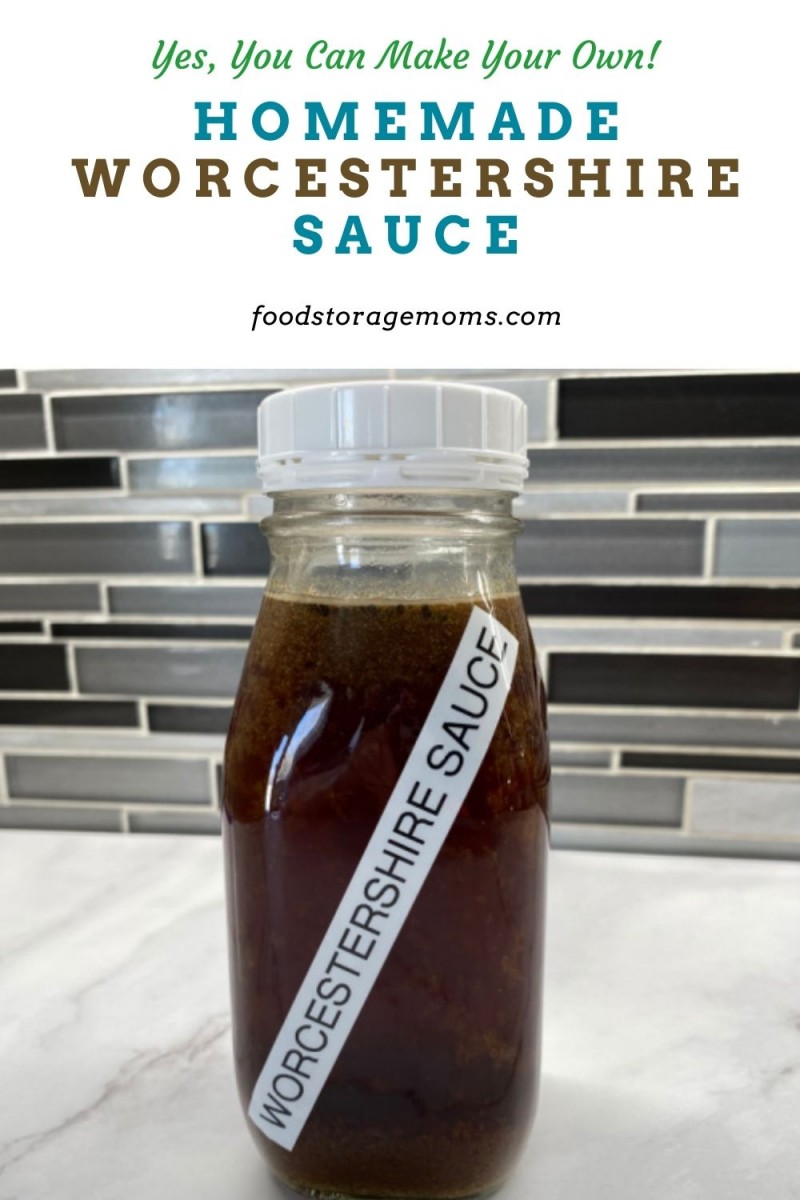 Ingredients You Need To Make Your Own Worcestershire Sauce:
Apple Cider Vinegar: (this gives it the old-fashioned fermented flavor)
Brown Sugar: (one of my favorite ways to sweeten a recipe)
Dry Mustard: (this gives the recipe a little kick, not too hot, but just right)
Soy Sauce: (this adds an even richer fermented flavor)
Items You Need In The Kitchen:
Homemade Worcestershire Sauce
Step One: Gather Ingredients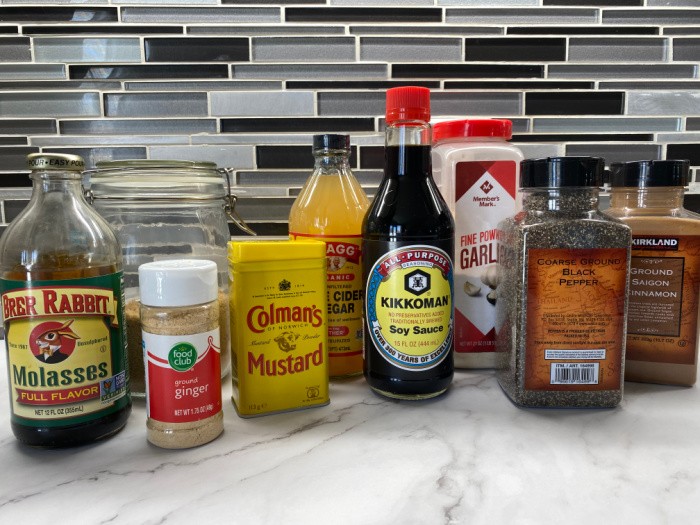 I like to gather all of the ingredients so I'm ready to make the recipe. It also eliminates the chance of running out of an item while following the recipe.
Step Two: Mix Ingredients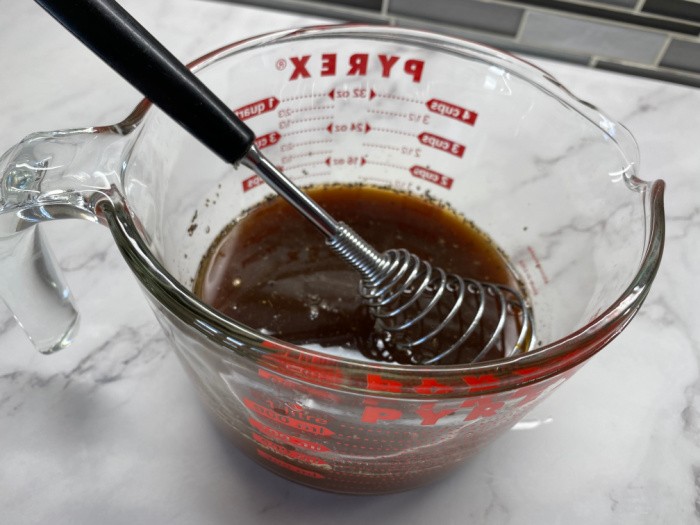 Mix together the brown sugar, dry mustard, garlic powder, onion powder, cinnamon, ground ginger, and black pepper. Add the apple cider vinegar, water, soy sauce, and molasses. Whisk until smooth.
Step Three: Pour Into Bottles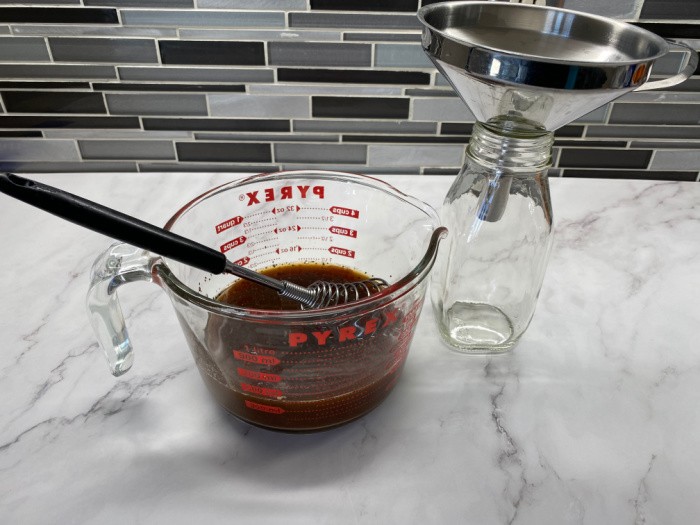 Use a funnel to fill your jar. I purchased these bottles, 12-ounce Glass Milk Bottles
Finished Product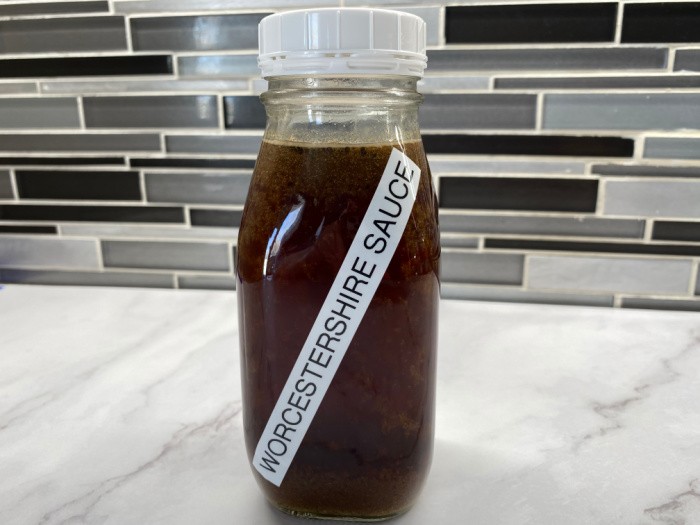 Shake the jar before each use. Store in the refrigerator for up to two months.
Homemade Worcestershire Sauce Recipe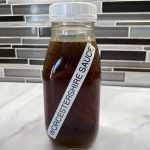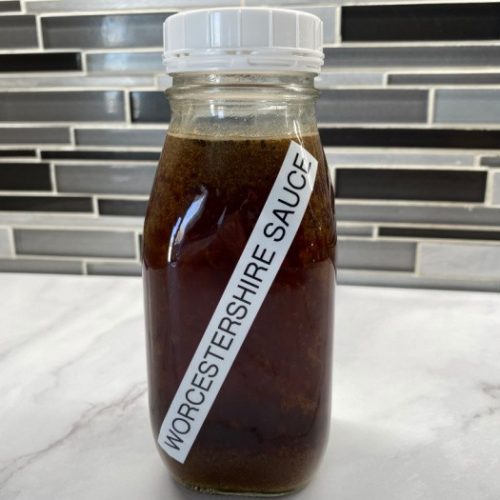 Homemade Worcestershire Sauce
Ingredients
1

cup

apple cider vinegar

1/4

cup

water

1/4

cup

soy sauce

1

teaspoon

molasses

2

tablespoons

brown sugar

2

teaspoons

dry mustard

1/2

teaspoon

garlic powder

1/2

teaspoon

onion powder

1/2

teaspoon

cinnamon

1/4

teaspoon

ground ginger

1/8

teaspoon

black pepper
Instructions
Mix together the brown sugar, dry mustard, garlic powder, onion powder, cinnamon, ground ginger, and black pepper.

Add the apple cider vinegar, water, soy sauce, and molasses.

Use a funnel to fill your jar.

Shake the jar before each use.

Store in the refrigerator for up to two months.
Some Recipes To Use Your DIY Homemade Worcestershire Sauce:
How do you pronounce Worcestershire?
This may help, Wuss-Terr-Sherr sauce. You drop the shire.
How do I store my homemade Worcestershire sauce?
After making the recipe, store it in an airtight bottle for up to two months. Shake before each use.
Does Worcestershire sauce go bad?
The old "smell test" is one way to check on the sauce. If it has an unpleasant odor, it has probably spoiled and shouldn't be eaten. I don't expect it to get to this point, but if it has mold in the bottle, particularly near the top where it can be seen, it should be thrown out. When it comes to the quality of food, I've always taken the approach "if in doubt, throw it out."
Can I make this recipe Gluten-Free?
Yes, you can, if you use a gluten-free soy sauce. Always check the ingredients before purchasing. I found this one, Gluten-Free Soy Sauce
What is the flavor of Worcestershire sauce?
Some brands have anchovies (I opted not to use them), but the flavor is a bit strong for me. It's a dark condiment that's sour from the vinegar, but sweet from the molasses and brown sugar. The spices give it that extra flavoring I like.
What can I use instead of Worcestershire sauce?
Here's a hack for you, you can substitute it with the following by mixing them in a bowl. Sometimes we're in a hurry and need it right now, right?
1 T. Ketchup
1 T. White vinegar
1/2 T. Soy Sauce
Some other sauces to consider trying are A1 Steak Sauce, Anchovy paste and water, fish sauce, liquid smoke, Miso paste and water, oyster sauce, pickle juice, red wine, sherry vinegar, and soy sauce.
For those of you who need glutin-free foods, be sure to consider the ingredients of these alternatives.
How can I use this recipe?
Add it to soups, stews, appetizers, chowders, meats, marinades, and pot pies. The list is endless, it gives a recipe that flavor none of us can explain, but we can taste it. And it's fabulous. Consider using the sauce to marinate your meats rather than just spreading on the meat, or dipping each bite. The marinade makes every bite special!
Are there any health benefits to eating Worcestershire sauce?
Although not particularly high in any ingredients needed for quality daily nutritional needs, this sauce does have iron for blood cell production and also has vitamin C and zinc. It also contains some carotenoids for stronger eyes. It is very low in calories, for those concerned about weight gain, and with a fat-free approach to flavor enhancement, it is considered a more heart-healthy sauce than others you may try.
Speaking of health issues, is this sauce Keto friendly?
The sauce contains a very low level of carbs, so Keto lovers should be happy with that. My main concern is the amount of sodium/salt, so I wouldn't use it in large quantities.
Why is Worcestershire sauce so popular?
It's just a guess, but I think the flavor that incorporates a tangy, savory, sweet, and salty combination makes it an easy choice as cooks try to figure out how to bring out the natural flavor in so many foods. Some people swear by the flavor added if you use anchovies, I'm just not fond of fish, let alone the really strong flavor of anchovies.
Final Word
Isn't it wonderful when we can make condiments from scratch? I hope you enjoyed my post today on making homemade Worcestershire sauce. Let me know if you make your own, and if so, what ingredients you used to make it taste just right for your family. May God Bless this world, Linda