Popeye Pancakes Recipe With A Secret Trick
Today I'm sharing my Popeye Pancakes recipe and our family secret trick when we make these. When my girls were younger I always made these in a 9 by 13-inch cake pan.
Here's the deal, when this recipe first came out in our neighborhood about 40 years ago, it was made in a cake pan. Well, I made it that way for years.
Then when my grandkids came along I wanted all of them to get a "muscle."
This recipe fluffs up and has what we call muscles throughout the cake pan. Well, the muscles would soon disappear as the pancakes would cool down.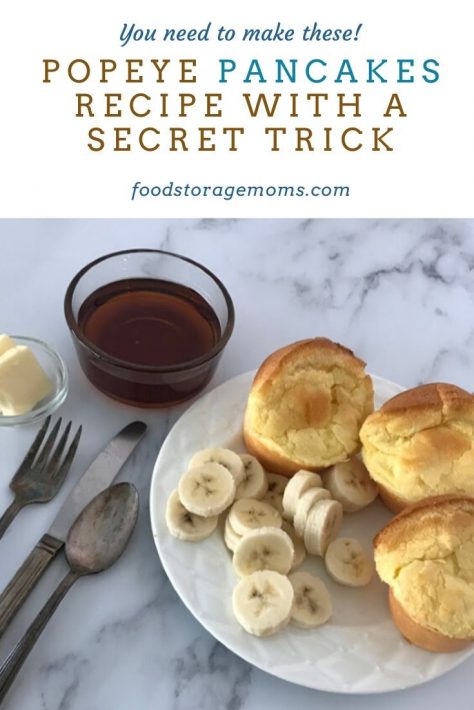 Popeye Pancakes Secret Trick
So, several years ago, I thought I would see if I could make these in a muffin tin so each child would get a muscle. Of course, the grandkids loved it. Now, this is the only way I make them.
This is our little secret when we make this awesome breakfast.
Kitchen Items You Need
Blender
Cake pan or muffin tin
Step One
Assemble the four ingredients: milk, flour, melted butter, and eggs. A blender works the best because we need the batter to be really whipped up and fluffy.
Step Two
Preheat the oven to 425 degrees. Grease the cake pan or muffin tin, whichever one you want to use. Today, I used my muffin tin. Pour the batter into the cake pan or muffin tin as shown.
It's similar to a pancake mix, but not quite the same.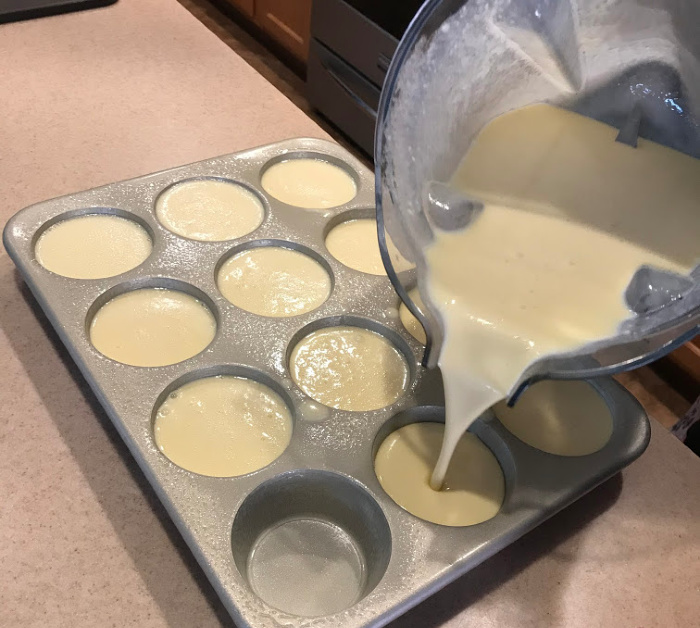 Step Three
Place your pan in the oven and bake your Popeye pancakes at 425 degrees for 20 minutes, or until golden brown. You will love the muscles that pop up, I promise. My grandkids love watching through the oven glass door as they are baking.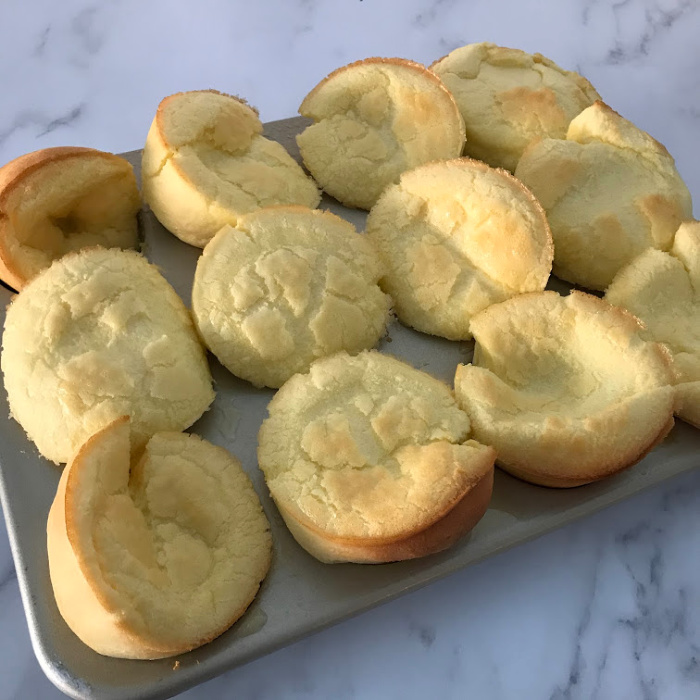 Step Four
Place them on a plate to serve.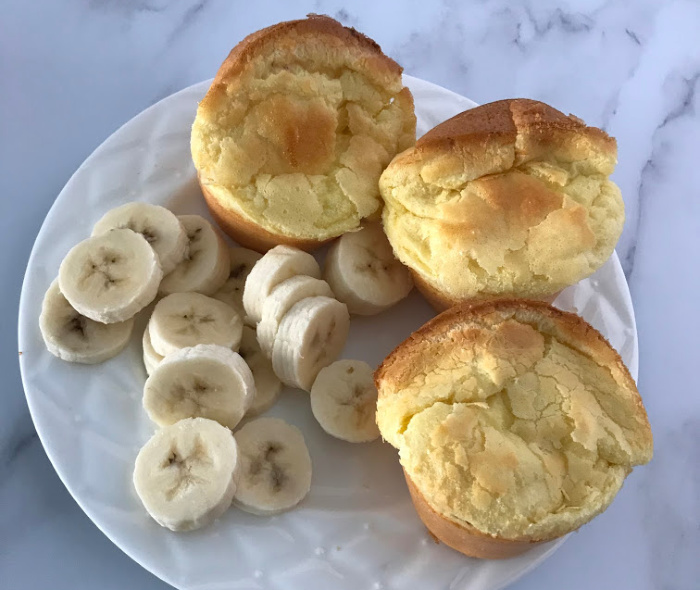 Step Five
You can serve these Popeye pancakes with butter, syrup, powdered sugar, cinnamon-sugar or jam.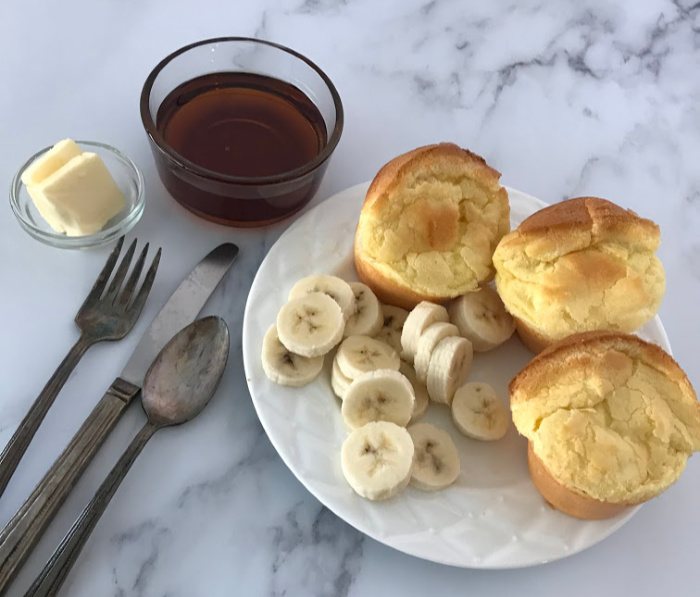 What can I serve with these?
Strawberries
Raspberries
Blueberries
Sliced bananas
Applesauce
Sliced peaches
Blackberries
Hot chocolate
Hot cocoa
Milk
Chocolate milk
Sliced oranges
Orange juice
Bacon
Ham
Sausage links
Sausage patties
Avocado
How do I store the unused Popeye pancakes?
Please store them in the refrigerator covered with plastic wrap or in an airtight container.
How long can I store these in the refrigerator after baking them?
To be on the safe side, I would only store these for 3 days in the refrigerator because of the eggs and milk combination. When in doubt, throw it out is my motto.
Can I cook this recipe in cast iron?
Yes, you can. You will bake it at 425 degrees for 20 minutes if you use a 10-12 inch skillet. Grease the pan just like any pan you would use.
Popeye Pancakes Recipe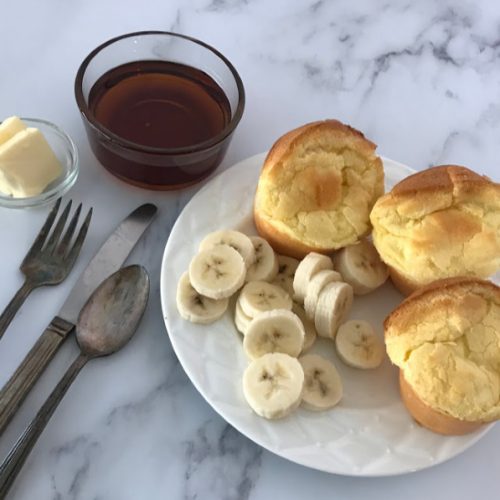 Popeye Pancakes by Food Storage Moms
Ingredients
6

eggs

1

cup

milk

1

cup

flour

1/4

cup

melted butter
Instructions
Preheat the oven to 425 degrees. Grease a 9 by 13-inch cake pan or use a muffin tin like I did today. Add the ingredients into a blender and whip until very fluffy. Quickly add the egg mixture into the muffin tin or cake pan. It's all about the fluff right now. Bake for 20 minutes. Serve with butter and syrup, powdered sugar, or cinnamon and sugar. Enjoy.
Final Word
Do you love to cook from scratch as much as I do? This Popeye Pancakes recipe is one you will want to print out.
There is something awesome about cooking from scratch with family and friends.
We must teach our offspring to cook with ingredients in the pantry, freezer, and garden. May God bless this world, Linda