How To Make Scones Using A Cast Iron Skillet
I have been wanting to write a post for some time now about how to make scones using a cast iron skillet. About a month ago Mark and I, along with about 10-12 people, made over 1000 scones and served them to all the people who walked in the Mayor's Walk event, courtesy of the St. George, Utah Exchange Club. It's a civic club that helps the community in many ways, all volunteers helping make our community a better place to live.
It was so fun to see the people from all over the world come and participate in the St. George, Utah Marathon. The family members of the runners get to enjoy scones, juice, and milk after participating in the Mayor's Walk.
We get to see all different age groups enjoy each others company while munching on homemade scones. I must give a shout out to Mr. Staheli (I wish I had caught his first name during the scone frying), he has been providing the stoves and cast iron pans for years.
He brought this HUGE rectangular pan he was using to fry the scones, he said he made it 30 years ago out of steel. Oh man, do I want one of those. I asked him if he knew anyone that made them, he said no. But he did mention I should buy the 17-inch Lodge cast iron skillet available at most camping type stores. He said it was much easier to lift than the HUGE rectangular steel pan.
I literally have been scouring the antique stores and garage sales and online to see if I could find a large frying pan to make scones outside on a propane Camp Chef stove like this one: Camp Chef Explorer Series EX-60LW 2-Burner Modular Cooking System, Black
. I settled on the skillet Mr. Staheli suggested: Lodge L17SK3 Pre-Seasoned Cast Iron Skillet, 17-inch
The really cool thing about bread dough is all the things you can make out of it. My daughters grew up on scones with canned peaches. We usually fixed them every Sunday night. Oh, you have to have honey butter with them or jam. Maple syrup works great as well.
Linda's Easy White Bread Recipe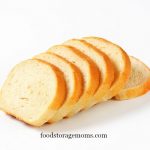 White Bread: 2 Loaves
Servings
:
2
one pound loaves
Ingredients
1

cup

warm milk

2

tsp. 

SAF instant yeast

2

tsp.

dough enhancer (optional)

1

egg

1/8

cup

oil-I use olive oil

3/4

tsp.

sea salt

1/4

cup

sugar

1/4

cup

warm water

3 to 3-1/2

cups

white bread flour
Instructions
I start with a Bosch bread mixer, although you could make this in a bowl. I put the yeast, warm water, salt, oil, and sugar in the bowl. I then add the eggs and lightly mix it in the Bosch so the egg does not "cook". Then I add the warm milk and flour slowly. I continue to add flour until the bread dough pulls away from the sides of the Bosch bowl. I knead for about 7-8 minutes. I place the dough in a greased bowl and cover with plastic wrap. I let the dough rise until double the original size. I punch down the dough and make into loaves and place these in greased pans (this recipe makes two-1 pound loaves). I let it rise once again (using the same plastic wrap) until it doubles in size and then I bake them at 350 degrees for 27-30 minutes. I lightly butter the tops of each loaf after baking and removed from the pans.
Recipe Notes
HOW TO MAKE SCONES
I start with a very large skillet and heat the oil one to two inches deep until I can spritz a few drops of water into the oil ever so carefully, then I know it's hot enough. You will start with one ball of dough about the size of a tennis ball, maybe a little smaller, but bigger than a golf ball. Then mash the dough with the palm of your hand on a greased countertop and use a rolling pin to roll the dough from the center out. You keep rolling from the center out until they are very thin.
Then place them in the hot oil really carefully because the oil will splatter. Here's the deal, it's a big mess, but I'm talking about memories right now. Adults and kids always love hot scones. You fry them until they are golden brown, and turn them over to cook the other side until that side is golden brown too.
Here's the deal with my bread dough, you can freeze the amount of desired uncooked dough in several large greased baggies. Be sure and remove the air and leave space for the dough to slightly expand. Put the dough in the freezer after the first rise in the greased bags.
When you want to make cinnamon rolls or dinner rolls pull a bag of dough from the freezer and thaw and form in desired shapes and put them in the refrigerator.
I use it for breadsticks, cinnamon rolls, monkey bread, dinner rolls, and even pizza. Don't leave it out for too long or it will taste yeasty. Just giving you the heads-up here. You will soon learn what yeasty rolls smell or taste like if not treated properly. I cannot eat them. If you see bubbles in the dough you have to bake it ASAP or it may taste like yeast.
How To Make Scones
Here is a YouTube showing how I make scones: How To Roll Out The Scones by Food Storage Moms
Honey Butter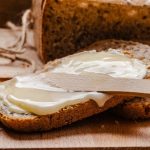 Honey Butter by Food Storage Moms
Ingredients
1/2

cup

softened butter

1/4

cup

honey-I only use pure raw honey
Instructions
Whip the softened butter with a hand mixer until fluffy and slowly add the honey to blend together. Chill until ready to use.
I hope you take an afternoon and make scones for your family. Oh, and with the honey butter, they are delicious. Life is so good!