How To Make An Easy Peach Glaze Super Fast
Have you wondered how to make an easy peach glaze? This recipe is from my mother's recipe box. What a treasure to make a recipe she made years ago when I was growing up. There is nothing better than juicy fresh peaches. This flan cake has only five ingredients in the recipe. I love the fact that I do not have to buy a cake mix. I can make this cake really quick.  It goes with just about any fresh fruit you might have in your garden or from a farmers market. Today I actually baked this flan cake in my Sun Oven.
The glaze recipe was also in my mother's recipe box. I use it for every fruit to make a glaze for puddings, pies or cakes. It also works really well with freeze-dried fruit. My family went out to the Hurricane, Utah Peach Days…not one but TWO days. I could not get enough of the excitement of being with family and running into friends. We purchased a box of the biggest peaches I have seen in years. Oh my gosh, talk about delicious! I wish I had picked up two boxes. This flan cake recipe only has 5 ingredients and all of them are in our food storage pantries. You use a hand mixer to mix the batter. Easy peasy…
Easy Peach Glaze & Flan Cake: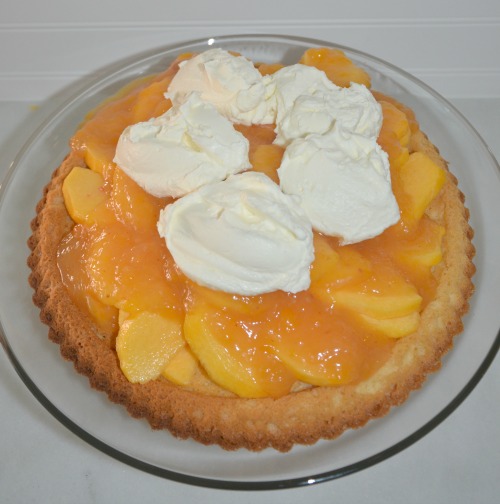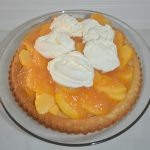 Easy Peach Glaze & Flan Cake
Ingredients
**Flan Cake:

½

cup

butter softened

½

cup

sugar

¾

cups

flour

1

teaspoon

baking powder

2

eggs

**Peach Glaze:

6-7

sliced peaches-mash some peaches to make one cup and set the cup aside

1/2

cup

water

1

cup

sugar

1

tablespoon

butter
Instructions
**Flan Cake: Combine all ingredients and scoop the sticky batter onto a greased flan pan. Spread dough evenly with a spatula. Bake at 375 degrees for 15-20 minutes or until golden brown. Invert on cake platter after ten minutes. Cool cake before adding fruit and glaze.

**Fruit Glaze: Combine the one cup of mashed peaches with the water and sugar in a medium saucepan and bring to a boil. Let the glaze simmer until clear. Remove from stove and stir in the butter. Let cool before assembling the fruit on flan cake and then scoop the glaze carefully over the sliced peaches. Serve with freshly whipped cream.
This is what the batter looks like. It's a really sticky dough.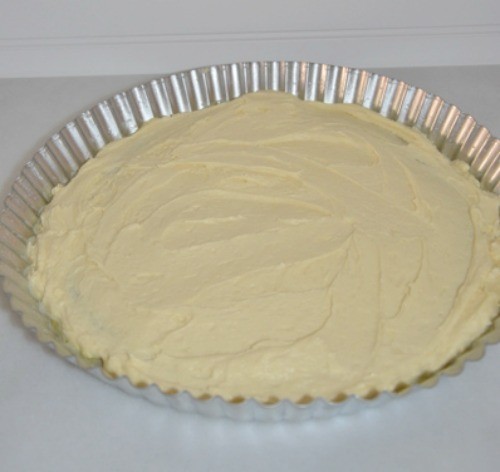 Baked In The Sun Oven
This month is National Emergency Preparedness Month so I thought I may as well bake the flan cake in my Sun Oven. My Sun Oven never got above 350 degrees so I just cooked the cake a little longer. I actually forgot I was baking the cake so it is a little brown around the edges. It's nice because a Sun Oven really does not burn food. It's a moist way of baking. Not that something couldn't burn. I forgot bread once and it was cooking about an hour past the timer. Yep, I was visiting a neighbor. Oops! The bread was still perfect. Gotta love it! Now, of course, you can bake this flan cake in your conventional oven at 375 degrees as stated in the recipe.
Flan Cake Pan
The cake turned out great today baking in the SunOven! Can you see where the cake has an indentation? That's so you can scoop the fresh fruit as high as possible, then spoon the glaze over it. Top it with whipped cream and you have a yummy dessert!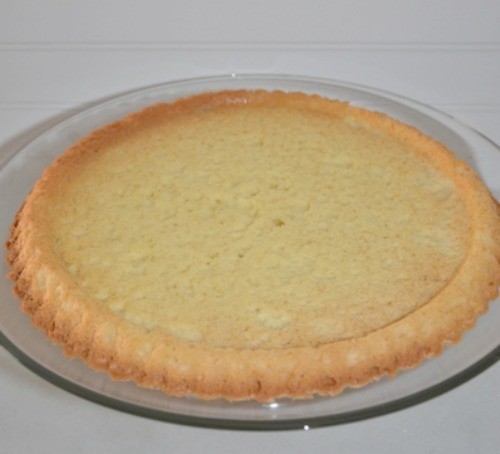 My husband has been having a fresh peach every morning in his cereal. I love this recipe for the flan cake because I can always make it at the last minute and I have a fancy looking dessert to serve to anyone. I hope you enjoy the Fresh Peach Flan Cake With Glaze recipe as much as my family does! You will love the easy peach glaze! Enjoy!