How To Make An Easy Peach Glaze
At this time of year when so many fruit and vegetable products are being harvested, you hear about festivals or community "days" like Peach Days celebrations. Both Hurricane and Brigham City here in Utah have Peach Days events with parades, music, food and craft booths, and more.
Mark and I have tried to attend those and have loved the local atmosphere and fun times. We typically pick up two boxes of peaches. We love to eat them fresh for breakfast, for snacks, and yes, preserve a few. We freeze some and dehydrate some to enjoy later. Nothing like fresh fruit when there's snow on the ground!
Speaking of peaches, have you wondered how to make an easy peach glaze? This recipe is from my mother's recipe box. What a treasure to make a recipe she made years ago when I was growing up. There is nothing better than juicy fresh peaches. I just updated this post for you.
The cake that is part of this post has only five ingredients in the recipe. I love the fact that I don't have to buy a cake mix. I can make this cake quickly and with little fuss. It goes with just about any fresh fruit you might have in your garden or from a farmer's market.
The glaze recipe was also in my mother's recipe box. I use it for every fruit to make a glaze used in puddings, pies, or cakes.
You can use this recipe with just about any fresh fruit, like raspberries and strawberries, to make any glaze topping you'd like your family to enjoy. Add the whipping cream and it's downright perfect!
How To Make An Easy Peach Glaze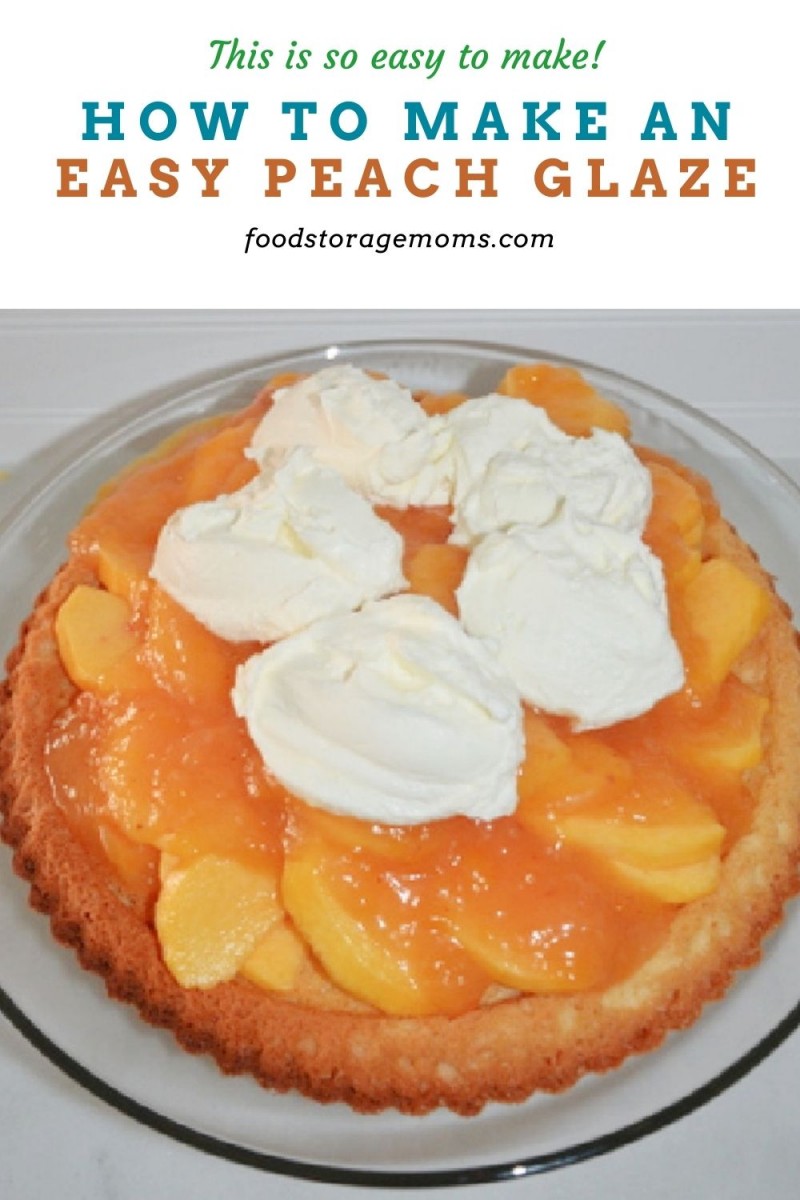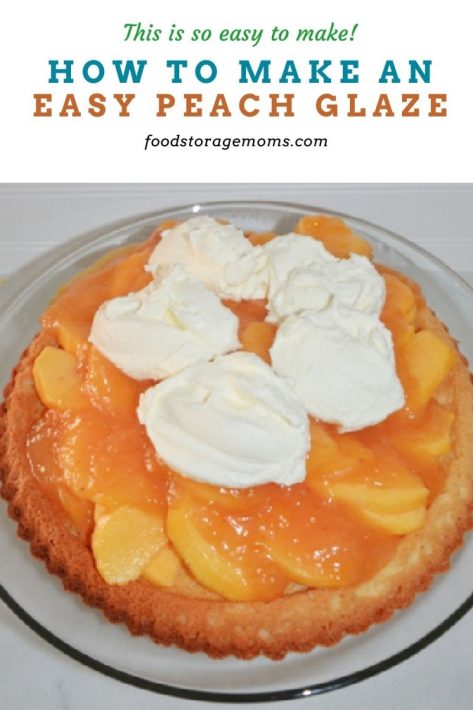 Kitchen Items You May Need:
Measuring Cups
Measuring Spoons
Ingredients:
Fresh Peaches: the treat that makes the glaze so refreshing, delicious, and healthy. You can use peach preserves, but the flavor might not be just the way you like it.
Sugar: gives the glaze the touch of sweetness you want, while also helping to bring out the natural peach flavor.
Butter: it gives the cake a moist, flaky, and rich flavor we all enjoy.
Flour: allows the cake to rise some, and make for the spongy consistency we love in things like homemade bread.
Baking Powder: A type of leavening agent used in the cooking process to raise the dough in baked goods.
Eggs: This binds everything together and helps the cake to rise.
Whipping Cream or Ice Cream: toppings that give this dessert entree the extra sweetness we long for.
Make the Cake First
Yes, you get a recipe for the glaze and delicious cake in the same recipe!
Step One: Cream Ingredients
To make the cake, combine the softened butter, sugar, flour, baking powder, and 2 eggs.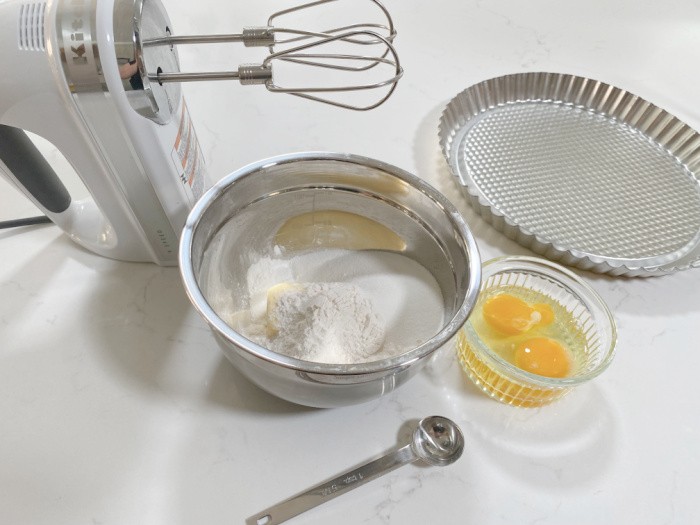 Step Two: Beat Until Smooth
Use a hand mixer to beat the mixture until it's smooth. It will make a sticky batter.
Step Three: Spray The Pan Before Adding Batter
Spray the fluted cake pan with vegetable spray and spread the batter evenly over the whole pan. Use a spatula to spread the sticky batter as evenly as possible. Bake in your oven at 375 degrees for 15-20 minutes, or until golden brown.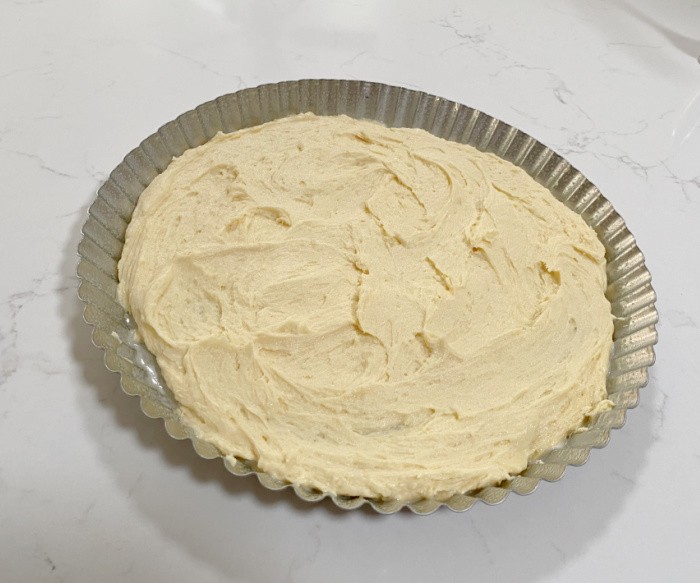 Step Four: Invert the Cake
Invert the cake on a cake platter after waiting ten minutes for it to cool. Cool the cake further before adding the fruit and glaze.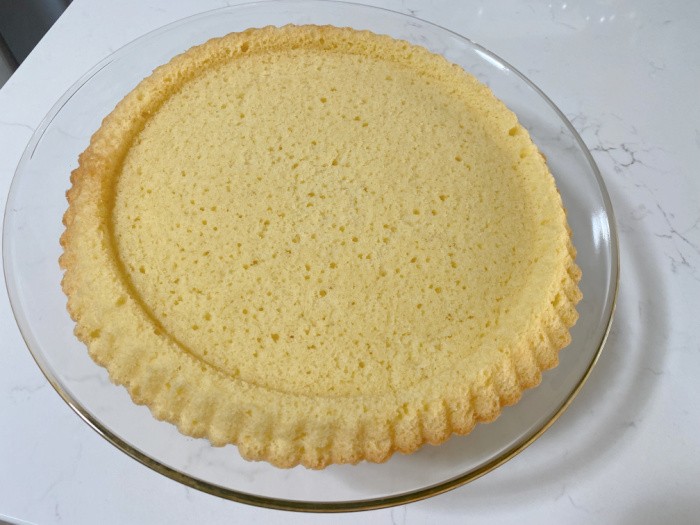 Make the Peach Glaze
Step One: Boil the Water
Cut the peaches in half as shown. This makes it easy for the skins to slip off easily after plunging into boiling water and then icy cold water.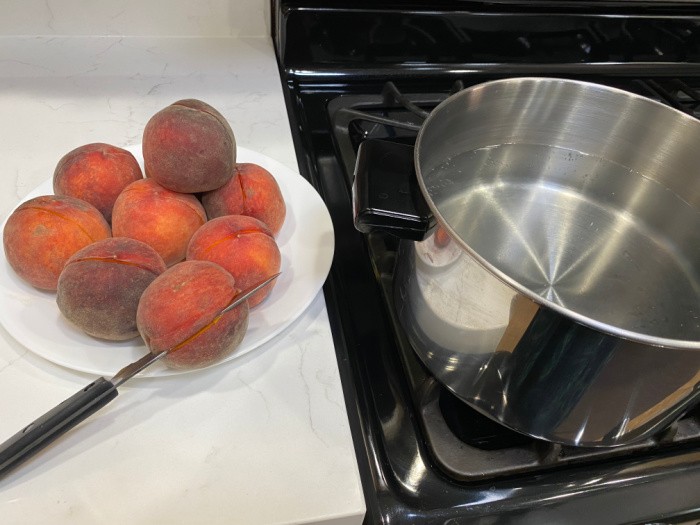 Step Two: Blanch the Peaches
Next, blanch the peaches for 2-3 minutes in the boiling water.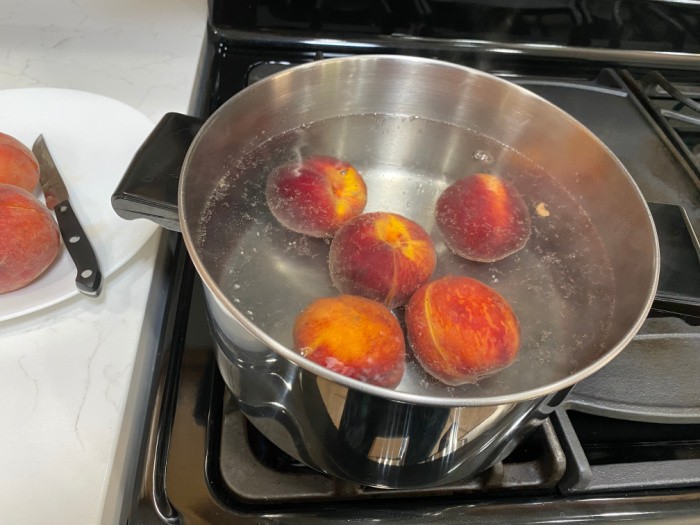 Step Three: Plunge Into Cold Water
This step completes the blanching process. What a time saver when it comes to taking the peelings off the peaches!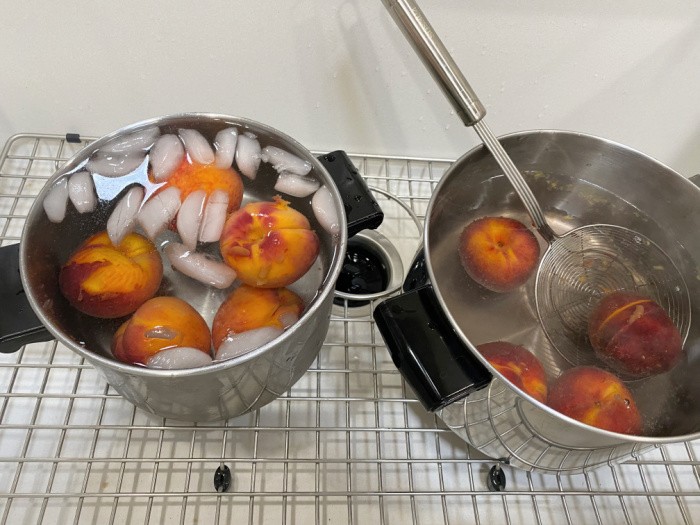 Step Four: Remove Peelings
The peelings should slip right off. Remove the peach pit from each peach and discard them.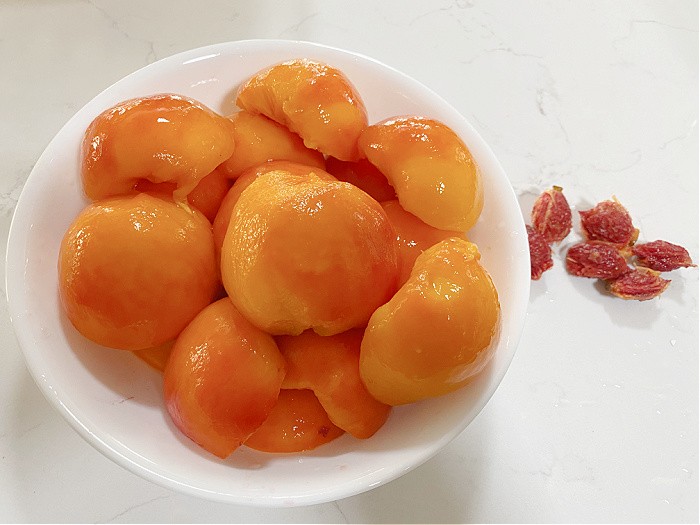 Step Four: Make the Glaze
To make the glaze, combine one cup of mashed peaches with the water and sugar in a medium saucepan and bring the mixture to a boil. You can use your food processor to mash the peaches, but I just used my potato masher since I like more texture to the glaze.
Some people willl add a little lemon juice to their glaze for a more tart flavor. I've also heard others like to add a teaspoon of cinnamon for a unique flavor change.
Let the glaze simmer on low heat until it's clear. Remove the mixture from the stove and stir in the butter. Let it cool before assembling the fruit on the cake.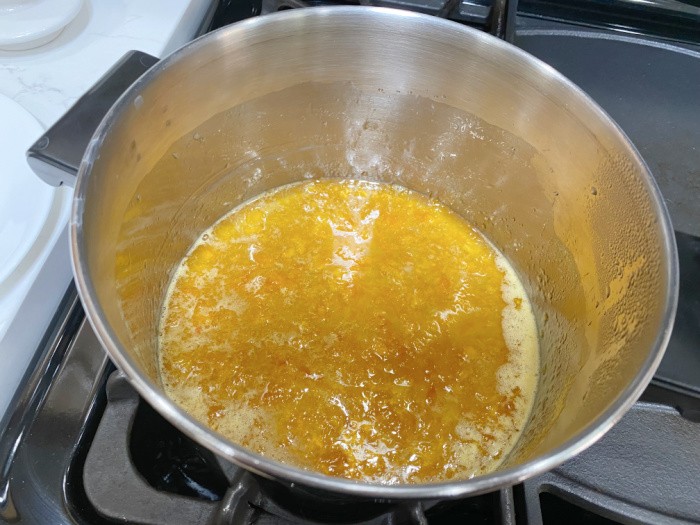 Step Six: Layer the Peaches on the Cake
Layer the sliced peaches onto the cooled cake. These peaches are so sweet, this is going to be a really great dessert.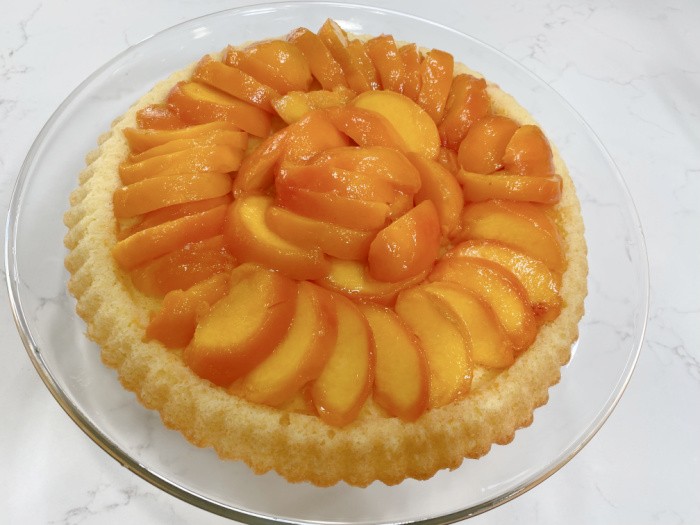 Step Seven: Add the Glaze
Spoon the glaze over the peaches. Serve with freshly whipped cream or a scoop of vanilla ice cream.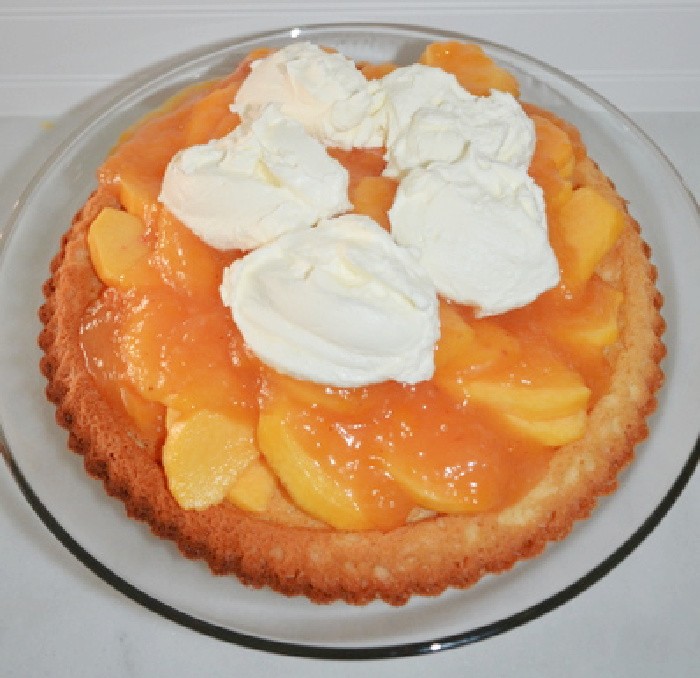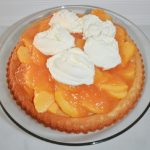 Easy Peach Glaze & Cake Recipe
Ingredients
Cake Ingredients
½

cup

butter softened

½

cup

sugar

¾

cups

flour

1

teaspoon

baking powder

2

eggs
Peach Glaze
6-7

sliced peeled peaches-mash some peaches to make one cup and set the cup aside

1/2

cup

water

1

cup

sugar

1

tablespoon

butter
Instructions
Cake Instructions
Combine all ingredients and scoop the sticky batter onto a greased flan pan. Spread dough evenly with a spatula. Bake at (375°F) = (190°C) degrees for 15-20 minutes or until golden brown. Invert on cake platter after ten minutes. Cool cake before adding fruit and glaze.
Peach Glaze
Combine one cup of mashed peaches with the water and sugar in a medium saucepan and bring to a boil. Let the glaze simmer until clear. Remove from stove and stir in the butter. Let cool before assembling the fruit on cake and then scoop the glaze carefully over the sliced peaches. Serve with freshly whipped cream.
How do I store this after making it?
I prefer keeping it in the refrigerator, if in fact there is any leftover. Place the leftovers in an airtight container before putting it in the fridge.
How long will it keep in the refrigerator?
The maximum I would store the leftover cake is 1-2 days. The cake will become mushy from the peaches and glaze, so eat it before it does. You want this dessert to have texture with some moisture, but not too much.
Can I freeze this after baking?
You can freeze the cake, without the peaches, covered tightly in the freezer for up to one month. I like to make this ahead of time because then I have the base ready for any fresh fruit when in season.
In case you missed this post, Peach Facts: What You May Not Know
Is this considered a healthy dessert?
Although the peaches as good for us, even those on a diet since this fruit has some quality nutrients. But it would be a stretch to call this a "healthy" treat with the butter and sugar found in the ingredients. I haven't figured the amount of calories, but the sweetness would tell you the calorie count would be fairly high and wouldn't fit in many individual's daily diet.
Final Word
This easy peach glaze recipe is a perfect one for you to print off and have ready to use when the various fruits are in season and ready for picking. There is something so awesome about making a fresh homemade dessert from scratch.
We need to teach our kids and grandkids these skills. With this recipe, you get both the cake and the glaze, which makes for a delicious double whammy tasty treat. Enjoy! May God Bless this world, Linda