Do you remember growing up with these quick pickled cucumbers? All you do is make the brine with vinegar, water, sugar, salt, pepper, and then add the cucumbers.
It's so easy and you can add other vegetables to the brine as well. My garden is overflowing with cucumbers this year because I learned how to self-pollinate the flowers. If you missed one of my posts on how to do that, here it is: The 8 Easiest Vegetables To Grow
There is something so exciting to me when I go out and check on my garden and there are a few, or a lot, of cucumbers waiting to be picked. My crop this year is more than I can eat.
I have cucumbers in my smoothies, I juice them, I have been dehydrating a lot of them, and now pickling some in a jar. I'm not canning these, just giving you the heads up.
Why Are They Called Pickled?
Anytime you make a brine with vinegar and you add cucumbers, you are pickling them. The longer they soak up that vinegar the stronger the flavor the vegetables take on.
How Do I Store Them?
I store mine in quart mason jars with these white lids made by Ball. Ball White Wide Mouth Lids and Ball White Regular Mouth Lids
When Can I Eat Them?
You can eat these quick pickled cucumbers immediately, but they will taste better in 4-6 hours. Overnight is even better because they'll be cold.
How Long Will These Cucumbers Last?
They will stay good for about a week, but please remember they become limp after about 4 days. Mine never last a week, we eat them so quickly.
Can I Reuse The Brine?
Absolutely, I just add freshly chopped or sliced veggies to the brine. I only keep the brine for two weeks to be safe. It may be safe a little longer, but I don't want to chance it.
What Else Can I Pickle?
Oh, the list is almost endless. I added a few ideas to the recipe card. When I was growing up my mom made these every summer when our garden produced a lot of cucumbers. This was a salad or side dish for me. Now, sometimes we added cherry tomatoes, carrots, red onions, cauliflower, radishes, or green onions. My dad loved jalapenos added to his serving. When you have a garden and you have canned, frozen, or dehydrated as much as you could possibly do, you pickle the rest.
What Do I Serve With These?
Mark and I only make these in the summer because that's when our garden is going gangbusters. They are great served as a side dish or salad with any kind of meat. One of my favorite ways to use these is on my bacon, lettuce, and tomato sandwiches. Life is so good in the summer when your garden produces all the food you want or need.
Quick Pickled Cucumbers
I pulled out my Bosch shredder and set it up to slice the cucumbers really thin. My mouth is watering just so you know. I love making these and adding green onions, carrots, garlic, some fresh dill, and some fresh cherry tomatoes.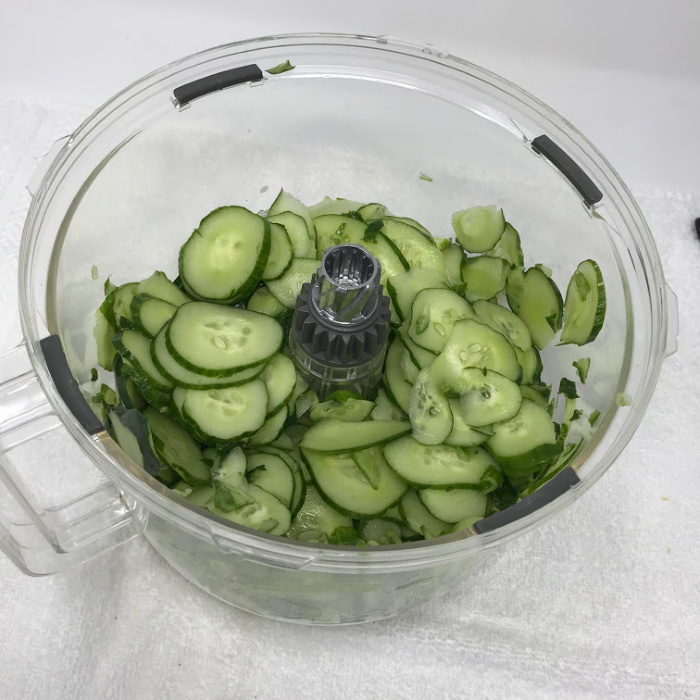 Today I used white vinegar, a little sugar, and salt and pepper. I used my whisk and stirred until the sugar dissolved. My goal was to make this healthy, so I used very little sugar, just enough, but not too much.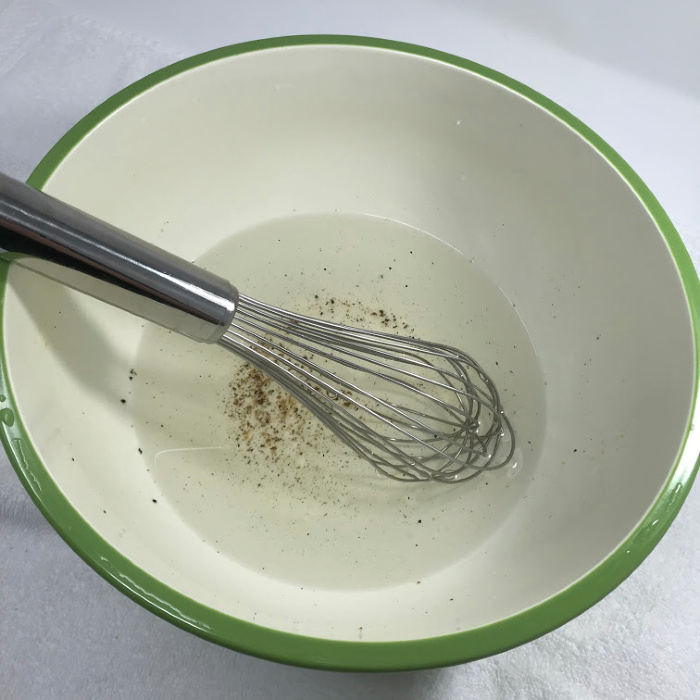 Now, I started adding my thinly sliced cucumbers to the brine, some slipped in the shredder, so they are not perfectly shaped. Some of my cucumbers were little and a few a bit larger. But they all taste yummy to me!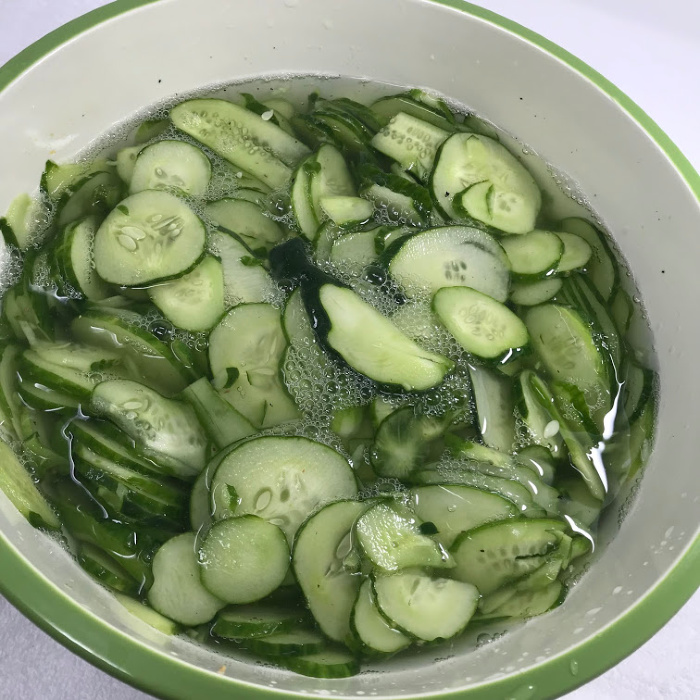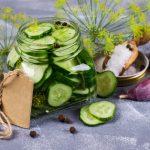 Pickled Cucumbers by Food Storage Moms
Keyword:
Cucumbers, Pickled Cucumbers
Ingredients
2

cups

water

3/4

cup

white vinegar

1

tablespoon

sugar (optional)

3

cups

finely sliced fresh cucumbers

2

tablespoons

chopped green onions or red onion (optional)

Other items to pickle: radishes, cauliflower, sliced carrots, garlic cloves (optional)

salt and pepper to taste

freshly chopped dill or red pepper flakes (optional)

serve with cherry tomatoes (optional)
Instructions
Combine the water, vinegar, sugar, and salt and pepper. Whisk until the sugar dissolves completely. Add the remaining ingredients making sure the cucumbers are covered. Make additional brine if needed to keep the veggies covered.
Final Word
I hope you try making some of my quick pickled cucumbers! I love a recipe that goes together fast and keeps in the refrigerator for a few days. This is just another recipe we can use when we have a great garden harvest. Keep me posted on your garden, we can grow our own food. Thanks for being prepared for the unexpected. Keep on prepping, we must, my friends. May God bless this world, Linda