How To Make The Best-Baked Mac And Cheese

How to make the best-baked mac and cheese recipe is on today's post. I really like making this recipe because I can make all of it with food storage. I can also make it with freshly grated cheese. It smells fabulous baking in the oven. You can make it with whole milk or skim milk. You can even make it with different cheeses, fresh or freeze-dried. As I remember, this was a family reunion recipe, so yes, you could feed your large family. It freezes well after baking in smaller containers. This is a great item for school lunches as well if you have a thermos type container to keep it hot.

When Mark and I raised our daughters, they loved this recipe! I served it with the green beans we had grown, picked, snapped and canned in a pressure canner. My girls still tell me that gardening and canning taught them their work ethic among other things. There is something really awesome about working side by side with your kids producing your own food and preserving it.

MY LATEST VIDEOS
Baked Mac and Cheese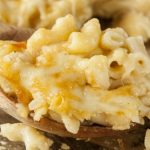 Baked Mac and Cheese
Ingredients
4

Tablespoons

butter

1/4

cup

flour

1

teaspoon

sea salt

1/2

teaspoon

pepper

1

teaspoon

dry mustard

2-1/2

cups

whole milk

or skim milk

2-1/2

cups

grated sharp cheese

or your favorite freeze-dried cheese-re-constituted as directed on package

8

ounces

Velveeta cheese

cut into pieces

1

cup

grated mozzarella cheese

or your favorite freeze-dried cheese-re-constituted as directed on package

16-17

Ounces

macaroni

cooked and drained (al dente

plain breadcrumbs
Instructions
Preheat the oven to 375 degrees. In a medium pan, melt the butter and quickly add the flour, salt, pepper, and mustard. Continue stirring with a whisk until the mixture is smooth and blended. Keep stirring and start adding the different cheeses (save 1/2 cup cheddar cheese for the top) and stir until melted. Remove from heat. Add the cooked and drained macaroni and blend until macaroni is covered with cheese. Scoop the mixture into a 9″ by 13″ inch greased pan and sprinkle with the 1/2 cup of cheese you set aside. Sprinkle the breadcrumbs depending on the quantity you desire on top. Bake uncovered for 20-30 minutes or until the casserole starts to bubble.