How To Make 72-Hour Kits That Will Last Forever
This post is all about how to make 72-hour kits that will last forever. I mean, once and for all, the food will be in a separate bag because as you know it goes bad, as in rancid. I store my 72-hour kits in my garage with a list I keep in a clear zippered bag that I have put in my kit/storage bag and also in Mark's to keep everything dust-free. I have water stored right next to them with the water ready to grab and go. My food storage is in my emergency food pantry in the house ready to pick up and load in the car if the roads are driveable. I store it in a zippered bag as well.
Stored in Bags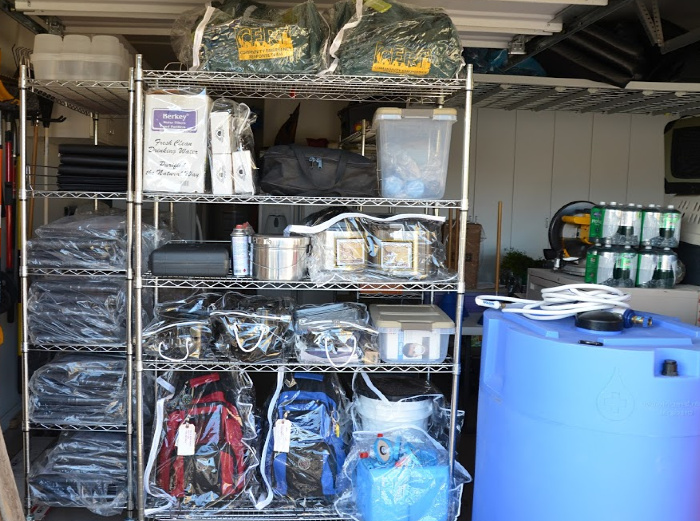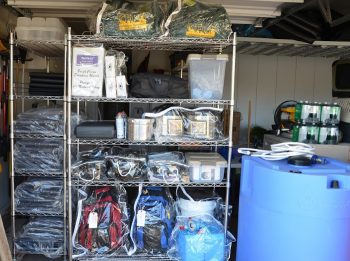 Water Storage
These are the water jugs I prefer. Water Bricks are my favorite because they have handles. I store these in clear sweater bags in my garage, ready to grab and go.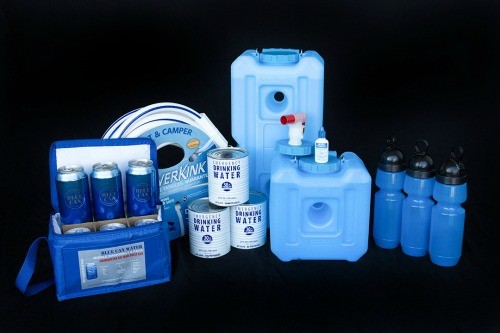 You can see the hose that is lead-free to fill my water containers with clean pure water. I add this Water Preserver because I only have to rotate the water every five years. I have the blue bottles: Berkey Sports Bottles in each 72-hour kit to purify our water if needed.
I also have cases of Blue Cans. Yes, they are expensive but they store for 50 years and they have a coating in each can so the water will never taste like metal. Blue Can Water These are perfect for a college student or an elderly family member to have stored for emergencies. Trust me, they are worried about surviving if they can't leave their campus or care center. They come 24 cans to a sturdy cardboard box. That's all I wanted for Christmas in 2016. Water in cases from Blue Can. I call them my "set and forget water." I can picture myself enjoying sipping every last drop after a disaster. Yep, indeed it's the best tasting water.
Make 72-Hour Kits
I printed these on cardstock and placed them in page protectors. This way I never have to look again what is in each of our 72-Hour Kits outer plastic bags (Mark and my kits) that keep our kits dust free. Large Storage Bags and Medium Storage Bags
Make 72-Hour Kits Updated 2016
Food-Water-Prescriptions-Essential/Oils-Silver/Solution-Binder/Important/Documents
Whistle
Compass
Blanket
Work gloves
Personal unit: shampoo, toothbrush, toothpaste, razor, shave gel, bar of soap, liquid soap, sewing kit & lip balm
Basic unit: LED flashlight, batteries or a solar flashlight, poncho, paper, pencil, water purification tablets, garbage bags
First aid kit: safety pins, first aid book, 2 triple antibiotics, burn cream, non-latex gloves, gauze pads, butterfly bandages, aspirin, Ibuprofen, antacids, alcohol prep wipes, non-aspirin products, and any other products YOUR family requires for any special medical or other need. (*Please note, these I keep in a separate bag and I do rotate them to have fresh ones in my car, house, and 72-hour kit.)
Can opener
Toilet paper
Metal cups with silverware
N-95 masks
Matches
Goal Zero Solar flashlights
Safety Goggles
Latex-free gloves
Surgical kit with scissors
Bandanas
C.E.R.T. (Community Emergency Response Team) notebooks
Stethoscope kit and airway punch
Hand warmers
4-in-1 tool
Duct tape
Berkey sport bottle
Signal mirror
Headlamps
Multipurpose pocket knife
Cash: small bills like ones and fives
These are also printed in colors and attached to my sheets above to remind me again to grab these items:
FOOD
WATER
PRESCRIPTIONS
ESSENTIAL OILS
SILVER SOLUTION
BINDER-IMPORTANT DOCUMENTS :
CASH
Emergency Binder Download by Linda
I hope I never have to leave my home for evacuation purposes, but Mark and I are prepared to grab and go. Please think of it this way when you make 72-hour kits. These are designed for 72-hours, but you may be gone for 2 weeks. Just giving you the heads up. You do not want to be a family that walks into a school, church facility, a Red Cross tent with nothing in your hands. If you do, you will be waiting to receive food and water. Keyword, waiting. I refuse to stand in line, I'm prepared. I hope you understand you must be prepared to take care of your own family.
The government may take days, weeks, or months to bring you a case of water if they can even get the water soon enough. Please do not depend on anyone but yourself. May God bless the civic clubs, churches, and schools to teach people to be prepared because they are not doing a very good job right now. If they are, people are not listening.
Thank you so much for those of you that get it, you are prepared, thank goodness. I love you for that. Linda
Here are the lists I designed years ago. You will pick, choose, and add what YOU and each family member need in their 72-hour kits.