Easy To Make Bug Out Lanyard
Today, it's all about how to make a bug out lanyard. No matter where you go, having extra protection is essential. It is the reason you should make a bug-out lanyard that you can carry around with you anywhere. Whether you are on a camping trip, spending time with friends, or alone in an unknown area, your lanyard may come in handy just when you need it. All you need to do is make sure you put the right items on the lanyard to access them when you need them.
I have a friend, Wendy, who talked about making these as a group where she lives. So I wrote out the ones I wanted and ordered all of them to make sure they were what I thought would work for all of us.
I bet a lot of you have several of these items in your home, so why not make a lanyard to use with your 72-hour kits or bug-out bags? All these items will be right at your fingertips if and when you must leave your home if you must evacuate. This would also be perfect to use with your Get Home Bag. I'm going to hang my lanyard over the headrest in my car so it's always ready to use.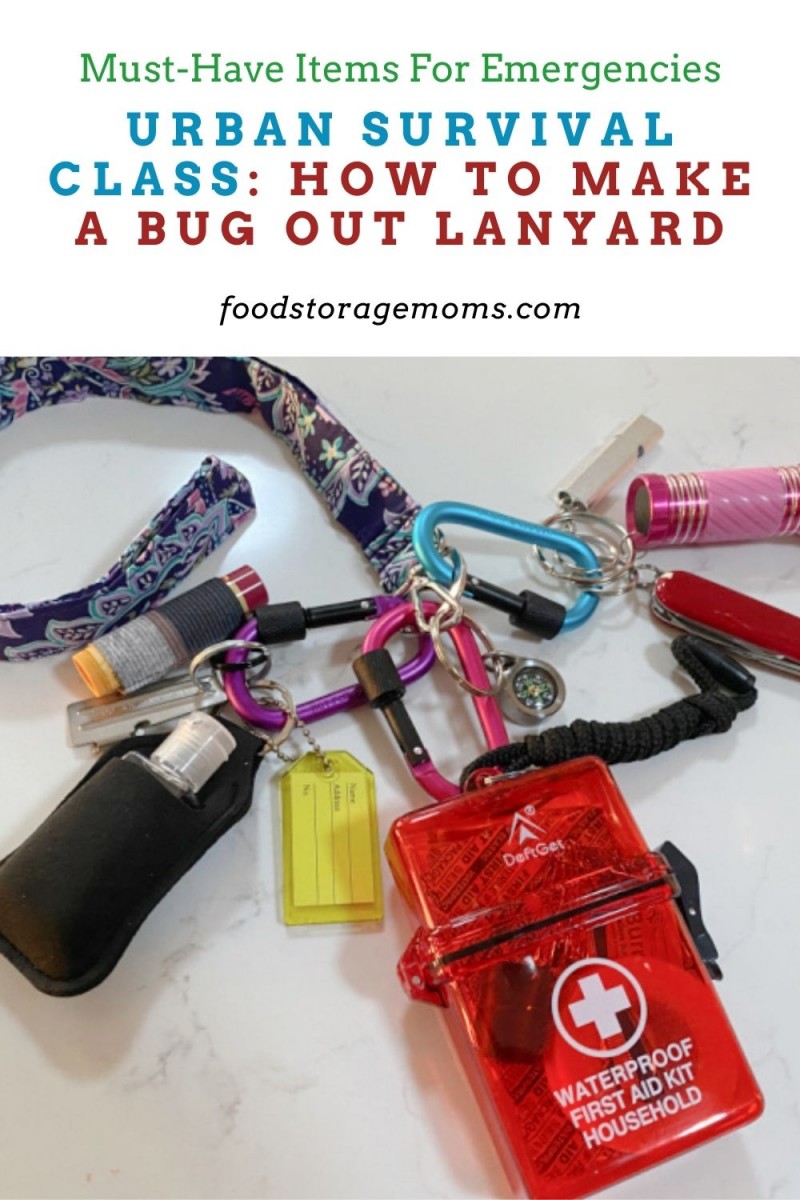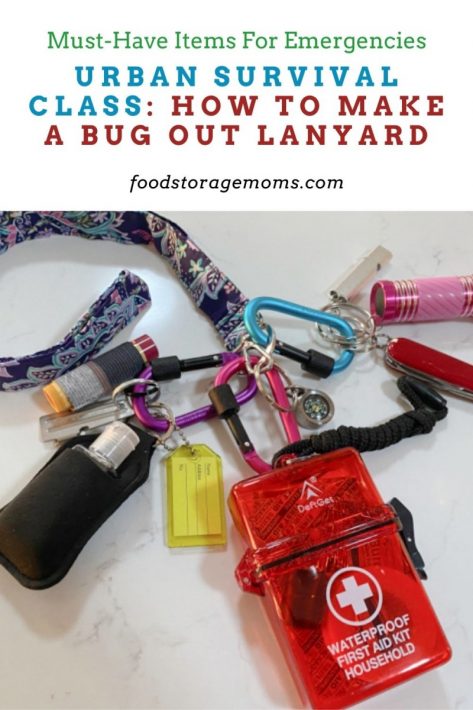 Purchase a Bug Out Lanyard
The first step to making a bug-out lanyard is to purchase a lanyard. You can find one in stores that sell keys. You may find better options while looking online. The price of a lanyard varies tremendously and will depend on the size and material it's made of. Regardless of the option you choose, make sure it has the durability to hold the number of items you plan to attach to it. You don't want your lanyard to break when start using it after you've attached the essential items.
Choose the Right Items to Add to Your Bug Out Lanyard
Bug Out Lanyard
Once you have your lanyard in your hands, it is time to start adding the essentials to it. While you get to decide exactly what to attach to your lanyard, these are some excellent suggestions to consider. The goal is to keep things on your lanyard that can come in handy during emergencies. This is the one I purchased: A lanyard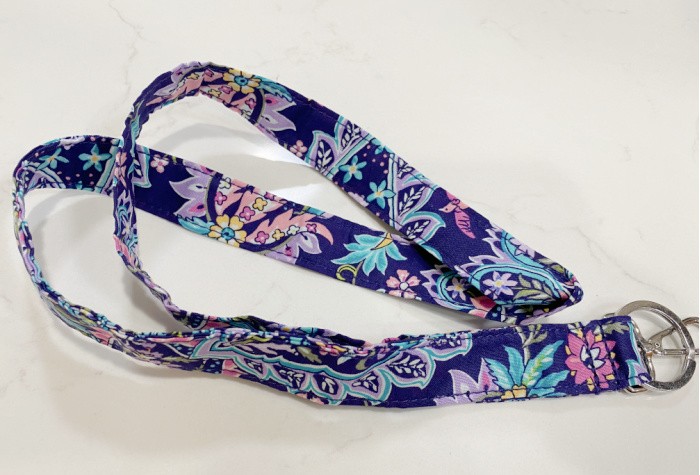 Lee, a reader recommended a ParaCord Lanyard, so I ordered this one that Lee suggested: WALNEW 25-inch ParaCord Lanyard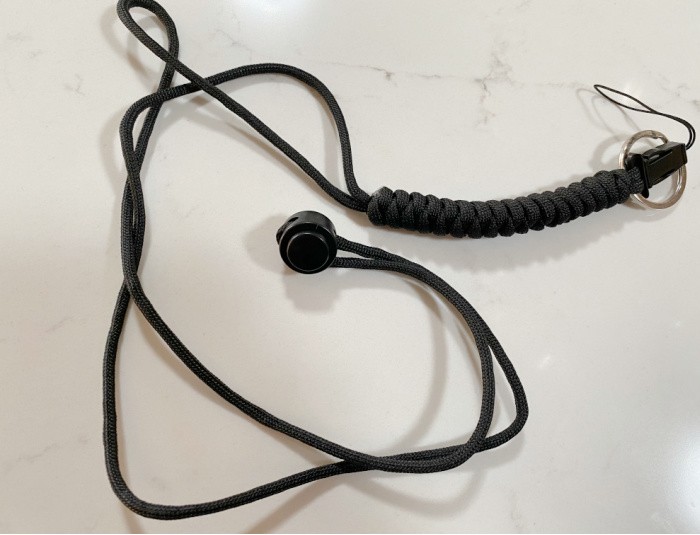 Carabiner
The carabiner is one of the most important items to add to your lanyard. You will hang all your other things from it. I used three carabiners as hooks/holders. These are the ones I purchased: Carabiner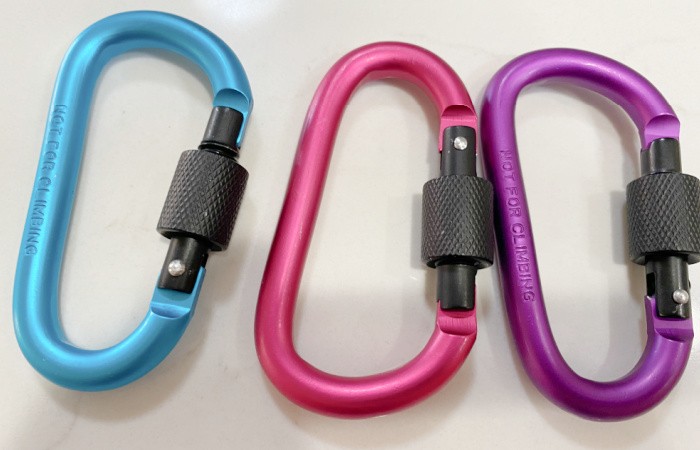 Mini Flashlight
A mini flashlight is a great addition to the lanyard. You can find mini flashlights available at low prices. Consider using an LED option that will shine bright for hours instead of quickly dying out. You can even save money by purchasing the mini flashlights in bulk and adding a new one to your lanyard each time an old one dies out. This is the one I purchased: Mini-Flashlight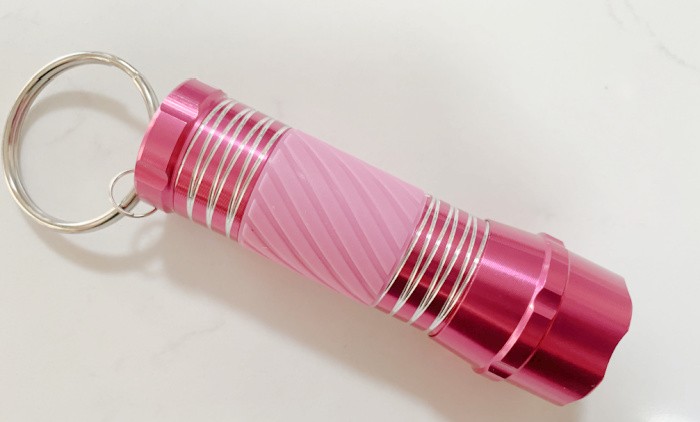 Whistle
Get a whistle online or in one of several chain stores, such as Wal-Mart. Having a whistle will come in handy if you are trying to scare off a wild animal or let people know that you are stranded in a specific area. It is an essential item to include in your lanyard. This is the one I purchased: Whistle. This whistle is AWESOME and LOUD!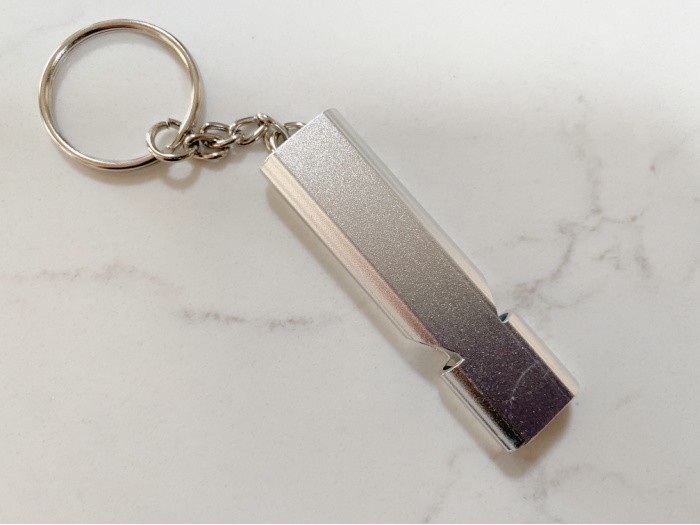 Compass
You never know when you might need a compass. If you get lost in the wilderness while camping, you can use the compass to guide you in the right direction. Make sure to include a durable compass on your lanyard. This is the one I purchased: Compass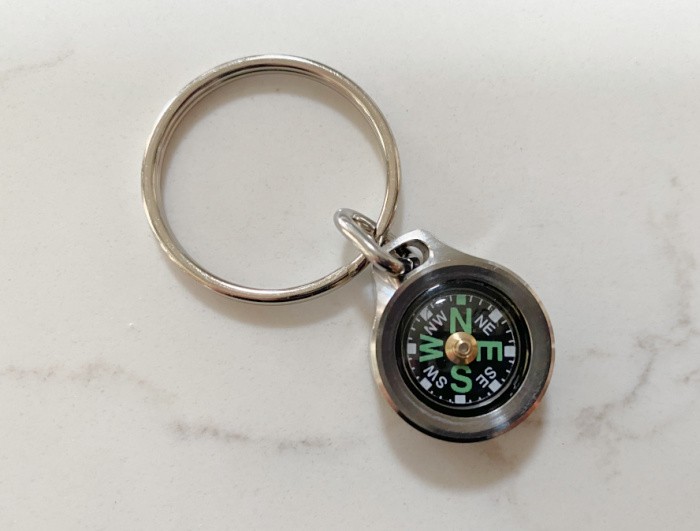 Miniature Can Opener
Look online for a miniature can opener that you can attach to your lanyard. If you are camping and need food, you would get to easily open canned food without frustration. The miniature can opener is easy to find on Amazon.com for a reasonable price. This is the one I purchased: Mini-Can Opener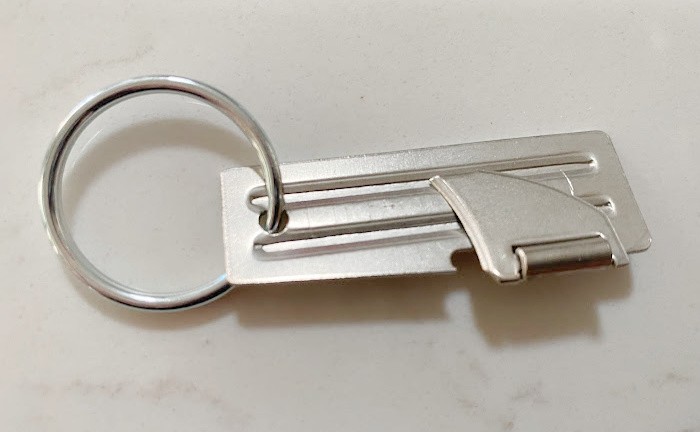 Small Swiss Army Knife
You might need one of these knives to cut something while out in the wilderness. It helps to attach one to the lanyard just in case you might use it. This is the one I purchased: Swiss Army Knife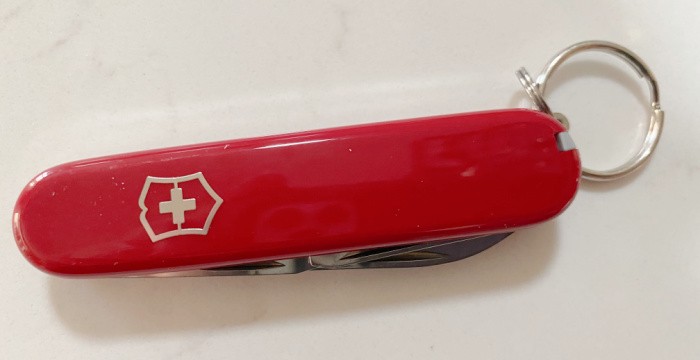 Lip Balm/Chapstick
Keep a stick of lip balm on your lanyard to keep your lips from chapping. Cold, dry weather can quickly cause lips to become parched when you are outside for extended periods. This is similar to the one I have: Chapstick Sleeve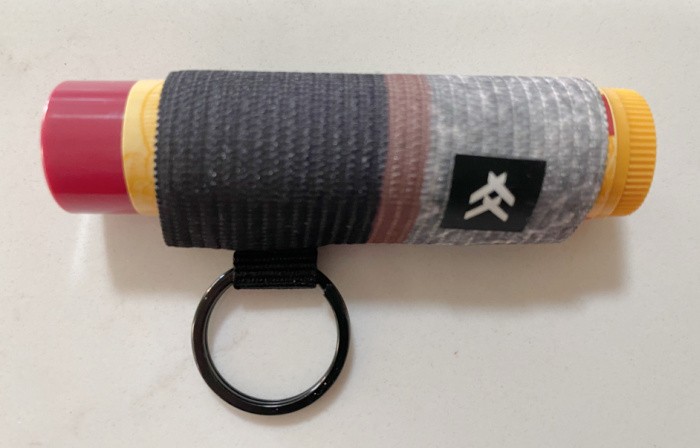 USB Drive
Load your identification and other vital documents on a USB drive. Attach the drive to your carabiner on your lanyard. It might not seem important, but it is an essential item to carry with you. Here is a 32GB Flashdrive. I'm sure you have one at home, just make a copy of it.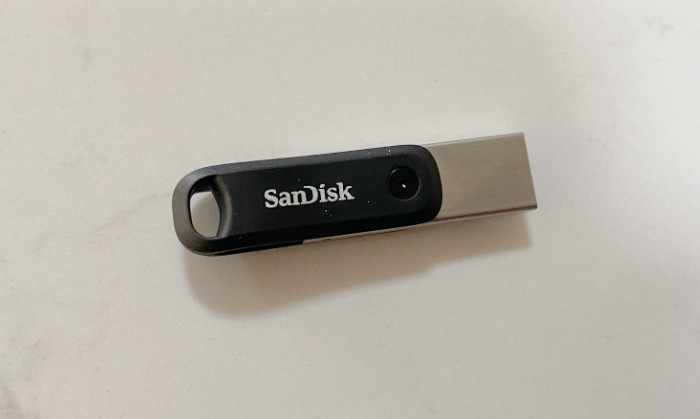 Sanitizer
Keep your hands clean and get rid of germs with a bottle of hand sanitizer. You can attach a miniature bottle (in the holder as shown below) to your lanyard and fill it up again when it's empty. This is the one I purchased: A Hand Sanitizer Holder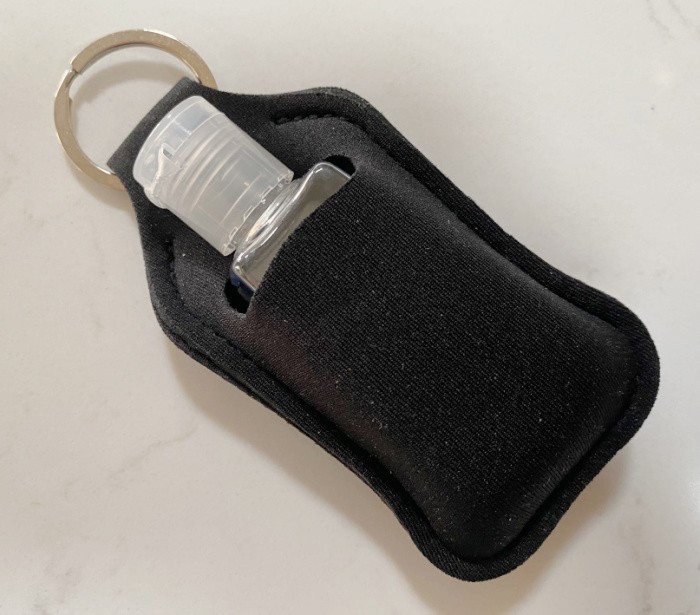 Name Tag
Include a name tag that lets people know the lanyard belongs to you. It is possible to laminate a name tag before attaching it to keep it from getting damaged. I opted for this one: Name Tags
Nail Clippers
Another reader recommended some nail clippers. We all know we love to have some nail clippers when we have one of those nasty hangnails, right? I chose these because they had a hole in the end so I could add them to the lanyard. Nail Clippers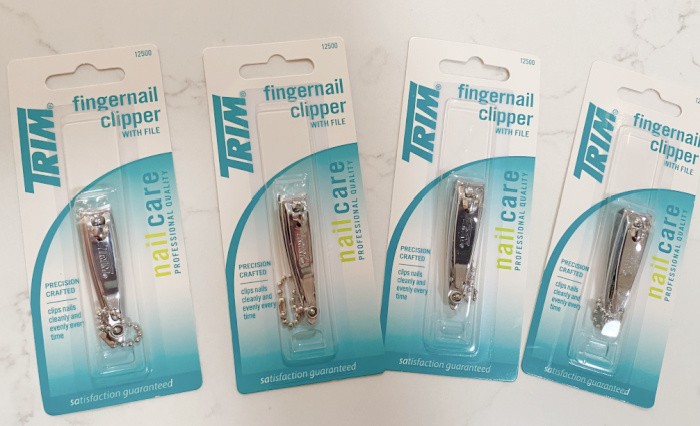 Fire Starter
Another reader suggested a Fire Starter, this is the one I ordered. Swiss Safe® 5-in-1 Fire Starter with Compass Paracord
This is how you use it, according to the box and I quote:
Gather kindling, dry grass, pine needles, small twigs, or small branches.
Use the serrated edge of the striker to shave some magnesium from the rod onto the pile of tinder. Keep the shavings close together.
Strike down on the rod quickly and forcefully with the smooth edge of the striker to create sparks and ignite the magnesium pile and tinder.
Gently blow on the flame and feed it with kindling until you have a full fire.
Burns at 5500 Degrees F.
Wind/Cold/Water-Resistant.
Lasts up to 16,000 Strikes.
Built-in Emergency Whistle.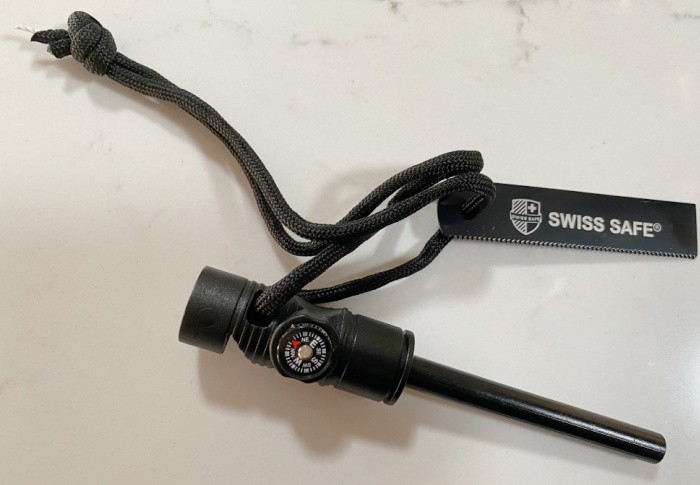 First Aid Kit
There is something awesome about having a first aid kit attached to a lanyard. I'm going to put this lanyard in my car so it's easy to grab when I need these items quickly. This is the one I purchased: First Aid Kit (this one is too big for the lanyard but great for the car). So then I ordered this one: First Aid Kit (this one is sold out)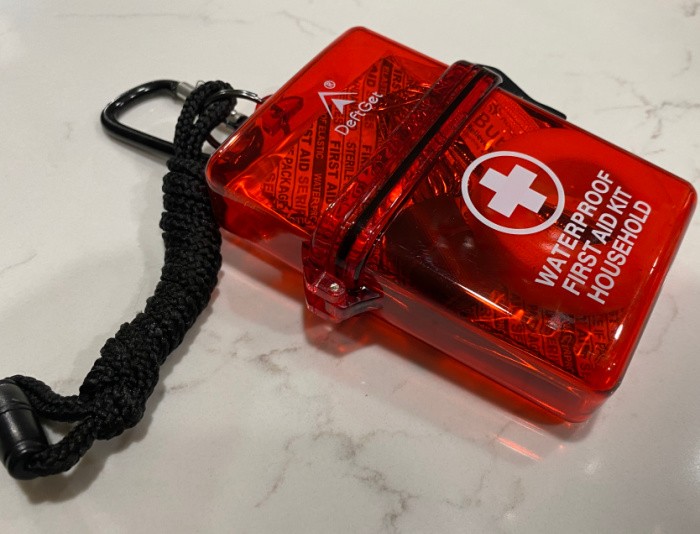 Updated Lanyard w/ParaCord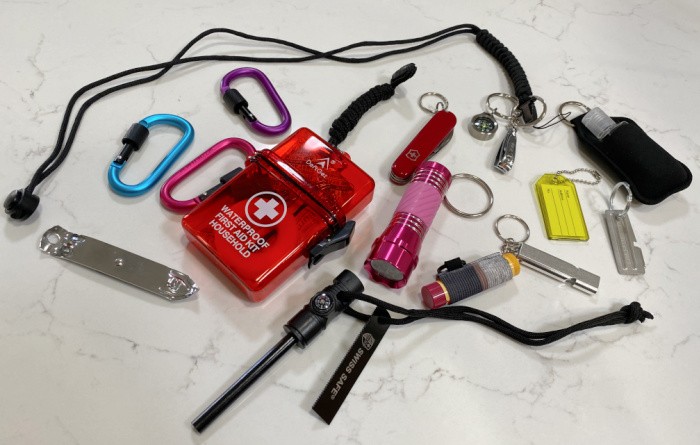 In case you missed this post, How To Make Your Own Emergency Car Kit
Urban Survival Class: How to Make a Bug Out Lanyard
Final Word
If you purchase a lanyard and assorted essential items, you can create a custom bug-out lanyard to use. No matter where you decide to go, you will have things that can keep you safe and help you get out of a bad situation. You may have other items you feel are important to add. Let me know what different or additional items you would be sure to have on your lanyard. May God Bless this world, Linda.