Baked Chicken Legs Recipe
This is my easy-baked chicken legs recipe. Here's the deal, if we can teach others how to bake chicken legs (which are fairly cheap), that would be awesome! Did you miss my BBQ chicken legs recipe? It's all about saving money on our grocery bill, right?
The chicken legs I picked up today cost about .50 cents each. Yes, it takes two to fill me up and Mark usually wants three. This makes for a cheap dinner.
Here's the deal, I usually buy boneless, skinless chicken breasts. I sometimes wonder if people look at all those chicken legs in the meat display and maybe can't think of how to cook them, especially if they don't like to eat meat that has bones in it.
It's interesting because my girls loved chicken legs when they were little. Do you remember picking up a bucket of chicken and going straight for the legs? I sure do!
If I cooked a whole chicken, my girls would beg for the chicken legs every time. This meant only two of the four girls got one. I still wonder why I didn't buy just chicken legs way back then.
After about ten minutes of prep time, these babies are ready to pop into the oven. You can almost call it a set and forget dinner for about 40 minutes, or until the temperature of the thickest part of the leg registers 165 degrees.
It can't get any easier than that. You can make a salad while it bakes. After about 40 minutes, depending on how large your chicken legs are, these legs that are juicy on the inside and crispy on the outside will be ready to serve.
Items You May Need In The Kitchen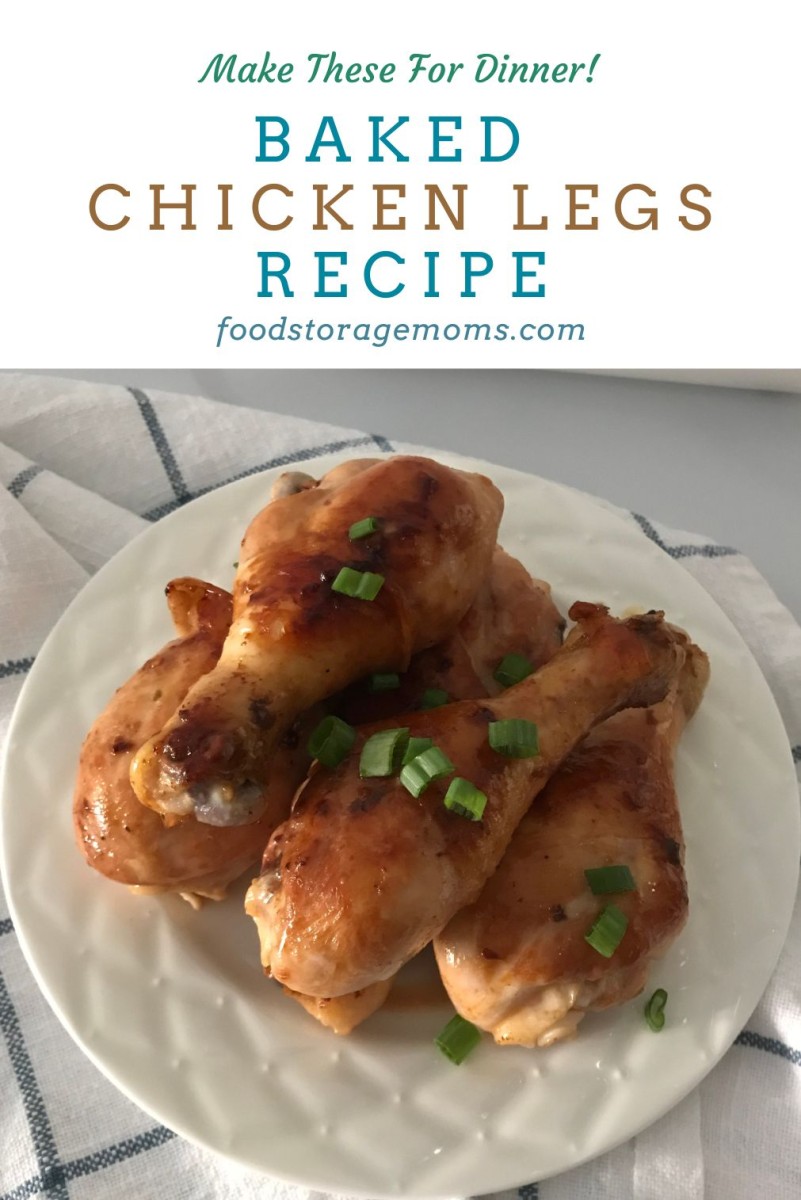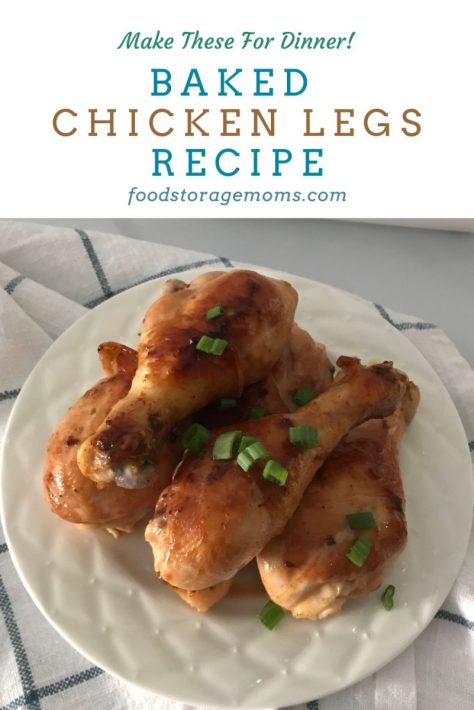 Baked Chicken Legs
Step One
I like to wash my chicken legs when I take them out of the packaging. It rinses off the excess blood, or whatever, and it makes me feel better. I use a colander to rinse them in the sink. Afterward, I bleach my sink, just giving you the heads up.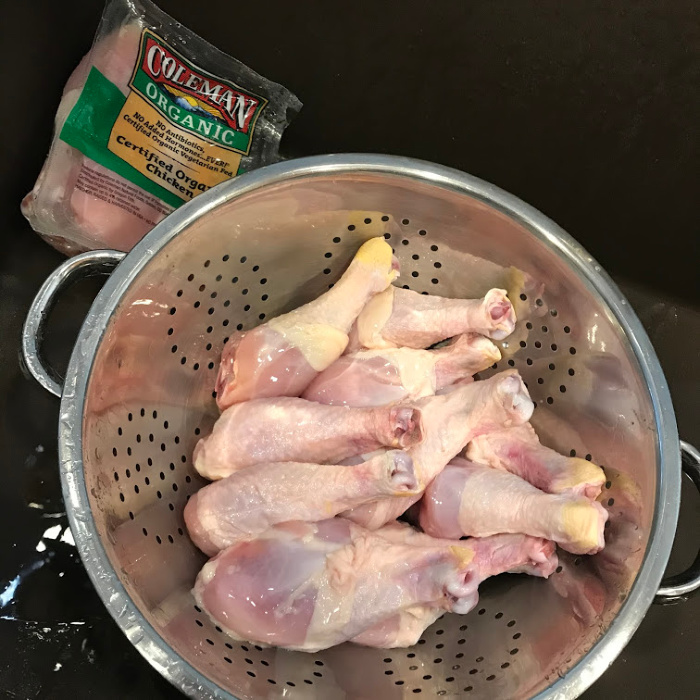 Step Two
This recipe calls for olive oil, soy sauce, salt, pepper, garlic, and some lemon juice to marinate the chicken legs. Grab a bowl, combine the ingredients and roll the chicken legs in the mixture. Place in the refrigerator to marinate for 30 minutes minimum. Just so you know, you can skip the marinade step, it's optional.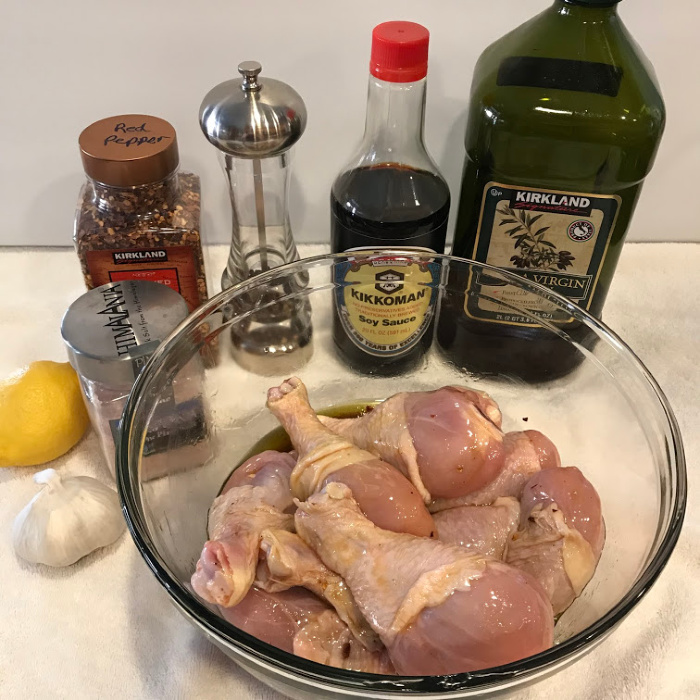 Step Three
To make your clean-up easier, line your baking dish with foil and spray with vegetable oil. Bake with excess marinade for about 40 minutes, depending on how big your chicken legs are. The bigger they are the longer they will take to bake. Bake uncovered at 450 degrees F. Here is the pan I used, Emile Henry Made In France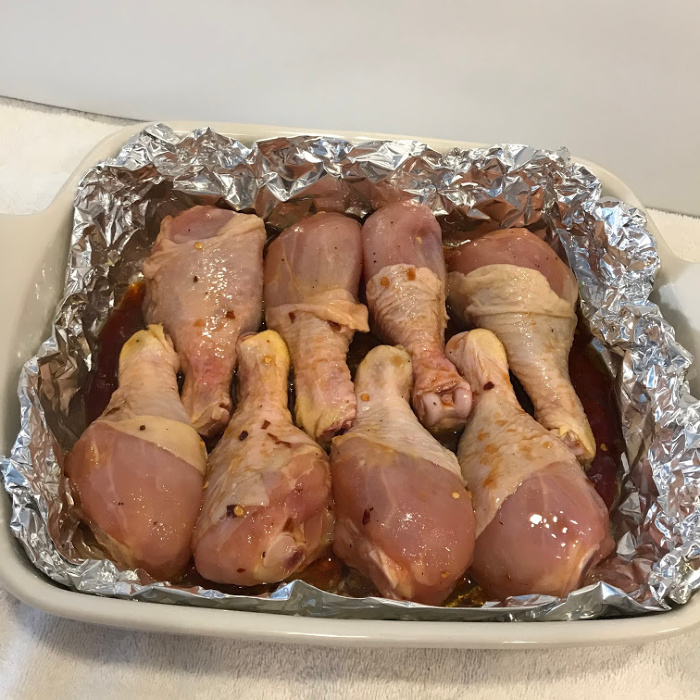 Step Four
I like to use a meat thermometer to make sure the chicken legs register a minimum of 165 degrees F. in the thickest part of the leg, not touching the bone. Keep in mind, the temperature will rise about 5 degrees after you remove it from the oven during the rest period.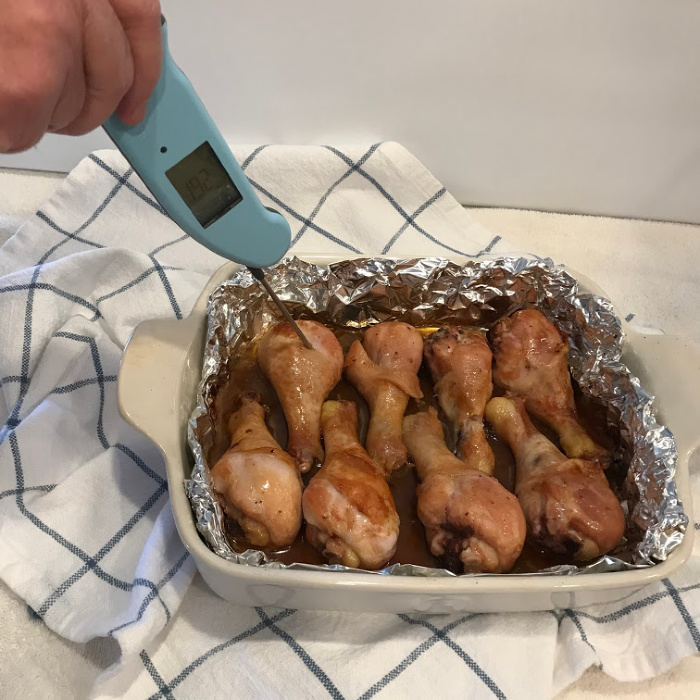 What Can I Serve With These?
Brown rice
Tossed Salad
Mashed potatoes
Garlic potatoes
Cheesy cauliflower casserole
Green vegetables
Coleslaw
Can You Freeze These?
You can freeze these chicken legs in an airtight container for up to 3 months in the freezer, according to the USDA.
How Do I Store Them?
You can store these baked chicken legs in an airtight container in the refrigerator for up to 3-4 days, according to the USDA.
Drumstick vs. Chicken Leg
Have you ever wondered why people say drumstick? The drumstick is actually the calf part of the leg and the thigh is the top part of the leg. The chicken leg has two parts, the drumstick, and the thigh.
How many chicken legs are in one pound?
The average leg weighs about 4 ounces, so that would make 4 to a pound. Plan on two for each person at the table. More if you have a few big eaters.
Are chicken legs dark or white meat?
White cuts of meat are the breast, tenderloins, and wings. If you like dark meat, chicken legs are for you. The reason they are darker is that they are two separate types of muscles.
Can I fry these in a cast-iron skillet?
Yes, in fact, they will cook a bit faster, but you need to keep an eye on them. You will need to turn them often so they cook evenly. Be sure and use your meat thermometer. It must register 165 degrees in the thickest part of the leg.
Can I cook these in my slow cooker?
Yes, you can. Spray vegetable spray on the inside of the slow cooker. Place the meat in the slow cooker. Pour the remaining sauce over the meat and cook on low for 5-6 hours, or on high for 3-4 hours.
Are chicken legs safe for dogs to eat?
They really are not safe for our pets because the bones can splinter or crack. Our dogs can choke on the bones, and they may possibly puncture their stomachs. Better safe than sorry, do not give them to your pets.
Can you cook these in an air fryer?
You sure can, depending on the model you have, they will cook very fast compared to the oven. I have a Ninja Air Fryer and I have to preheat mine for 3 minutes. My book says to preheat the air fryer to 380 degrees. Fill the greased basket and bake for 20 minutes.
Is It Unsafe To Wash My Chicken?
I did read that it's unsafe to wash raw chicken because of the risk of food poisoning from campylobacter bacteria. The theory is that the tap water we use to rinse may splash up onto the counter, our clothes, or utensils. It only takes a few campylobacter cells to make us sick.
I totally bleach everything after I wash my raw chicken. It's just me.
Baked Chicken Legs Recipe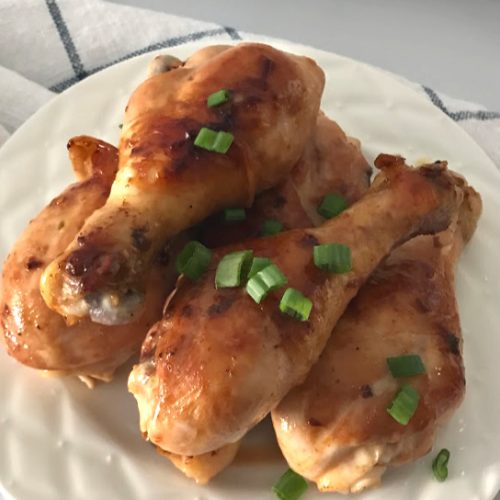 Baked Chicken Legs Recipe by FSM
Ingredients
1/4

cup

soy sauce

1/4

cup

olive oil

1

tablespoon

minced garlic

1

lemon (juiced)

dash of Kosher salt (I use Pink Salt)

Black pepper to taste

1

pinch

of red pepper flakes (optional)

8

chicken legs
Instructions
Preheat the oven to (450°F) = (232°C) Combine the soy sauce, oil, minced garlic, and lemon juice in a large mixing bowl. Add salt, pepper, and pepper flakes. Roll the chicken legs in the mixing bowl to coat them. Marinate these in the refrigerator for 30 minutes (optional). I did not marinade mine today. Place the chicken legs on a greased foil-lined large baking pan (9 by 13 inches). Bake for 30-40 minutes (turn the legs halfway through cooking) or until your meat thermometer registers 165 degrees in the thickest part of the leg. Let the chicken legs rest for 5 minutes before serving.
Final Word
Let me know if you try making my baked chicken legs recipe. You know I love to hear from you. It's all about cooking at home and knowing what we are eating from start to finish.
Thanks again for being prepared for the unexpected. May God bless this world, Linda