How To Make A Traditional Meatloaf
It's all about how to make a traditional quick and easy meatloaf today. It's a whole lot different than the one my mom used to make. I have been making this recipe for about 20 years now. I grew up with meatloaf that was baked in the oven for so many minutes. Then the last five minutes we would pull it out of the oven and smear some ketchup over the meatloaf and return it to the oven to finish baking. It was really good and was always served with baked potatoes and green beans.
After I got married and had kids and they had kids of their own this recipe magically found its way into my kitchen. Of course, I modified the original recipe as we all do. It's really too bad that hamburger is so expensive, but this recipe is a keeper and you'll want to print it out and save it for sure.
My Quick and Easy Meatloaf
Here are the ingredients for your shopping list:
2/3 cup Italian breadcrumbs
1 cup milk
1-1/2 to 2 pounds hamburger (uncooked)
2 eggs slightly beaten
3/4 cups chopped onion
1 teaspoon salt
3/4 teaspoon ground sage
Pepper to taste
Meatloaf topping:
1 cup ketchup
1/2 cup brown sugar
2 teaspoons of dry mustard (this gives it a little kick)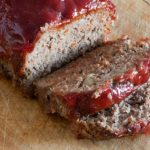 How To Make The Best Meatloaf
Ingredients
Ingredients:

2/3

cup

Italian breadcrumbs

1

cup

milk

1-1/2 to 2

pounds

hamburger

2

eggs slightly beaten

¾

cups

chopped onion

1

teaspoon

salt

¾

teaspoon

ground sage

Pepper to taste

Topping added on top of the cooked meatloaf the last 10 minutes of cooking. Drain the grease before slathering the meatloaf with the sweet ketchup topping

1

cup

ketchup

½

cup

brown sugar

2

teaspoons

of dry mustard

this gives it a little kick
Instructions
Instructions:

Preheat the oven to 350 degrees. Grease a loaf pan or 9 by 9-inch pan.

Soak the bread crumbs in the milk

Combine the hamburger, eggs, onions, salt, ground sage and pepper in large bowl. Next, add the breadcrumbs that have been soaking. Now I use my hands to thoroughly mix it completely.

I make the sweet and spicy ketchup topping and set it aside so it's ready for the last ten minutes of cooking. Remember to drain the grease off before slathering on the ketchup mix. Bake UNCOVERED for 50-60 minutes. Pull the meatloaf out of the oven the last ten minutes to add the topping and return it to the oven.
Baked Potatoes
Do you have to have baked potatoes with meatloaf? Well, these potatoes my granddaughter's helped me dig from a garden pot in my backyard. I have to say, potatoes or any vegetables you grow yourself taste better than store bought! I covered a small cookie sheet with foil then sprayed the potatoes with canola oil spray and sprinkled them with Kosher salt. I put too much salt, but that's how it goes. I scraped some salt off after I baked them. I bake my potatoes this way at 425 degrees for about an hour. They were so moist and fluffy inside and crispy on the outside. I love it! All About Potatoes-National Potato Council.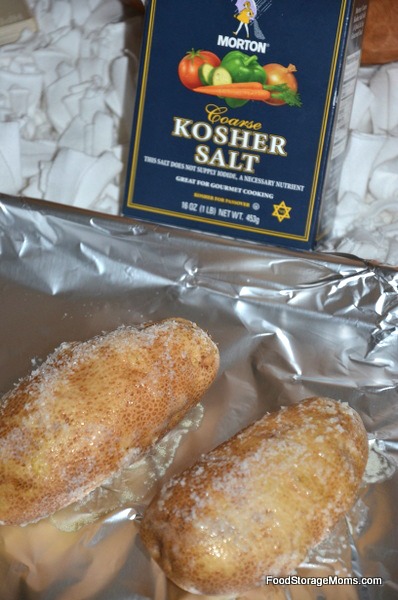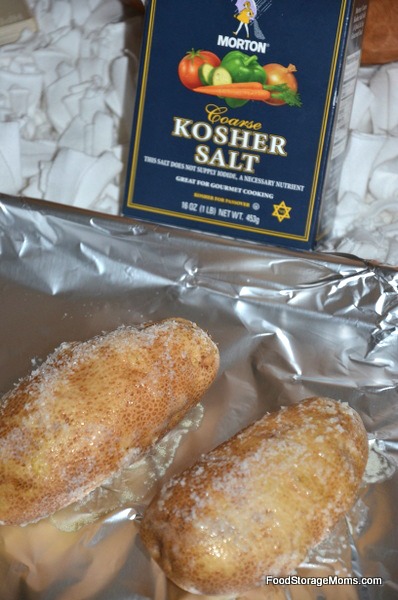 No-Fail Dinner Rolls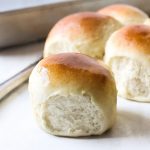 No-Fail Dinner Rolls by Food Storage Moms
Ingredients
4

Teaspoons

SAF Instant Yeast

1/2

Cup

Water

2

Cups

Warm Milk

1/4

Cup

Olive Oil

1

Cup

Sugar

1-1/2

Teaspoons

Sea Salt

4

Teaspoons

Dough Enhancer NutriMill (optional)

2

Eggs

6-7

Cups

White bread flour (Add 1/2 of the flour and then add more until the dough pulls away from the sides of the mixing bowl)
Instructions
Place all of the ingredients in order into your mixing bowl. Be careful with the eggs not to add the warm milk too slowly or you will have scrambled eggs. Add half of the flour and keep adding the rest of the flour until the bread dough pulls away from the sides of the mixing bowl. Cover with greased plastic wrap and let rise the first time, about an hour. Punch the dough down and mold into small balls about 1-1/2 inches to 2 inches in diameter. Cover with greased plastic and let rise one more time, about an hour, or until double the size. Remove the plastic wrap and bake at 350 degrees for about 15-20 minutes on a greased cookie sheet. Do not overbake. They should be golden brown. I spread a little butter on the tops after baking so the rolls are soft on top. If you like a crispier top you can skip this step.
I hope you love this quick and easy meatloaf recipe as much as I do! Thanks again for being prepared for the unexpected. May God bless this world. Linda