2-Ingredient Healthy Breakfast Cookies
I love these 2-ingredient healthy breakfast cookies! I was running errands with my sister, Carol and she mentioned she saw a recipe using only 2-ingredients to make some simple healthy breakfast cookies. I said, "what?" Well, I went to the store and piled the bananas in my shopping cart. Mark and I are trying to eat healthier foods and if the recipe only calls for bananas and oatmeal, I can do that. This recipe is almost magical, I get the giggles thinking that I can have cookies for breakfast. Of course, they are great snacks as well. Here's the deal, get some bananas and oatmeal. Now I already had regular oats in the pantry because I eat oatmeal every day for breakfast. The reason I say magical is because the 2-ingredient base recipe is stuff we usually have in the house. Most of us store oatmeal, and bananas are a fruit I buy every week. Do you typically have bananas in your kitchen?
When I go to the grocery store I buy about 20-25 pounds of bananas a week. Now, I freeze some bananas for smoothies and Mark cuts some up for his oatmeal each morning. I am slowly weaning him off his cold cereal to a healthier oatmeal breakfast. My sister said to me, "well there are some healthy cereals, you can buy". I said, "Mark likes Corn Pops, Frosted Flakes, and Sugar Smacks." He is so healthy and takes zero medications for anything. Enough said. We are starting a new year with healthier food choices. So far, so good, it's day six of the new year. Bananas are so cheap and they have some great health benefits. For instance, one medium banana is only 105 calories, give or take, and has over 400 mg. of Potassium.
These cookies are moist like a chewy banana bread or an oatmeal cookie, but not as sweet. I kept thinking how is this dough going to "stay" together without falling apart or crumbling. Well, they do and they are so yummy! They are chewy and moist without sugar or eggs. Now, if you want a sweeter cookie you can add some of the things I have listed below. I am sticking to the bananas and oatmeal only. It's day six of the New Year, I have to keep up the healthy food choices. This is what I came up with for the recipe. If it's too runny, add more oatmeal, too thin add more bananas. You will love this recipe, I promise.
Healthy Breakfast Cookies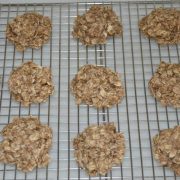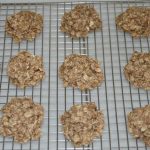 Healthy Breakfast Cookies
Ingredients
2

cups

peeled ripe medium or large bananas

2

cups

regular oats

oatmeal uncooked
Instructions
Preheat the oven to 350 degrees. I used my KitchenAid mixer to mash the bananas, but a fork would work. Then I started adding the oatmeal. I used the "flat beater" so it would make the banana consistency I wanted. Not runny, not too thick. Then I used my purple 1/8 cup (2 tablespoons) cookie scoop to place the dough on the cookie sheets. I used my fingers to mash the cookies down and molded them into a circle. These cookies do not rise or change shape so how you put them on the cookie sheet is the shape they will be when you bring them out of the oven. Now, I used a Silpat mat to avoid using any vegetable spray. You will need to grease the cookie sheet if you don't have a Silpat mat. I tried making two cookies using parchment paper. If you use it you will need to quickly remove the cookies after baking. I wouldn't recommend using the paper because they start to attach to the paper very quickly after removing them from the oven. Just giving you the heads-up, here. They freeze very well, so you can put them in lunch boxes or eat them on the run. Bake for 15 minutes if you use the 1/8 cup cookie scoop.
I got a little carried away with the bananas, obviously, there are more than two bananas in here. I never make a small batch of anything. If I have the mixer going I want to make enough for the freezer. This is truly a no-fail recipe.
Extra Ingredients if you choose to add some:
Nuts
Pitted and chopped dates
Craisins/dried cranberries
Raisins
Coconut flakes
Chocolate chips
Pumpkin seeds
Chia seeds
Vanilla extract
Cinnamon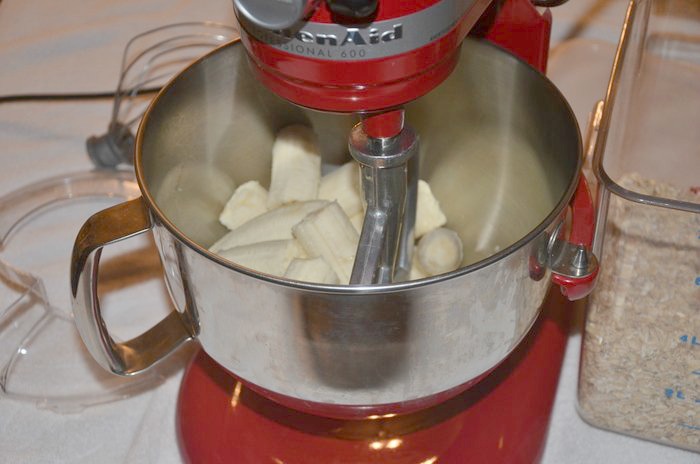 The mixture is moist, but not crumbly at all. It's really like making oatmeal cookie, but without all the other stuff like eggs, oil, etc.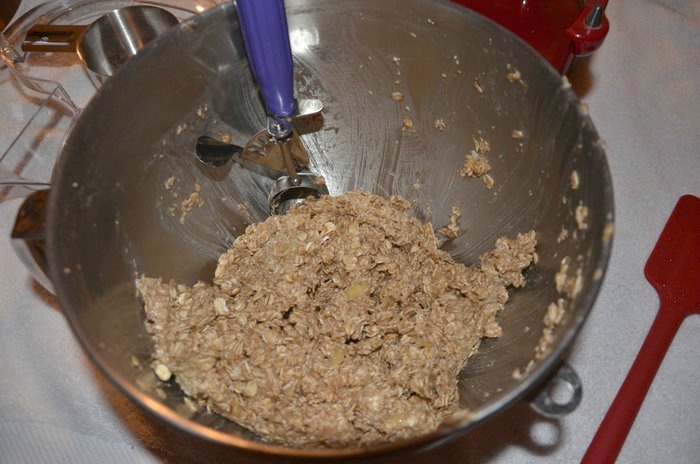 Now however you mold your cookies is how they will look when you bring them out of the oven. They do not rise, puff up or flatten. I used the scoop and then did a quick flattening of the dough with my hand and molded the dough into circles.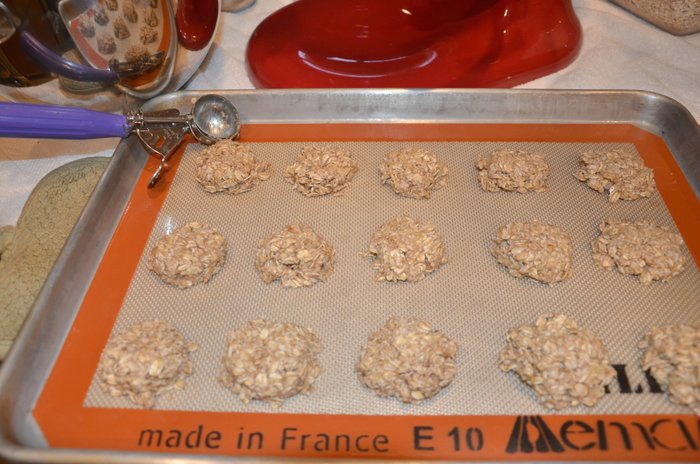 PRINTABLE recipe: 2-Ingredient Healthy Breakfast Cookies by Food Storage Moms
My favorite things:
Norpro 703 Grip-EZ 2-Tablespoon Stainless Scoop
Nordic Ware Natural Aluminum Commercial Baker's Half Sheet
Nordic Ware Natural Aluminum Commercial Baker's Half Sheet
OXO Good Grips Silicone Cookie Spatula