Slow Cooker Vegetable Beef Soup Recipe
This is a quick and easy slow cooker vegetable beef soup that's a family recipe made by my sister Carol. She has been learning to use her food storage on a regular basis since retiring. This recipe can be made in a slow cooker to set and forget. It's a really hearty soup, and almost all of the ingredients can be what you have in your refrigerator, pantry, freezer, or food storage containers. You can never have too many slow cookers, right? Crock-Pot SCCPVL610-S Programmable Cook and Carry Oval Slow Cooker, 6-Quart
Carol: "Most of the items for this vegetable beef soup came from my dehydrated/freeze-dried food storage, but I did add other items from my pantry. My goal is to learn to use my food storage so that in an emergency I'm not caught off guard trying to figure out what to do with what I have."
My goal is to use my food storage on a regular basis so I can make sure nothing has gone rancid or bad, which I have experienced, and it wasn't pretty. Several women in my church (including me) took large cans and filled them with crackers, granola bars, a juice can, and other emergency items for a 72-hour kit. The cans were sealed and put on a shelf to be opened at the end of the year (if not used before that in an emergency.) At the end of the year, I opened my can and was totally shocked to see that the can of juice had leaked, destroying everything in the storage can. This would have been disastrous if I'd been counting on using the items in an emergency.
I tried the freeze-dried green beans and onion flakes today. I put the green beans and onion flakes in the same bowl and covered them with tepid water. I waited about 5 minutes and drained them. I sprayed a frying pan with vegetable spray and sautéed the cubed precooked bacon from Costco until almost crisp. I then dumped the green beans and onions into the frying pan and sprinkled some olive oil on top. It was so easy! I love the fact that they tasted like fresh green beans, NOT canned!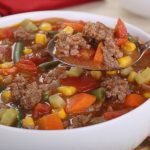 Vegetable Beef Slow Cooker Soup
Ingredients
1

pound

ground beef cooked (stew meat or leftover roast would work, too)

1/2

cup

dehydrated carrots

1-1/2

cups

dehydrated cubed potatoes

1/4

cup

or less dehydrated celery

1/4

cup

or less dehydrated onion

3

Tablespoons

dehydrated garlic

1/2

cup

freeze-dried corn

3

cubes beef bouillon

1

small jar of mild or medium salsa (I used mild)

Salt and Pepper (to taste)

Seasonings of your choice (I added chili powder, red pepper flakes, basil)

Any leftover vegetables like greens beans

5-7

cups

of water (or less for a stew, more for a soup)
Instructions
Dump it all in a slow cooker and cook on low for about 6 hours. This could also be cooked on the stove top, but the slow cooker works great because you can set it and forget.
Thanks to my awesome sister, Carol for sharing this recipe today! Do you love cooking a slow cooker vegetable beef soup as much as I do? Bring on the slow cooker and set and you forget dinners! Make some dinner rolls and enjoy breaking bread with friends.
My favorite things:
Cuisinart PSC-350 3-1/2-Quart Programmable Slow Cooker
OXO Good Grips Brushed Stainless Steel Ladle
Goal Zero Torch 250 Flashlight with Integrated Solar Panel
Goal Zero 90109 Solo V2 Solar Flashlight
Goal Zero (21013) Switch 10 USB Recharger and Solar Panel Multi-Tool Kit