20 Reasons Why I Store Bag Balm® And You Should Too!
20 Reasons Why I Store Bag Balm® and why you should store it in your emergency preparedness supplies. The product was first introduced in 1899 in Vermont. The formula was purchased by John L. Norris.
I have used it for years. I bet I have 10 containers of it. Yes, I am a little OCD when I purchase products I LOVE. My daughters always tease me…"Mom, why do you always buy ten"?
Here's the deal with me, I always worry I will run out. LOL! I just want to be prepared for the unexpected. If I see a fantastic deal on something I will pick up extra to save money in the long run.
The Bag Balm® product was originally used in the cold Vermont winters to protect the cow's udders from getting chapped. It seems the farmers that applied this to their cows soon realized their hands became remarkably soft after using this lanolin-based ointment.
This is when the product soon became popular for human use. Over the years this wonder antibiotic ointment has become useful for so many things.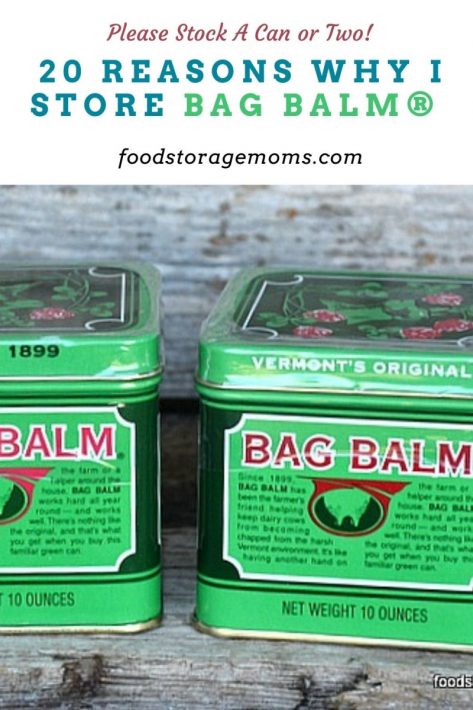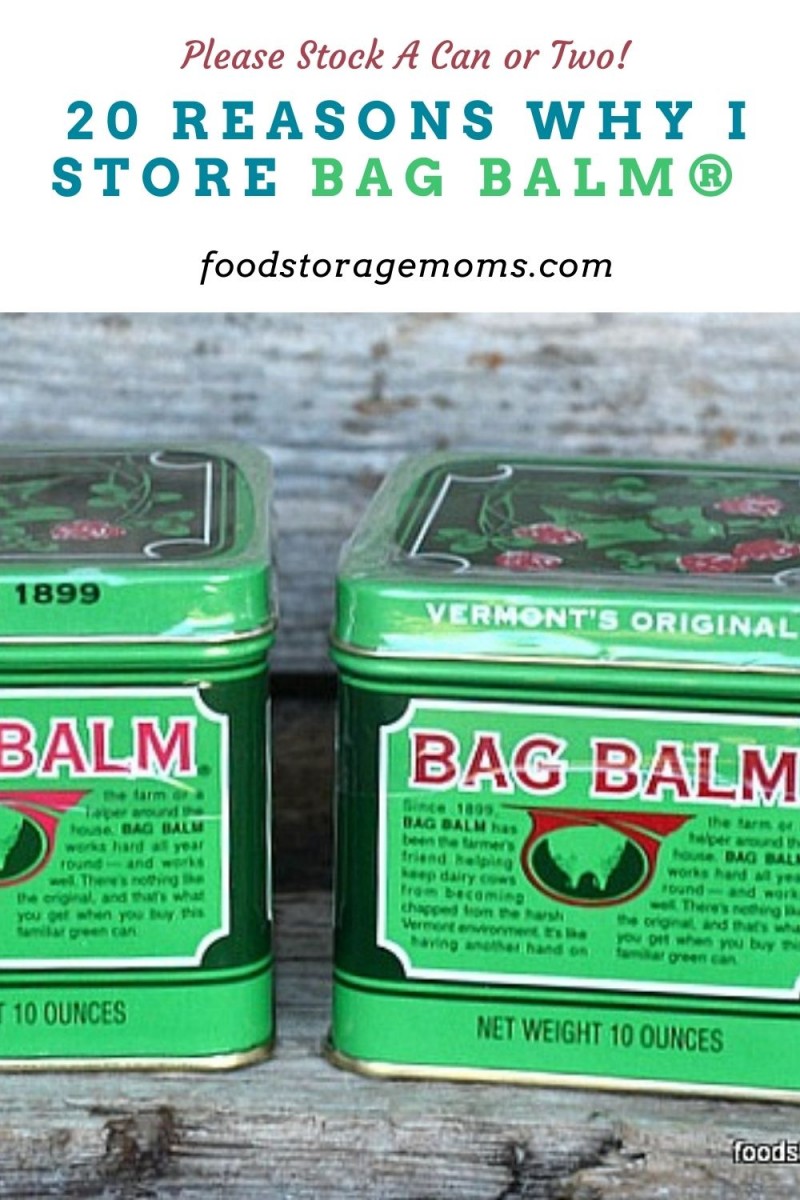 Great For My Puppy-Bailey
I use it on my Shih Tzu, Bailey when his little paws get sore from abrasions. I do it right before bedtime, then he is less likely to lick it off.
Here are the ingredients in these little cans: 8 Hydroxyquinoline Sulfate (0.3% in a Petrolatum, Lanolin Base) listed on the can.
Bag Balm® has been around for a long time and continues to help so many people and animals in many ways. The Bag Balm® salve is a thick yellow product and stays put where you rub it on. It has a light medicinal fragrance but is not too strong.
This is where I buy Bag Balm®: My favorite size container of Large Cans. I also like the small containers of Bag Balm: Small Cans.
Here are 20 Reasons Why I Store Bag Balm®:
1. It heals my cracked heels in the summer
2. Great for my dog's paws when scraped or raw
3. Protects trees when accidentally sliced or cut-cover with Bag Balm
4. Used after radiation treatments to soothe skin
5. Great for rough Volleyball player's hands and feet who play on the sand or on courts
6. Works wonders for saddle sores
7. Great for bike riders to keep their clothes from rubbing their skin raw
8. Awesome for sore cuticles
8. Diaper rash
9. Heals chapped lips
10. Psoriasis – soothes the sores
11. Use on acne to help fade acne scars
12. Super for Eczema and very dry skin
13. It inhibits bacteria growth because of its antiseptic ingredient
14. It soothes sunburned skin
15. Bag Balm® helps with windburned skin as well
16. I love it for chapped skin, especially elbows
17. Cuts-cover with Bag Balm® and a sterile cloth because it will heal faster
18. Deep cuts around your fingernails thoroughly clean the deep cuts and apply Bag Balm® at night
19. Quilters and sewers keep a can close by to heal their hands
20. Helps heal cold sores
Is Bag Balm® a Drawing Salve?
It's designed to soften and moisturize your skin. It will not draw out a sliver.
Is Bag Balm® an Antibiotic?
No, it is not an antibiotic. It will, however, provide relief to sore heels, hands, and any rough area on your body that needs some moisture.
Will it help my sore hands that crack?
Many nights I have washed my hands, then rubbed this soothing product on my split knuckles, and cuticles. I sleep with them covered in white gloves from the pharmacy to protect them during the night.
It's almost magical when I wake up, my hands are smooth and they are healing.
Can I Put it in my Hair?
Please do not put it in your hair. You will never get it out. Just giving you the heads up from experience.
Does it help Eczema and Psoriasis?
Yes, it does. Because of the trace coal in this product, it will work wonders on your skin, I would give it a try.
What can humans use it for?
It's great for cracked heels, sore feet, dry hands, extremely dry skin, sore lips, elbows, and knee caps. You will be amazed at how quickly your skin will heal from using Bag Balm® on a daily basis.
Is it good for your face?
It will be a great moisturizer for the dry skin on your face. It will help with wrinkles around your eyes and lips.
Has The Bag Balm® Formula Changed?
If you are wondering if your can is too old, please look at the ingredients. They stopped putting mercury in the cans years and years ago. The newer cans have this product, 8-hydroxy quinolone.
Please discard the cans that have mercury in them. The newer formula is safer and better for our skin.
What's the difference between Bag Balm® and Vaseline®?
You need to know that Vaseline® is 100% petrolatum without water. It has no medical effect on healing our skin or wound.
Bag Balm® contains 8-hydroxyquinoline sulfate and works great for antiseptic purposes inside a petroleum jelly and a lanolin base, which works best for soothing and aiding in the healing process of chapped and very dry skin. Remember, it no longer contains mercury.
What Can I Use It For:
Dry hands
Cracked Heels
Dry elbows
Windburn
Use after tattoos
Paw care
Chaffing
Saddle sores
Family care
Babycare
Cuts and scrapes
Final Word
I love to store products that can be used for several things in everyday life, as well as an unforeseen emergency. Bag Balm® is perfect for my stash.
If you have any ideas I can add to this list please comment and I will add them to the list. Here's to being prepared for the unexpected! May God bless this world, Linda
Please check out my first aid kit, you may find something you need to add to yours: First Aid Kit by Linda
You might want to make a good first kit for your car: First Aid Car Kit