20 Reasons Why I Store Bag Balm And Why You Should

20 Reasons Why I Store Bag Balm and why you should store it in your emergency preparedness supplies. The product was first introduced in 1899 in Vermont. The formula was purchased by John L. Norris. I have used it for years. I bet I have 10 containers of it. Yes, I am a little OCD when I purchase products I LOVE. My daughters always tease me…"Mom, why do you always buy ten"? Here's the deal with me, I always worry I will run out. LOL! I just want to be prepared for the unexpected. If I see a fantastic deal on something I will pick up extra to save money in the long run.
The Bag Balm product was originally used in the cold Vermont winters to protect the cow's udders from getting chapped. It seems the farmers that applied this to their cows soon realized their hands became remarkably soft after using this lanolin-based ointment.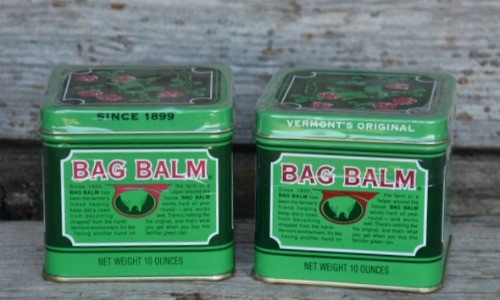 This is when the product soon became popular for human use. Over the years this wonder antibiotic ointment has become useful for so many things. I use it on my Shih Tzu, Boston when his little paws get sore from abrasions. I do it right before bedtime, then he less likely to lick it off. Here are the ingredients in these little cans: 8 Hydroxyquinoline Sulfate (0.3% in a Petrolatum, Lanolin Base) listed on the can.
Bag Balm has been around for a long time and continues to help so many people and animals in many ways. The Bag Balm salve is a thick yellow product and stays put where you rub it on. It has a light medicinal fragrance, but not too strong. This is where I buy Bag Balm: My favorite size can I also like the small containers of Bag Balm: Dairy Association Vermont's Original Moisturizing and Softening Ointment for Pets, 1-Ounce
Here are 20 Reasons Why I Store Bag Balm:
1. It heals my cracked heels in the summer
2. Great for my dog's paws when scraped or raw
3. Protects trees when accidentally sliced or cut-cover with Bag Balm
4. Used after radiation treatments to soothe skin
5. Great for rough Volleyball player's hands and feet who play on the sand or on courts
6. Works wonders for saddle sores
7. Great for bike riders to keep their clothes from rubbing their skin raw
8. Awesome for sore cuticles
8. Diaper rash
9. Heals chapped lips
10. Psoriasis – soothes the sores
11. Use on acne to help fade acne scars
12. Super for Eczema – dry skin
13. It inhibits bacteria growth because of its antiseptic ingredient
14. It soothes sunburned skin
15. Bag Balm helps with windburned skin as well
16. I love it for chapped skin, especially elbows
17. Cuts-cover with Bag Balm and a sterile cloth…heals faster
18. Deep cuts around your fingernails thoroughly clean the deep cuts and apply Bag Balm at night
19. Quilters and sewers keep a can close by to heal their hands
20. Helps heal cold sores
I love to store products that can be used for several things in everyday life, as well as an unforeseen emergency. If you have any ideas I can add to this list please comment and I will add them to the list. Here's to being prepared for the unexpected!
Please check out my first aid kit: First Aid Kits by Food Storage Moms.
You might want to make a good first kit for your car: First Aid Car Kit by Food Storage Moms.
UPDATED Car Emergency Kits